Written By: SafeHome.org Team | Updated: June 30, 2021
At least 11.6 million criminal incidents were reported to law enforcement agencies throughout the United States in 1999; by 2018, that number had declined to just over 8.4 million despite a population increase of 20% during that time.
What that means is that even as the United States has swelled by more than 50 million people, both the number and rate of most crimes reported to law enforcement have dropped, and some have fallen by incredibly high rates.
But what's true on a national level doesn't always bear out on the state or local level, and to be sure, some places have made much more progress against crime than others, while many locales have seen rates of various crimes increase.
So to understand the state of crime in the United States, we examined in detail the FBI's 2018 Crime in the U.S. report, which was released and updated in December 2019. Read on for our full analysis, but here's a quick summary of some of the high notes:
All but one type of major crimes reported by the FBI has seen the rate at which it's committed decline since 1999.
Among all crime types reported by the FBI, burglary has declined the most since 1999 (-51.2%), followed by motor vehicle theft (-45.8%) and robbery with a 42.6% decline.
Rape has become more common since 2013, with the rate rising by nearly 20%.
The murder rate has fallen for the past couple of years, but it's higher today than it was at the start of the last decade.
New Mexico has the highest combined crime rate, when taking violent crimes and property crimes into consideration, 4,276.3 per 100,000 people, compared to New Hampshire, which has the lowest combined rate, 1,421.7.
6 in 10 states among the top 10 in combined crime rates are in the South.
A total of 18 states had an increase in violent crime between 1999 and 2018.
The average mid-major city (between 300,000 and 999,999 people) has the highest rate of violent crime (1,578.9 per 100,000) and property crime (7,359.8 per 100,000).
Communities with populations lower than 25,000 have the lowest crime rates, 278 per 100,000 for violent crime and 2,294 for property crime.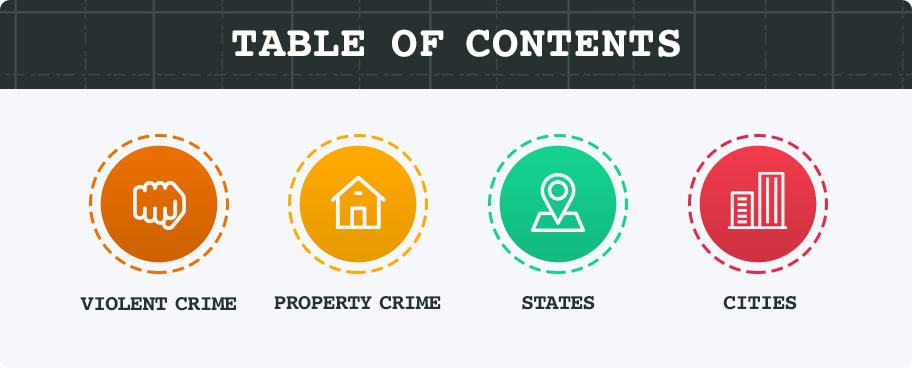 Violent Crime
The combined violent crime rate in the U.S. has fallen from 523 per 100,000 in 1999 to 368.9 in 2018, a decline of nearly one-third, though the rate, which includes murder, manslaughter, rape, robbery, and aggravated assault, has fluctuated over the years.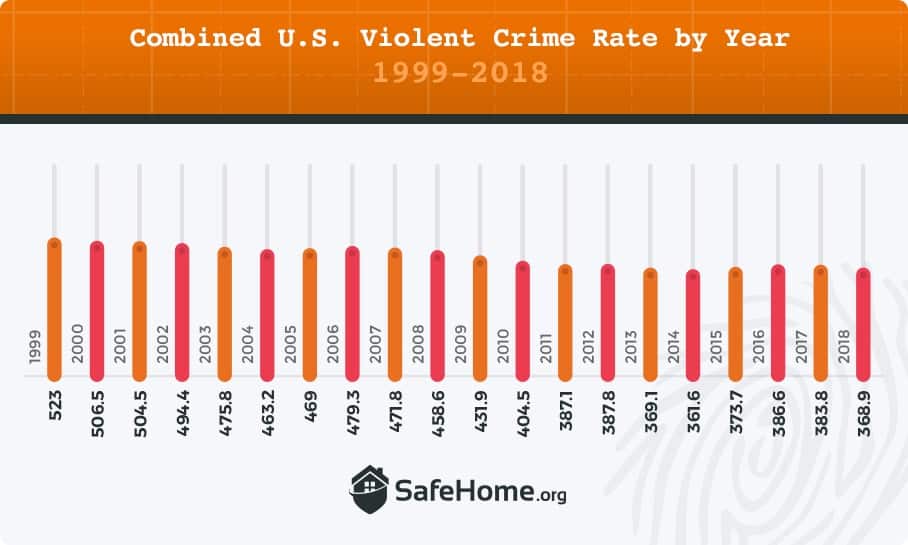 The total violent crime rate in the U.S. reached its 21st-century low in 2014, though it's generally been on a downward trend over the past half-decade.
Most individual crimes that factor into the overall violent crime rate also have dropped, with one possible exception. Murder, robbery and aggravated assault all have become less common over the past couple of decades, and by one measure, rape has also become less common in that time.
However, starting in 2013, the FBI began using a definition of the crime of rape that's not outdated and acknowledges that rape can happen to many different people; the old definition specified "forcible rape" and only referenced women. By the new measure, rape has become more common, with the rate rising by 18.7% between 2013 and 2018. Even by the outdated definition of the crime, the rape rate had the lowest decline of all types of crimes reported by the FBI, dropping by just 5.8% between 1999 and 2018.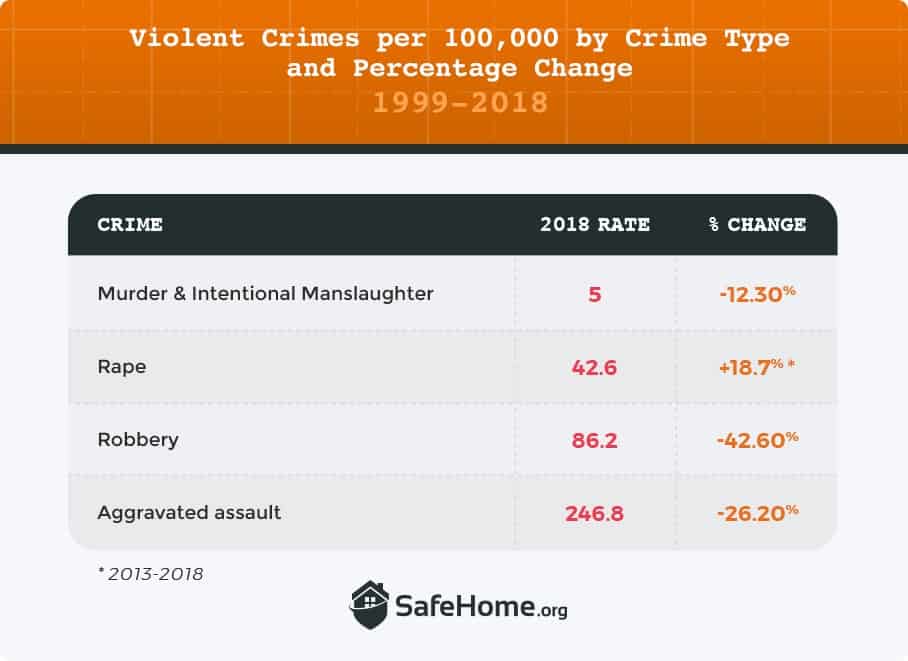 Robbery has seen the most dramatic drop among violent crimes, falling by more than 40%, while aggravated assault, which remains the most common violent crime, had the second-highest decline from the 1999 rate. The rate of murder, including nonnegligent manslaughter, had the most modest decline, while rape incidents rose by nearly 20%, though over a shorter span.

Property Crime
Violent crime remains much less common than property crime despite every major type of property crime reported by the FBI recording declines of at least one-third over the past two decades. Including burglary, larceny-theft and motor vehicle theft, property crimes occur at a rate of 2,199.5 today, compared to 3,743.6 in 1999, a decline of 41.2% between 1999 and 2018.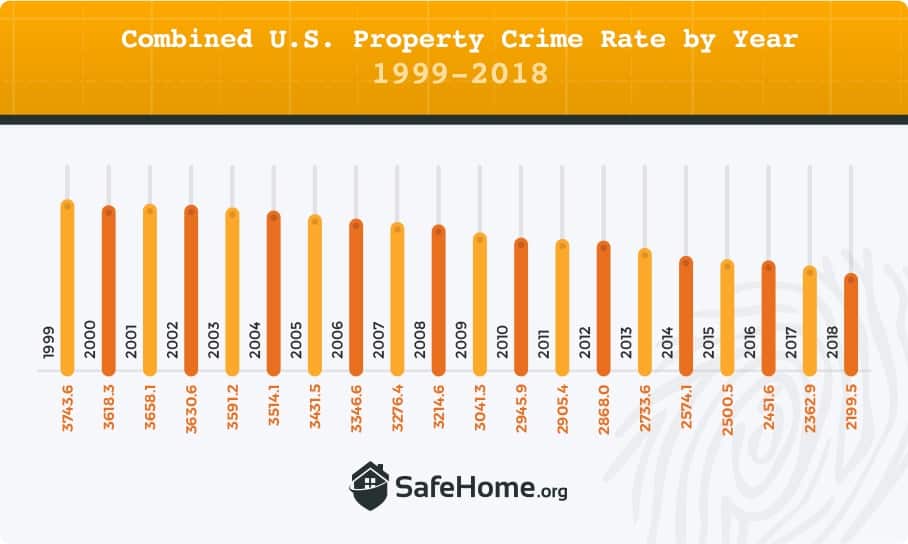 Property crimes have seen a more dramatic decline than violent crimes, and unlike the violent crime rate, the rate of property crime has dropped more steadily, falling every year since 2001. And unlike violent crimes, the rate of the three individual crimes that factor into the overall property crime rate also have fallen, all by at least one-third and one by more than half.
Among all crime rates reported by the FBI, the burglary rate has declined by the steepest percentage, a drop of 51.2% since 1999, followed by motor vehicle theft and larceny-theft. The burglary and motor vehicle theft rates have fluctuated but are down overall, while the larceny-theft rate has declined every year since 1999.
Still, these crimes remain fairly common across the United States.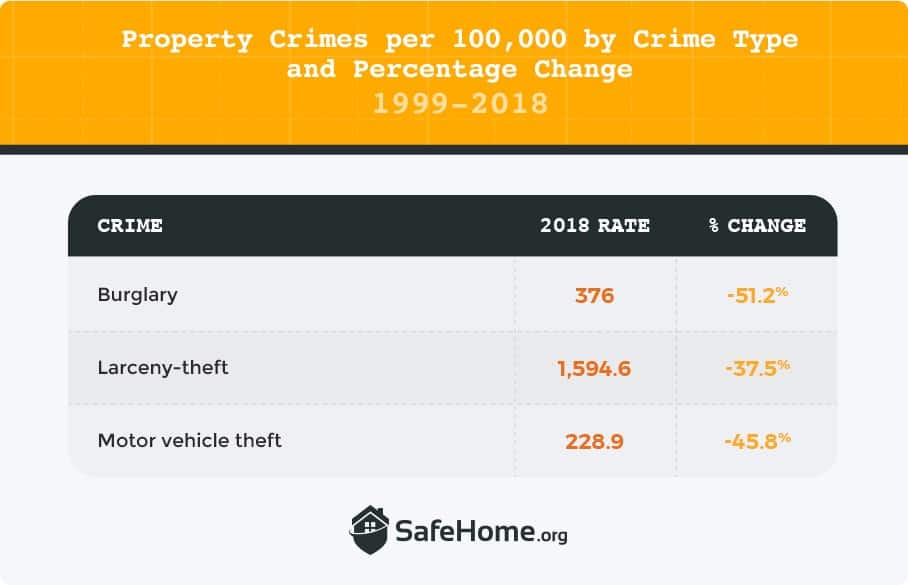 Crime in the States
As with virtually any other possible topic, zooming into the state-level view of crime creates a much more complicated picture, with some states having much higher and lower rates of crimes as well as varying rates of drops and increases.
Tip: Crime to you and your home comes in all different shapes and sizes. From identity theft crime from not using a VPN to hide important details online to your typical home invasion, it's important to protect yourself in all areas.
Excluding the District of Columbia, which is more accurately compared to cities than to states, Alaska has the highest rate of violent crimes and the second-highest rate of property crimes. On the flip side, New Hampshire has the lowest property crime rate and the third-lowest violent crime rate.

New Mexico has the highest combined rate of violent crimes and property crimes, followed by Alaska, Louisiana, and South Carolina. Six of the 10 states with the highest combined rates are in the South, and the other four are in the West.
Each of the five lowest-rate states are in the Northeast, while the region has two other states among the 10 with the lowest combined rates, and the South and Midwest each have one.
In general, states have seen crime rates decline since 1999, though some states have recorded major increases, particularly in the violent crime rates. However, this should be taken with some caution, knowing as we do that the definition of rape has changed, which could impact certain states' violent crime rates.

South Dakota's violent crime rate has doubled since 1999, and the state also recorded a modest increase in the property crime rate. A total of 18 states saw their rates of violent crime go up, but fewer saw property crime rates increase (Alaska, North Dakota, Montana, South Dakota and Colorado). However, all five states that had increases in property crime rates also saw violent crime rates rise.

Crime in the Cities
Even more instructive than exploring the states' rates of property and violent crimes is looking at the picture on the local level. The FBI reported incidents of violent crimes and property crimes for more than 9,100 cities, towns, villages, townships, and other communities across the United States.
Cities and towns for which the FBI reported criminal incidents have similar crime rates as the U.S. overall, though this varies widely depending on several factors, including the size of the community. After all, for locations with small population figures, even a handful of incidents could dramatically increase their population-adjusted rates.
Of the 9,142 communities with rates published by the FBI, the average city had a violent crime rate of 254 per 100,000, lower than the U.S. overall, and an average property crime rate of 2,215, which is slightly higher than the overall national rate.
Let's see where rates are highest and lowest, as well as which cities have seen rates rise or fall.

Conclusion
How you feel about the safety of the city, town or community where you live isn't always a totally logical conclusion, and while our extensive consumer and market research in home security shopping tell us that a huge range of factors goes into an individual's sense of security, there's little doubt that how regularly people in your community are victimized by crime is influential in your personal feelings of safety.
While the topline results of national crime statistics are good (almost all types of crime are down), digging a little deeper reveals that not only is one especially violent and devastating crime (rape) increasing, but many cities across the country have disturbingly high rates of crime.
About This Story
All information for this analysis came from the FBI's Crime in the U.S. report for 2018, which was released in 2019 and updated in late December of that same year, and the 2009 report, which can be accessed here. We used general U.S. crime statistics, state-level crime rates and local-area crime reports. The same tables were consulted for 2009 to create a 10-year analysis of the rate of change in crime.