Written By: SafeHome.org Team | Updated: November 2020
From January through October 2020, approximately three million babies were born in the United States. Getting ready for a baby's arrival involves a lot more than just buying a crib, stroller, and boxes of diapers. While newborns don't start moving right away, it's smart to take precautions to make your residence safe. Starting before your child becomes mobile will make things easier.
Keep in mind that your little one will not have the common sense to stay away from certain things at home. It is exciting to watch your baby grow and reach new milestones, but that comes with heightened curiosity. This, unfortunately, presents a set of new hazards. You can choose to either take each phase of childproofing as it comes or do them all before the insanity of parenthood kicks in. Whatever you choose, never underestimate what your child can do. You'd be surprised—toddlers have an incredible way of getting into just about anything they see!
Some people hire professional child proofers to assess their homes and take care of everything. However, it is possible for parents to create a kid-friendly living environment. This guide goes over childproofing tips for the primary areas of a home.
What the Experts Have to Say
Before delving deeper into childproofing tips, let's take a look at what some professionals say about the topic: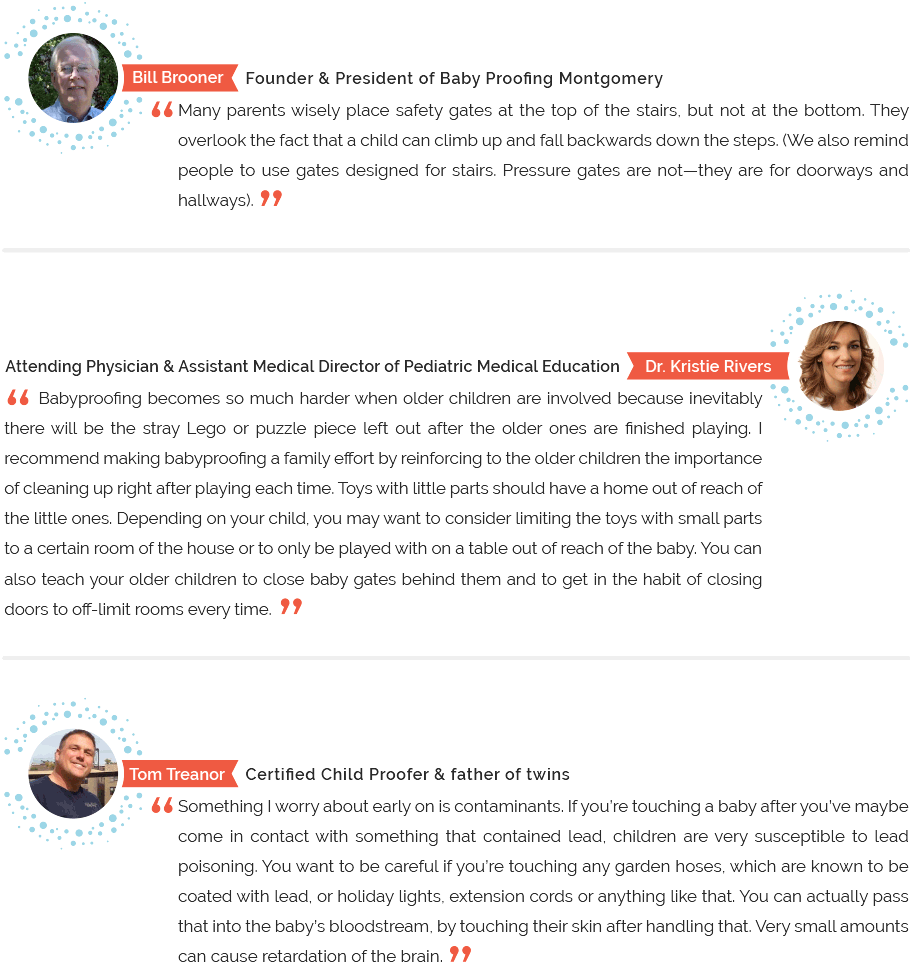 Childproofing Your Home
Childproofing a home can be a daunting task, especially when you don't know where or how to begin. We suggest starting with one area of the house and gradually working your way to the others as you make progress. Below, you'll find useful pointers for how to childproof each section of your home.
The living room can take a while to childproof, especially if you have a sizable common area. Keep a few steps in mind to childproof a living room: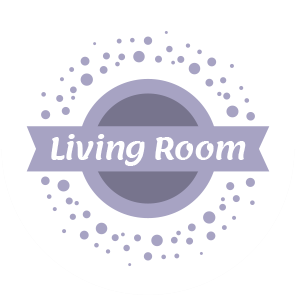 The living room can take a while to childproof , especially if you have a sizable common area. Below are some of the main courses of action to keep in mind to childproof a living room:
Use safety gates if your home has stairs. Safety gates are essential to keep your kids from trying to climb somewhere they aren't supposed to without supervision and potentially hurting themselves.
Keep your window-blind cords either cut short or tucked away so that children cannot get entangled.
Install edge and corner bumpers. They provide some padding in case someone falls against a sharp or hard edge.
Enlist the help of door stops and door holders. They work wonders to keep little fingers from being pinched or crushed because they prevent doors from closing all the way.
Cover unused outlets so that children are not tempted to stick their tiny fingers in and get shocked.
Make sure that fireplaces are not left running while children are unsupervised. Close them off when not operating.
Secure tall furniture such as dressers and bookcases to the wall so that children don't climb them and potentially cause the furniture to fall over on them.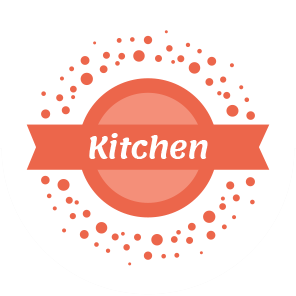 If possible, keep babies and children out of the kitchen especially if any stoves, ovens, or appliances are on. However, it may not be possible, and children tend to wander. It's crucial to make sure that you have all your guards up.
Lock your stove knobs. You never know when your kid will decide to ignite your stove burners. Operating stoves leak gas, and enough gas poses a silent but serious threat.
Secure low drawers in your kitchen, especially if they contain dangerous items like scissors, knives, other sharp utensils, and household cleaners.
Put a safety cover over the garbage disposal to protect those little hands. The disposal is convenient when you do dishes. However, it can be dangerous if you don't use it properly.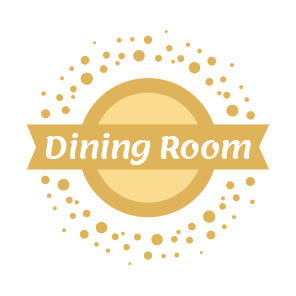 Think nothing could possibly go wrong in the dining room? It's better to be safe than sorry.
Avoid keeping tablecloths and placemats on top of the dining table when not eating. Toddlers love tugging at them and if anything is placed on top of the table, those items will fall.
Lock away sharp utensils such as forks and knives when not in use.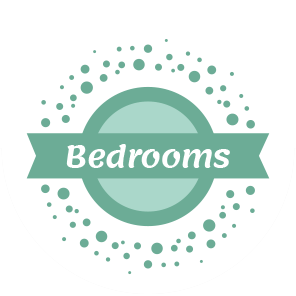 If you have multiple bedrooms, consider making some of them off-limits to your child. For instance, if your adult son has a bedroom, you won't need to worry about childproofing it. Do make sure locks or other safeguards ensure young children stay out of these off-limits bedrooms.
Check the crib, ensuring that it meets today's safety standards.
Stow cords away from the crib.
Place the crib away from windows, if possible. Otherwise, consider installing window guards. They are not a substitution for parental supervision, but they do provide some extra safety and reassurance. The issues with windows include falling through window screens and getting caught in drapes or cords.
Try to keep other furniture, especially heavy furniture, away from your child's crib. In fact, if you have any heavy furniture in the same room, consider strapping or securing it to the wall just to be safe. As babies grow and start exploring more, they may want to climb on furniture which can cause the furniture to tip over and fall onto them.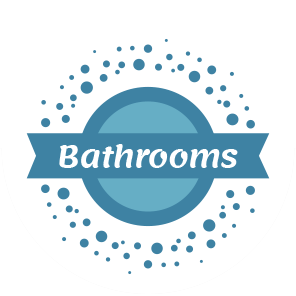 Like with bedrooms, you may want to make one or more of your bathrooms off-limits. However, bathrooms in common areas should be childproofed. What does this mean exactly?
Supervise children in bathrooms. Don't leave them alone, not even for a brief moment. More specifically, they should not be alone in a bathtub because young ones can drown in just a few inches of water.
Install safety locks and latches. Place guards on toilets to ensure your child cannot get into them. Lock cabinets and drawers that hold hazardous items or medications.
Place a rubber slipcover next to the bathtub to avoid your child slipping and falling when the area is wet.
Hire a plumber to install an anti-scald device for all faucets and showerheads in the bathrooms. This device will regulate the water temperature, helping to prevent burns. A baby and child's skin is extra sensitive and can burn easily without proper care.
Unplug all hot hair tools after use to prevent electrocution from water contact. Keep them stored somewhere safe away from curious children.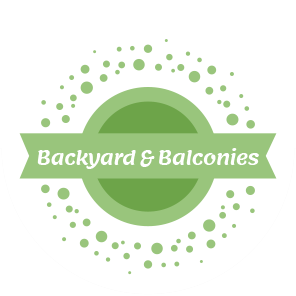 Don't forget to childproof your outdoor living space too!
Install a tall fence around any pools or hot tubs. At the very least, securely gate them off so your child cannot get into them without supervision. Do choose user-friendly locks in case adults need to enter locked areas in an emergency.
Avoid having any plants that could be harmful to ingest or that are not friendly to the touch. In the desert particularly, it's common to grow cacti and succulents. While they are popular from a water conservation standpoint, they can cause a lot of pain if your child were to run into one or touch it out of curiosity. Bear in mind that plants and trees that produce fruit and veggies can pose choking hazards.
Designate "kid-free zones." For example, young children should not enter grilling areas or sheds that house lawnmowers and other yard tools.
Ensure that entryways are securely locked, especially if you live in a multi-story house, apartment, or condominium with balconies. It is best to prohibit children from entering balconies alone because of the fall risk.
Incorporate soft ground covers for play areas so that your child is cushioned from falls. Falling on fake grass or padded foam is much safer than landing on concrete or brick.
Consider taller walls or fences around your backyard to protect it from potentially dangerous wildlife such as coyotes, bears, alligators, snakes, and mountain lions. If you live in an area where such animals frequent, monitor your children while they play outside for ultimate safety.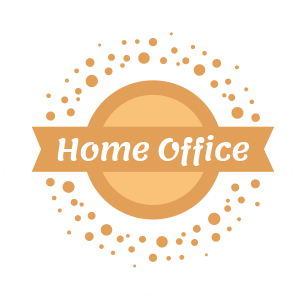 Work from home? Take some measures to make your home office more kid-friendly if you often have your child in there with you.
Keep plants up high and out of reach, as some can be toxic. Also, be mindful of hanging vines that can be easily tugged by little fingers.
Conceal cords, if possible. Otherwise, organize and secure them to baseboards. Duct tape is quick and efficient in a pinch.
Put heavy books on bottom shelves to avoid your children pulling them off and hurting themselves.
Keep office supplies like staplers, scissors, pens, letter openers, and paper clips hidden and locked in a drawer.
Unplug paper shredders after each use.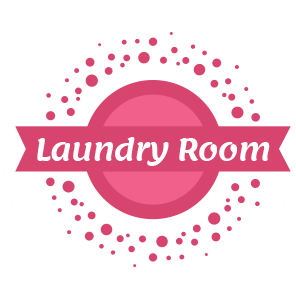 Your laundry room might seem small and minor compared to the rest of the house, but it should certainly not be ignored.
Store laundry detergent and other chemicals out of sight and up high so that only adults can reach them. Bright colors intrigue kids, and laundry detergent liquids may look tasty to a young one who doesn't know any better.
Ensure that laundry scoops are not hanging out on the floor or somewhere accessible. Your child can easily pick them up and mistake them for toys. These scoops may have leftover soap residue and are toxic to ingest.
Keep the laundry room closed or gated off when the washer and/or dryer is operating.
Additional Tips
The above tips go a long way toward keeping your children safe. There's more to childproofing, though. Keep these new tips in mind.
Avoid having any firearms at home, but if it's absolutely necessary, then store them in a locked box and keep the ammunition in a separate locked box somewhere else. Store the boxes high up somewhere so that your child cannot reach them.
Supervise all child-pet interactions if you have pets at home.
Be mindful of small objects around the house. Anything small enough to fit in a baby's mouth is too small to be left within a young child's reach.
Equip garage doors at home with working sensors so they don't shut all the way if they detect a child or pet.
Use a firm mattress that slots tightly into your baby's crib. Put babies younger than 12 months to sleep on their backs, and keep stuffed animals, blankets, pillows, bumper pads, and all soft items out of the crib. They increase the risk of suffocation.
Do not let the little ones play with broken toys, as they may be a choking hazard.
Use video baby monitors and indoor cameras wisely. They're great in many ways—they help you keep an eye on your child from afar and let you see potential hazards such as your child climbing on a bookshelf. However, they're not a substitute for in-person supervision.
Have realistic expectations; keep in mind that childproofing a home does not mean your child is automatically free from harm. Bumps and bruises are bound to happen and are a normal part of development. However, childproofing lowers the risk of both major and minor injuries.
Conclusion
It's not always easy staying on top of kids, especially if you have more than one and have a lot of things to do around the house. Childproofing your home eliminates some of that stress, allowing you and your family to rest easier. Taking these essential steps goes a long way for your children's safety both in their babyhood and childhood years.
While this guide is in no way comprehensive, it is designed to provide prospective and current parents with childproofing ideas. We recommend that you also conduct your own research based on individual circumstances and even consult with an expert to properly childproof your home.
Below are additional resources that may provide additional insight.
Poison ControlThink your infant might have ingested something toxic? Call the poison control number found here. The Poison Control website also offers tips on poison-proofing the home and using medications safely.
Parents | BabyproofingThis resource contains engaging blog posts—no dry, boring content! Read about childproofing must-haves, surprising choking hazards, and things to do to get your house in order before your baby comes, among many other things.
National Safety CouncilGet more insight into the importance of childproofing your home. Learn about measures such as first aid and fire escape plans that help you be a vigilant parent overall.