By SafeHome.org Research Team | Last Updated July 22nd, 2020
Few issues are as polarizing in the U.S. as access to guns. About 60 percent of Americans say gun laws should be stricter, while, paradoxically, nearly the exact percentage of people say owning a firearm makes a person safer.
The perception that you, your family, and your home are safe involves countless factors, some of which are entirely out of your control. We wanted to explore the nature of gun ownership and how having (or not having) a firearm impacts individual perceptions of safety at home. We asked more than 600 American adults (including 250 firearm owners and 350 non-owners) a series of questions related to their ownership of guns as well as their personal feelings of safety and usage of home security products. We also analyzed data on gun ownership at the state level from Pew Research Center and RAND Corporation.
Here are the highlights of what we found:
Gun owners are twice as likely to feel that their home is "extremely safe," compared to people that do not own guns. (43 percent to 18 percent). This difference is consistent regardless of if the respondent owns a home security system.
Gun ownership and home security ownership is correlated with income. Gun owners are more likely to own every type of home security system, including the old-fashioned "guard dog."
Personal protection is the most commonly cited reason for purchasing a gun (74 percent), followed by property protection (54 percent).
Table of Contents
Perception of Safety, Gun Ownership and Home Security Systems
We asked adults how safe they felt at home from a range of "extremely safe" to "not safe at all". We then asked about gun ownership, home security system ownership, and gun safety practices in addition to several demographic questions.
So how safe do gun owners feel at home compared to non-owners? Gun owners were more than twice as likely as non-owners to feel "extremely safe."
Safety Perceptions by Gun Ownership & Home Security System Status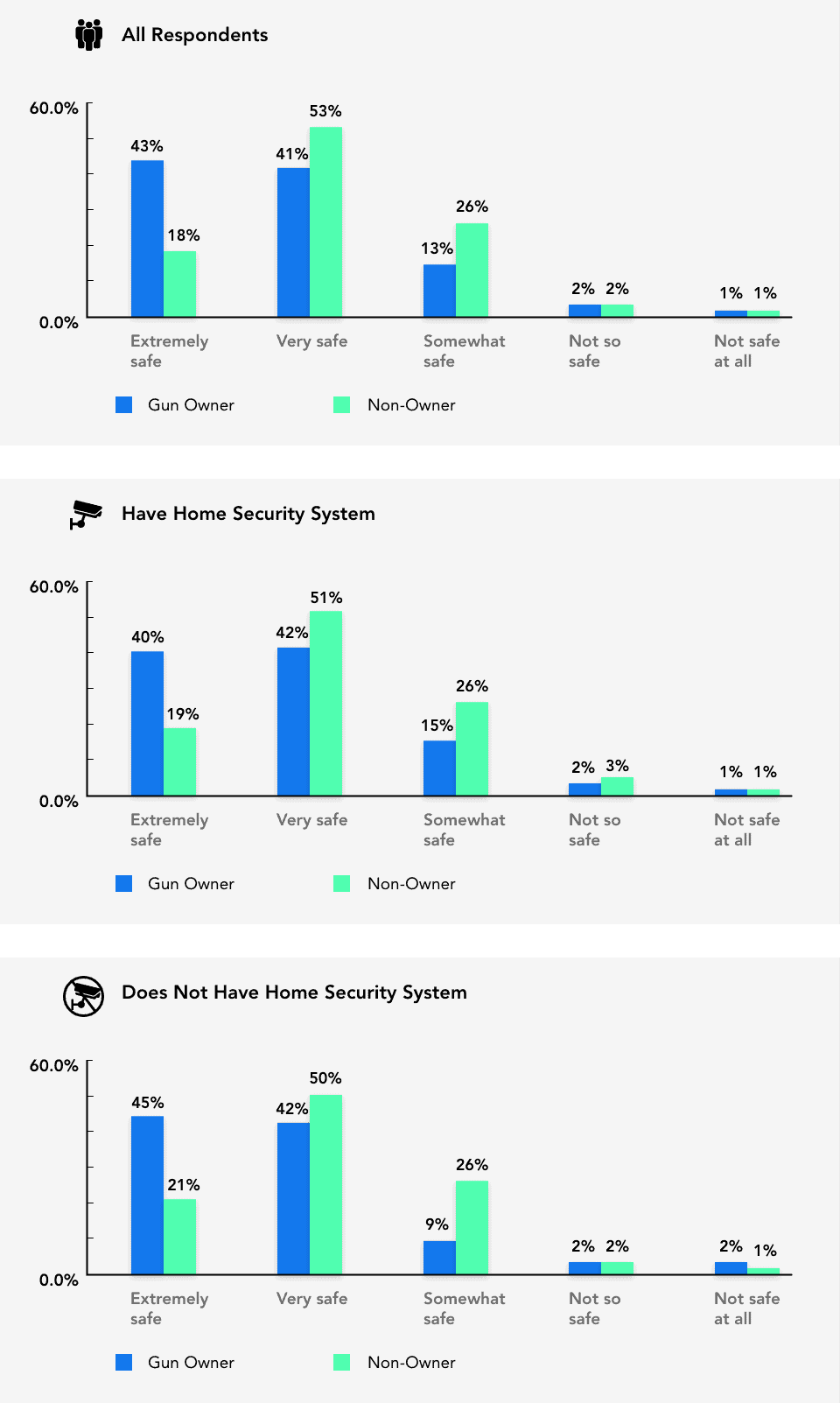 We asked gun owners to select all reasons why they purchased a firearm. Personal protection and protection of property were the two most commonly cited reasons for gun purchases.

Gun ownership was very strongly correlated with the presence of home security systems. While about 78 percent of gun owners say they consider their firearms to be part of their home security system, only 18 percent of gun-owning respondents don't own any other home security system.
Meanwhile, 42 percent of those who don't own guns said they don't own any type of home security system among those listed, which includes wired and wireless systems, doorbell cameras, guard dogs, and more. It should be noted (as shown in the next section) that both firearms and home security system are correlated with income.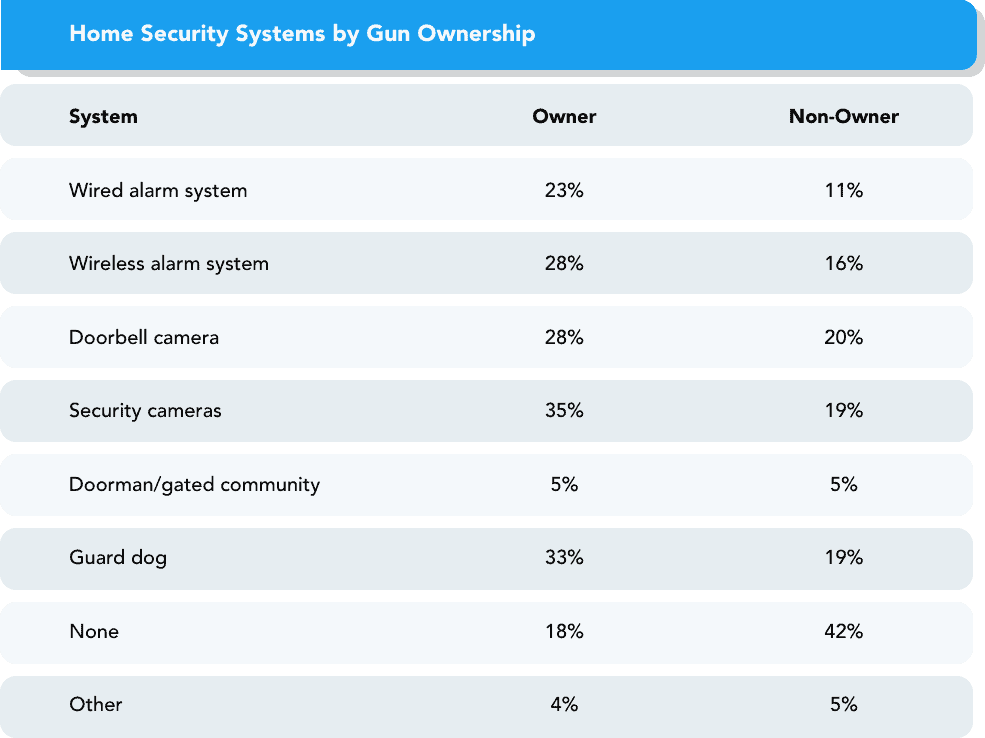 Demographics of Gun Owners
Below is the demographic breakdown of gun ownership, income, age, types of guns owned, and safety practices. Our survey was census-balanced by age.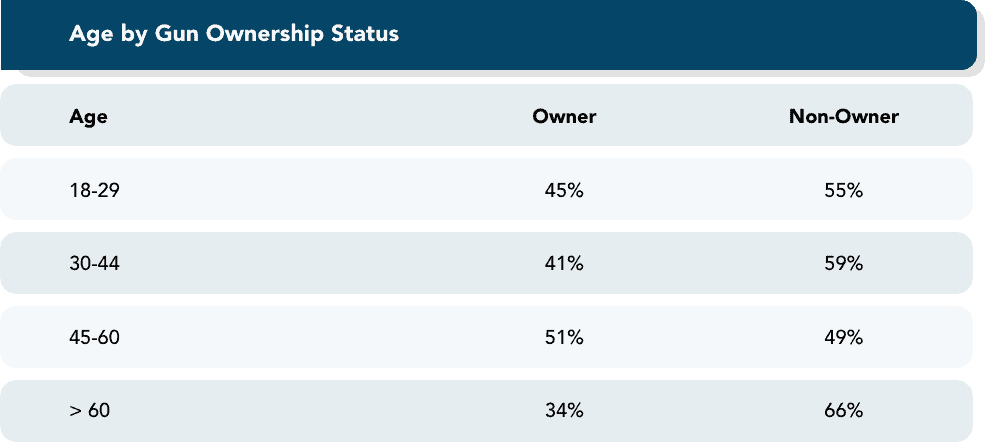 Household income is somewhat predictive of gun ownership status, as those making less than
$25,000 per year were the least likely to own a gun (an average of 37 percent). Respondents with household income between $150,000 and $175,000 were the most likely to be gun owners (64 percent).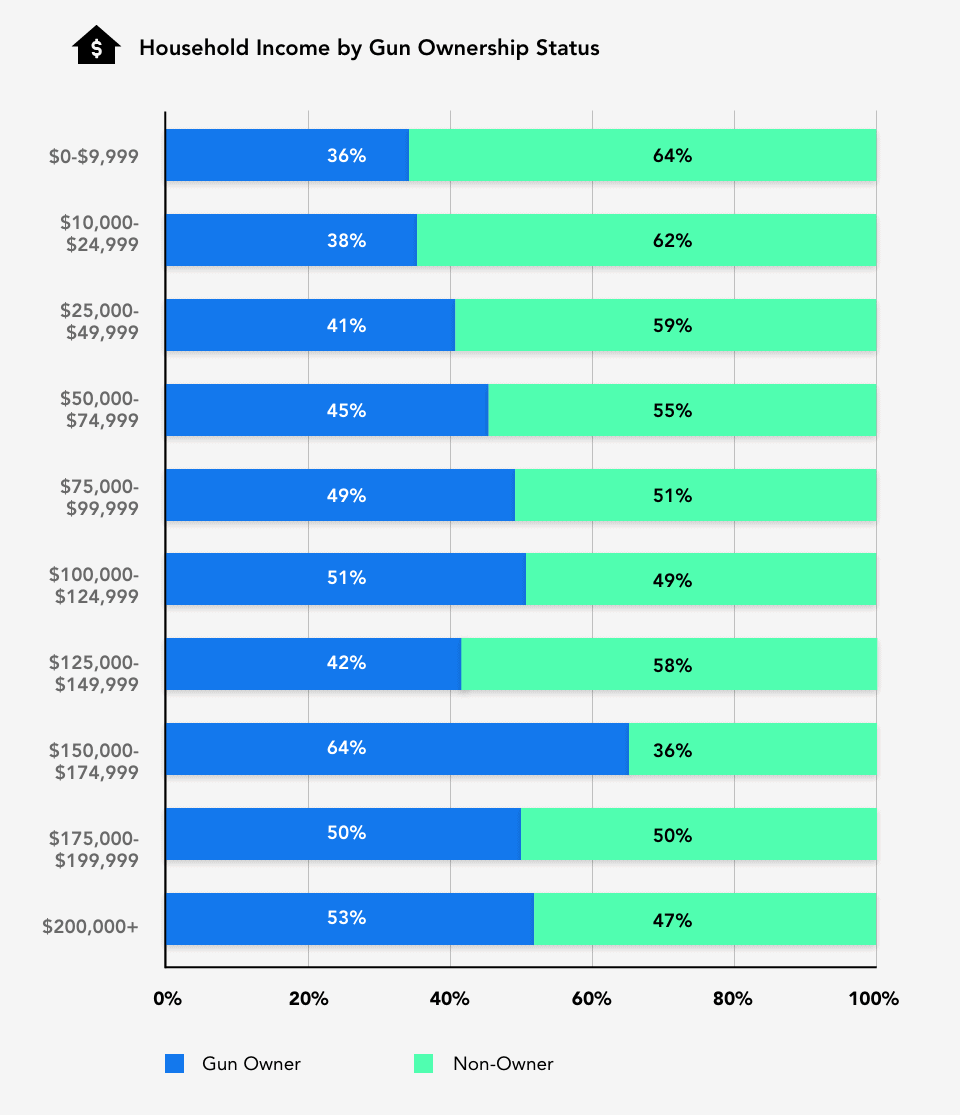 Types of Guns Owned & Safety Training
Pistols and shotguns were the most common types of guns cited, with 60 percent of all gun owners saying they have a pistol. A quarter of gun owners in our survey said they had a semi-automatic rifle.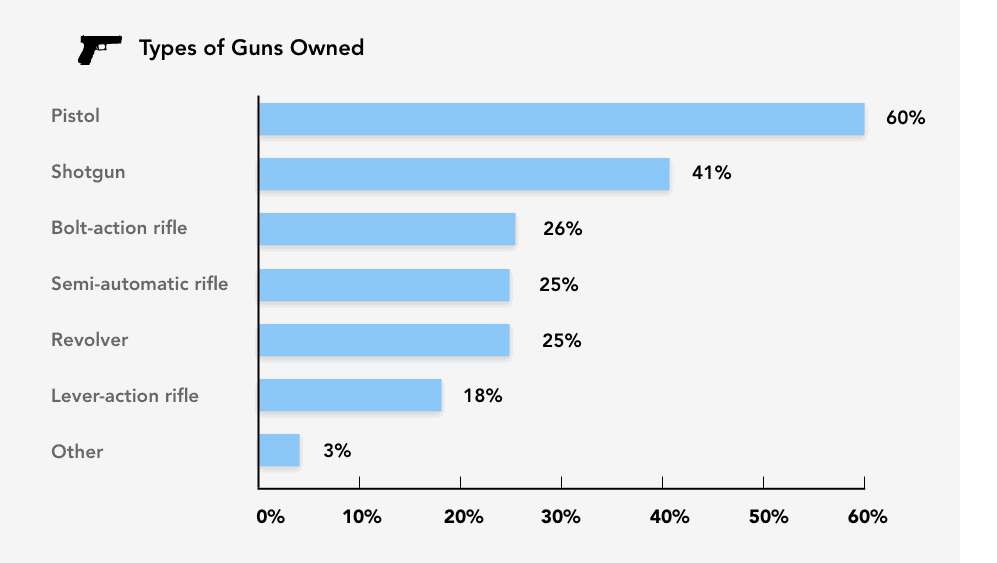 Nearly three in four firearm owners said they obtained a license for their firearms, and only about one in five said they'd never had gun-safety training. The vast majority of gun-owning respondents in our survey (87 percent) said they keep their guns secured and stored in a different spot than the ammunition.

How Many Americans Own Guns, By State?
Measuring the number of Americans who own a gun is a difficult prospect, in large part because there is no federal agency tasked with calculating this number.
Research from 2019 by the Pew Research Center indicated that 30 percent of American adults personally owned a gun, but that same study found that 43 percent of people lived in a household where at least one gun was present. A RAND Corp. meta-analysis of survey and administrative data found that about 32 percent of households in 2016 were home to at least one gun. That same study found that household gun ownership peaked in the late 1980s and early 1990s at about 46 percent of households.
RAND's analysis found that household gun ownership is much more common in some states than others over the past couple of decades. For example, in Montana and Wyoming, about 66 percent of adults live in a household with at least one gun, while less than 15 percent do in Hawaii, Rhode Island, Massachusetts or New Jersey.
Average Percentage of Adults Living in House With at Least One Gun, 1980-2016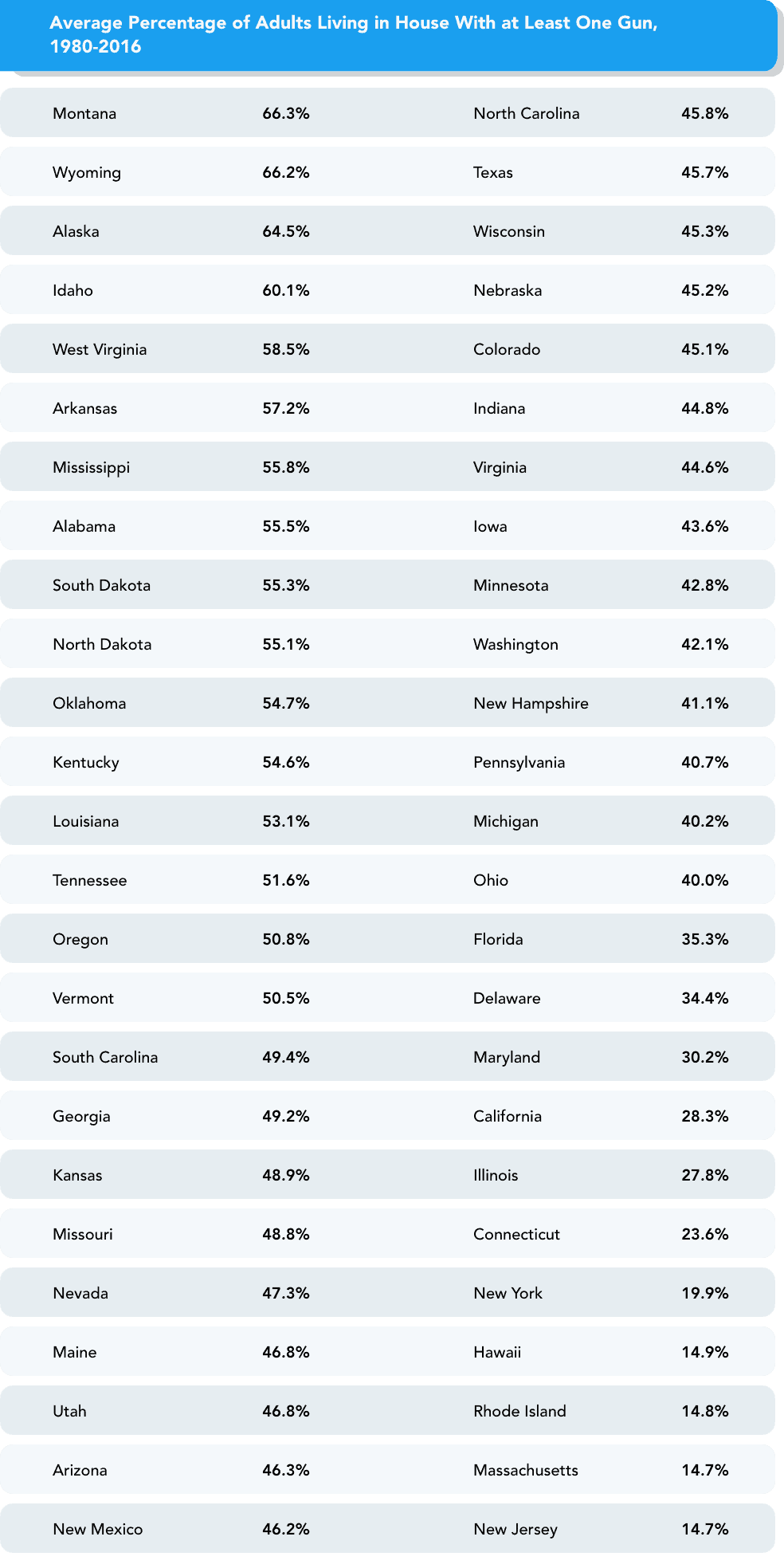 Considerations for Future Research
According to Maslow's Hierarchy of Needs, feeling safe is the most essential human need after physiological needs such as food and water. There is, of course, a difference between feeling safe and being safe.
As the nation debates future gun policy, it is important to understand why Americans choose whether to own a gun and the role of guns in feelings of safety. If you are actively researching this topic and would like more information on our data, please reach out to us here.
About SafeHome.org Research and This Report
SafeHome.org's independent research team explores home security, physical safety, and what it means to be safe in America. We cover broader societal trends that can threaten or improve our safety and participate in joint research with non-profit organizations and municipalities to keep Americans safe. SafeHome.org's advisors are former law enforcement professionals and security consultants and provide valuable input into our research. For this report, we surveyed 627 U.S. adults on their gun-ownership status, usage of home security systems, perceptions of safety, and related matters. Our survey was conducted in July 2020. We also used data from Pew Research Center and RAND Corporation.