Our Full Experience with IPVanish
IPVanish: First Impressions
Once we opened the software, we were prompted to enter the username and password we created in the setup. We were then prompted to begin a tutorial explaining the VPN and its services.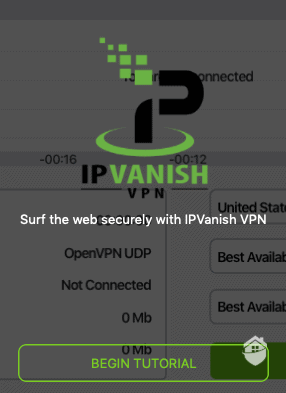 Kudos to IPVanish, here. We love a good tutorial, especially when we're dealing with something that can get a little technical.
First, we were told to select our region, and that IPVanish would select the fastest server for us. Next, we were shown that our real IP address would change to one that used IPVanish's servers — hence the name. We were shown where we could toggle the VPN on and off, and then we were ready to hit the ground running.
Did You Know: An IP address is a number used to identify any device connected to a network. Simply put, it's how devices find each other so they can talk to one another over the internet.4
Day-to-Day Use with IPVanish
Like most VPNs, IPVanish runs in the background, and for the most part, average people are not going to need to fiddle with it too much during their typical day-to-day web browsing.
One of the things we really liked about IPVanish VPN is that it just works without much input on our end. It runs in its own little window that you can minimize and literally forget about. After following the instructions from the tutorial, we were connected to the VPN in a matter of moments.
In the dashboard, we could see our traffic running in real-time, which we think is a pretty neat addition. You're not going to really be too concerned with this during a typical day of browsing, but it's nice to know you have access to it, and it's visual feedback that the VPN is working. Is this the most sleek UI we've ever seen? No, we found that when we analyzed NordVPN, or in our Encrypt.me review, but it's still pretty neat – and more importantly, functional.
FYI: On a Mac, the IPVanish dashboard window can be a little wonky to move and resize. It's by no means a dealbreaker, but it can be a little annoying at times.
To confirm, though, we went to ipleak.net to make sure everything was working properly with IPVanish. Good news — it certainly was. Our IP address was obfuscated, and our traffic location wasn't local. We have never even been to Wichita!
One quick thought, though. It can be a little difficult to understand exactly what you're looking at on IPVanish's dashboard right off the bat. The light and dark green curves moving through the graph represent your upload and download speeds, which you can also see at the top of the graph and at the bottom of the white window labeled "data up" and "data down." In that window, you'll also find the time you've been connected, the protocol you're working with, and the server you're connected to.
One concern with any VPN is what it will do to your connection speeds. Since you're routing traffic through non-local servers, you might notice significant slowdowns and a decrease in overall performance.
We're happy to report that after several days of testing, we really didn't notice any significant slowdowns. There were moments where load times seemed slightly longer, but we didn't know how much of that was because it was actually slow, or because we were expecting it to be.
To get objective, we headed over to an online speed testing tool to get some readings.
Without the VPN connected, our baseline download speed was a little over 100 Mbps per second and our upload speeds were around 47 Mbps per second. Not too bad!
While using the VPN, there was no significant decrease in our download speeds, and our upload speeds decreased ever so slightly. Now, take into account we're in a major city with top-tier internet connectivity so your experience may not be exactly the same. But we will say we shouldn't expect to notice a significant decrease in performance if you choose to use IPVanish.
So honestly, this is about as far as most folks will need to take their IPVanish experience. Once it's connected and running (and confirmed), you're protected. People uninterested in the advanced functions can literally set it and forget it at this point, but we wanted to see what else IPVanish VPN has to offer.
But first, we recommend watching our video review of IPVanish to learn more about the pros and cons, features, and how it can shore up your online security…