Best Smart Home Security Systems
Smart home security systems give you the best of both worlds; home security and home automation. See which home security systems double as home automation hubs in our list of favorites.

Smart home features will provide you with more convenience and control over your home and other areas of your life. The convenience features a smart home will provide you will ultimately become priceless. Once you've had them installed, you will begin to see the benefits and wonder how you ever lived without them. Smart home systems will not only provide you with added convenience, but many of them will also save you loads of money.
1. Vivint – Best Smart Home Security Overall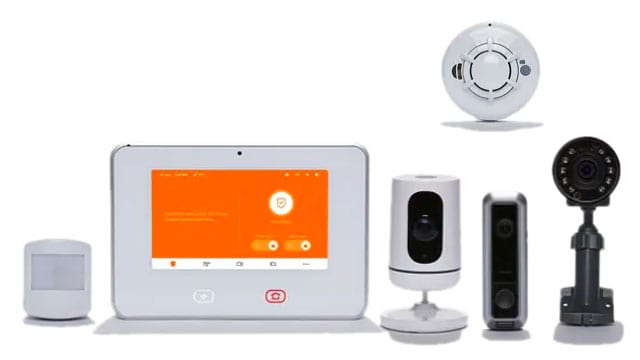 Vivint has more than a million customers in the U.S. and Canada and is a highly-regarded home automation brand. Vivint prides itself on providing comprehensive home automation systems rather than having the customer rely on piecemeal components that may or may not consistently work well together, if at all. Here is a quick Vivint overview along with some of the Vivint pros and cons.
Pros
Intuitive touchscreen hub with two-way talk feature
Highly rated 4.5-star mobile app for complete overall control
Professional installation
No activation fee
Huge monthly savings from using home automation equipment
100% wireless systems
Environmental disaster sensors available
Cons
No DIY installation option available
Long-term contract required in some cases
Upfront equipment purchase required in some cases (financing available)
With Vivint home automation, you put communication and the control of your home in one place. All your smart home equipment and sensors can be controlled using the Vivint SkyControl Panel, which is the hub that links you with all your equipment from one easy to use dashboard. This hub is intuitive, making it extremely user-friendly, it has a two-way talk feature, a battery backup for when the power goes out, and it uses a cellular Wi-Fi encrypted network with a dedicated signal.
The benefits of using Vivint smart home automation are almost endless. You will benefit from using the smart lights, locks, garage doors, thermostats, environmental disaster sensors, as well as being connected to your entire home security system. This includes being connected to your surveillance cameras and doorbell camera all from one place. And the hub even comes with a panic button. Additionally, you will be able to integrate your system with Google Home, Amazon Echo, and more.
2. ADT – Best Smart Home Security App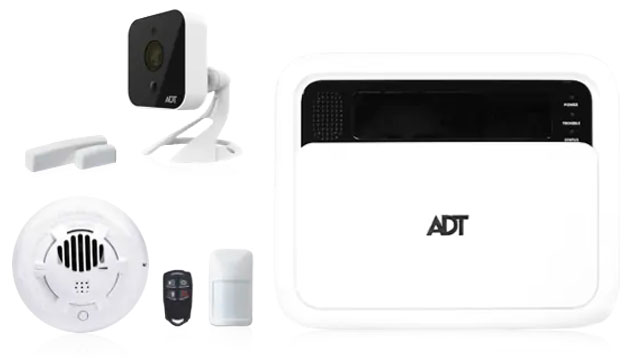 ADT is an extremely popular home security and home automation brand that offers a wide variety of products and services. They are trusted by millions of people who choose to use ADT to protect their homes and families. They offer same-day installation and a six-month money-back guarantee, although some restrictions apply. ADT even offers you $500 off your insurance deductible if your home is ever broken into while your security system is armed. Here is an ADT overview along with some of the ADT pros and cons.
Pros
Wired and wireless systems available
Extensive line of home automation products
Intelligent ADT mobile app
Compatible with Z-Wave technology
Affordable monthly packages
Cons
Professional installation is required and it's not free
Long-term contract
No relocation option available if you move
Inconsistent level of customer service between franchises
If you are looking for home security and home automation then look no further. ADT offers a wide variety of both. With ADT, you will be able to use their mobile app to arm and disarm your security system, access, monitor, and control your home security and automation devices, and remotely control your lighting, locks, thermostat, surveillance cameras, and more.
The ADT home automation components also include a video doorbell that will allow you to see, hear, and speak with anyone at your door, as well as having home automation switches and plugs that will transform your small appliances and electronics into equipment you can control remotely once they have been installed.
3. Frontpoint – Best DIY Smart Home Security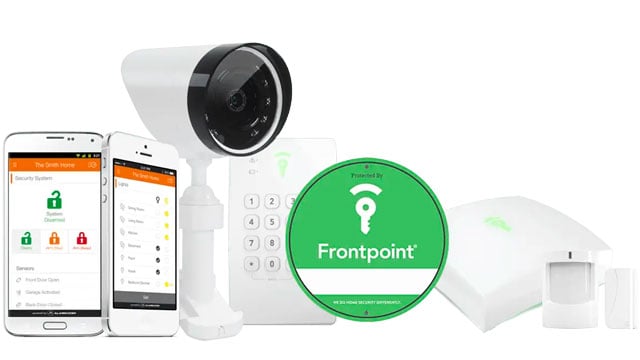 Frontpoint really stands out as a leader in the home security/automation industry because of their dedication to providing their customers with exceptional, concierge-level support. Additionally, Frontpoint is one of the most affordable brands that gives you more for your money than anyone else. So if you want highly customizable home security/automation packages, then Frontpoint is for you. Here is a Frontpoint overview along with some of the Frontpoint pros and cons.
Pros
Affordable plans
DIY wireless installation
Highly-personalized and powerful home automation
30-day money-back guarantee
Environmental disaster sensors available
Exceptional customer service
No setup, installation, or activation fees
Cons
Long-term contract required
Credit check required
No landline option available
Frontpoint offers highly-customizable packages which only makes their home automation equipment more popular. This is because you only have to pay for what you need and nothing you don't.
Frontpoint has some exceptional equipment. For example, the Frontpoint Hub can switch between Wi-Fi and cellular services so if one goes down it will have the other communication option to back it up, and, it is also smash-proof. That means even if an intruder disables it, the alarm signal will still work. Frontpoint also has four different types of surveillance cameras which are indoor, indoor premium, outdoor, and their doorbell camera.
The Frontpoint home automation equipment includes some powerful options as well. They offer a smart door lock with a backlit keypad and the ability to create unique entry codes. They also offer a smart light bulb and wireless light controls. These can be timed to come on automatically or be randomly turned on from the Frontpoint app so you will never have to come home to a dark house. Frontpoint also has a smart garage door controller that will enable you to close your garage door remotely from the mobile app if you ever forget to close it. You will know you forgot to close it because Frontpoint will send you an alert if your garage door ever stays open too long.
And that's not all Frontpoint offers in the way of smart home features. They also have environmental disaster sensors that will alert you as to any changes in your home. For example, they have a smoke, heat, carbon monoxide, and flood sensor that will alert you if any of these events are detected in your home. This will enable you to respond immediately before that event turns into a disaster. Environmental sensors are a great way to protect your kids and pets, especially when you're not home.
4. Nest Secure – Best Google Smart Home Security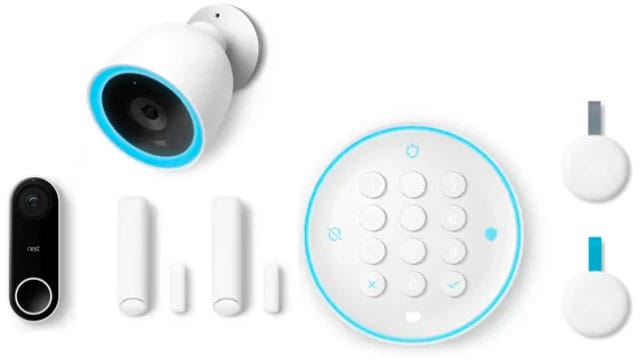 The Google Nest product line is quite impressive and can all be controlled using just your voice. So if your hands are full or you can't get to the door, just say "Hey Google" and the appropriate Nest product will respond to your command. The Nest product line has everything from several types of hubs, indoor and outdoor cameras, a Google Home Mini, and a multitude of home automation features. It even has a Nest learning thermostat. Here is an overview of the Google Nest products along with some of the Google Nest pros and cons.
Pros
Easy integration with third-party devices
No long-term contracts required
Works with or without a subscription plan
Wide variety of products with centralized controls
Extensive line of home automation products
Easy to install and user-friendly
Cons
Nest upfront costs are a bit high
Overwhelming product options
Nest Aware costs are on a per-camera basis
If you are looking for an easy to integrate and use home automation system, you might want to look at the Google Nest products. These home automation products allow you to run your home without lifting a finger. The Google Nest home automation products include smart lights, several types of hubs and Google voice assistants, a Nest Protect and alarm system, Nest indoor and outdoor cams, Nest doorbell, smart locks and smart thermostats including a learning thermostat. The Google Nest lineup also includes Google Home Max, Chromecast and Chromecast Ultra. You can even incorporate smart plugs and small appliances into your home automation network. There are literally hundreds of different devices and ways you can integrate the Google Nest products into an entire home automation ecosystem that's perfectly customized for your specific wants and needs.
5. Ring Alarm – Best Alexa Smart Home Security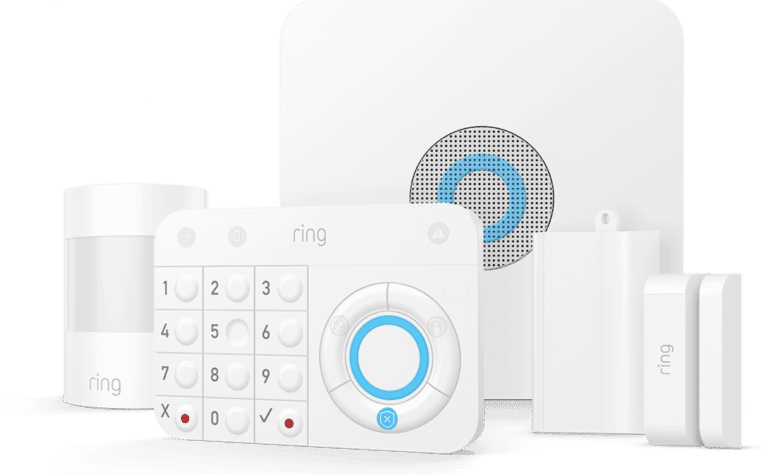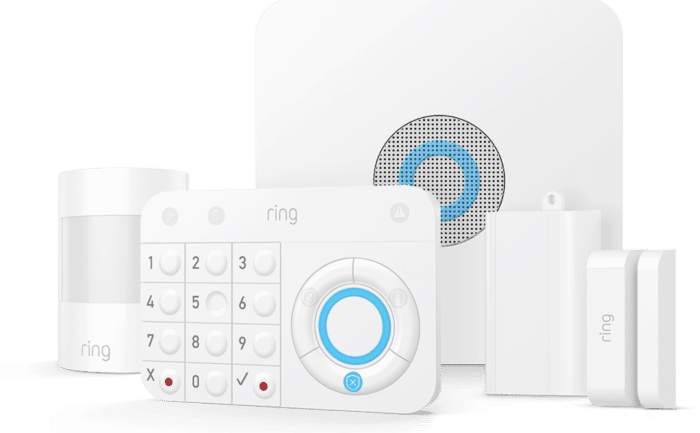 One of the things people like best about the Ring products is that they are the most affordable, comprehensive DIY packages available. Pair that with their low to no monthly monitoring fees and you have a winner. And, Ring keeps adding more and more extremely helpful features to their line of services such as their Neighbors App which is like a neighborhood watch program that enables any Ring user to alert their neighbors of any suspicious activity that has occurred or might be occurring. Here is a Ring overview along with some of the Ring pros and cons.
Pros
Easy DIY installation
Can be easily integrated with third-party products
Customizable systems
Cellular-based backup signal
Ring Neighborhood video share option
Compatible with Z-Wave and Zigbee devices
Compatible with popular voice assistants such as Alexa
Many smart home options available
No long-term contracts
Cons
Upfront equipment purchase required
Some features not included with the base packages
Per camera pricing on the lower tier plan can get pricey
Ring has come a long way since the day of their only having their ever-famous Ring doorbell. Ring has since branched out and now offers a variety of home security and home automation products. Ring now offers smart locks, lights (including dimmers), plug outlets, garage door sensors, and more. Ring also offers environmental disaster protection options for smoke, carbon monoxide, flood, and freeze sensors. Not to mention they have a wide variety of accessories you can add to your plan, including solar options, interchangeable faceplates, and they even have spare parts and retrofit kits as well.
What Is a Smart Home?
A smart home is one that uses home automation equipment to control a home's lighting, thermostat, electronics, and small appliances remotely using a companion mobile app and/or by simply using voice commands with a compatible voice-enabled device.
The Benefits of a Connected Home
The benefits of a connected home are almost endless. With home automation systems, you can manage and control almost every aspect of your home remotely using a mobile app or by speaking simple voice commands. The benefits of a connected home include being able to remotely turn on your lights before you get home or turn them off after you've already gone to bed. You can also remotely adjust your thermostat if you or your kids forgot to turn it up/down before you left the house or after you've gone to bed. You can also remotely open and close your garage door, lock your doors, or turn off your small appliances. Additionally, many home automation devices also enable you to program and schedule some of these events as well.
Features of Smart Home Security Systems
Wireless Connectivity
Wireless connectivity is a home security/automation system that communicates using a cellular (wireless) signal to send alerts to a monitoring center. The door and window sensors connect to the system's control panel wirelessly using radio frequencies and will send an alert to you or the monitoring center if any of those sensors are triggered.
Cellular Monitoring
Cellular monitoring uses a cellular signal to monitor and communicate any system breach. Cellular monitoring uses a dedicated cellular network to send and receive signals to the monitoring center. However, you don't have to have a cell phone to use cellular monitoring because it is provided by the monitoring company you are using.
Mobile Alerts
Mobile alerts are used by home security/automation companies to alert you when any given activity at your home has occurred. This could be an alarm going off, a sensor has detected activity, your environmental sensors detect a problem, or any other potential issue at your home or on your property. Mobile alerts are sent via text to your mobile device to alert you that a potential problem has occurred. When a mobile alert is received, a user can then access the associated mobile app to see what the problem might be and respond accordingly.
Remote Access
Remote access is a home security/automation feature that will allow you to access, monitor, and control your home security and home automation equipment remotely using the brand's companion mobile app. With remote access, you can arm/disarm your security system, let someone into your home, turn on/off the lights, lock the doors, set your thermostat, and more.
24/7 Monitoring
If a brand offers 24/7 monitoring, it simply means that a monitoring center is actively monitoring your home's security system 24 hours a day, seven days a week. Once an alarm is triggered, a signal is sent to the monitoring center to verify the problem and address the situation accordingly.
Motion Detectors
Motion detectors are the part of your home security system that detects movement in your home when your alarm system is armed. A motion detector uses one or more technologies to detect movement in any given area of your home and will alert you or a monitoring center if activity is detected.
Security Cameras
Security cameras, also known as surveillance cameras, allow you to monitor and/or record the activity going on in and around your home. If activity is picked up by a security camera, you and/or a monitoring center will be alerted. This will allow you to see who entered your property so you can address the situation and potentially prevent a crime from happening. And, if a crime has already occurred, you will have video evidence to determine who, what, where, when, and hopefully why it occurred. Video evidence is a tremendous help to the authorities when trying to solve a crime. Some video recordings are saved locally on the camera and others are stored using a cloud storage service.
Smart Locks
Smart locks are integrated into your home automation system. Smart locks enable you to lock and unlock your doors and garage door remotely. They also enable you to remotely grant someone access to your home and then lock the door again when they leave using the brand's mobile app. Some smart locks are keypads and others look like a standard lock.
Home Automation
Home automation is a smart home system that uses technologically advanced equipment that allows you to control almost every part of your home's functions. With home automation, you can lock/unlock your doors, turn on/off your lights, control your thermostat, open/close your garage door, access and control your security system/cameras, and more. A home automation system is generally controlled using a main hub or digital home assistant that works with a companion mobile app or voice control to access and control your home's functions remotely and/or automatically.