Abode is a newer name in home security and automation. Abode cameras offer a wide range of features, all of which are priced to be accessible to the average homeowner. These are do-it-yourself systems that have some nice features. For those looking for a competitively priced solution, there's a reason to take a closer look at what Abode can do for you in the way of cameras.
Features
A sound security system, Abode Security has plenty to offer today's homeowners. The features in the camera options are numerous, giving users the flexibility they often need. Among them are features like the following. Keep in mind each of the cameras available form abode is a bit different, and not all features are available on all systems.
Do-It-Yourself Installation
One of the best reasons to buy abode cameras is because they are designed to be installed by the property owner in as little as 30 minutes. They can be mounted to various surfaces, too, which gives you more flexibility in using them.
HD Quality Video and Excellent Photos
Not all of the Abode cameras have video included. However, they all have HD quality images. This can help provide clear images, even when the light is limited. Keep in mind that the abode Cam features night vision with IR illumination in low light environments, providing an improved level of visuals even at night.
Two-Way Communication
The company's video cameras offer two-way communication through built-in microphones and speakers. The quality is good. This allows you to communicate with anyone that is standing outside of your home or within range of the camera right from your phone app.
Pre-Alarm Recording
The abode Cam provides this feature. It will provide you with video leading up to the moments when an alarm is triggered. Pre-alarm gives you more information about what's happening before it happens so you can a clear view of the situation. The video cameras from abode all offer automatic recording, which means they start recording as soon as the alarm is triggered.
Wide-Angle Lens
A wide-angle lens, available on all of the cameras, provides up to 152 degrees of viewing. This gives you more coverage area as well as fewer blind spots. That means you see more of what is happening around your home.
Multiple Users
You can add multiple users to your account if you select the iota All-In-One Security Kit. This allows you to provide others with information about alerts and lets them arm and disarm your system from their connected account. This is all done on the app that you'll share.
Costs & Prices
The cost for the abode cameras depends on which one you buy. However, it is possible to find discounts and sales on them from time-to-time.
The abode Cam is normally priced at $149.
The iota All-In-One Security Kit is normally priced at $299.
The Wide Angle Motion Camera is normally priced at $115.
There is a free plan available for those who want to just buy the equipment and monitor their home on their own. Keep in mind you'll still need to purchase other equipment to do so in some cases. The self-monitoring option provides you with unlimited access through your app.
Or, you can choose one of the other plans available that range from $8 up to $20 per month. Some include professional monitoring services.
Equipment
The company is always looking to add more features and devices. At the time of this writing, the following Abode cameras were available:
Abode Cam
Designed to record short clips whenever the camera is triggered, the Abode Cam is a good all-around option. This is a full HD resolution camera that records video. It includes night vision with IR illumination for low light areas. It connects through Wi-Fi and has a pre-alarm recording that allows you to capture video just before the alarm is triggered. It includes a speaker and microphone to provide two-way voice communication. Mounting it is easy.
iota All-in-One Security Kit
The company's iota home security is a device that has a built-in HD camera that features two-way communication and a motion sensor. It's designed to be placed just about anywhere you want and need it to be. This includes Wi-Fi capability to link up to your home's internet. This is a very easy-to-install system. Once in place, you will receive notifications on your app (on your phone) any time the device is triggered. You can add more than one person to your account. A nice feature here is the wide-angle lens to give you more coverage. It includes a 1080 camera that provides excellent picture quality.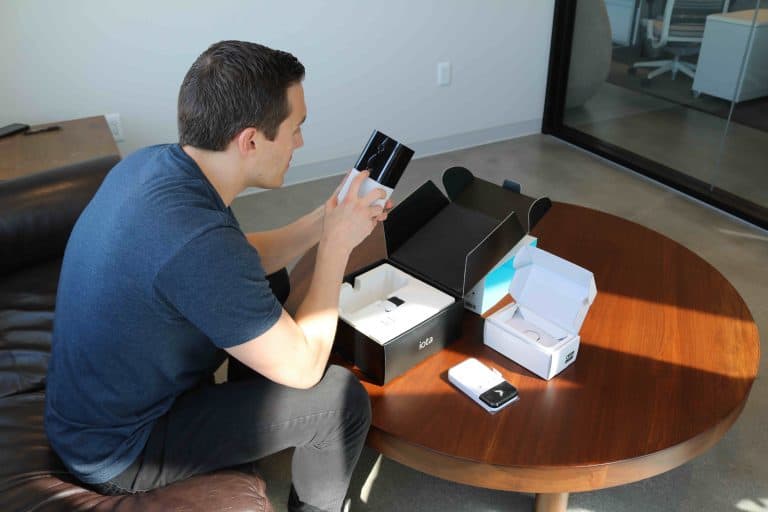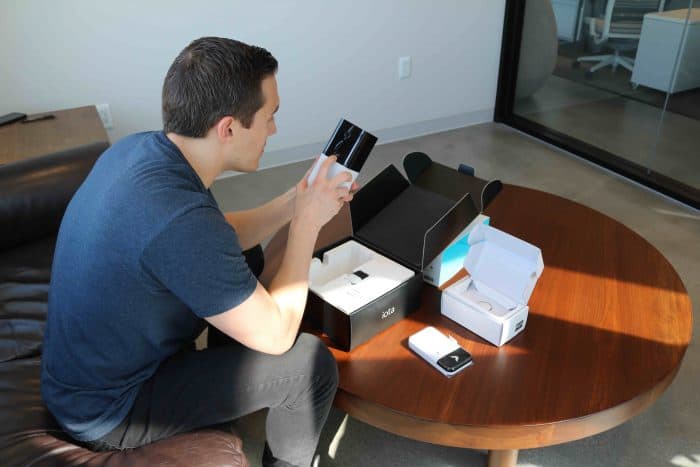 Wide Angle Motion Camera
Another option in abode cameras is the Wide Angle Motion Camera. This camera includes a motion sensor that picks up any type of motion within its field of view and starts recording. It has a wide-angle lens to reduce blind spots. Once there is something detected, it takes three photos right away, giving you key information. This is not a video camera. It is easy to install, and the batteries can last for as long as five years. Another nice benefit is that it incorporates long-range connectivity. This may allow you to place it a bit further from your home than other options.
Summary
The abode camera options are numerous, and the features are top-of-the-line for a base level system. What is nice about this system is that you can connect up to 160 different devices to the home security system. This gives you access to all forms of automation and camera viewing you need. And, abode's clears are good quality and meant to provide for all of your needs. The company has good customer service and support both online and through email. Even better, is that the entire system is competitively priced even if you choose professional monitoring and more advanced plans for your home.