Who Do You Trust More? Home Security Edition
Written By: SafeHome.org Team | Updated: June 31, 2021
There was a time when a "Beware of Dog" sign and the threat of a gun in the house were enough to feel protected. But as technology continues to advance, and devices become easier to hide, home security has turned digital. Doorbells with cameras have even become quite popular among American households, but does this technology really come with increased security? Amazon's Ring doorbell recently came under fire for privacy breaches, which has been a long-standing argument against high-tech home security. However, systems that give homeowners extra eyes may still provide a sense of safety.
So which home security features make people feel the most safe? Are guns and dogs still adequate security, or has technology completely taken over? We surveyed over 1,000 renters and homeowners about their home security preferences and perceptions of safety. Technology may be the way of the future, but is it the safest option? Keep reading to see what others think.
Safe at Home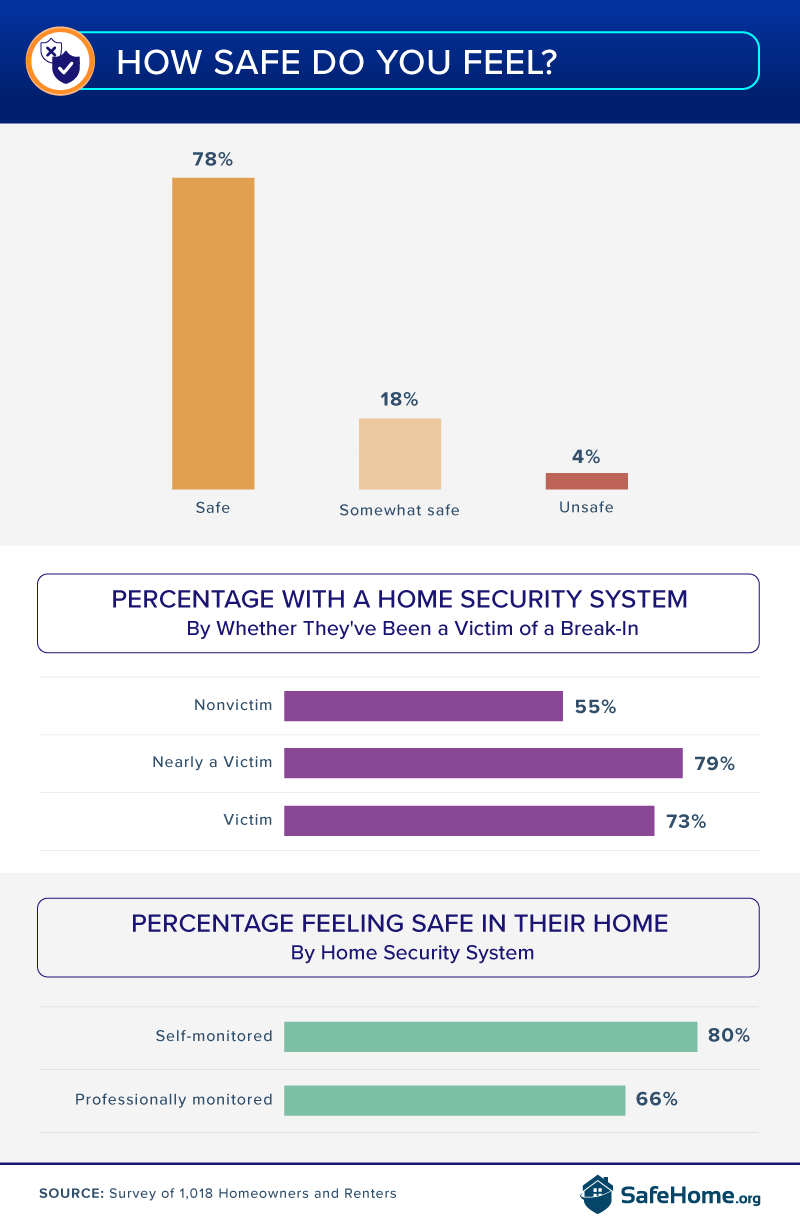 High-tech home security may be on the rise, but smart homes come at a time when crime is at its lowest since the early 1990s. According to our survey, 21% of homeowners and renters experienced a home break-in, while 12% said they were nearly a victim.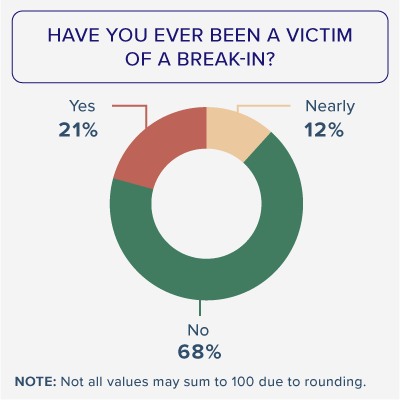 Property crimes fell by 50% between 1993 and 2017, and Americans may sense this, as 78% of respondents felt safe in their homes. Having a security system will likely increase feelings of safety, but those who chose a self-monitored system were more likely to feel safe.
While these security systems typically cost less than those monitored by companies, complications like power outages or poor service can interfere with police intervention. Of course, professionally monitored security systems come with their own pros and cons, leaving the decision ultimately up to personal preference.

Interestingly, victims of break-ins weren't the most likely to have a home security system. While 73% of victims had a security system, 79% of near-victims did as well. Renters and homeowners who had never experienced a close call with a break-in or the real thing were the least likely to have a security system, with just over half reporting as much.
Rating Safety Features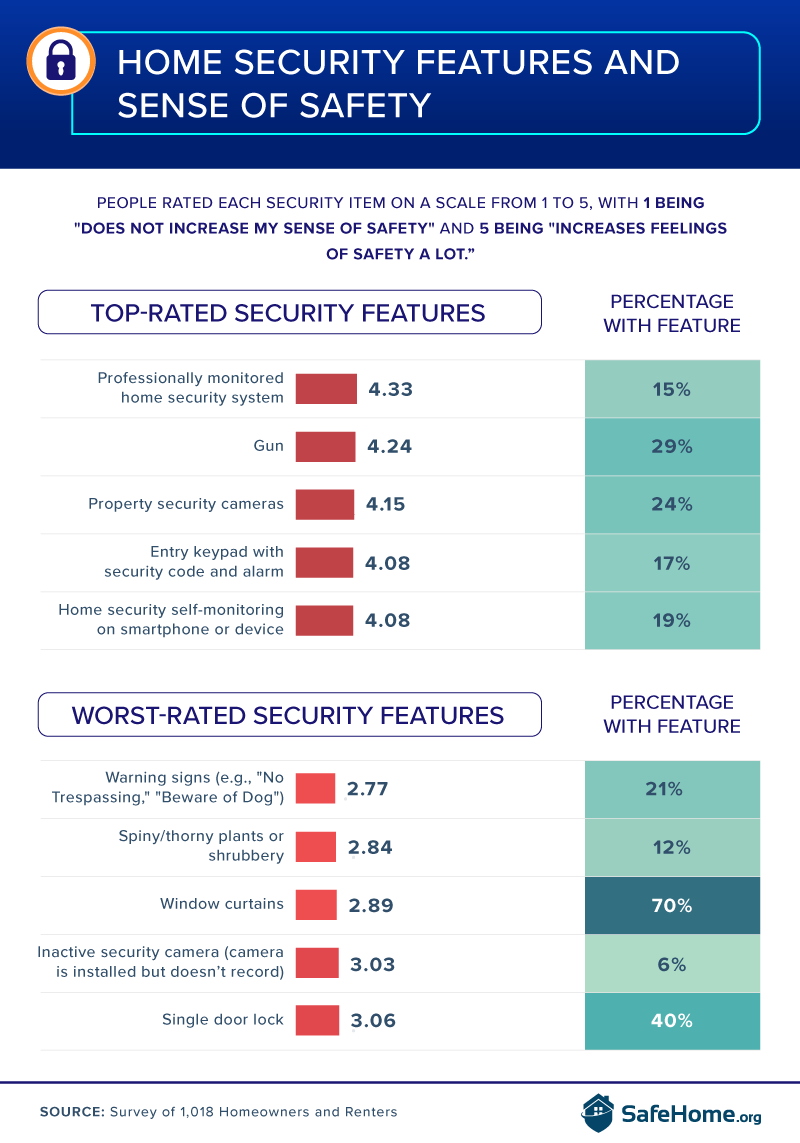 Self-monitored security systems may leave people feeling safer than those with professionally monitored systems, but the latter was considered the best security feature. Even with a rating of 4.33 out of five, only 15% of respondents owned a professionally monitored security system. Guns were more common, with 29% of homeowners and renters reporting owning a gun. Guns were also considered the second highest-rated security feature with a rating of 4.24.

While most people believe owning a gun is one of the best forms of protection, studies show the presence of a firearm in the home increases the risk of death, both by homicide and suicide. And in terms of using guns for home security or self-defense, instances are rare.
Demographic Preferences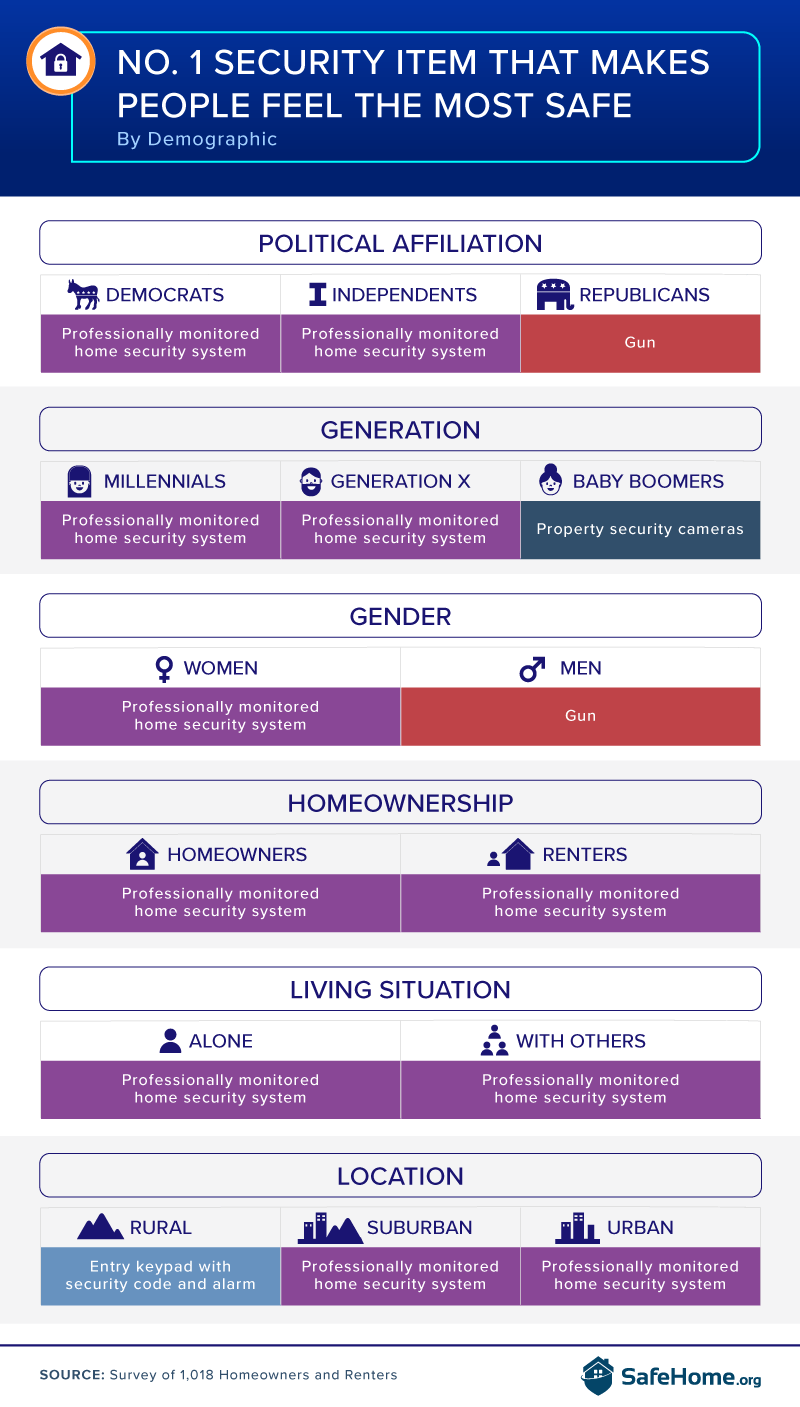 Guns have been a divisive topic for decades, and the discourse is evident when looking at home security – while Democrats and Independents reported feeling safest with a professionally monitored home security system, Republicans felt the most safe with a gun for protection.
Professionally monitored security systems made the most demographics feel safe: Baby boomers, men, and those living in rural areas feel safest with other security features, however. While baby boomers preferred security cameras around the property, men felt the most safe with guns, and renters and homeowners residing in rural areas felt the safest with an entry keypad with a security code and alarm.

For over two decades, urban areas have consistently experienced higher rates of crime than rural areas, but in recent years, crime in rural areas has reached an all-time high. Due to a lower population density, rural areas tend to have less emergency and security personnel – increasing crime and increasing the time it takes for the police to show up. While crime rates and risk of victimization differ between the two geographical locations, there are home security systems designed to meet the specific needs of each.
Staying Connected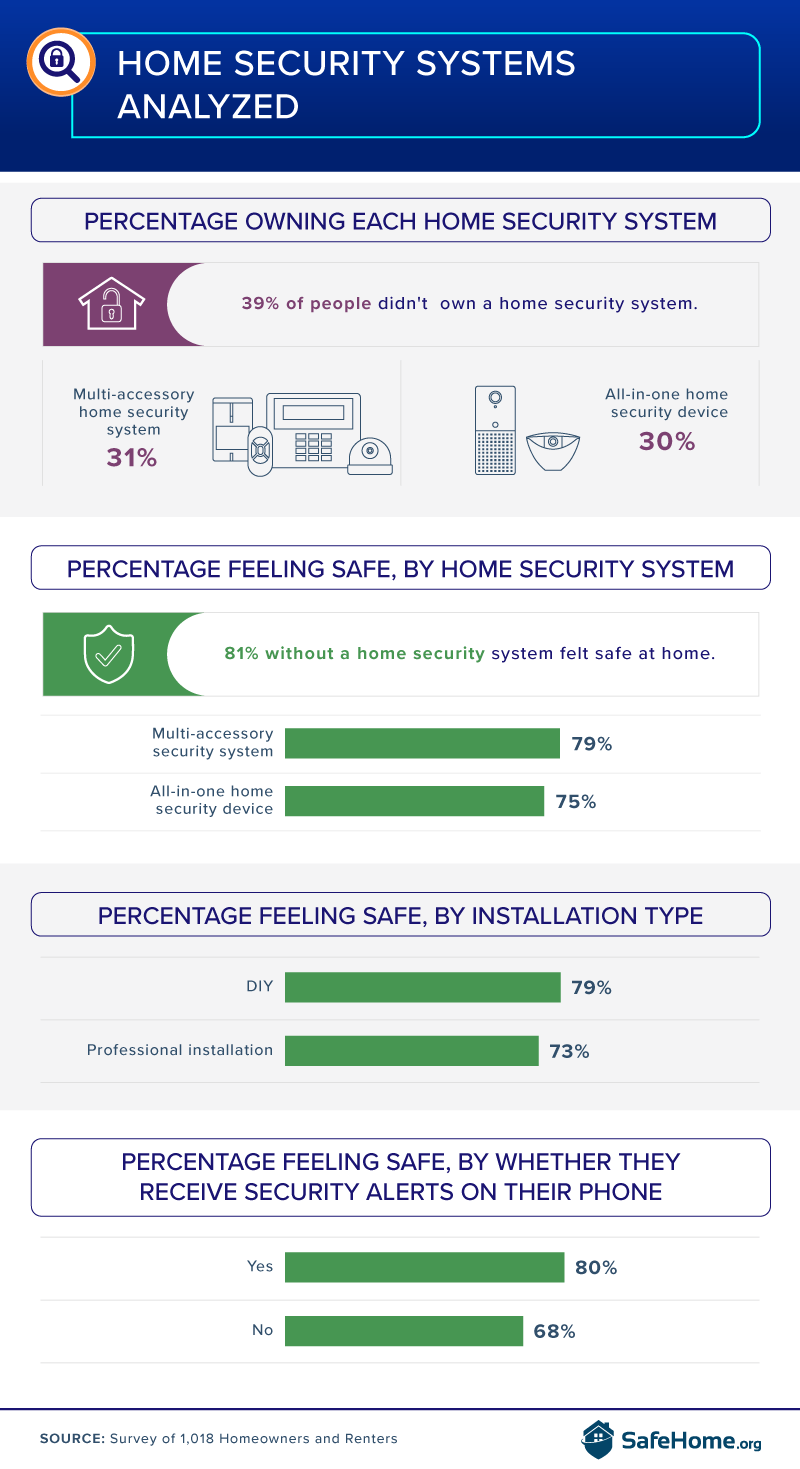 Of those who had home security systems, around a third opted for the multi-accessory option, choosing to have different types of devices, from door sensors to security key pads, to increase their sense of safety. However, 30 percent of people also chose the convenience of all-in-one security systems, towers that can sit on your table-top or counter, complete with high-definition live streaming cameras, motion sensors, arming and disarming functionality and integrated sirens. Despite how safe home security systems made people feel, 81% of people without security systems felt safe too, but that aspect of the study might just point to the heightened safety associated with fewer break-ins or cause to have a security system in the first place.
Setting up a security system without professional help and receiving security alerts on their phone also left people feeling safer. Both options provide more flexibility, allowing people to choose how and when to monitor their homes. And people still have a sense of power and control, therefore, increasing their feelings of safety.
Beware the Risks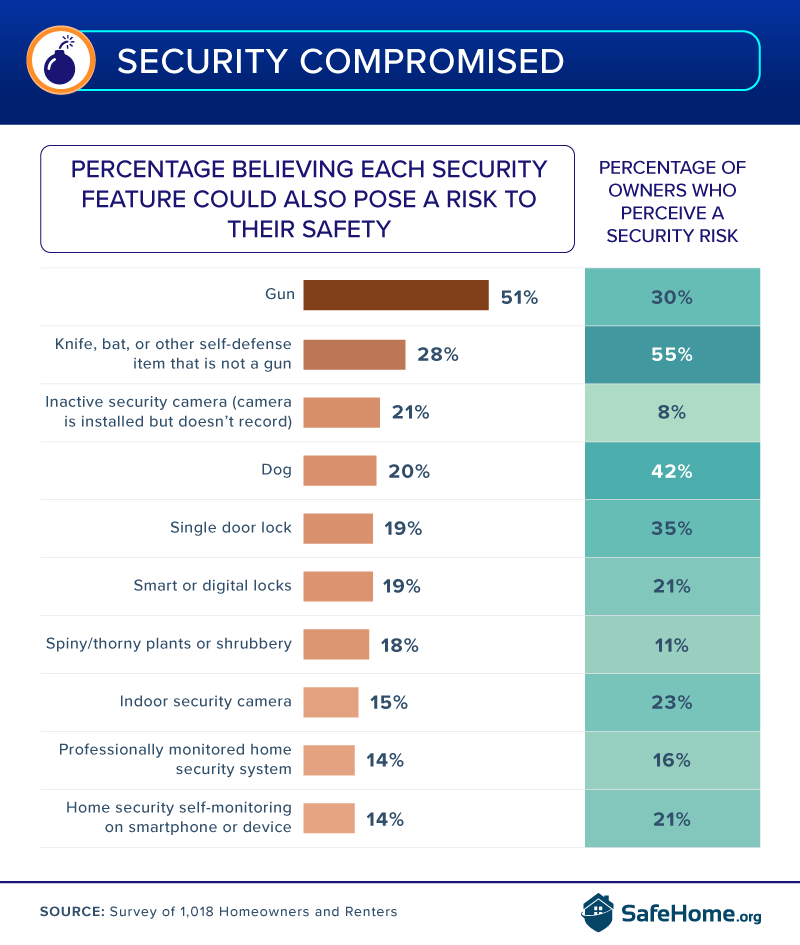 Home security features are meant to keep us safe, but as with everything, they have their weaknesses. Despite guns being one of the top-rated security features, over half of renters and homeowners also believed they could pose a threat to their security. And as mentioned earlier, they're not wrong. Other physical forms of self-defense like knives and bats were also believed to pose a threat to personal security, followed by inactive security cameras and even dogs.
Surprisingly, smart security systems like digital locks, self-monitoring systems on smartphones, and video doorbells ranked lower on the threat scale compared to dogs and single door locks. While technology is certainly more efficient in keeping us safe, high-tech devices are extremely vulnerable to hackers and privacy breaches.
Methodology and Limitations
Our survey explored how different home security measures, ranging from simple door locks to home security monitoring, affected people's sense of safety.
We surveyed 1,018 renters and homeowners, in which 63% of respondents were homeowners, and 37% were renters. Ages of renters and homeowners ranged from 18 to 81 years old with a mean age of 37 and a standard deviation of 12 years. Nearly 50% of our survey respondents identified as male, and 50% identified as female. Millennials comprised 61% of the survey, 27.5% of respondents were from Generation X, and 11.5% were baby boomers.
Our respondents varied in political affiliation. In terms of the political identity composition of this survey, 41% of respondents were Democrats, 29% were Republicans, and 25% were Independents. Libertarians were excluded due to sample size issues.
Around 76% of our respondents said they lived with other people in their homes, while 24% said they lived alone. Finally, our respondents hailed from urban to rural environments. Around 51% were from suburban areas, 33% from urban, and 16% were from rural areas.
Because our project uses a survey to explore safety and home security, it has limitations such as telescoping, exaggeration, and selective memory. We did not statistically test our hypotheses. This campaign is a purely exploratory look at how security features in the home affect one's sense of safety.
Fair Use Statement
Finding a reliable security system is vital to feeling safe in your home. If you know someone who could benefit from the findings of our study, feel free to share it with them. The graphics and content of this project are available for noncommercial reuse. Just make sure to link back to this page to give the authors proper credit.