How Protected Are You?
Written By: SafeHome.org Team | Updated: June 31, 2021
We all wish for a safer community and are fortunate to have people who are willing to fight crime. In fact, law enforcement agencies must continuously strategize and stay on top of current trends, local issues, and new methods to ensure the safety of communities. It's more complicated than just improving response times and staffing up during more volatile times.
For some time, the Department of Defense has allowed local law enforcement agencies to request heavy military equipment through a system known as the 1033 Program. Any agency that has arrest and apprehension authority can participate. Although the program was started in the 1990s, the militarization of police forces came under significant scrutiny in 2014 when protestors in Ferguson, Missouri, were met with full riot gear, armored vehicles, and assault rifles.
This has led to more attention on how various law enforcement agencies approach their crusade for safer communities, and the militarization of local police force agencies has been discussed since. But how does the data stack up, and what is driving this nationwide trend? Continue reading to understand better the 1033 Program and what the numbers might mean for your community.
National Allocation
To understand the types of equipment that are being allocated to local agencies, we looked at national data from 2006 through April 2014. During this time, the largest allocation of military weapons was assault rifles – 79,288 were distributed by the Pentagon. At the same time, 600 tactical vehicles were given to local agencies, along with 422 helicopters and 205 grenade launchers. According to NPR, vehicles in the 1033 program cost the Department of Defense almost $250 million in 2013, while aircraft set them back $26 million and weapons had a price tag of $6.4 million.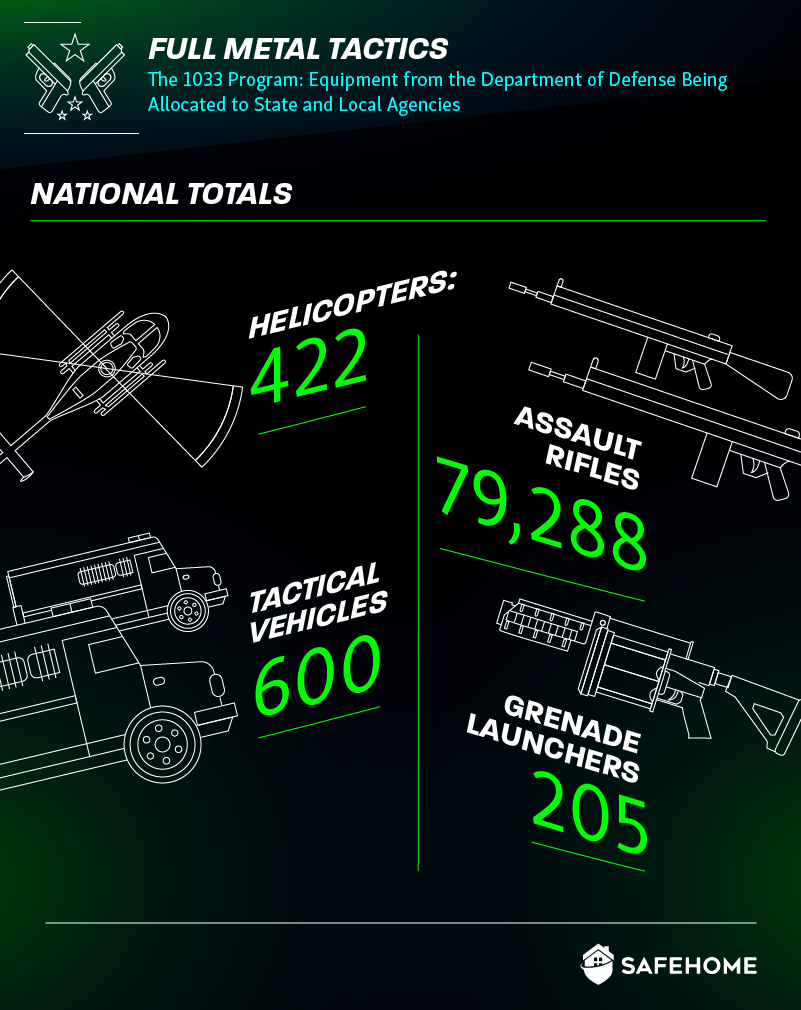 All in all, the program has provided $4.3 billion in free military equipment to local agencies.
National Equipment Distribution and Crime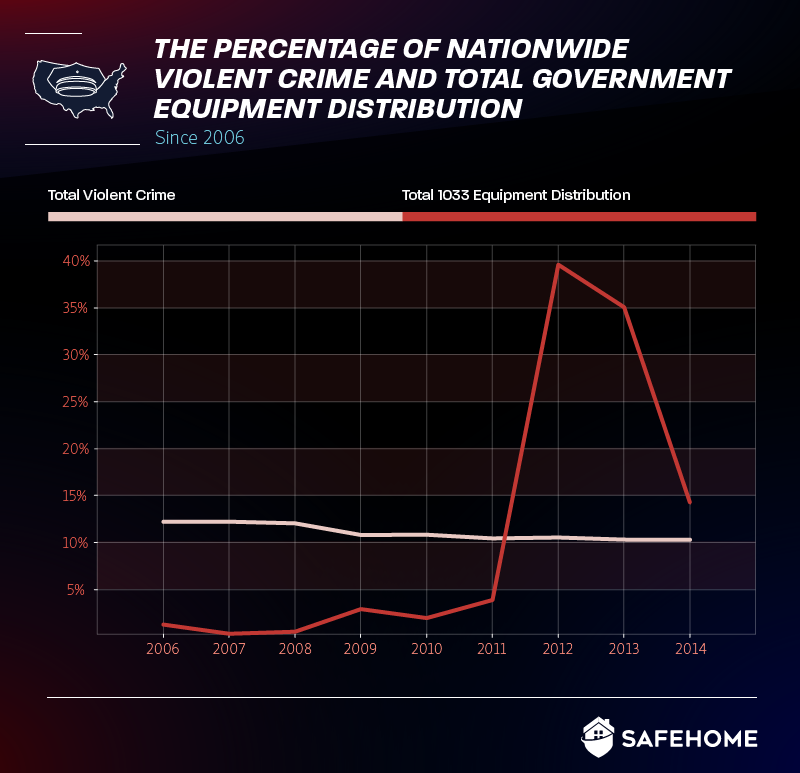 National violent crime rates have been on a downward trend since the early 1990s. Yet there was a significant increase in the distribution of 1033 program equipment, between 2011 and 2012 in particular. Interestingly, distribution rates saw a substantial drop from 2013 to 2014, which was also when the program began to get nationwide attention due to events like the protests in Ferguson, Missouri.
Despite relatively declining rates of crime, police agencies continue to request equipment regularly – a stocking up that may, in fact, be closely related to 9/11, according to David Sklansky, a professor at the Stanford Criminal Justice Center.
State Equipment Distribution and Crime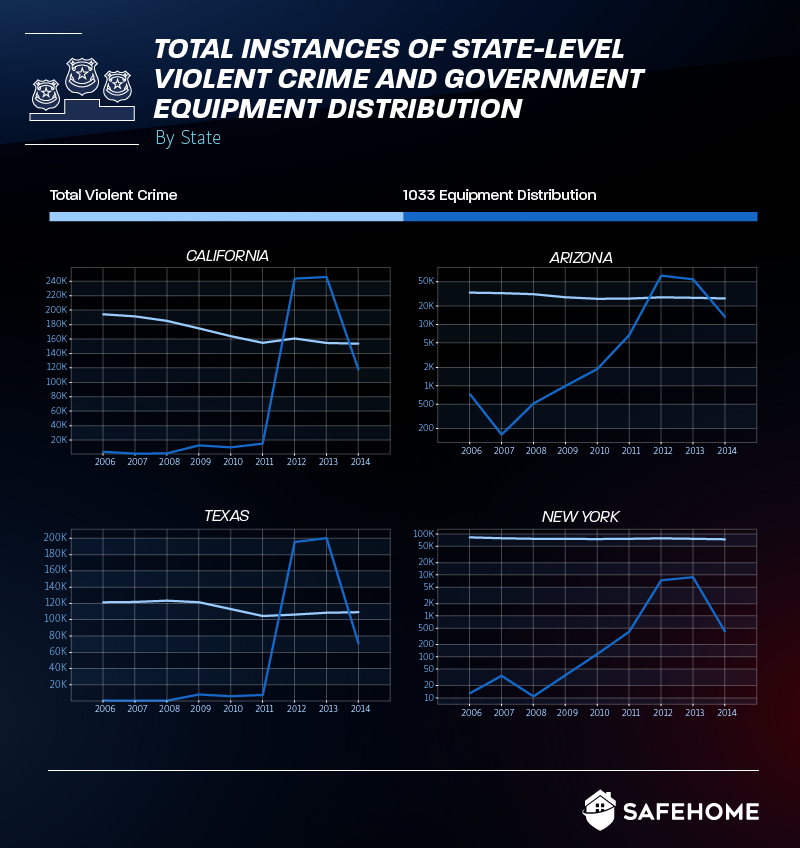 Next, we analyzed the rates at which California, Arizona, Texas, and New York requested 1033 program equipment from 2006 to 2014. Substantial shifts in the increase and decrease of equipment distribution stand in stark contrast to each state's overall lessening crime rates.
For example, California has seen a significant decline in property and violent crime since the early 1990s. And while the crime rate increased by 8.4 percent in 2015, it was still significantly less than in previous decades. However, California's police agencies began to request equipment from the 1033 program at unprecedented rates starting in 2011, going from slightly over 15,000 to nearly 244,000 units distributed in one year.
Counties With the Greatest Equipment Distribution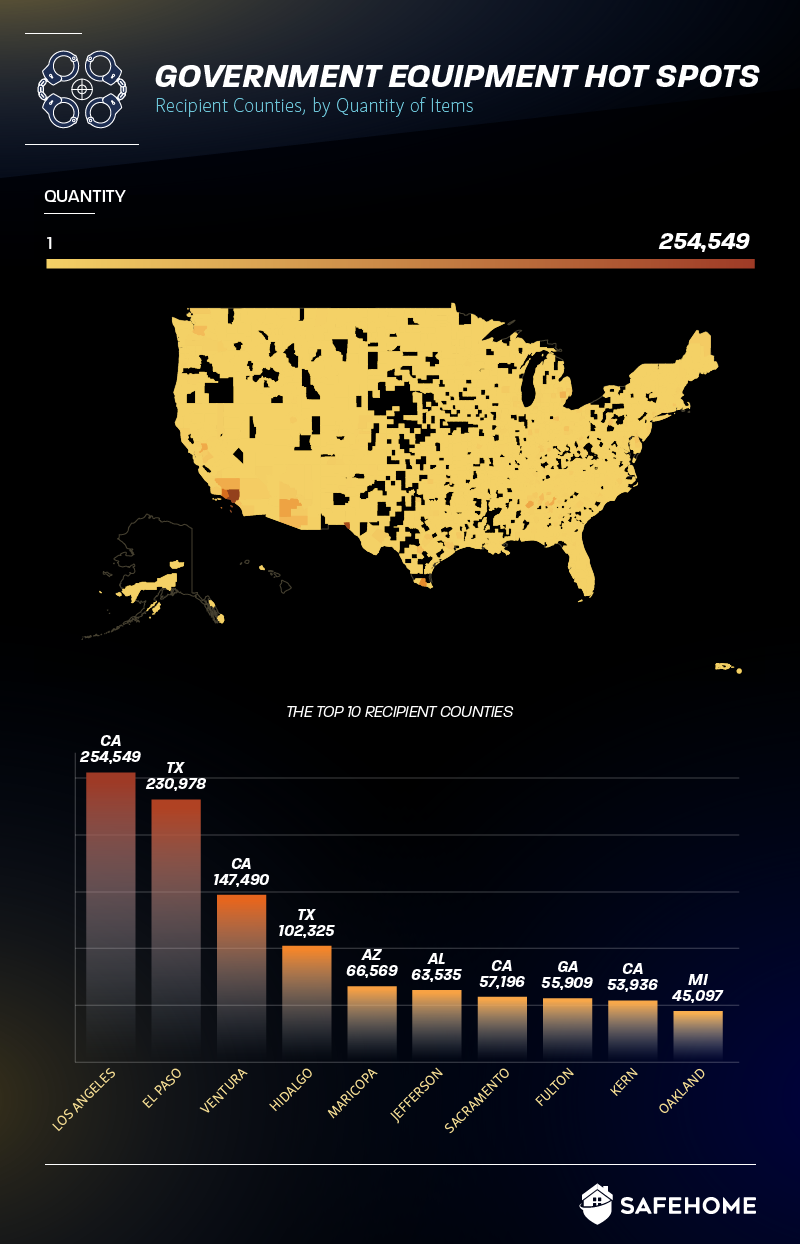 Not all countries received the same number of units when it came to the 1033 equipment dispersal program.
Included in the top 10 countries that received the highest volume of government equipment were Los Angeles, which received over 250,000 units, El Paso (almost 231,000 units), and Ventura (nearly 150,000 units).
Notably, four of the top 10 counties were in California. It's possible a recent increase in violent crime may have been the motivating factor behind these requests.
Violent Crime and Government Equipment Hot Spots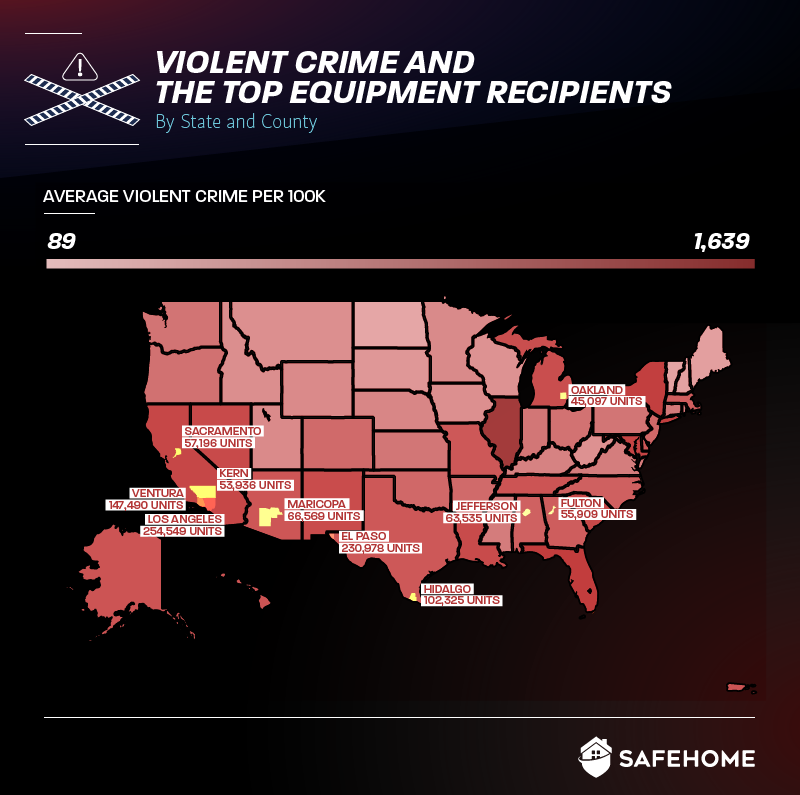 Some states see far higher violent crime rates than others. These include Louisiana and Alaska. When looking at rates of crime in the U.S. and the counties that have requested the most 1033 program equipment, there seem to be discrepancies. Some of the most violent areas received fewer units of 1033 equipment, while places with less crime had far more equipment dispersals.
However, six of the top 10 counties with the greatest number of 1033 equipment units were near the Southern U.S. border.
In fact, in recent years, significant efforts have been made to secure the border, which has called for greater border patrol and similar initiatives, such as President Trump's call for a wall. Local police departments likely deal with a number of border-related crimes, such as drug trafficking, which may lead them to seek more 1033 equipment.
Security Across the U.S.
The world can be a dangerous place. Shootings and other attacks litter the front pages of newspapers, while the media try to make sense of everything that is happening.
Local law enforcement agencies have sought out more weapons and supplies to prepare for the possibility that tragedy and terror might strike. It is useful to understand social issues (such as border control) are more likely to trigger an uptick in 1033 Program equipment acquisition than an increase in crime.
That's why it is important to be prepared and cautious. While you should never live your life in fear within your neighborhood (home security systems can help with that), sometimes our communities are not as safe as we would like them to be.
Methodology
Violent crimes statistics were sourced from the FBI's 2012 UCR Crime in the United States data set. Information about the 1033 Program and equipment outlays from data from the Defense Logistics Agency as released in the NPR article, "MRAPs and Bayonets: What We Know About the Pentagon's 1033 Program," written by David Eads and Tyler Fisher.
Fair Use Statement
It's safe to use the graphics above in your content. (You're protected.) But please link back to this page so the authors of this material secure proper credit.