Where in the U.S. Are DUIs Most Common?
Written By: SafeHome.org Team | Updated: June 31, 2021
Today alone, nearly 30 people in the U.S. will be killed in traffic accidents caused by drinking and driving. That shakes out to one death every 48 minutes. While rates of deaths and arrests related to driving under the influence have fallen, driving while intoxicated still causes almost one-third of all traffic fatalities in the United States.
This is all despite widespread public understanding that driving under the influence is incredibly dangerous — a 2018 survey found that a higher percentage of American drivers said they were very concerned about drunk driving than about violent crime, gun control or unemployment.
Perhaps the most famous anti-drunk driving slogan, "Friends Don't Let Friends Drive Drunk," launched in 1983 and is still used today, and it's clear the slogan has largely been a success: Since 1985, just a couple of years after the slogan's introduction, the percentage of crash deaths involving alcohol-impaired drivers has fallen from 41% to 29%.
Still, drunk driving claims thousands of lives on the road and accounts for more arrests than murder, rape, aggravated assault and burglary combined. Additionally, more than 1 in 10 drivers admits to driving over the legal blood-alcohol level in the past year, with more than 3% saying they do so often.
There's no doubt that driving under the influence is more common than it should be, but it's also the case that certain areas of the country seem to have a bigger issue with intoxicated drivers than others. We wanted to examine which states have the most DUI drivers as well as which types of communities are more likely to see people arrested for driving while intoxicated.
Who Drinks & Drives the Most:
Citydwellers, Suburbanites or Country Folk?
While urban areas accounted for a higher percentage of drunk-driving fatalities in 2017, according to the National Highway Traffic Safety Administration, the FBI's published arrest rates for DUIs are highest in rural counties.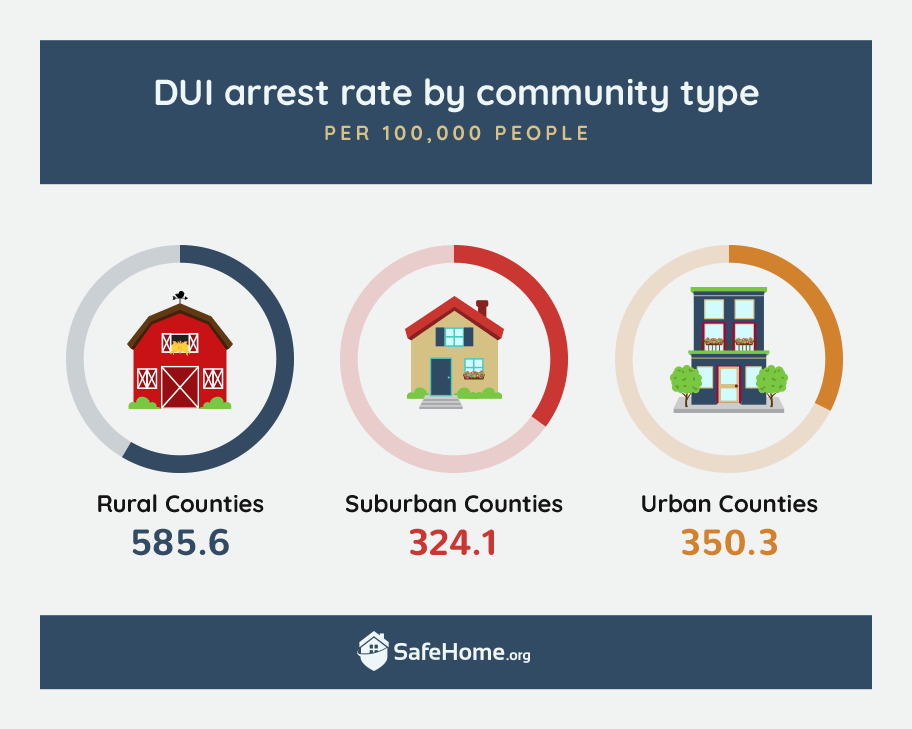 Similarly, smaller cities tend to have higher DUI arrest rates than larger ones, though it's likely this is owing in large part to fewer people driving overall in very large cities with the prevalence of walking and use of public transit.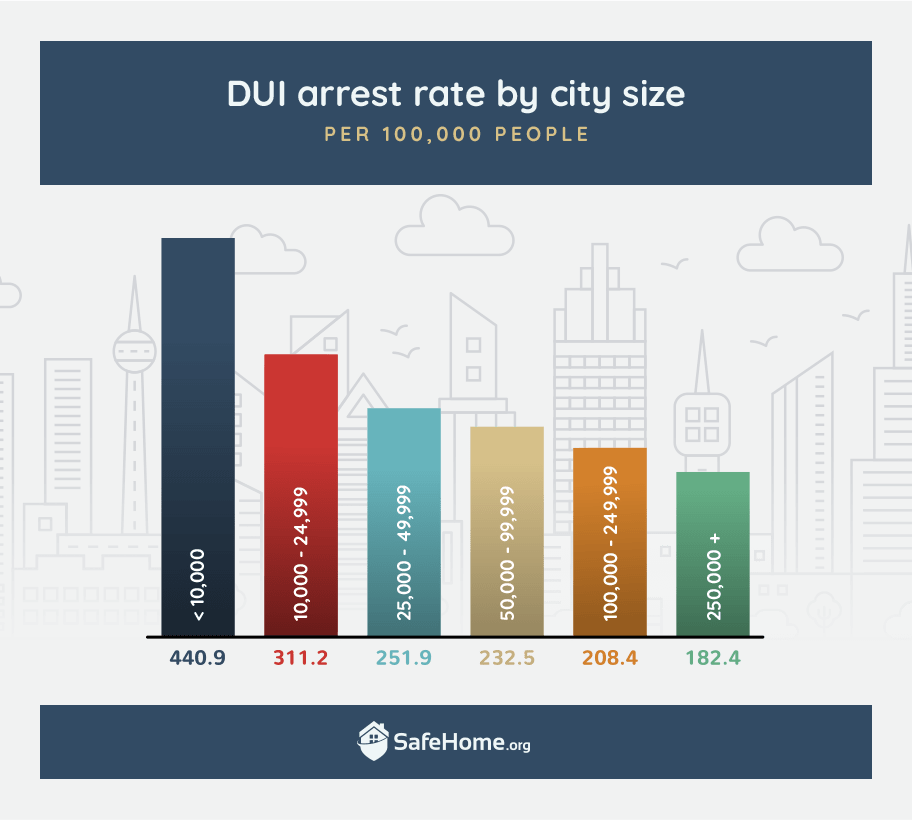 Arrest rates for driving while intoxicated have fallen, along with arrests for most other crimes, with the exception of drug-related offenses. DUI arrest rates have fallen the most in suburban counties over the past 10 years.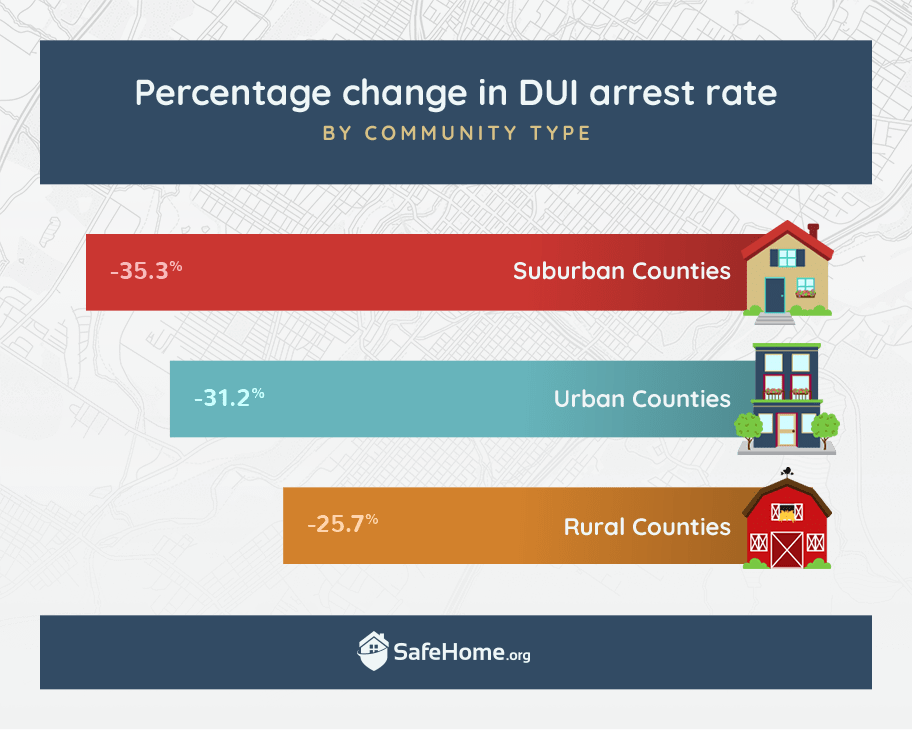 Among the 25 most commonly committed crimes, arrest rates for driving under the influence have fallen by the 11th-highest percentage, declining nationally by nearly one-third since 2008.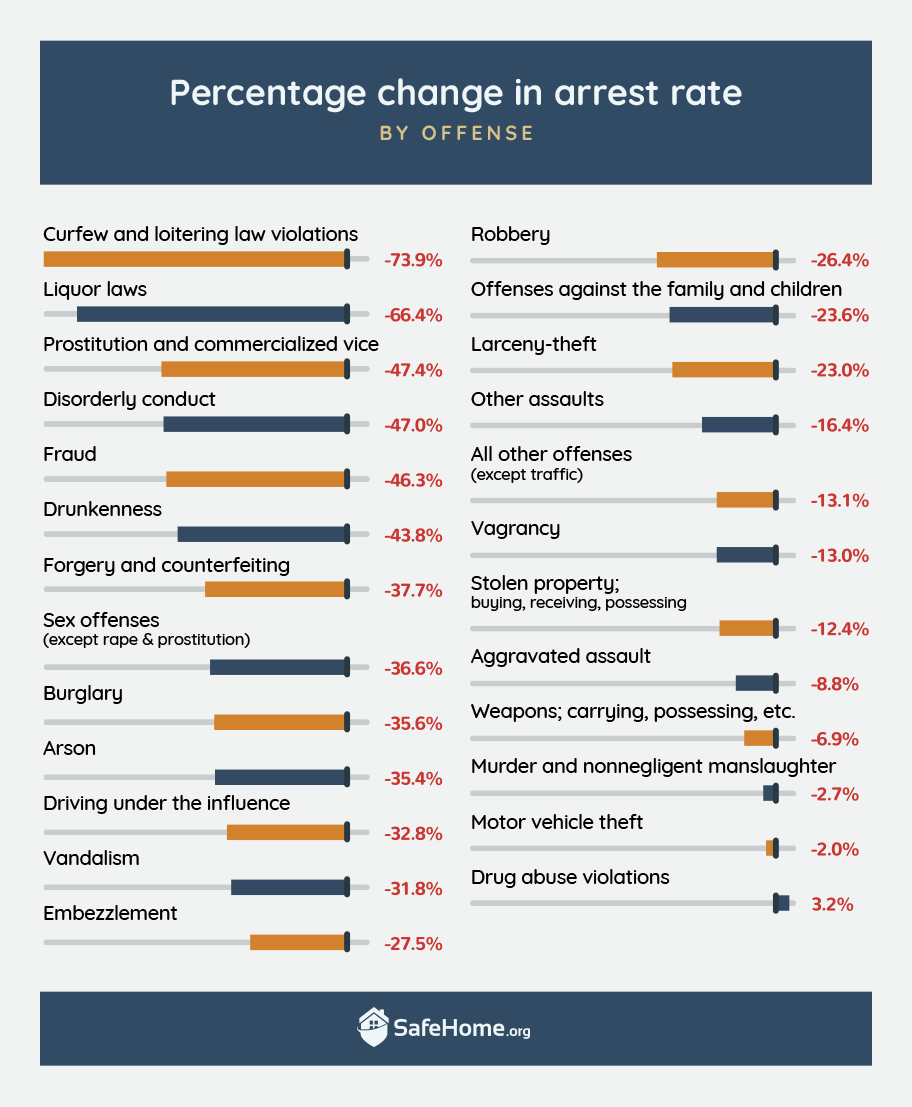 Which States Have the
Most DUI Arrests?
More than 650,000 people were arrested in 2017 for driving while intoxicated, which equates to a population-adjusted rate of about 309.8 per 100,000 people, making DUI arrests about as common as those for larceny but about twice as common as for aggravated assault, which is the most common violent crime in the U.S.
Across the country, though, a couple of states have DUI arrest rates that are far higher than the overall rate for the nation.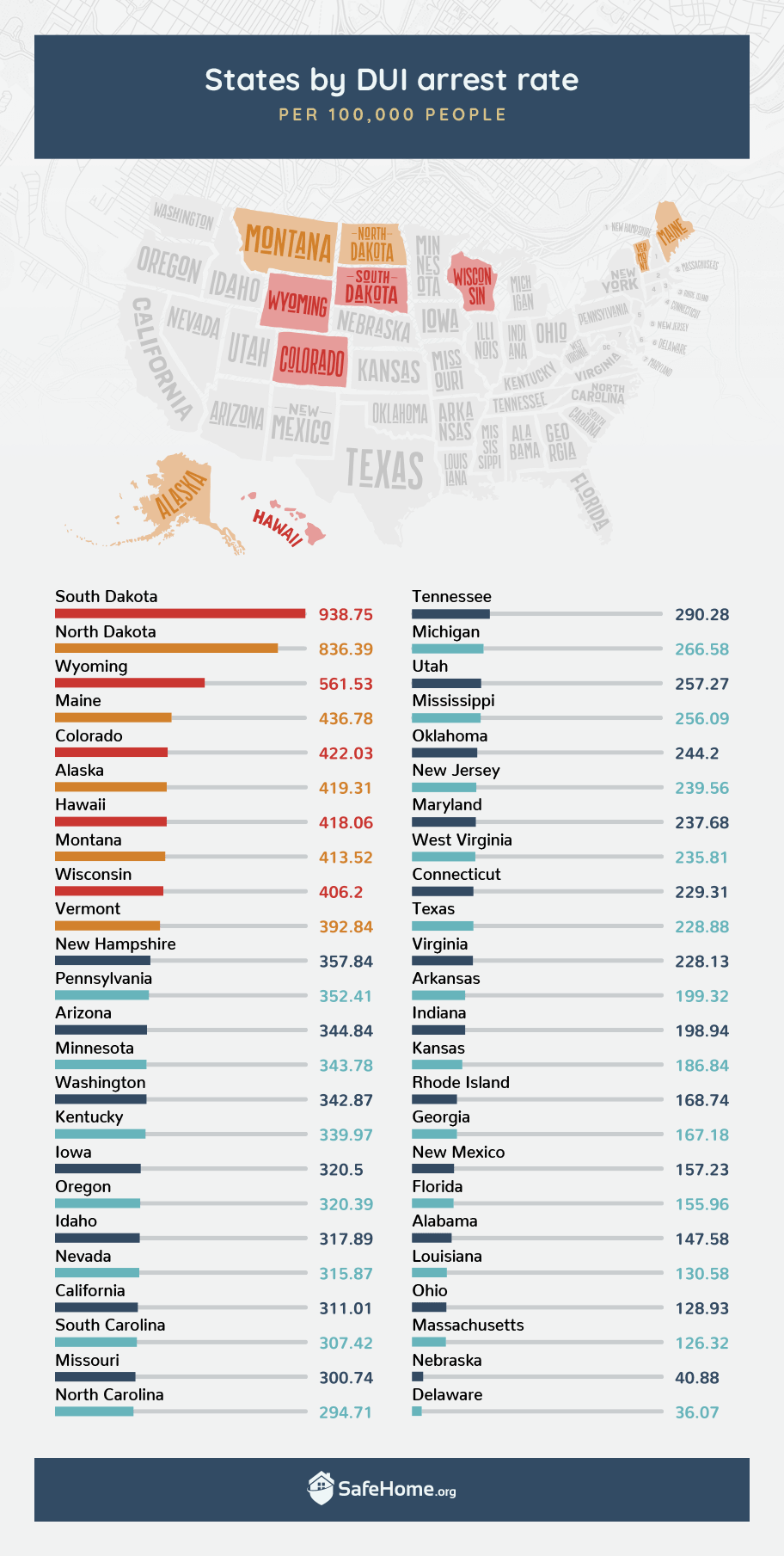 Of the 10 states where recreational marijuana was legal during our study period, five of them (Colorado, Maine, Massachusetts, Oregon and Vermont) increased their rankings among the states when it comes to DUI arrest rates. This is noteworthy because not all states have separate laws governing how stoned a person has to be for them to be considered too high to drive. In many states, drivers under the influence of any substance, whether alcohol or legal weed, are treated the same.
Only two states have seen their arrest rates for DUI climb since 2007, with the vast majority of states posting huge decreases.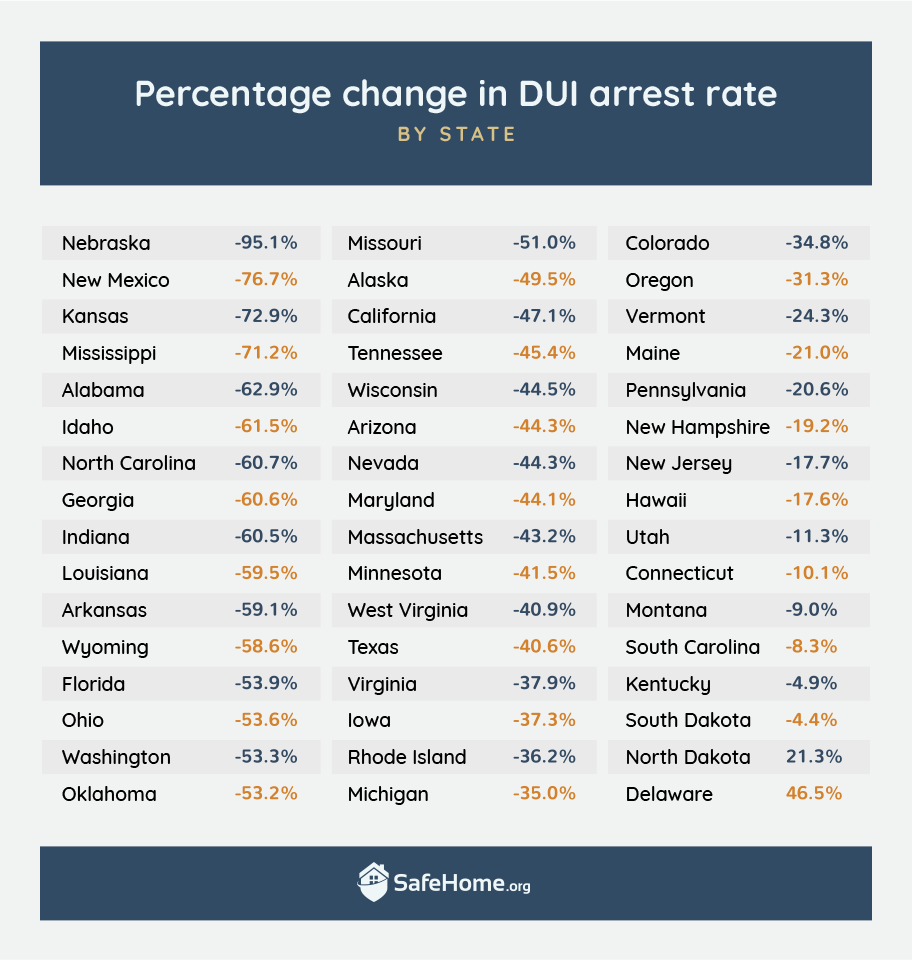 Where Are DUI-Related Fatalities
Most Common?
The percentage of all traffic fatalities involving an intoxicated driver has fallen considerably since 1985, dropping from 41% to 20% over the past 30+ years. In more recent years, the U.S. has seen a more modest decline in the share of deaths involving drunk drivers (a 3 percentage point decline between 2008 and 2017), but some states have seen alcohol contribute to far more deaths than a decade ago.
In the District of Columbia, more than 1 in 2 traffic deaths are related to an intoxicated driver, while only 19% of driving fatalities in Utah are caused by drinking and driving.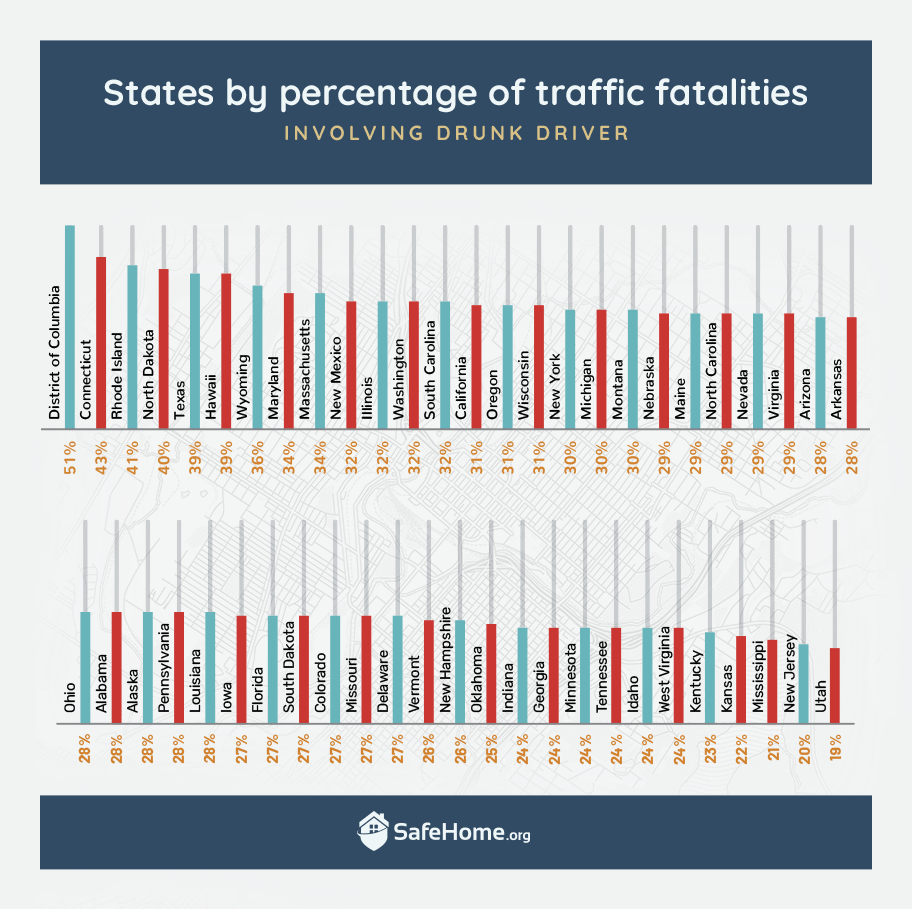 More than one-quarter of the states have higher percentages than the nation for alcohol-related traffic deaths, and three states — North Dakota, Hawaii and Wyoming — are among the top 10 in both traffic deaths caused by drunk driving and arrest rates for DUI offenses.
But most states have seen alcohol play an increasingly small role in roadway deaths, with 33 states seeing their percentage of vehicle crash deaths attributed to drunk drivers falling over the past 10 years.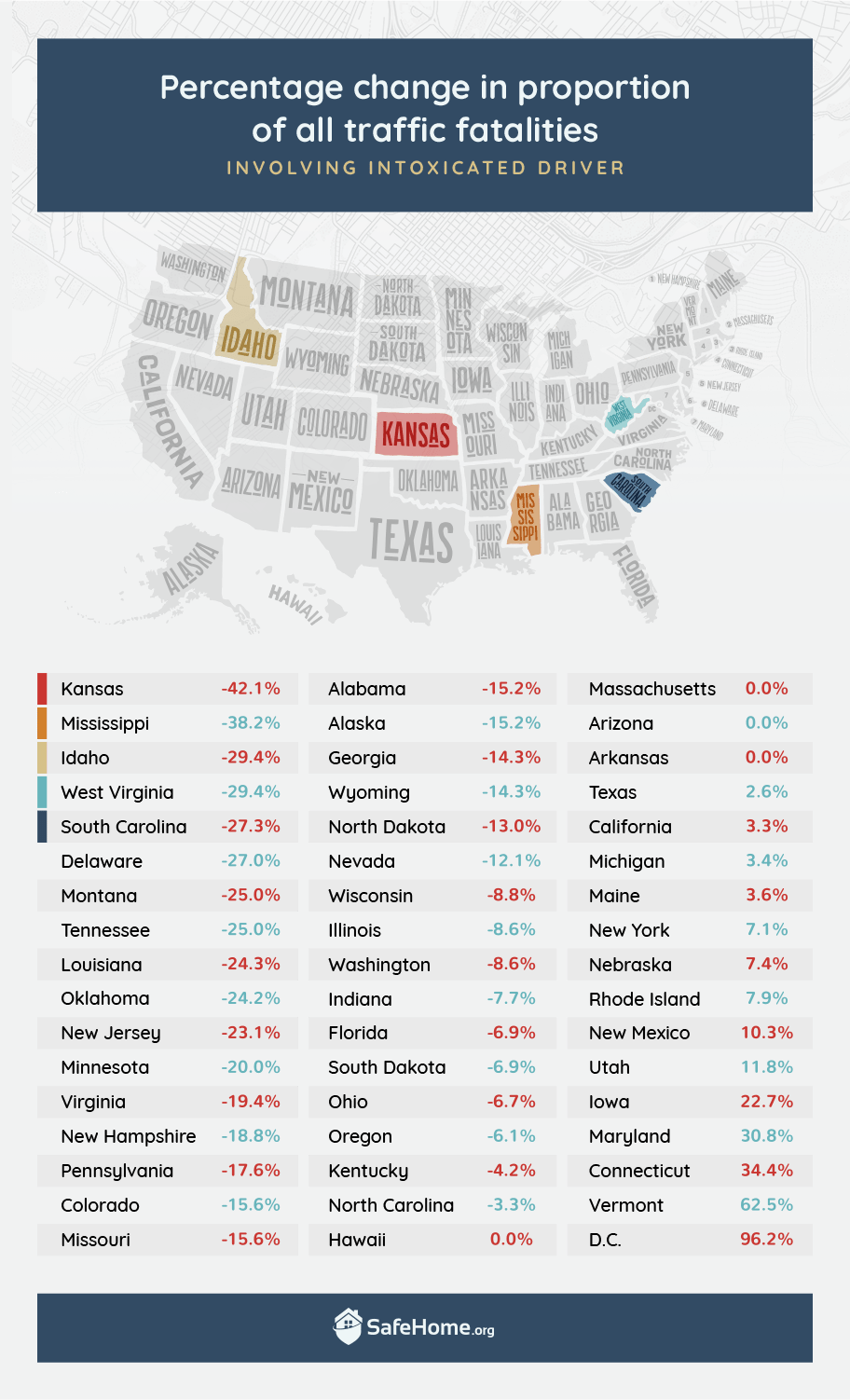 Conclusion
The picture of impaired driving is largely a mixed one in the U.S., with most states seeing both arrests and DUI-related deaths falling, with other states seeing huge surges in these rates over the past decade. Even more troublingly, the percentage of drivers who said they'd driven drunk in the past year increased by more than one-quarter between 2017 and 2018.
Despite more than 30 years of million-dollar ad campaigns aimed at preventing people from getting behind the wheel when they'd had too much to drink, nearly 12% of drivers admitted to doing exactly that. In the same survey, drivers said they were less concerned about drinking and driving than texting and driving.
The fact remains that drunk driving claims about three times more lives on America's roads than distracted driving. That's not a license to live-tweet your commute, but there can be no doubt that driving under the influence of drugs and alcohol remains an incredibly dangerous and potentially deadly activity.
If not for yourself, then consider the collateral damage drunk driving can cause — 4 in 10 of those killed in accidents involving intoxicated drivers in 2017 were passengers, occupants of other vehicles, pedestrians, cyclists or others.
About This Story
In every state, a blood-alcohol content (BAC) reading of 0.08 is considered too drunk to drive. Most states level additional penalties for drivers they consider extremely intoxicated, and those levels range from 0.15 to 0.20, but our analysis of both traffic deaths and arrest data covers those with 0.08 BAC or higher. It's also important to note that states may vary on their specific legal terminology for drunk driving (driving while intoxicated, driving under the influence, operating while intoxicated, etc.), and in states where recreational marijuana is legal, driving under the influence of weed may be classified the same as drunk driving, though some states outline specific allowable concentrations of marijuana in drivers' systems.
Our rankings of where DUI arrests are most common came from the FBI's annual Crime in the U.S. reports for 2017, the most recent year for which a full 12 months of data is available. Our analysis of how states' arrest rates had changed came from comparing the 2017 data with 2008, providing a 10-year analysis.
Information on drunk-driving fatalities came from annual reports published by the National Highway Traffic Safety Administration for 2017 and 2008. For both years, we used the data covering the percentage of deaths in traffic accidents in which at least one driver (including motorcyclists in single-vehicle crashes) had an illegal BAC. NHTSA's data includes only alcohol-impaired drivers, as the agency does not yet produce the same level of detailed data on marijuana-impaired driving as it does with drunk driving.
Fair Use Statement
The data and images on this page are free for noncommercial uses. For those who wish to share this information, all we ask is that you provide a link to the URL of this page.