Downloading Anxiety
Written By: SafeHome.org Team | Updated: June 31, 2021
Like some of the stories they present, there is much debate over the role the media play in American lives and politics.
President Donald Trump believes that some of the biggest news outlets are fake news. Other sources say the role of investigative journalism has never been more important than it is today.
To understand the pulse of media relations in the U.S., we surveyed 1,000 Americans about how much they trust news outlets, including everything from printed sources to social media. We even asked respondents to tell us the things they worry about most based on the news they watch. Continue reading to see what we uncovered.
No Press Is Bad Press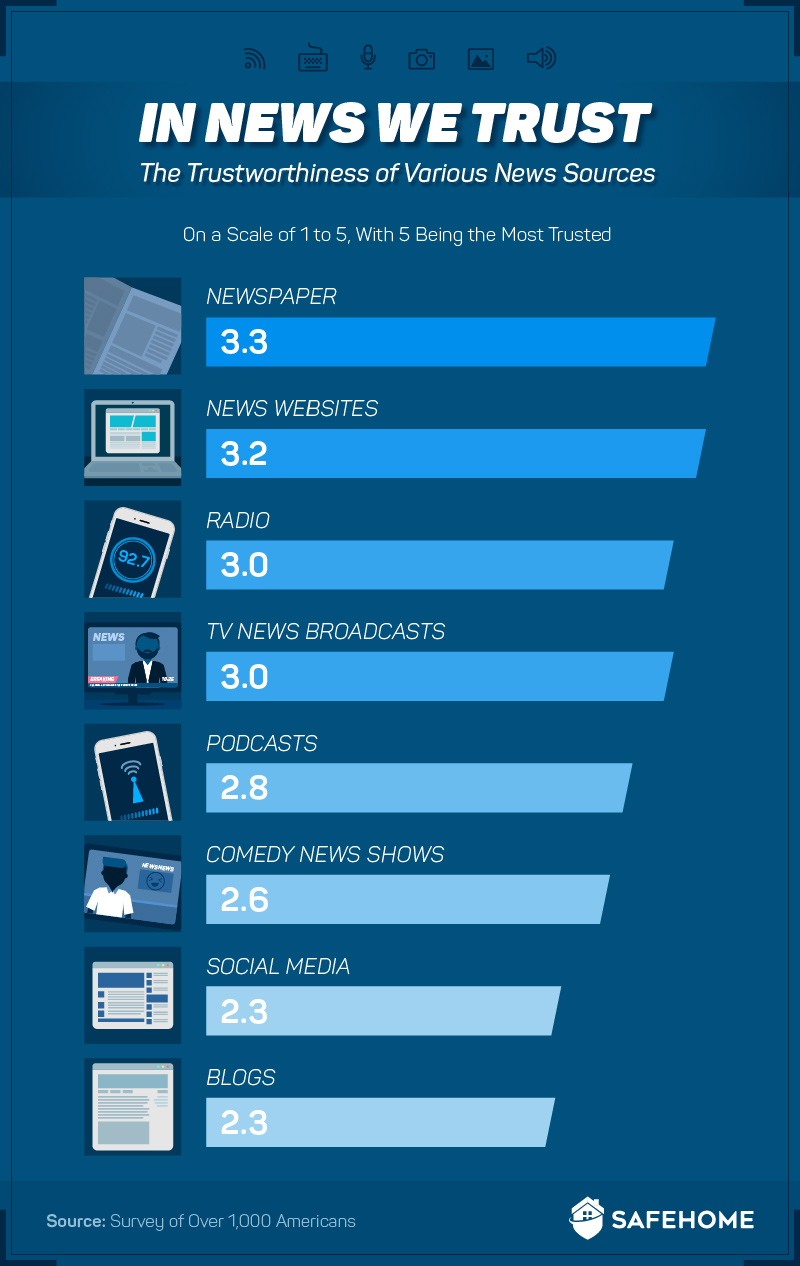 In November 2016, President Trump shared just some of his many tweets aimed at discrediting major media outlets. These particular tweets were geared toward The New York Times, who he claimed were "losing thousands of subscribers" because of their poor coverage. Unfortunately for the president, his sentiment toward The Times – and written media in general – may have backfired a bit. Newspapers received a significant subscriber boost following the results of the 2016 election, and in May 2017, The New York Times announced a record increase in digital subscribers.
The New York Times wasn't the only newspaper to profit from the president's comments, though. According to our survey, newspapers were seen as the most trusted media source – earning an average score of nearly 3.3 on our scale out of five. News websites and radio shows were the only other media outlets to score a three or higher, according to those surveyed. While only a quarter of Americans get their news from the radio today, studies have found more than half of listeners who follow broadcasts like NPR consider it to be a trustworthy source of information.
While respondents identified they were marginally more likely than not to find comedy shows and podcasts as credible sources of news, social media sites and blogs were voted as resources people trusted the least. In May 2017, Facebook CEO Mark Zuckerberg announced plans to hire 3,000 more people to help combat the proliferation of potentially harmful posts (and even fake news) on the company's social media platform.
Political Skeptics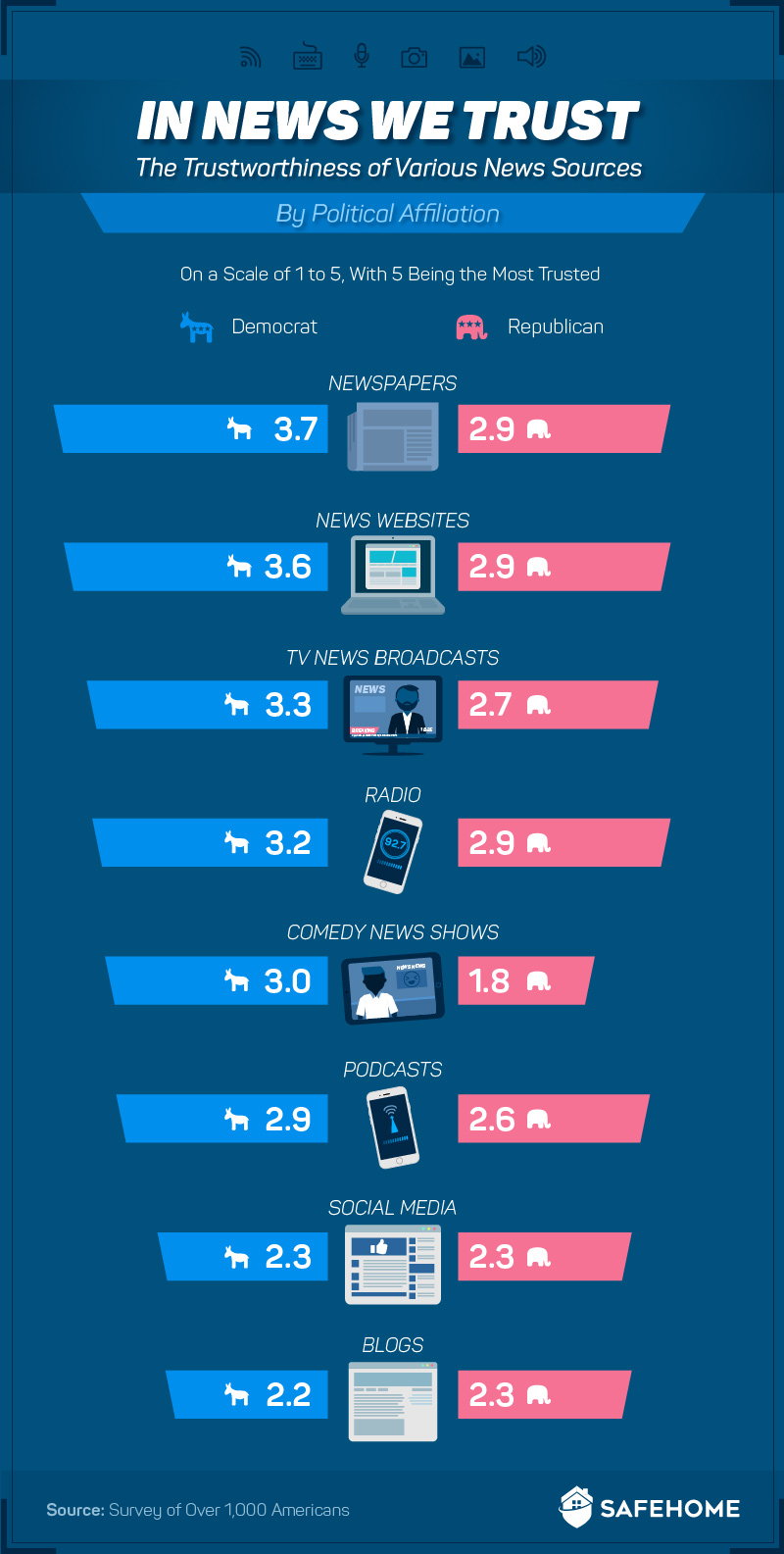 Democrats and Republicans can't seem to agree on much these days, but survey participants from both parties found newspapers to be one of the most credible sources of information available. By a slight margin, Republican respondents were inclined to find coverage on news websites the most trustworthy.
As a whole, Republicans were much less trusting of the media in general compared to Democrats. Republicans rated the trustworthiness of newspapers around a 2.9, but Democrats believed print media was a 3.7 on the same scale.
Despite the recent surge of misinformation around the world from social media websites like Facebook, Republicans were more trusting of social media and blogs than Democrats, but significantly less willing to believe news shared on comedy shows. While comedy programs like The Daily Show have previously been rated as more reliable than serious news stations, and the show's host at the time was often found reliable in his information, Republicans rated the trustworthiness of comedy news shows a 1.8 out of five, on average.
What's Keeping Americans Up at Night?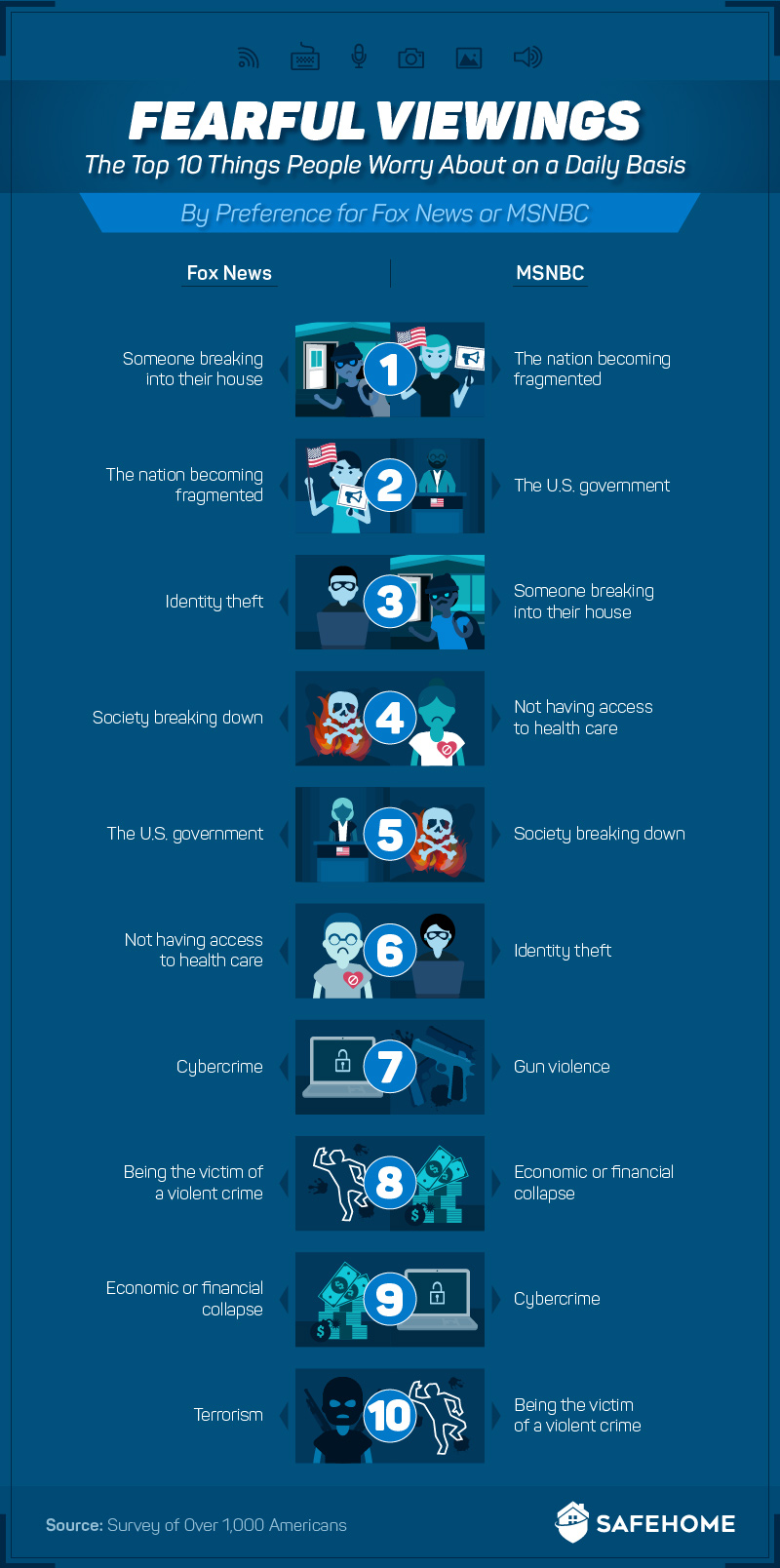 To understand what matters most to people who watch certain news programs more often than others, we divided participants by who preferred to watch Fox News, which generally has a more  conservative audience, or MSNBC, which tends to lean to the Left.
The No. 1 concern for Fox News viewers was someone breaking into their home. Critics of the network claim it purposely generates fear in the millions of people who tune in to its shows on a regular basis.
On the other side of the aisle, MSNBC viewers were more concerned about the country becoming fragmented than anything else. Following the 2016 presidential election, a Gallup poll found more than 3 in 4 Americans believed the country was divided, and nearly half felt President Donald Trump's election would do more to fuel that division than to mend it.
However, respondents from both parties identified the U.S. government and society breaking down among the top five things in which they were concerned.
Perceptions of Violence Around the World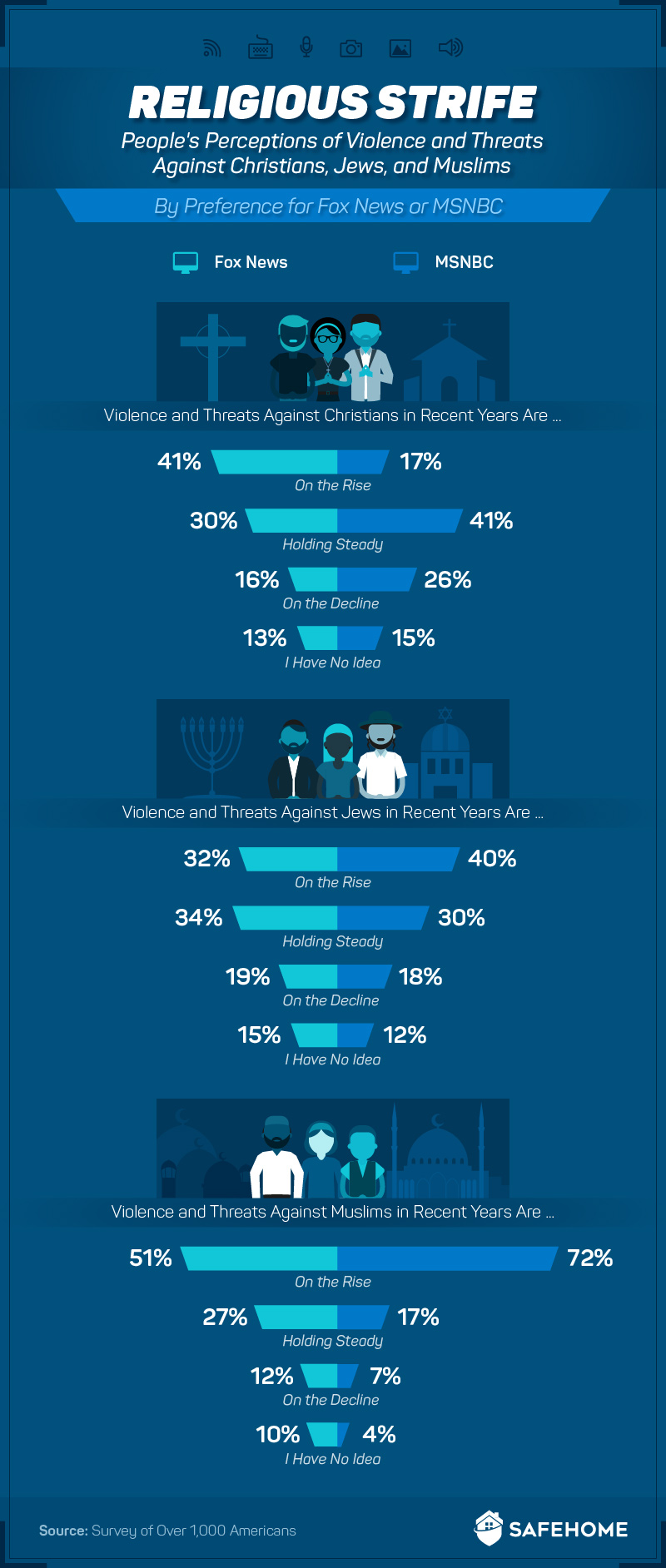 We asked survey respondents to give us their perspective on how people who identify as Christian, Jewish, or Muslim are treated today.
In 2016, thousands of Christians were murdered for their faith, many of whom were African. While high, this number represents a decrease from the number killed in 2015, according to one analysis. According to Fox News viewers, 41 percent believed the number of persecuted Christians is on the rise, while an equal number of MSNBC viewers believed the number to be holding steady.
Some media outlets reported an increase in anti-Semitic attitudes around the world but said the number of violent attacks on Jewish people has fallen. Less than 1 in 5 people polled believed violence toward Jews is on the decline, while about 1 in 3 people who watch Fox News thought it is holding steady or on the rise. Forty percent of MSNBC viewers echoed the sentiment of threats against Jews in recent years being on the rise.
Between March 2011 and March 2017, more than 200,000 Syrian civilians and 24,000 children have died as a result of the conflict in that region. Muslims make up the vast majority of the Syrian population, and the U.S. has experienced significantly divided political opinions  on how to manage the influx of refugees fleeing persecution. Slightly more than half of Fox News viewers said they believed the violence and threats against Muslims are on the rise, while nearly 3 in 4 MSNBC viewers said the same.
Danger Around the Country, by Media Preference

We polled our audience for their opinions on violence and danger in the U.S. and divided their responses based on whether they read Breitbart (a media outlet popular among conservatives) or Reddit (an online forum popular among liberals and moderates).
For the most part, Breitbart readers were significantly more likely to find danger and violence on the rise compared to Reddit readers. When asked about danger to the police, 3 in 4 Breitbart consumers believed it was on the rise, compared to less than half of Reddit users. Two in 3 Breitbart readers felt acts of terrorism were on the rise, compared to just over 1 in 3 Reddit readers. Overall, Reddit readers were more likely to say violent crime is holding steady or on the decline, while 43 percent of Breitbart readers said these crimes are on the rise.
However, Reddit readers were more likely to claim an increase when asked about mass shootings. Forty-six percent believed that mass shootings are increasing, while 39 percent of Breitbart readers said they are holding steady.
Changing of the Guard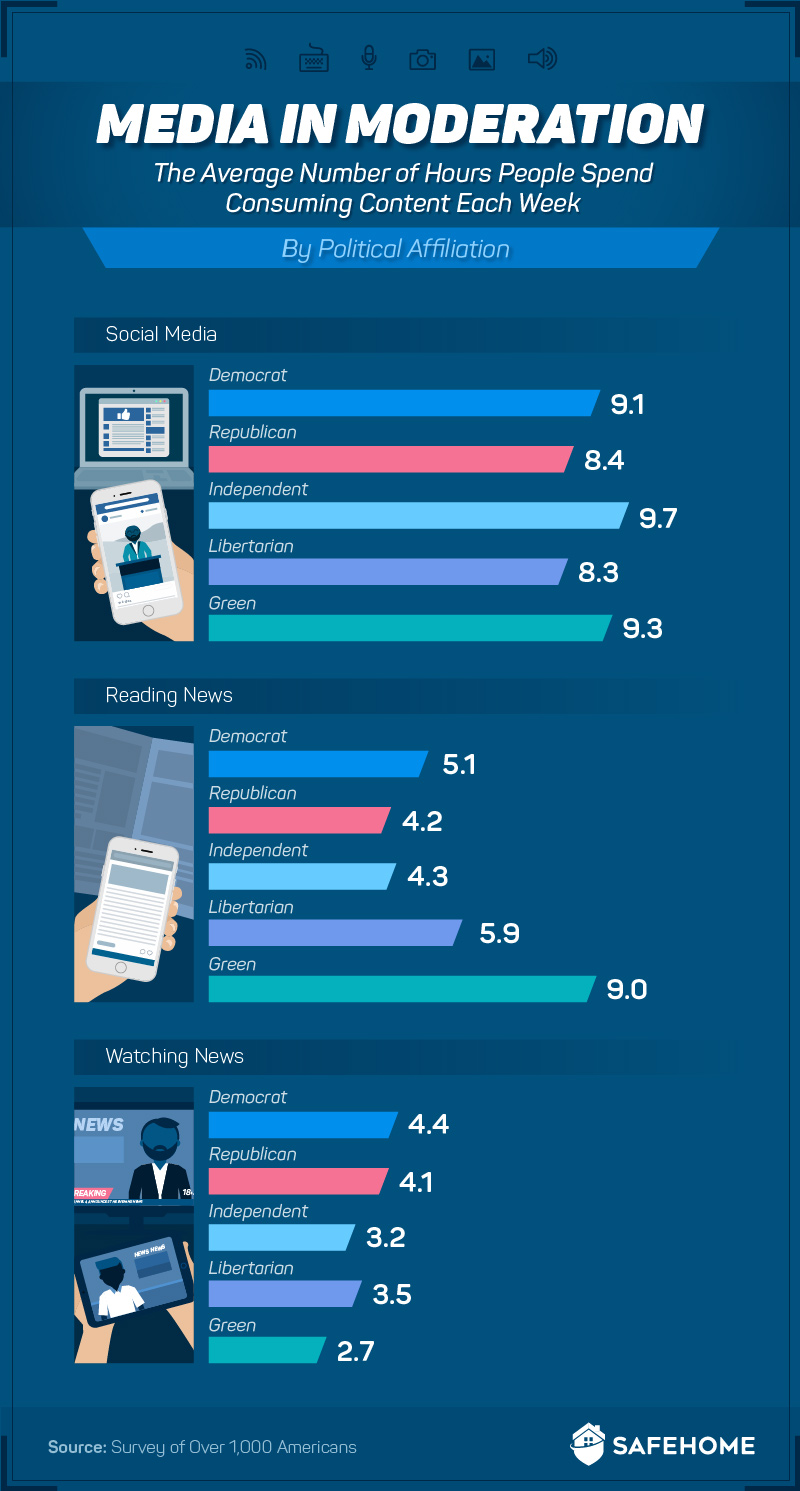 Democrats spend more time consuming media each week compared to Republicans. A similar survey conducted in 2010 by the Pew Research Center (almost two years after Barack Obama was elected president of the U.S.) found a similar trend among Republicans when the office of the Presidency shifted from the GOP help George W. Bush.
In 2010, while networks like CNN and MSNBC lost viewers, the conservative-leaning Fox News gained a significant amount of new viewers. Similarly, the number of liberals and young people watching the news in 2008 decreased significantly in 2010 after President Obama was inaugurated.
While Americans, regardless of political affiliation, spend between eight and nine hours every week on social media, on average, they spend significantly less time reading or watching the news. Democrats reported spending more than five hours each week reading news content – nearly an hour more than Republicans. Green Party members spent the most time reading news – averaging more than nine hours every week.
Real Safety and Security
Regardless of where your news comes from, there are dangers in the world you should be protecting yourself and your family from. The latest data from the FBI reported there were more than 15,000 murders, 90,000 rapes, and 327,000 robberies across the country in 2015. Property crimes alone resulted in more than $14 billion in losses. Protecting your family from these crimes also means protecting your home, whether you're there or not.
Methodology
We surveyed more than 1,000 Americans about their media consumption preferences, as well as their fears and concerns.
FAIR USE STATEMENT
We're not fake news, so don't be afraid to share the results of our study with your readers for any noncommercial purpose. We only ask that you ensure a link back to this page so our contributors earn credit for their work.