By the SafeHome.org Research team | Last Updated April 8, 2020
While there is some data to suggest that residential burglaries and related crimes are down in larger cities, crime patterns are likely to shift in the coming weeks and months. SafeHome.org Research collected weekly crime data from 66 major cities since the beginning of 2020.
In mid-March as shelter-in-place and social distancing recommendations were applied, crime incidents dropped 20-30 percent from weekly averages observed in January and February.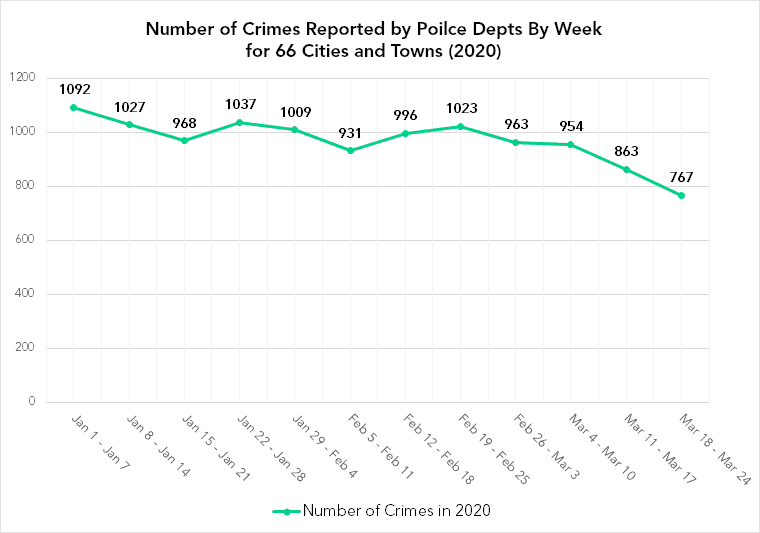 This includes data from Spokane, WA, Phoenix, Anchorage, AK, Annapolis, MD, Dallas, Clearwater, FL, Irvine, CA, Asheville, NC, Madison, WI and Cincinnati. (A complete list of cities included is below.) While not every city has had the same social distancing recommendations, weekly crime has decreased presumably as more people are at home.
When it comes to home security and safety, should we expect this to continue?  And what should homeowners or business owners be thinking about in the coming weeks and months?
We asked our SafeHome.org advisor Travis Goodreau, a former burglary detective, who has investigated thousands of burglaries and property crimes as part of the Glendale, CA police department.
Residential Burglaries May Decline, As Criminals Shift to Property Theft
Goodreau expects that residential burglaries are likely to decrease somewhat as "families being home is the biggest deterrent to a break-in." Burglars are always looking for the "path of least resistance."
On the other hand, he expects property theft to increase as burglars shift tactics and as the economy worsens.  "In 2008, during the great recession, we saw a huge increase in property theft. Cars getting broken into, garages, yard theft, etc."  While Goodreau expects some parallels to 2008, because the coronavirus impacts our everyday interactions with people, it provides new opportunities to burglars:
Less people walking around neighborhoods provides more opportunities for burglars to stakeout a target, and potentially less witnesses of a crime.
Burglars may look specifically for people or families not adhering to stay-at-home orders, such as taking an early morning hike.
E-commerce is much more common now than in 2008, and Goodreau and Breul expect an increase in "porch pirates."
Businesses being deserted affords new opportunities to criminals.
Recommendations for Homeowners and Businesses
Invest in a high-resolution outdoor security camera or doorbell camera pointed at your driveway, street and/or porch. "Because property crime and vehicle theft may increase, make sure a security system can view your outdoor assets that need to be protected," says Goodreau. Parking in an area in view of your outdoor camera is advised.
Lock and secure your garage.  With Americans stocking up on supplies, there may be plenty of attractive supplies for burglars. And "never leave your garage open."
Be vigilant against online misinformation and scams. "I expect an uptick in scams and identity theft as more people on their computers," says Breul. Locally, he's seen "fake bleach and hand sanitizer" being sold to consumers looking to protect themselves from COVID-19.
Walk your dog (while observing social distancing). "Walking around the neighborhood is a great way to see if anything is out of the ordinary," says Breul.
Remove all valuables from commercial locations. Take any valuables out of safes and remove computers and electronics if possible.
Finally, if you are a victim of a property crime or burglary, report it to law enforcement right away.  But keep in mind that the coronavirus is "definitely going to change the way departments respond, as far as prioritizing calls," according to Goodreau.  When it comes to a theft call, there may be a longer response time as emergency types of responses take more precedence. "The approach on-scene may be different," adds Breul, "as officers or departments shift policies with respect to public interactions in non-emergency situations or when a crime is not in-progress."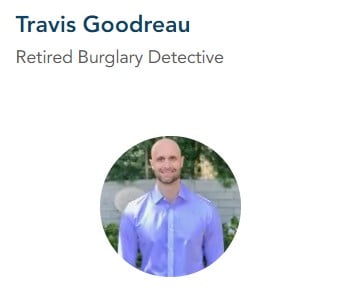 About SafeHome.org Research and our data:
SafeHome.org's independent research team explores home security, physical safety and what it means to be safe in America.  We cover broader societal trends that can threaten or improve our safety and participate in joint research with non-profit organizations and municipalities to keep Americans safe.  SafeHome.org's advisors are former law enforcement professionals and security consultants and provide valuable input into our research. Data from this report was collected from police departments through their public communications and from the Lexis Nexis Community Crime Map.
The mid-size and large cities included are: Spokane, WA, Phoenix, Anchorage, AK, Annapolis, MD, Dallas, Clearwater, FL, Irvine, CA, Asheville, NC, Madison, WI and Cincinnati. Additional data was acquired from towns, counties and smaller cities, including Alhambra Police Department, Apache Junction Police Department, Arlington County Police Department – Virginia, Arvada Police Department (CO), Avondale Police Department, Belvedere Police Department, Branford Police Department (CT), Broomfield Police Department, Buckeye Police Department, Casa Grande Police Department, CCM – Denver Police Department (CO), CCM – Sacramento Police Department (CA), Chandler Police Department (AZ), Coconino County Sheriff's Office, Contra Costa County Sheriff's Office (CA), Conway Police Department, Coralville Police department, Decatur Police Department (AL), DeSoto County Sheriff's Office (FL), El Mirage Police Department (AZ), Eloy Police Department, Emeryville Police Department, Fayetteville Police Department (AR), Fort Smith Police Department, Gila River Police Department, Gilbert Police Department (AZ), Goodyear Police Department, Griffin Police Department, Hope Police Department, Iowa City Police Department, Jasper Police Department, Kaua'i Police Department, Maricopa County Sheriff's Office, Marin County Sheriff's Office, Napa Sheriff's Office, Paradise Valley Police Department, Phoenix Police Department, Pinal County Sheriff's Office, Sacramento County Sheriff's Department (CA), San Marino Police Department, Sausalito Police Department, Scottsdale Police Department, Siloam Springs Police Department, Spalding Sheriff's Office, Surprise Police Department (AZ), Tempe Police Department, Tiburon Police Department, Walnut Creek Police Department (CA), Wheat Ridge Police Department.