By the SafeHome.org Research team | Last Updated April 23, 2020
The COVID-19 pandemic has created tremendous changes to businesses, and data from 374 cities and municipalities shows distinct changes in crimes to physical business locations. We gathered incident reports on business crimes from January 5th through April 11th and classified them by type of crime.
Key Findings:
Across all 374 cities and municipalities, business crime rate is down 14 percent. However, many larger cities are experiencing increases in business crime. Half of the largest cities in our study had increases in business crimes, including Atlanta, Minneapolis, and Cincinnati. Larger cities that had notable decreases were Houston, Wichita, KS and Fort Lauderdale, FL.
Crime patterns have changed. Burglaries are up across the nation (up 14 percent nationally), and especially in larger cities. Fullerton, CA, Atlanta, Plano, TX, and Columbus, OH had at least double the rates of burglaries.
With many businesses closed or with reduced hours, person-to-person crimes such as robbery and assault have declined (down 30 percent nationally). Shoplifting and related thefts also declined (down 25 percent nationally).
Patterns haven't changed as far as the time of day of most crimes.
Crime Rates
There were 11,260 crime incidents involving business across 374 cities and municipalities studied for this report. From the period of March 8th through April 11th, businesses experienced 673 crimes per week, a decline of 14 percent vs. the period of January 5th through March 7th, where businesses experienced 786 crimes per week.
Burglaries
There were 3,253 burglaries to businesses during the time period studied in this report. Burglaries increased by 14 percent from March 8th through April 11th, when businesses experienced 252 burglaries per week compared to the period of January 5th through March 7th, where businesses experienced 221 burglaries per week.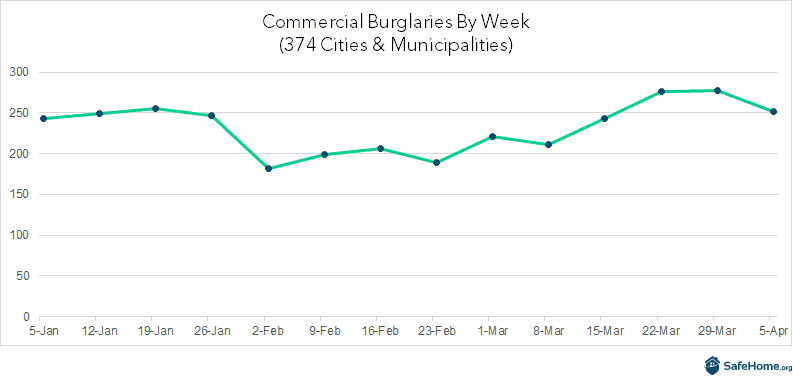 Robberies and Assaults
Commercial crimes involving people, including robberies and assaults, declined on a weekly basis by 30 percent during the period of March 8th to April 11th (70 per week) compared to a weekly rate of 100 per week from January 5th to March 7th.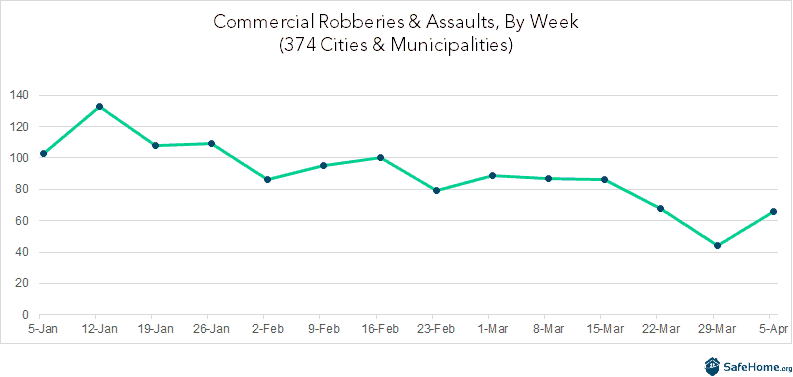 Shoplifting and Theft:
Shoplifting and theft crimes to business declined during the weeks of March 8th to April 11th by 25 percent to 342 per week from a weekly rate of 456 from January 5th to March 7th.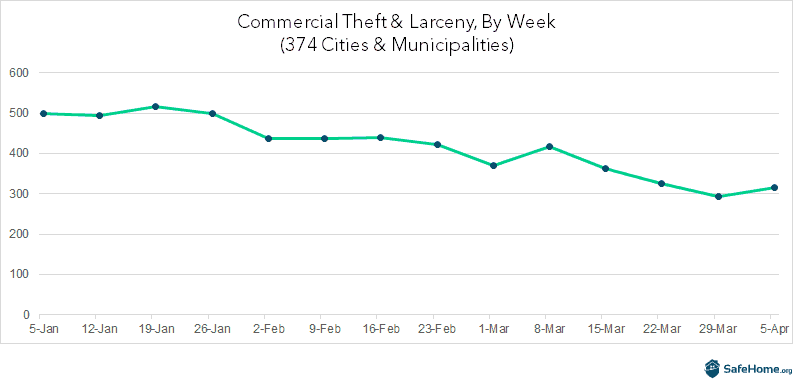 Time of Day:
Crime patterns did not change noticeably by the time of day over the last month.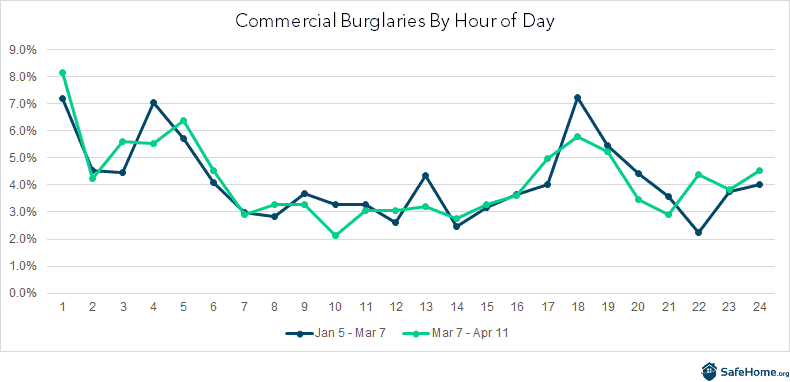 Individual Cities:
Nationally, overall crime rates decreased and burglaries have increased. However, there have been wide variations in crime rates by city. Some big cities are experiencing significantly higher rates of crime, primarily driven by burglaries.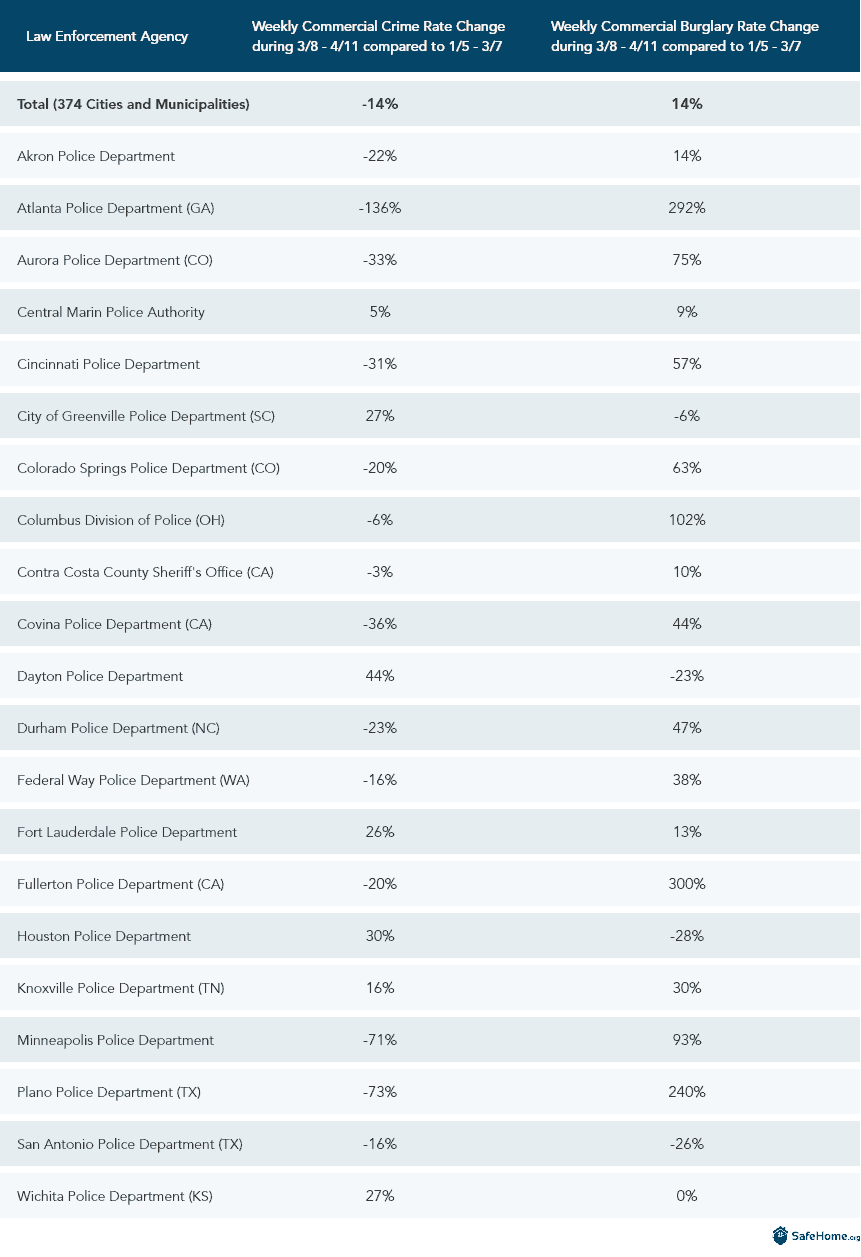 About SafeHome.org Research and our Data:
SafeHome.org's independent research team explores home security, physical safety, and what it means to be safe in America. We cover broader societal trends that can threaten or improve our safety and participate in joint research with non-profit organizations and municipalities to keep Americans safe. SafeHome.org's advisors are former law enforcement professionals and security consultants and provide valuable input into our research. Data from this report was collected from police departments through their public communications and from the Lexis Nexis Community Crime Map. Each law enforcement agency classifies incidents in a different manner, and SafeHome.org Research normalized and classified each crime. This study includes data from 374 law enforcement agencies from January 5th to April 11th. This report includes crimes in the following categories: homicides, sexual assaults, aggregated assaults, robberies and burglaries (commercial and residential), theft (including motor vehicle), and arson.