Written By: SafeHome.org Team | Updated: June 31, 2021
Don't count other people's money, so the advice goes. But that's no fun. After all, if you don't know how much money your neighbors make, how can you know whether you're better than them or not?
Joking aside, the truth is what Americans earn varies enormously depending on where they live, with some states boasting far higher typical wages than others. Some states have seen wages and earnings go up over the past decade, while others have seen wages stagnate or even fall.
Since it's unlikely you'll muster up the courage (or stupidity) to walk over to your neighbor's house and ask them how much their salary has gone up in the past 10 years (or even ask your spouse what they earn; no seriously), we'll turn to national data to figure out where U.S. workers have it the best (and worst).
We'll analyze wages and earnings, which tell us how much jobs pay as well as how much Americans earn from work. It's important to note that this does not tell the complete picture of all possible income streams because there are ways other than work to generate income, such as by investing. But for the majority of Americans, the lion's share of their income (and most often 100% of their yearly income) is derived from work, and the most robust federal data is available on wages and earnings.
How Much We Make
The median national wage for all occupations is a yearly sum of $38,640, which equates to about $18 an hour. While this figure varies widely by state, only about 4 in 10 states have median annual wages higher than that.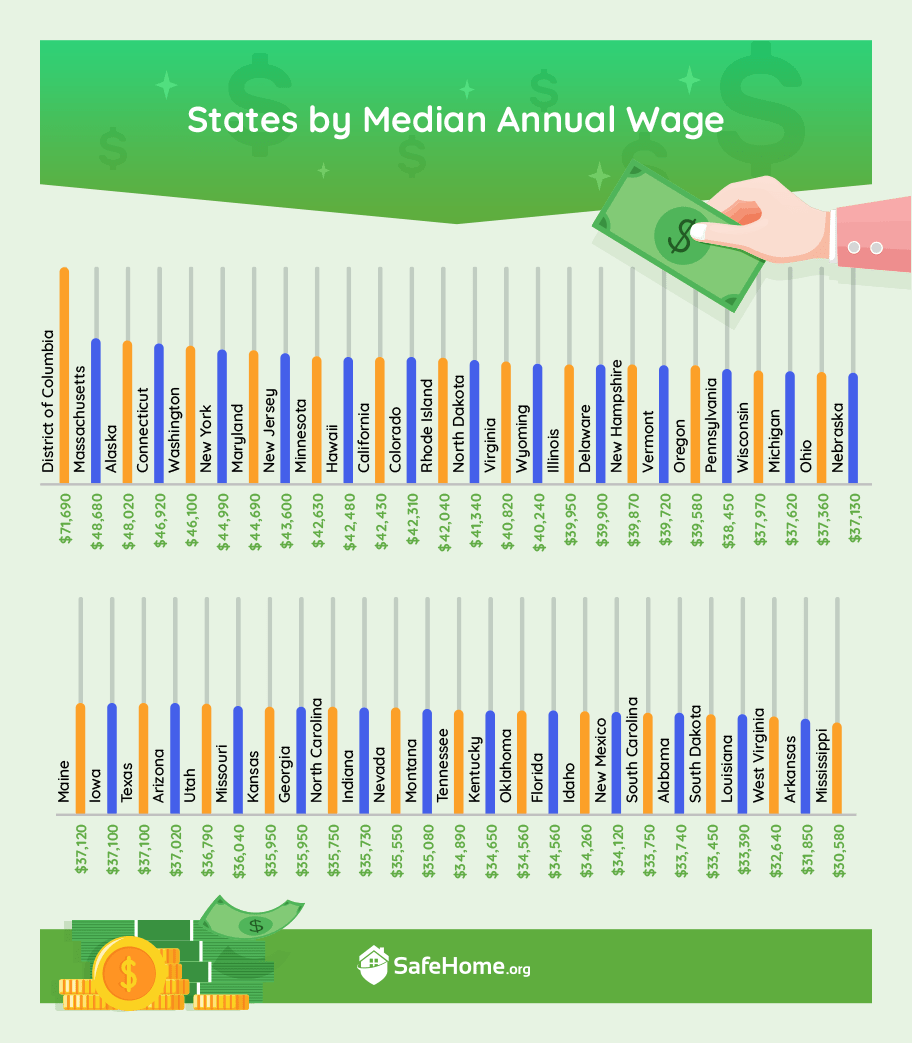 The median annual wage in the District of Columbia is by far the highest at more than $70,000 — more than twice that of many states on the list. Geographically, the top of the list is pretty much all over the place, but seven of the bottom 10 are in the South, and two of the bottom 10 are in the West. Maine is the lowest-ranking Northeastern state at No. 26.
Highest wages
The 90th percentile wage in Washington, D.C., meaning the wage that's higher than 90% of all the others, is the nation's highest at $164,200, but several states have top wages in the six figures.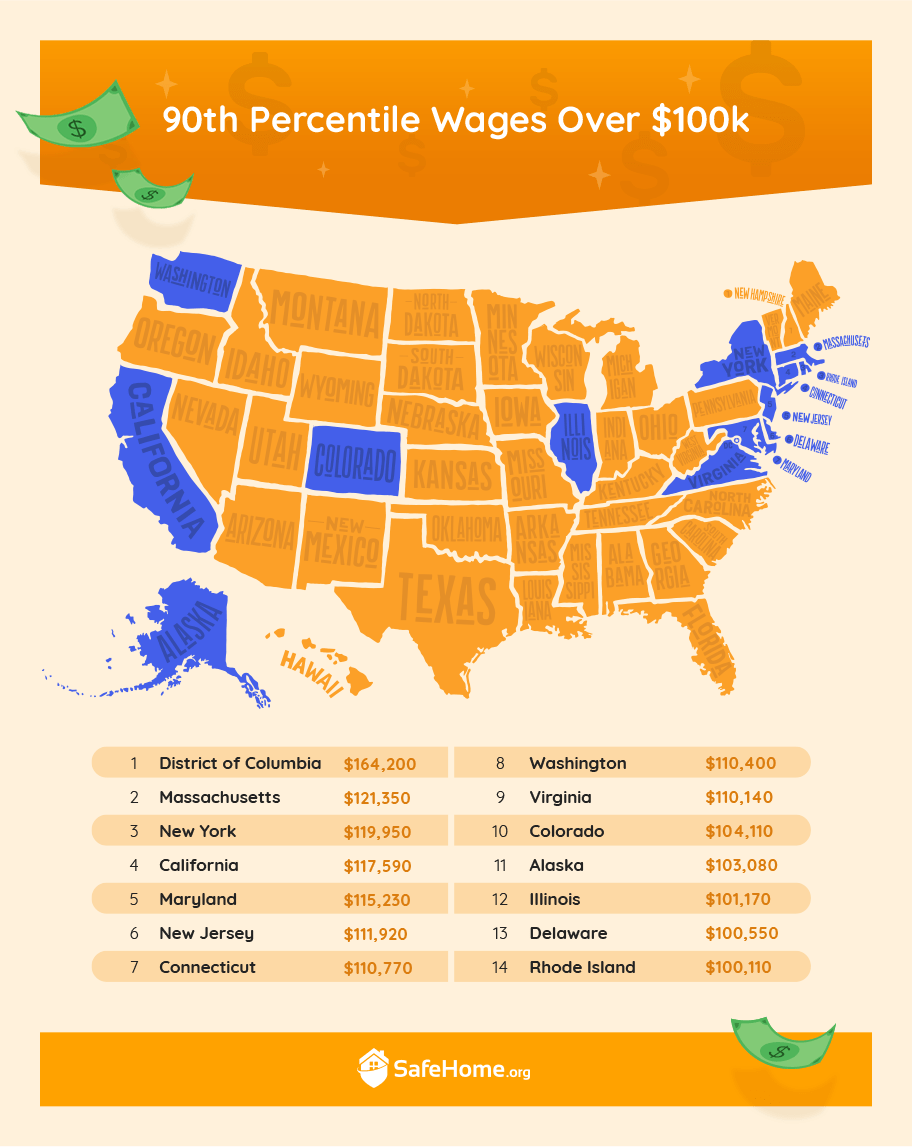 Generally, states with the highest overall median wages have the highest 90th percentile wages, but notably, Illinois, which ranks No. 17 among all states for overall median wages, has the 12th-highest top wage. Mississippi has the lowest 90th percentile wage at $69,720, which is the only one in the nation below $70,000.
Lowest wages
Mississippi and Louisiana have the lowest 10th percentile wages, or wages that are lower than 90% of all others. The average 10th percentile wage is $20,655, but 13 states have lowest wages that are under $19,000 a year.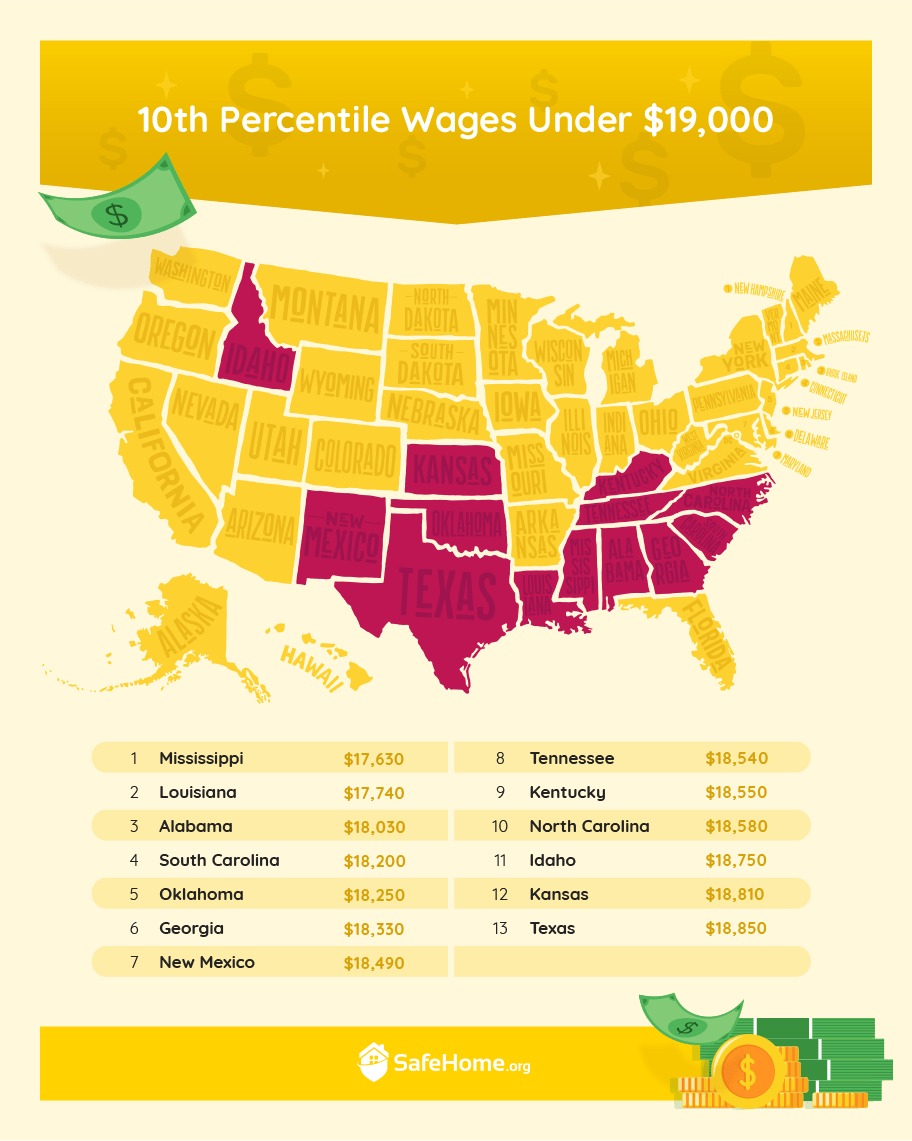 Ten of the 13th states with the lowest low wages are in the South, including all of the top six. D.C. has the highest 10th percentile wage at $28,660, which is almost as high as Mississippi's overall median yearly wage — $30,580.
How We Stack Up
About 1 in 5 Americans who work full-time earn between $35,000 and $50,000 per year, with another 16% earning between $25,000 and $35,000. But earnings are pretty widely spread out.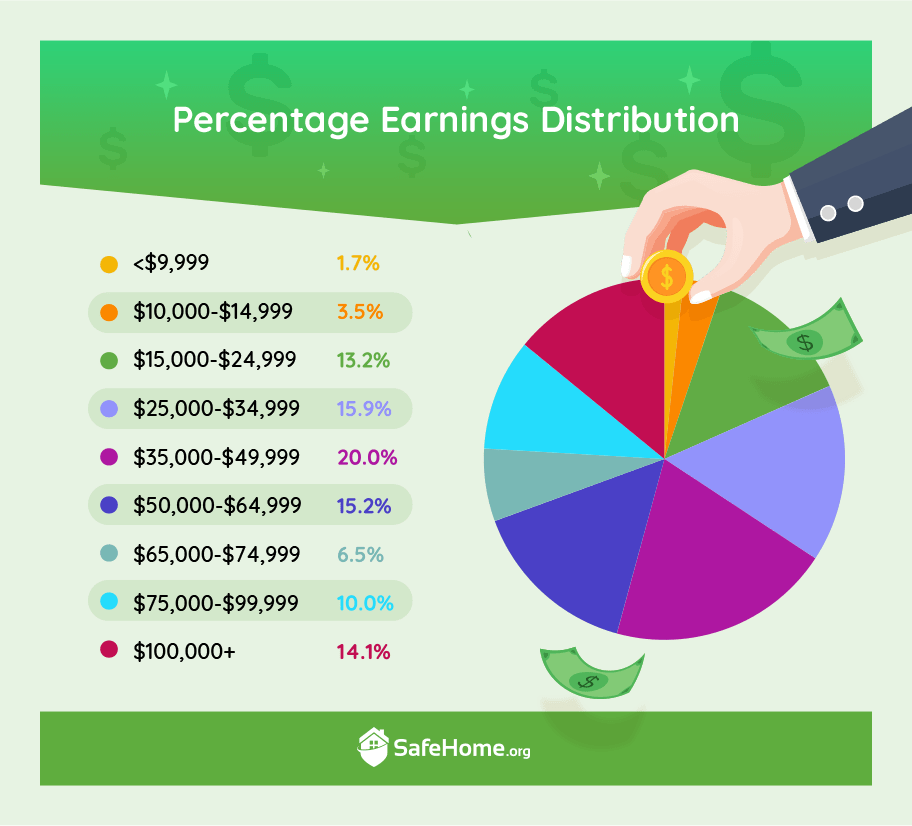 While the three most common earnings are between $25,000 and $65,000, almost 1 in 3 Americans earns more than that. But the picture changes when you consider gender. Just 8.8% of women with full-time year-round earnings makes over $100,000, compared to 20% of men.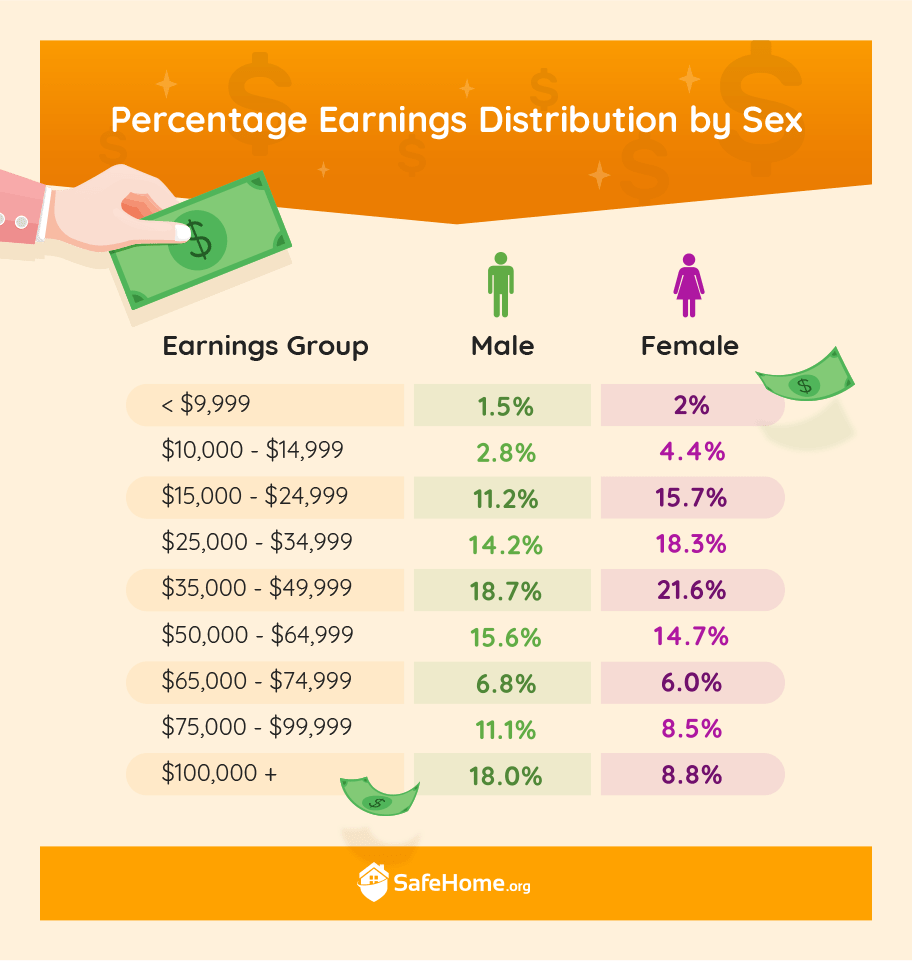 As with wages, the state-level data shows pretty wide variation with more than 30% of District of Columbia residents earning more than $100,000 and more than 25% of Arkansans earning less than $25,000.
For the vast majority of states, the $35,000-$50,000 group contains the highest percentage of residents, but seven states — California, Connecticut, D.C., Maryland, Massachusetts, New Jersey and Virginia — have the highest percentage of residents in the $100,000+ bracket.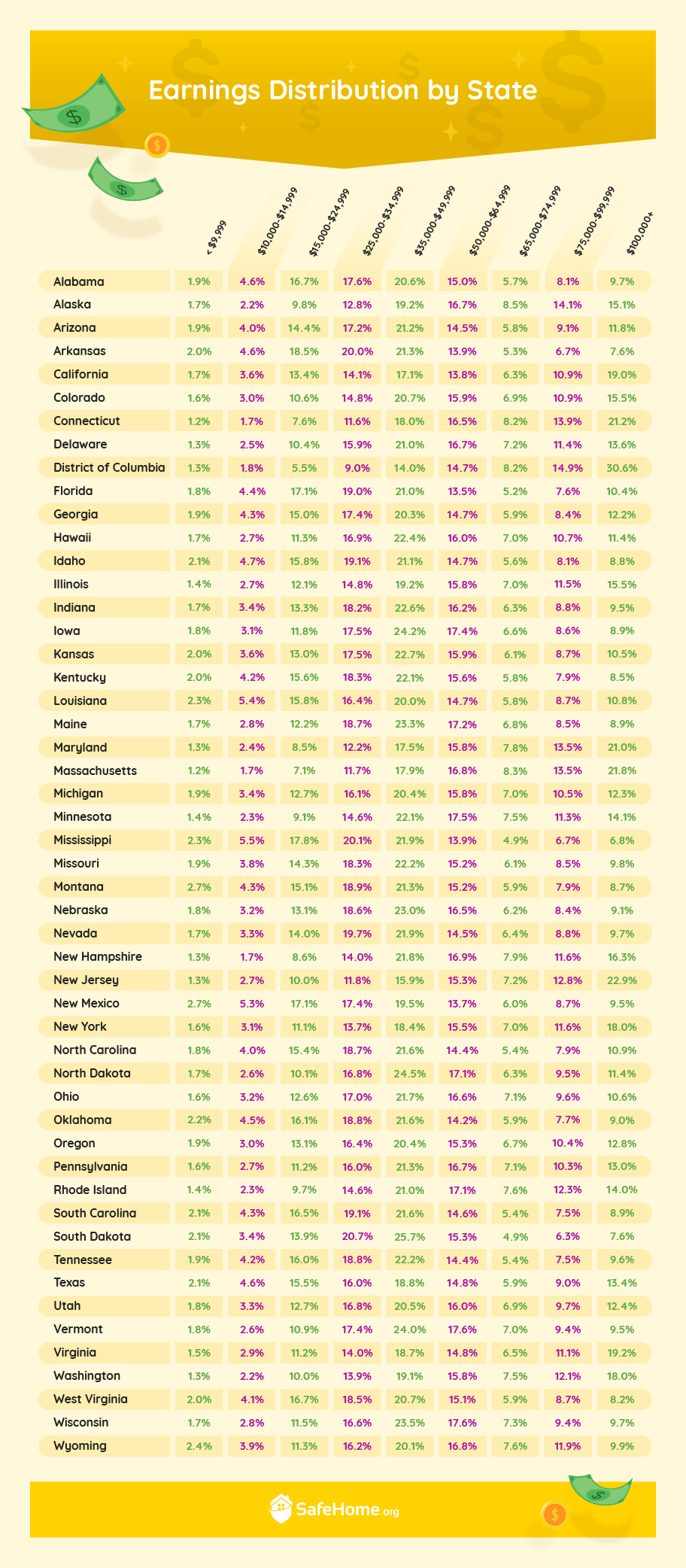 In the majority of states, the $25,000-$35,000 bracket contains the second-highest percentage of residents, and the highest percentage of very low-wage workers are in Louisiana, Mississippi and New Mexico, where about 5% make between $10,000 and $15,000.
How Things Have Changed
Nationally, the median annual wage has gone up by just 2% over the past decade, rising from an inflation-adjusted $37,896 in 2008. Most states have seen wages increase in that time, and most of the increases have been higher than the national median, though several have actually seen their median wage decline.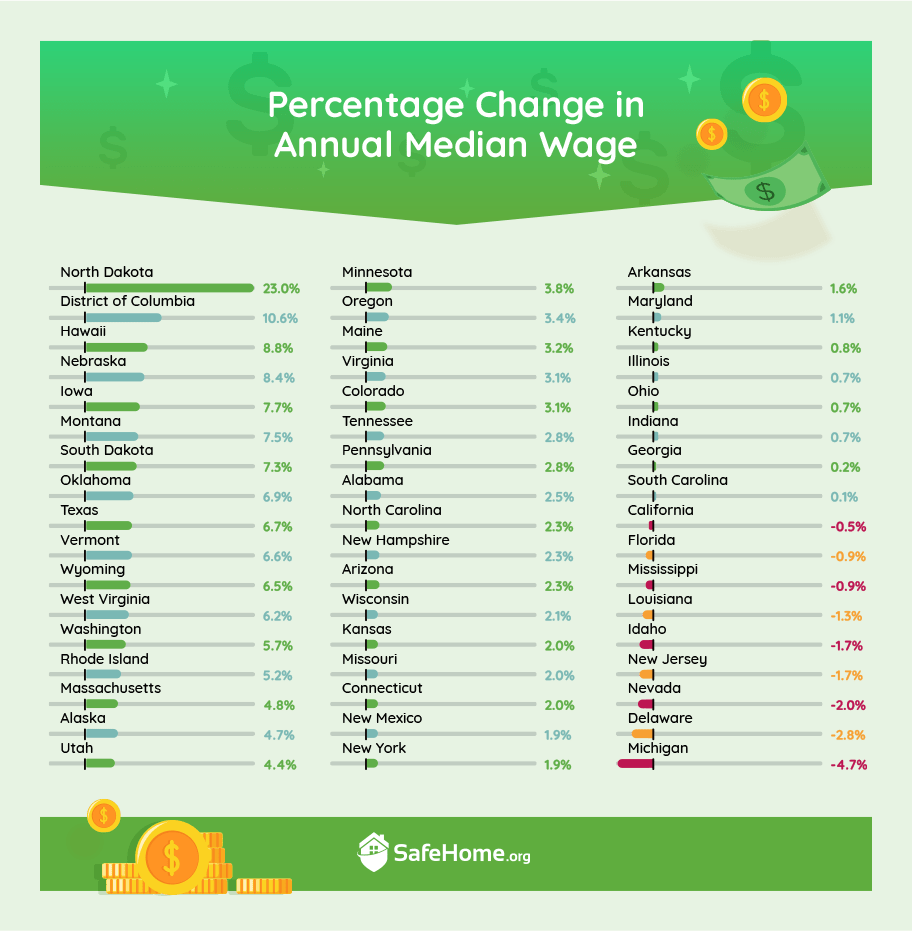 Nine states saw their median wages fall after adjusting for inflation, and 10 others saw increases lower than the overall national increase of 2%. The majority of the gains over the past decade have been among the lowest and the highest wages.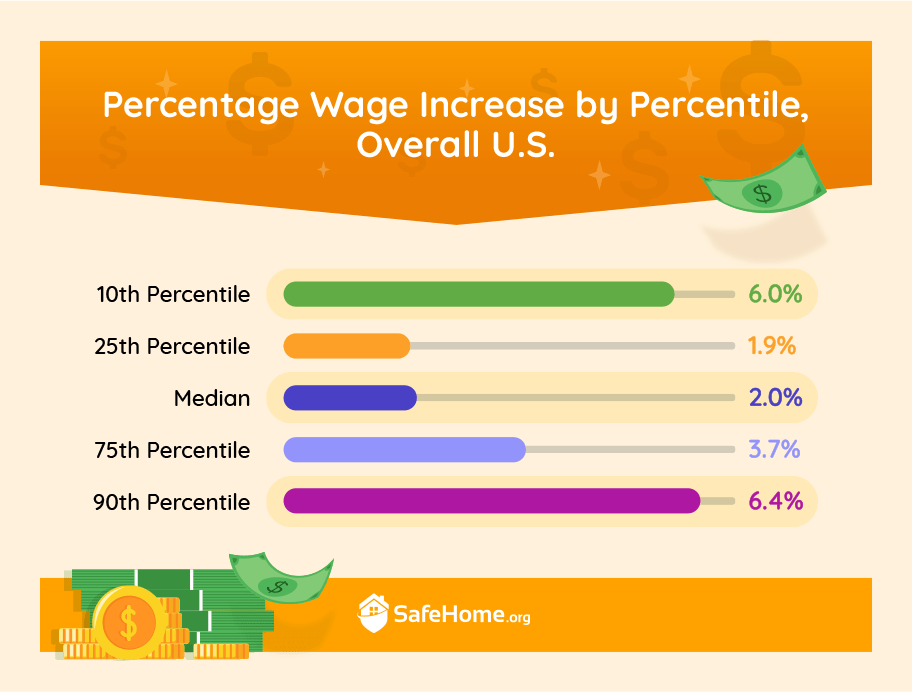 Wages in the 90th percentile increased the most, followed by 10th percentile wages. The growth in 25th and 75th percentile wages combined was lower than both the highest and lowest wages. Similar variation is seen in most of the states, with the majority posting their highest gains in the 90th percentile wage.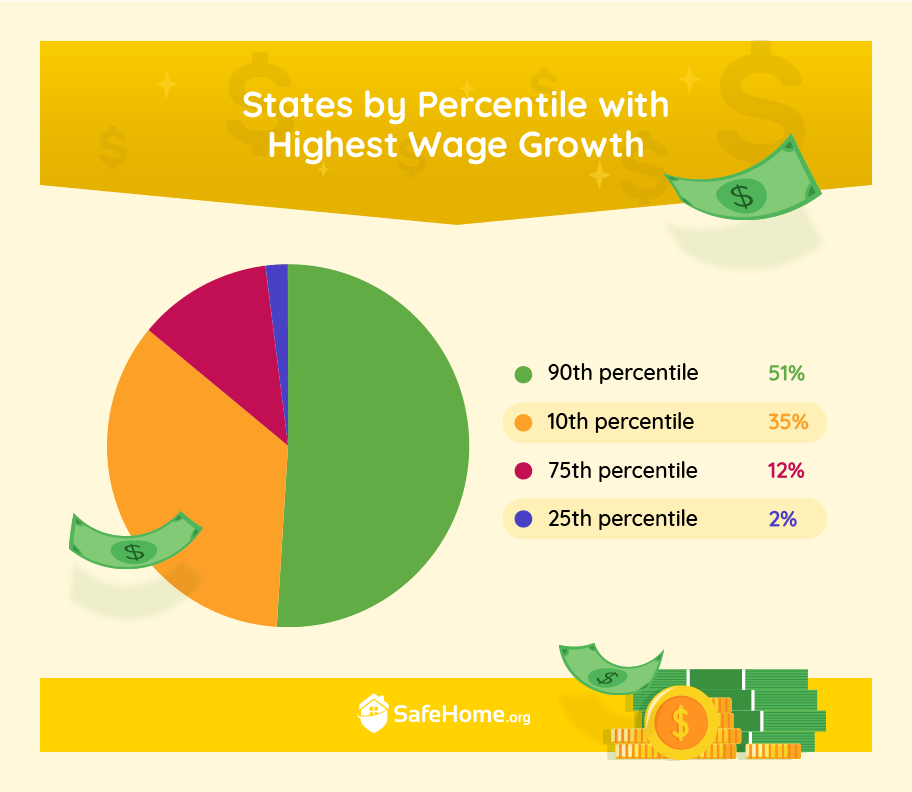 Only one state posted a decline in the 90th percentile wage — Michigan, where the highest wage declined by 0.8%. Among the 25 wage decreases, 15 were in the 25th percentile wage, and another six were in the 10th percentile wage.
Conclusion
We all want to believe that the money we earn is because of our unique experience, skills and hard work. And that's certainly true for lots of people, but unless almost everyone else is lazy, very few American workers are truly excelling when it comes to wages and earnings. According to experts, the link between wealth and happiness peaks when earnings reach $75,000 a year — only about 1 in 4 Americans are at that point, so wherever you stand among your fellow Americans, chances are good you've got a long way to go.
About This Story
Income distribution figures for the nation and each state came from the American Community Survey 5-Year Estimates, which are published and updated regularly by the U.S. Census Bureau. As already referenced, we used data on earnings in the past 12 months, which estimates the percentage of full-time year-round workers who fit into each income bracket; it's also broken down by sex. We used the advanced search function at American Fact Finder to build our data.
Data on median annual wages came from the U.S. Department of Labor's Bureau of Labor Statistics, which publishes information annually that provides a snapshot into the state of American employment, including wages, unemployment figures and occupational data. We used the state and national data found on this page for May 2018 and May 2008. We converted the 2008 wage information into 2018 dollars to create a consistent comparison.
Fair Use Statement
The information and images on this page are free to use for noncommercial purposes. If you wish to share anything from this page, please provide a link back to this URL.