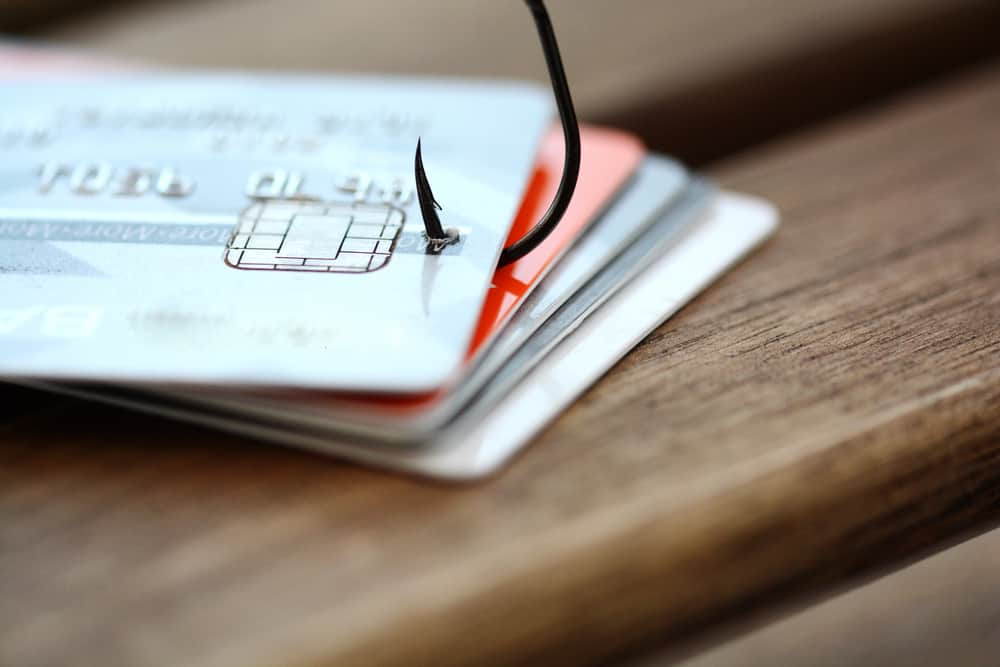 Lowlifes love identity theft because it's so easy to get away with. Think about it: If a prowler breaks into your house, you'll see what's missing right away. But if a creep steals your Social Security number, you may not find out for years. By then the crook will have financed a property or two in your name or trashed your kids' credit.
Quality identity theft protection services can't stop thieves from stealing your identity, but they will catch them red-handed before they've ruined your life.
Please take note of the word "quality" here. If you're used to hearing about trustworthy identity theft protection brands like Aura and Identity Guard, it may seem like any service out there will get the job done. Not true. Scam services abound, and entrusting your personally identifiable information to one of them could be a huge mistake.
With that in mind, here are three identity theft protection services you don't want to touch with a 10-foot pole, followed by my recommendations for the three best ID protection services of 2023 and a few tips for telling a lemon from the real McCoy.
Advanced Identity Protector
This wolf in sheep's clothing has a bad rap for failing to deliver anything but an annoying barrage of ads and phony warnings to its customers. Advanced Identity Protection has ticked off so many users that you'll find more articles on how to remove its software from your computer than on how to use it, earning AIP the top spot among identity theft protection services for potentially unwanted program (PUP), scareware, scam, and even malware. Yikes!
So what's all the fuss about?
Basically, AIP doesn't do anything to protect your identity. It doesn't monitor your credit or public records, it doesn't scan the dark web for your stolen credentials, and it doesn't offer restoration services to help you if you fall victim to identity theft. Oh, yeah, and its customer support is an email address.
What Advanced Identity Protector gives you in spades, however, is promotional pop-ups (for upgrades) and scary warnings that you need to clean your computer pronto, which the company will happily do for you for the sum of $199.
Been Verified
Been Verified isn't technically an identity theft protection service, but it offers a primitive version of it that could land you in trouble if you make the mistake of signing up for a subscription.
If you're unfamiliar with it, Been Verified is one of those sites where you actually do the opposite of keeping your identity hidden. You pay the company to snoop around for other people's personal details — addresses, phone numbers, criminal records, and the like. Background checks, in other words, so already pretty skeezy.
Been Verified's ratings are way down in the gutter too. It gets 2.9 stars on Sitejabber, where one of the nicest reviews describes the service as a "crock pot full of BS." Trustpilot gives it 1.5 stars and the Better Business Bureau gives it a C rating.
Almost all of the many complaints reported on these sites stem not from Been Verified's service, but from its scammy business model, which seems to involve Jedi mind-tricking people into signing up for plans they can't cancel.
Long story short: If you're bent on finding out if your ex is in prison, call their mother or ask John Walsh. Don't snoop around on Been Verified.
Identity Secure
Identity Secure isn't IDSecure, which is a scammy, Nevada-based outfit with an F rating at the Better Business Bureau. It's a second-rate ID theft protection service that belongs to the mysterious Affinion Group, a customer complaint clearinghouse currently in court throughout the U.S. for "deceptive practices."
But enough about its corrupt parent company. Let's talk about the company you're about to entrust your Social Security number to. Identity Secure will probably scare most people away with its floor-to-ceiling order form. It looks like a magazine insert and has about 50 lines to fill out — your credit-card information goes in one of them — but no information at all about pricing. Because no one is interested in how much things cost, right?
If you make it past that whopper of a form and end up with a subscription, you may have a very tough time disentangling yourself from the service, judging by the myriad reports filed by irate and bewildered Affinion customers.
Bottom line: Do you see that 10-foot pole? The one I'm handing you through the screen? Don't touch Identity Secure with it.
Identity Theft Protection You Can Trust
Aura
Our top pick for complete identity theft prevention, Aura is stacked with powerful, well-designed features — plus some extras you won't get with other services, such as a virtual private network (VPN), password manager, and antivirus software. Check out the rest of Aura's features in our complete Aura buyer's guide.
Identity Guard
Identity thieves hate Identity Guard because its AI-enhanced monitoring makes it difficult for them to make a living. Identity Guard keeps an eagle-eyed watch over your personal details with triple bureau credit monitoring, home title monitoring, and dark web monitoring. Sound like your kind of ID protection? Here's how Identity Guard performed in our tests.
IdentityForce
The best protection for families, hands down, IdentityForce has all the features you need to keep your household safe. If you have children, who are at much higher risk for identity theft than adults, IdentityForce offers $25,000 in reimbursement for cyberbullying, ransomware, and phishing attacks.
Identity Theft Prevention Features You Need
Triple Bureau Credit Monitoring
There are three major credit bureaus in the U.S., and you're in trouble if your credit goes south at any of them. In theory, we're all entitled to one free report per year from each bureau, but very few people actively seek them out. When considering ID theft protection, choose a service that monitors all three bureaus.
Identity Restoration Services
You've fallen victim to identity theft, just like millions of other Americans. What now? If your identity theft protection plan doesn't include restoration services, you won't have anyone to help you out of that hole. Quality identity protection services provide two things: specialists to help you recover your identity and up to $1 million in reimbursement for theft.
Family Monitoring
Children are much more likely to fall victim to identity theft than adults, for a variety of reasons. If you have kids (from newborns to college-aged), go for a service that covers all of you — even if it means subscribing to a slightly more expensive family plan. Some of our top picks, such as IdentityForce, also come with social media monitoring tools to cut down on imposter scams and cyberbullying.
Final Words
Identity theft is the most common of the almost 6 million cases of fraud reported yearly to the Federal Trade Commission. It's also one of the most revolting invasions of privacy you can imagine. Someone is literally impersonating you or your kids to buy things and commit crimes in your name.
Sure, you can try to monitor all your personal details by yourself, but it will likely become a full-time hobby. Or you can go with a service that does it for you.
If you opt for the easier, safer route, do your research. Our identity theft protection comparison guide is a great place to start. And remember: If a company has 300 complaints at the Better Business Bureau and you still give them your credit card, don't be surprised when you become number 301.