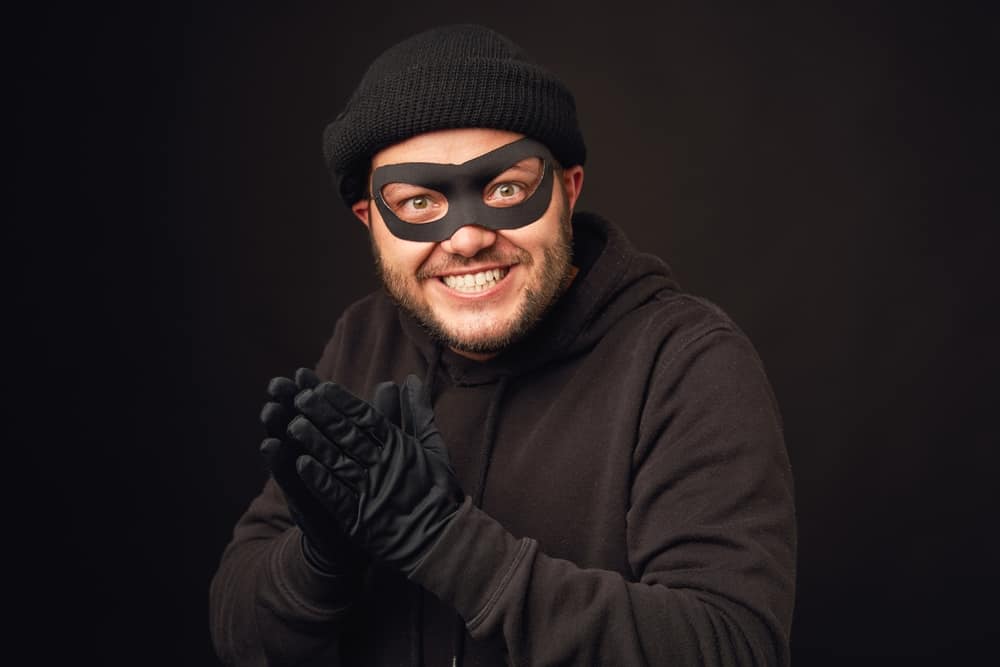 I love it when my kitchen cam sends me night vision clips of myself drinking water in my underpants, don't you? Didn't think so. Fortunately, in our household, this is a blue-moon event. Of the many top-rated home security cameras I've unboxed and tested, I can literally count on one hand the number of times I've reviewed a totally malfunctioning product.
But they're out there, driving good dads and moms to stark raving madness, when all we want is a timely alert when someone suspicious is at the back door or snooping around out front.
Here are our top picks for "Home Security Cameras to Avoid Like the Plague." After you commit the lemons on this list to memory, stick around for a roundup of three home security cameras we swear by along with a bonus "bad camera" checklist.
Soniff Slim Cam
Where to start with the Soniff Slim Cam? Actually, I know just where to start. With the fact that we should be careful with IoT smart devices that originate in countries where consumer data — including video clips of our living rooms and families — is funneled straight to the government. Soniff is one of them.
The Soniff Slim Cam does have a few things going for it. It's cheap (about $30) and not bad looking. But it's a royal mess otherwise. Annoyingly, while the latest Slim Cams come with QR code and Bluetooth pairing, the Slim Cam forces you to use Sound Pairing, which doesn't always work. The Slim Cam also emits an ear-piercing bleep throughout that may remind you of R2-D2 being crushed in a trash compactor.
Image quality isn't great with the Slim Cam, which I guess is forgivable for a camera that costs as much as an extra-large pizza. But the Slim Cam falls short in other less explicable places, like not having a "motion events only" recording mode, meaning a flower pot and the Amazon delivery man are one and the same to the Slim Cam.
Finally, the Slim Cam is unusable if you don't fork over about 6 bucks per month to access your videos in the cloud. Reaching for your credit card? Didn't think so.
Y-Cam
OK, so when I asked you up top if you liked it when your home security camera captured you in Predator night vision mode while you were rehydrating in your boxers, that's because the Y-Cam excels at night vision photography. Except the footage is grainy and the Y-Cam isn't all that interested in prowlers. The Y-Cam prefers to shoot blurry footage of its owners instead.
That may be because of a buggy motion detection feature coupled with a missing night vision feature. I can't really say. But all of that bugginess combined could result in the following unprecedented scenario.
You may find yourself scrolling through your Y-Cam footage one night when you stumble across a startling video of a strange man in your home chilling on your couch watching the Lakers — until you realize that grainy blob of an X-ray is you.
I can't speak for everyone, but this isn't my idea of a wireless home security camera I'd want to buy. These are the wireless home security cameras I'd consider purchasing instead.
Netvue Belle AI Video Doorbell
The Netvue Belle video doorbell is a mini front-door surveillance camera (with AI face recognition) and a sassy bouncer rolled into one. No joke: The Belle is a porch boss. If you can't see this, just picture Robert De Niro (as Jack Byrnes in "Meet the Parents") interrogating all your visitors, but legally blind and hard of hearing, so he can't tell the difference between a cat burglar and a bird, or respond sensibly to any answers he elicits.
That's the Netvue Belle in a nutshell.
Of course, it isn't all bad news with the Belle. You can really go to town with the Netvue Belle's motion detection zones, and image quality is good — as long as there's daylight. Come dinnertime and the Belle gets groggy and typically won't be able to distinguish a person from a bowl of cereal.
If you want a top-10 outdoor camera that can recognize the UPS man and won't scare him away, scroll down for our list of alternatives that work.
Bad Home Security Camera Checklist
Grainy Night Mode
Night footage is grainy by nature. In order to turn a smudge of a man standing at the edge on your property at midnight into an identifiable human male, your camera needs solid noise reduction technology, aka 3DNR. Bargain-basement brands may claim to offer this feature, but in reality most don't.
No Motion Detection
If you can't tell your camera to shoot only when it detects motion — or if you do tell it and it doesn't listen to you —  you're going to end up with a mountain of unnecessary footage taking up space in the cloud, which you're paying for. And, of course, you won't have any of the footage you need.
Buggy Apps
Wonky apps have caused many good, security-minded dads and moms to lose their mind. Buggy security software is particularly troublesome because this is your family's safety we're talking about, not a frozen game of "Angry Birds." See a bunch of one-star app reviews? Don't invest in the hardware it works with.
Home Security Cameras With Our Seal of Approval
SimpliSafe (Starting at $99.99)
SimpliSafe offers no-frills wireless cameras for inside the house and out. They are easy to install, with regular software and firmware updates to keep the bugs at bay. I've tested a complete SimpliSafe package if you want to get an idea of how this top-seller performs in the field.
Ring (Starting at $59.99)
The ever-popular, Amazon-owned Ring camera is the one you see featured in all those epic burglar bust reels — the ones where the dumb thief doesn't realize he's being filmed. HD Ring cameras are inexpensive and reliable, and you don't need a hub to run them.
Lorex (Starting at $39.99)
Lorex cameras feature 4K video that won't leave you wondering if the pizza guy is a bush. There is also a well-built app, sophisticated motion and sound detection, and 16GB of local storage (so no cloud subscriptions necessary).
Summing Up
Choosing a security camera for your home is tricky. You want a device that has the latest features, but you also need a secure, functioning app to control them. Nine times out of 10, you can find that — as long as you choose a home security brand with a reputation for quality.
Typically, these brands are the ones already on our radar. Makes sense, right? We don't generally flock to bad products.
But I get it. Finding cheaper, lesser-known devices can be a thrill: Maybe this is the one that's the exception to the rule. I know the feeling. But I also have the experience to tell you that cheapo security cameras are never worth it when your family's safety and privacy are on the line.