Toddlers are busy. They run, they climb, they grab, they throw. Their brains are developing at a quick pace as they explore their world. Often, this exploration does not include a modicum of caution. One of our jobs as parents is to keep our children safe from themselves, but sometimes we don't know what we don't know.
The following are five spots in the home that are red flags for toddler danger. Learn what to watch out for and what you can do to childproof your home to keep your little ones safe.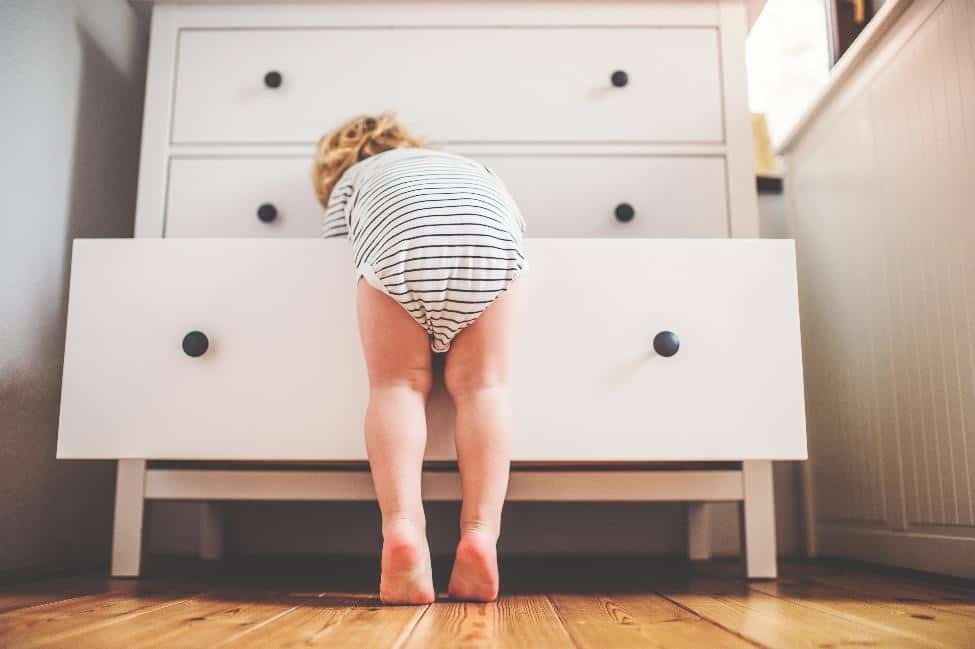 Stairs
It might start with scooting, rolling, or crawling, but whatever method your baby chooses, when they start to move, it is time to babyproof key areas including the stairs. Falls are the leading cause of nonfatal injuries in kids, and 43 percent of these injuries occur with kids that are 4 years old and younger.1
Stairs are a danger hot spot for toddlers, who are newbies with balance and muscle control. For one thing, toddlers are attracted to stairs. A staircase invites them to practice a new skill: climbing. Safety gates are the obvious answer. While many parents know to install safety gates, they don't always install them (or use them!) correctly.
Start by ensuring that every staircase in the home is gated. The protection should include a gate both at the top and the bottom of the stairs. Be certain that the gates are firmly mounted to the studs and attached low enough to the ground so that a little body cannot squeeze under it or pull it off the wall. The American Pediatrics Association also warns against using accordion-style gates, which can trap an arm or a neck.2
Accidents can also occur on steps after Mom or Dad has opened the gate for a supervised ascent or descent. A scar on the underside of a little chin is the telltale sign of a staircase accident. One way to avoid slipping and falling is to carpet your steps and be sure that the edges are properly tacked down. And be sure to teach your toddler the proper way to ascend and descend the stairs, which is usually some form of bottom scoot, backward belly-descent, and/or holding the spindles on the staircase each step of the way. (Consult your pediatrician for their recommendation here.)
Windows
Windows may not seem as obvious a spot for danger as staircases, but they are a risky area for both falls and strangulation. Toddlers are curious, and windows showcase a big world beyond their home. A bird, a butterfly, the howling wind — curious minds like to explore. Hands and face pressed up against a screen, which is not designed to keep bodies in, can easily lead to a toddler falling through the window.
Newer windows can be opened from the top down as well as the bottom up, and this is how the American Pediatrics Association recommends that they be used. You might end up with more fingerprints on the lower section of your windows, but your toddlers will be better protected. For those windows that do not open from the top, install window guards that only an adult can open from the inside. And finally, don't place moveable furniture close to a window. Not only could your toddler fall through the window, they could tumble from the piece of furniture.
Strangulation is the other danger, and this occurs due to cords hanging from blinds or other window treatments. Fortunately, it is easy to find cordless blinds these days. If you do have hanging cords, consider installing a wall bracket that is out of reach and wrap the cord around it.
Bathrooms
Toddlers can get into trouble in bathrooms in multiple ways. In fact, it is one of two places in the house that Children's Hospital of Los Angeles (CHLA) says to never leave a young child unsupervised.1 Following are a few of the hazards.
Medicine and cleaning supplies
One way that toddlers explore is with their mouths, and liquids in colorful bottles are alluring. Pill bottles are fun to shake and sound like a musical instrument. If opened, pills are easy for little fingers to grasp and then place in their mouths.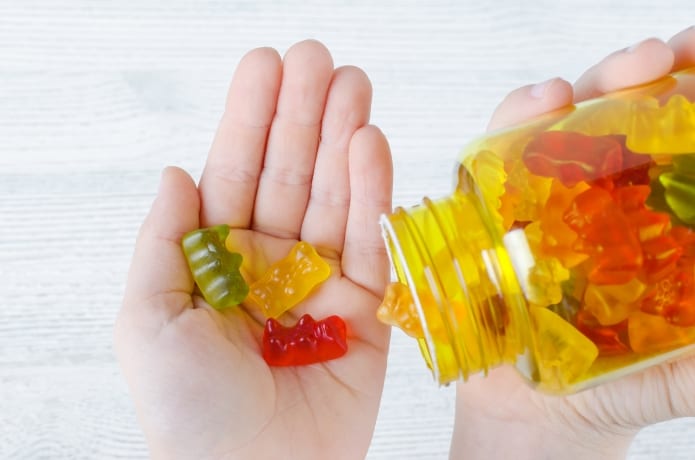 One of the best rules of thumb is to keep anything hazardous out of a toddler's reach. In addition, any potentially poisonous substance should be kept in a locked cabinet. All medications should be in bottles with child-protective lids, and unused medicine should be discarded. Many child experts also advise against referring to medicine as candy.
Wet Surfaces
Some children do more swimming and splashing in the bathtub than bathing, leading to wet floors. Water from the sink or toilet may also find its way to the floor of the bathroom. The obvious danger is slipping and falling, which can lead to injury. The bathtub itself is another place where a toddler, still learning balance, may fall.
To protect your little one from cuts, bruises, or worse, place safety treads or nonskid mats in the tub. Keep a large, absorbent bath mat with a nonslip underside on the floor next to the tub, and install a safety latch on the toilet lid.
Bathtub
In addition to being a place conducive to falls, bathtubs are also the place where kids drown each year. Drowning is the leading cause of death for children ages 1 to 4.3 Two-thirds of bathtub drownings occur with infants under the age of 1. More toddlers drown in backyard pools than tubs, but the risk is still present. Unlike with some of the other risks, there are no safety devices or latches to use for protection on a tub full of water. The only solution is constant vigilance while a small child is in the tub, remembering that an accident can happen within seconds.
Curling or straightening iron
After curling or straightening our hair, we typically leave the iron on the bathroom counter to cool. In a home with small children, this poses a burn risk because it is within reach of a toddler and the cord makes it easy to grab. In addition, the tools are shiny and intriguing, and young children like to imitate what Mom does. All of this makes for a situation in which the child could get burned. Be sure to find a spot for the iron to cool that is out of the reach of your toddler or child.
Kitchen
The second room in which the CHLA advises that children never be unsupervised is the kitchen. There are simply too many shiny but sharp objects, buttons to push and knobs to turn, and drawers and cabinets with potentially dangerous objects inside to open.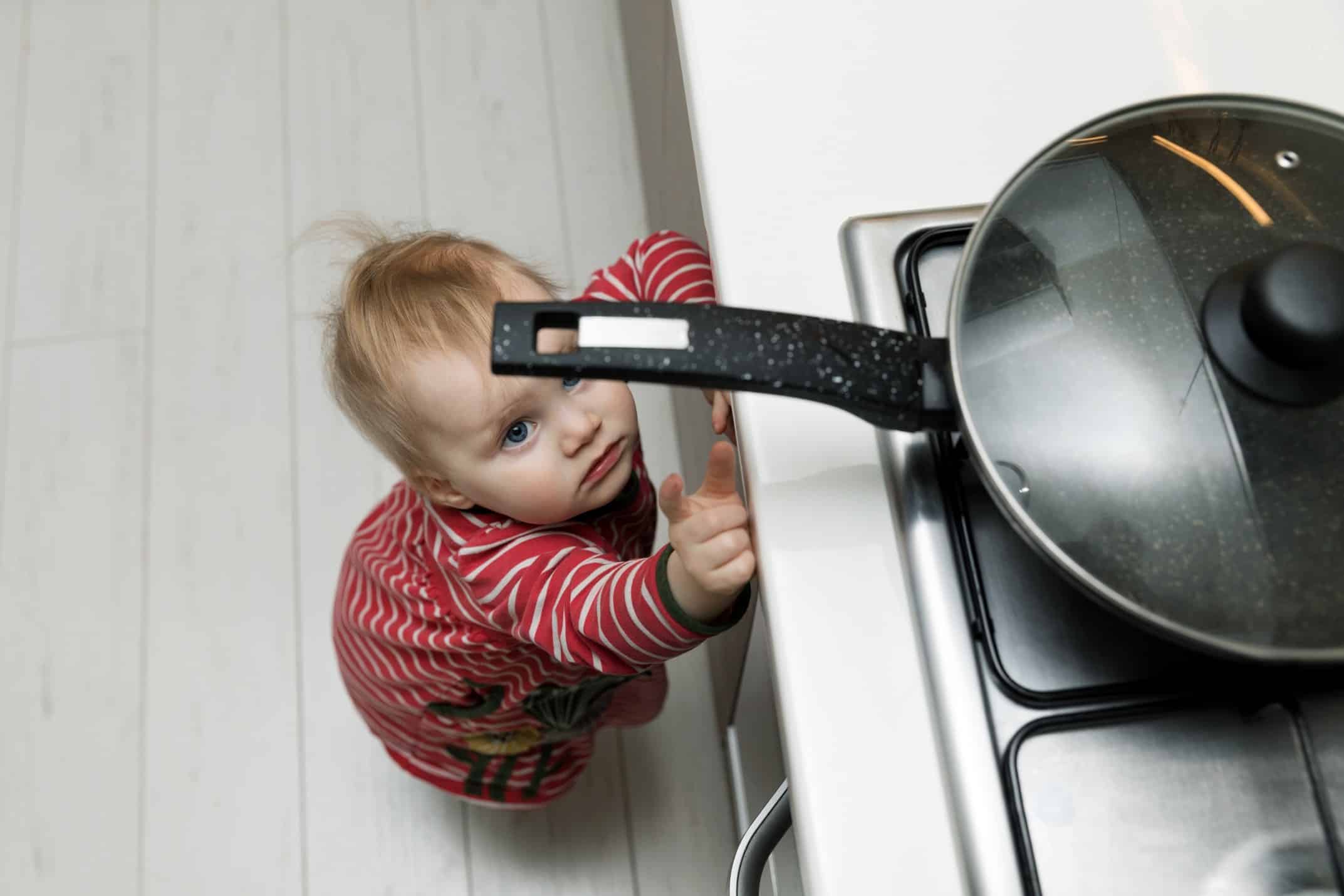 A wide variety of safety latches and other devices for the kitchen can be found to prevent your toddler from "getting into stuff" in the kitchen. Place safety latches on cabinets, drawers, and the refrigerator, maybe leaving one cabinet available and filled with safe tupperware, pots, and big spoons to explore while you are getting dinner ready.
Here are a few other tips for keeping your little one safe in the kitchen:
While cooking, turn the handles of your pots and pans toward the back of the stove.
When possible, cook on the back burners only, keeping pots and pans out of reach.
Remove oven/stove knobs while not in use.
Push any hot liquids or foods toward the back of the counter
Keep your cutlery out of reach or even in a locked cabinet.
Laundry Room
What better place to hide — whether it's during a game of hide-and-seek or when Mom says it's time for bed — than in the washer or dryer. More than 2,000 children are seriously hurt or even die each year when they climb into or fall from a washer or dryer.4 Front-loading machines are especially dangerous, with controls on the front of the machine and doors that lock when the machine is started.
Another danger is poisoning or choking. Laundry detergent, stain remover, bleach — they all come in big, colorful bottles, sometimes without child-resistant caps. Laundry detergent pods are a somewhat new risk to children, with the potential for poisoning or choking. Children are at risk even from just handling a pod. If it breaks open, skin or eye irritation can occur. The best course of action is to keep all supplies in a locked cabinet.
A Final Word
Giving toddlers freedom to roam and explore while keeping them safe from harm becomes one of the biggest challenges for parents. The home environment is likely the place where your little explorer spends most of their time, so it is important to target the spots where accidents are most likely to occur and put some safeguards in place. Nothing takes the place of vigilance with toddlers, but a few childproofing actions will go a long way.
FYI: You may want to get a jump on keeping your children safe during their preschool years and beyond. For a complete guide on the dangers in the home for children of all ages, consult our guide to home safety for toddlers and kids.