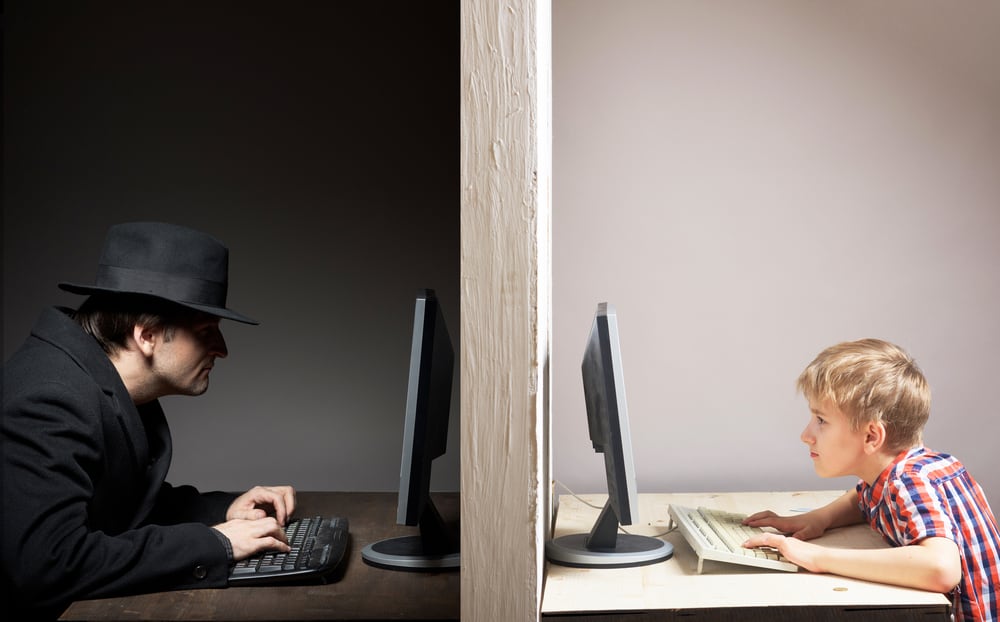 Stranger danger: It's every parent's worst nightmare, and it makes you want to go full Liam Neeson in "Taken" on anyone who even thinks about getting near your kid.
You've probably seen those news stories where a child is "tested" in a simulated situation with an actor playing a predator. The parents are watching on a surveillance camera completely assured of their child's ability to sniff out a creep. Then they watch, horrified, as their child unwittingly goes off with a complete stranger.
Or, for the parents of teens, you read a headline about a kid who has gone missing after meeting someone she met on the internet. You shake your head, and think, "My kid wouldn't do that." But sadly you can't assume they know the dangers unless you've talked to them about it. Plus, teenagers — need I say more?
To make matters worse, many of the classic scary-stranger scenarios still exist from when we were kids — beware of the guy with the lost puppy! — but now there are loads more stranger dangers than parents even 15 years ago could have dreamed of.
How do we teach our kids to be smart about strangers without completely freaking them out? Kids today have way more anxiety than ever, according to the American Psychological Association,1 so we want to make sure we don't add to their stress. Some parents avoid the conversation for fear it will indeed strike panic in their kids. But if you arm them with information, certain technology, and a few smart ways to read a situation, they can safely go out in the world better prepared and less fearful.
Read our five important lessons and sleep easier knowing your kids are up to speed on safety at all ages.
Lesson 1: Lost Puppies and Beyond
The most important way to boil this down for kids is that adults don't need help from kids, they need help from other adults. If an adult asks you for help finding a puppy or another lost child, or even if they ask for directions, it should throw up a red flag. The puppy one is tough because kids are pure-hearted and they want to help a poor, innocent dog. Kids want to be helpful in many situations, and they're more open in general. Praise them for the idea of wanting to help, but convey that if an adult asks for help, they should find their parents or another safe adult to intervene. They need to know they should never, ever go off with an unknown adult.
As kids get older, other dangers may include robbery or scams from strangers. It's also good to make them aware of possible abductions, since the highest number of missing children fall into the age range 15 to 172. If a person approaches asking to use a phone or if they can borrow money for their car that's out of gas, the answer is always no.
Also encourage your kid to listen to their gut and get away from the situation as fast as possible if something feels off. If necessary, run away.
Lesson 2: Good Strangers
This concept can be tricky for little ones, but it's an important distinction to make. Not all strangers are created equal. Teach them about "good strangers" who can help protect them. Who are the typical safe adults? Dr. Richard So of the Cleveland Clinic3 recommends the following people for your kids to seek out when in danger:
A police officer
A firefighter
A teacher
Another mom with young kids
Someone with a badge at a store
By identifying helpful adults, your child can feel safer out in the world knowing there are good people in their midst.
Lesson 3: Spotting Trouble Online
Kids are online a lot. A lot. The latest stats are sobering: American kids ages 13 to 18 spend up to nine hours a day on screens, much of it on social media or video games with chat. The chances for your child to encounter a creep online are very high. The predator may be out to extricate personal information for attempted identity theft or something far more sinister, like trying to meet up offline.
It's vital your child is aware that predators online often pose as other kids. They will request to join a game and ask innocent-seeming questions, like, "Where do you go to school?" or "What grade are you in?" They may offer up information about themselves that seems legitimate, such as what school they go to or what subjects they take. If anyone online asks for personal information that can identify where your child attends school or where they live, however, the conversation ends there. Period.
The best policy? Never play games online with someone unless you know them offline. On social media, never accept friend requests from random people and don't share sensitive personal information. For parents, no matter how much your child complains, absolutely monitor their computers and phones to make sure there is no suspicious behavior.
Lesson 4: Tracking and Technology
But wait! Technology can be your friend too. There are many companies that offer tracking devices for young kids (before they have a phone), such as Apple's AirTag, Garmin Bounce, and Jiobit Smart Tag. Of course, their actual phones work very well as tracking devices by using the built-in Find My features on Apple products or other tracking apps, such as Life360.
The ability to track your child — although it may feel a little intrusive to teens — can be vital in finding someone if they go missing or get in trouble. Encourage your kid to keep their phones or tracking devices on their person and fully charged at all times.
Lesson 5: Safety in Numbers
This is actually good advice for everyone: You're always better off going somewhere with a friend or two than going alone. Whether it's to a party, the bathroom at a restaurant, a walk (especially at night), a bike ride, to the corner store, or anywhere else, go with a friend or sibling. This is especially true for girls, since two-thirds of stranger-abduction victims are female and almost all the perpetrators are male.5 The extra protection of another person will go far in fighting off a potential kidnapping.
Final Thoughts
A thought to help you sleep: The idea of your child going missing in a random abduction is among the biggest fears for parents, but it is actually a very rare occurrence. Contrary to how it often feels, the U.S. is actually getting safer when it comes to kidnapping and child recovery. The recovery rate of missing children rose from 62 percent in 1990 to 90 percent in 2021, according to the National Center for Missing and Exploited Children.2 The notion of a child being nabbed by a stranger still looms large for all parents, but using these lessons and teaching your child to make good choices and listen to their gut will help keep them safe.