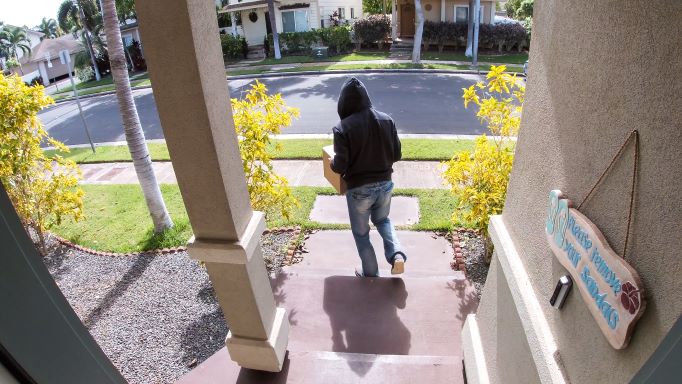 It was around lunchtime when the blue SUV pulled up. A gangly man in a baseball cap jumped out and snatched a two-and-a-half-foot box off Lucy Langlois' front porch. He had trouble stuffing the oversized package through the driver's door, but eventually managed. Then something weird happened.
The man came back. But the brass table he grabbed this time around was too heavy and he dropped it, nearly through the porch.
Langlois caught all of this — the randomness, the brazenness, the bungling — on her Ring video doorbell.1 In the end, the pirate returned one more time to dump the package he'd just stolen (it was pipe insulation), but he couldn't resist swiping up a decorative candle on his way out. This was his third raid.
Meet Your Neighborhood Porch Pirate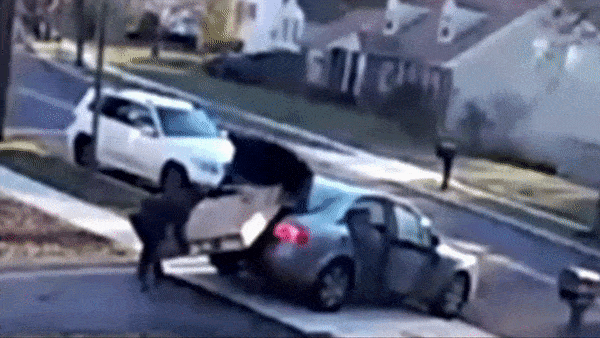 Lucy Langlois' story might sound insane, but it's the M.O. of your average package thief — drive by, see a box, grab it (and anything else that looks good), and drive off. In other words, no real prowling, no real plan, and no real skill set.
The spectacularly low bar for wannabe porch pirates is what attracts so many of them to the "profession," making these thieves of opportunity the fruit flies of the criminal world. That is, if a fruit fly could land on your porch and then run off with all your kids' Christmas gifts.
Because of their numbers, chances are your neighborhood will be getting a visit from a porch pirate over the holidays. (Four out of 5 Americans have reported encounters with porch pirates.)2 But don't cancel those Amazon orders yet! There are a few pretty easy home security tricks you can use to keep these bandits away. We're going to start with the most obvious: pirate-proofing your house.
Did You Know? Porch pirates aren't the only package thieves out there. A reader on the Federal Trade Commission's (FTC) website reported a parallel phenomenon in his condo complex: "lobby pirates." Seems all it took to clear out the condo box bandits was a top-notch indoor security camera. Once the thieves realized they were on camera, they skedaddled and didn't come back.
How Do Porch Pirates Choose Homes?
What I'm going to tell you now may not be the news you were waiting to hear, but better that you hear it before the holidays are upon us: Porch pirates don't have any special criteria for targeting homes. If it's got a package on the stoop, porch, or steps — and they don't have to run a mile — your house is fair game.
Granted, if you've got an 80-pound Rottweiler chained to a tree in the front yard, most would-be pirates will give your house a hard pass. (The same goes for an ADT home security sign or Grandpa Mike with his shotgun on the porch swing.)
But the majority of our homes without any visible defenses are porch pirate magnets simply because we received a delivery that day and weren't at home to carry it inside. For some thieves, like the hoodlum who hit Lucy Langlois' porch, even the possibility of being recorded by video doorbell isn't a deterrent. (This is pretty dumb because the best video doorbells do help police track down pirates.)
So your house isn't the problem when it comes to porch pirates. If you're one of the nearly 20 percent of Americans who will fall victim to package thieves this holiday season, it's what you're doing with your packages that puts you at risk.
FYI: Package theft has gotten so bad that local police departments are running sting operations to catch thieves. Typically, they put a decoy package rigged with a GPS tracking device, aka a "bait box," on a random porch, and wait for a thief to strike. If the name "bait box" sounds familiar, that's because you may have seen them for sale at Home Depot — in the pest control aisle.
How to Keep Package Thieves Off Your Porch: A Holiday Guide
A delivery is a delivery, right? A van shows up outside your house. The Amazon or UPS driver tosses a box at the door. Five hours later, when you get home from work, you hope it's still there.
Actually, that's exactly how porch pirates want you to think. But to foil a package thief — an individual whose CV (if they had one) would include skills like "bending," "speed walking away," "stealing Christmas gifts," and "making off with grandma's arthritis pills" — you're going to have to start thinking like a home security expert.
Here are some options to get you started. We're starting with the more ironclad solutions and moving our way down. So ideally you'll want to choose a thief-busting tactic toward the top of this list.
Porch Pirate Buster of the Week: Sometimes all it takes to outsmart a thief is a clever piece of furniture, like this pirate-proof porch bench carpenter David Allen built. The part where you sit has hidden hinges. The delivery person lifts the seat up, the boxes go inside, and the pirate drives to the next house on the block. Awesome! Check out the pic below.
1. Pick Your Packages Up at an Amazon Hub Locker (for Small Packages)
Amazon lockers are in 900 U.S. cities now, usually at supermarkets and pharmacies. On Amazon's checkout page, just select a Hub Locker location instead of your address. You'll get an email or SMS when your package arrives, and a six-digit code to open the locker. You have three days to pick it up. This solution eliminates all risk of package theft. The only caveat here is that your package has to weigh under 10 pounds. For bigger and more expensive purchases, try the next tip.
FYI: If your package is over 10 pounds but under 33, you can still have it sent to your local Amazon Hub. You'll just have to pick it up at the counter instead.
2. Require a Signature
If you want to make sure you're around when your deliveries arrive, request the "signature required" option from your delivery carrier. UPS offers this service for $5.55 per package. You can think of it as "porch pirate insurance." FedEx also has a signature option for the same amount. Unfortunately, Amazon doesn't do signatures — unless your purchase is over $400. But that's ok. If your package is bulky but doesn't hit the $400 mark, consider option four below.
3. Get Alerts from Your Home Security Service
You'll need a good outdoor camera with a monitoring service to make this work, but in many ways it's the perfect long-term fix for package thieves. These days, home security cameras are cheap enough for any budget. Once you set up email or SMS alerts, you'll get a push notification when there's been delivery activity at your front door. (You'll also get a warning if there's been "thief" activity, making this option the safest all-around choice.) Also, most security cameras these days have two-way talk, and some security cameras have built-in sirens to scare away thieves.
Nailed: In December 2018, a 20-something Indiana man thought it would make more financial sense to steal other people's Christmas gifts than shop for his own. After snatching one man's presents off his porch (gifts for his kids and a baby outfit for his newborn), the thief made a clean getaway. Until he was identified a few days later from the man's Ring doorbell camera footage and carted off to the slammer for the holidays.
4. Have Your Packages Delivered to Mom (or Work)
I'm putting Mom first because you might not want to turn the office lobby into a Showcase Showdown. FYI, "Mom" can be a neighbor or a friend, too. The point is, if you're not around during the day, but you know someone who is, sending your package there will earn you a reprieve from porch prowlers. This isn't a permanent solution, but it can easily tide you over through the holidays, when piracy spikes.
5. Check Your Messages
Moving down into shakier solutions, Amazon should send a text alert (and maybe even a photo) when your package is on the porch. This isn't necessarily a bad solution. It just might not be very convenient or even feasible. You're not going to be rushing back from a job 45 minutes away, for instance, just to swipe your new Christmas potholders off the porch before a thief gets there. But if you're in town, and can afford the extra trip home (at least until the holidays are over), this solution may work.
6. Form a Neighborhood "Porch Pirate" Watch
This may be last on my list, but that doesn't mean it's not worth taking seriously. Package thieves aren't multitaskers. They're focusing on one house at a time, and counting on the fact that everyone else is minding their own business. Banding together and watching out for each other will make it trickier for thieves to walk up to houses without raising red flags.
Did You Know? Amazon Prime members have the option of leaving special instructions for their delivery drivers. For instance, you can specify that drivers drop your packages off at the back door or leave them in the garage. This isn't foolproof. We've heard stories where delivery drivers ignore instructions. But it's still worth exploring if you've got a subscription.
Wrapping Up
Package thieves aren't necessarily dangerous, and they aren't going to bankrupt you, but Christmas is hard enough to plan and save for already. Having some poor man's Grinch saunter up to our houses and rob us in broad daylight is beyond infuriating.
So don't let them. If you live in a city with an Amazon Hub, get your packages delivered there. If you don't, consider delivering your packages to another address (family or friend) where someone's home — at least until Christmas. Signing for your deliveries could work in some cases, too.
These are all good solutions, but if you really want to foil your neighborhood porch pirate, set up a first-rate outdoor camera (or video doorbell) that will send you alerts when anything — man or package — shows up at your front door.