In the United States, drowning is the No. 1 cause of death (after birth defects) in children ages 1 to 4.1 The next-highest rate of drowning is with children ages 5 to 9. One of the best precautions is providing your child with swimming lessons and beginning those lessons at an early age. Studies have shown that learning to swim can reduce the risk of drowning by 88 percent with the youngest group of children.1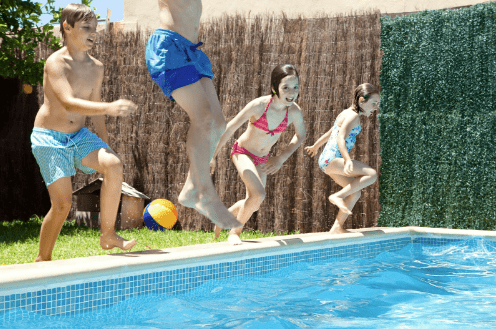 In addition to swimming lessons, several safety mechanisms and behavioral adjustments are recommended both inside and outside of your house to protect your child. Keep reading for our expert tips and advice for safeguarding your children from drowning dangers.
Outdoor Safety Precautions
Backyard pools and spas are an obvious source of danger for small children. According to the American Academy of Pediatrics (AAP), 58 percent of drownings with children under the age of 5 occur in a pool or hot tub at their own home.2 So, if you have a pool or hot tub or are considering installing one, the following safety measures should be taken to protect your little one as well as any other small children that live nearby or visit your home.
Isolation fences
Not every state or municipality requires pool safety fences. Even if you live in a place that does not require one, install one to keep small children, who are prone to wander, away from the enticing water. The fence should completely enclose the pool or hot tub and be separated from the house and play area. The AAP also advises that fences include the following features:
The fence should be at least four feet in height.
Vertical slats should not have more than four inches of space between them.
Do not install a chain link fence, as they are easy to climb.
The fence should not have anything attached that could be used as a foothold or handhold for climbing.
Do not keep any lawn furniture or other objects nearby that could be used for climbing.
Secured gates and alarms
Even if your toddler does slip out of your home, you want to ensure they cannot enter the pool area. Be sure that the fence gate is self-closing and self-latching. The gate should open out only, and the latch should be out of a small child's reach — at least 54 inches above the ground.
You may also want to consider installing an alarm on the gate, or mounting a motion-triggered security camera outdoors, as an extra layer of protection. Some alarms come with touchpads to allow adults to pass through without setting it off.
Alarms for the pool or hot tub itself are available too. They detect waves on the water's surface and go off when someone has fallen in.
Pool and hot tub covers
Pool and hot tub covers need to be carefully considered. Some floating solar and winter covers do not provide safety; they actually increase the drowning risk. The cover may appear like a solid surface to a small child, who could quickly slip underneath when going to get a ball or toy.
In addition to the danger of slipping beneath a cover, water collecting on top of the cover can be dangerous. Children can drown in less than two inches of water. Some pool suppliers recommend a mesh pin-down safety cover, which stretches taut across the pool and anchors into the pool deck or an automatic pool cover, which is made of heavy vinyl and completely isolates the pool water from the pool deck.
Finally, if you have a hot tub, be sure to invest in a locked cover and always keep it covered when not in use.
Safety practices
While it is important to have all of the above safety mechanisms in place, it's equally important to incorporate safety practices into your everyday routine. For instance, it's a good idea for your young child to wear a life jacket when around a body of water, including a pool. You should also remove all toys from the pool area when it is not in use so that your little one does not try to get into the area to retrieve a toy.
And while most of us know that adult supervision is critical with small children around water, we also need to bear in mind how we supervise. While watching a child, we need to avoid distracting activities like reading, texting, talking on the phone, or drinking alcohol. It is important to remember that drowning can occur in as little as 20 to 60 seconds. Because it can happen so quickly, it is also a good idea for parents and caregivers to know CPR if a child does fall or jump into your pool.
Backyard hazards
As we mentioned earlier, it doesn't take a lot of water for a drowning to occur. Any body of standing water in or near your yard poses a risk. This includes small ponds, small plastic or blow-up swimming pools, and even buckets of water. Make it a practice to always empty small pools or buckets after use.
Indoor Safety Precautions
One of the best courses of action to keep your young child from drowning outside is putting measures in place inside so that they cannot leave the home in the first place. Most drownings occur when a child slips out of a door or window. In a study conducted on drownings in children under 5, the Consumer Product Safety Commission found that in nearly 70 percent of incidents, the parents or caregivers did not realize that the child was at or in the pool. In 46 percent of cases, the child was last seen in the house.2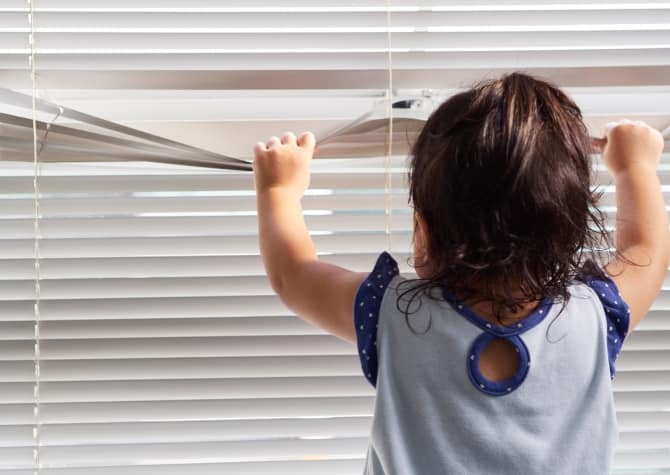 To keep your child inside when supervision is not available outside, place unreachable latches or locks on doors. If you have newer windows, always open them from the top down rather than the bottom up. For all other windows, install window guards that only an adult can open from the inside.
Bathroom dangers
The bathtub can be a place of joy for many infants and toddlers, but it can also be a place of danger. Most bathtub drownings occur with babies under the age of 1. Infants do not have neck and muscle control, and even if a small amount of water covers their mouth and nose, they may not be able to breathe.
Most drownings occur when an adult steps away from the tub. If you need to step away to grab your phone, answer the door, or retrieve something that you forgot, wrap your infant in a towel and take them with you. The best way to keep your infant safe is to always keep them at arm's length when near water.
Of course any standing water can pose a risk for an infant or toddler, and this includes the toilet. For prevention, keep the toilet lid latched with a safety lock.  Placing a latch or door knob cover on the bathroom door is a good idea too.
Final Thoughts
Preventive steps to help keep your young child safe from drowning should be put into place in every household. Those families who have a pool or spa on their property should consider several additional barriers. Water will never cease to attract children. However, appropriate safety measures — and vigilance — will allow them to enjoy it while also keeping them protected.