Best Cellular Medical Alert Systems
"Cellular medical alert systems are the latest technology in medical alert devices. See which ones we picked as our favorite."
A cellular medical alert device is ideal for anyone who has serious health or mobility issues. These devices enable a person to reach help right away with just the push of a button. There is a range of options available when it comes to medical alert devices thanks to ever-changing technology.
One type of medical alert that is very popular is a cellular medical alert system. These medical alerts do not require a landline to work. These use cellular technology to reach an emergency response center.
The range of cellular medical alert devices has grown in recent years. Some of these devices have fitness trackers. Others are enabled with GPS so that they can be used on the go. Here are the top five cellular medical alert devices on the market.
1. Bay Alarm Medical – Best Overall Cellular Medical Alert (Editors Choice)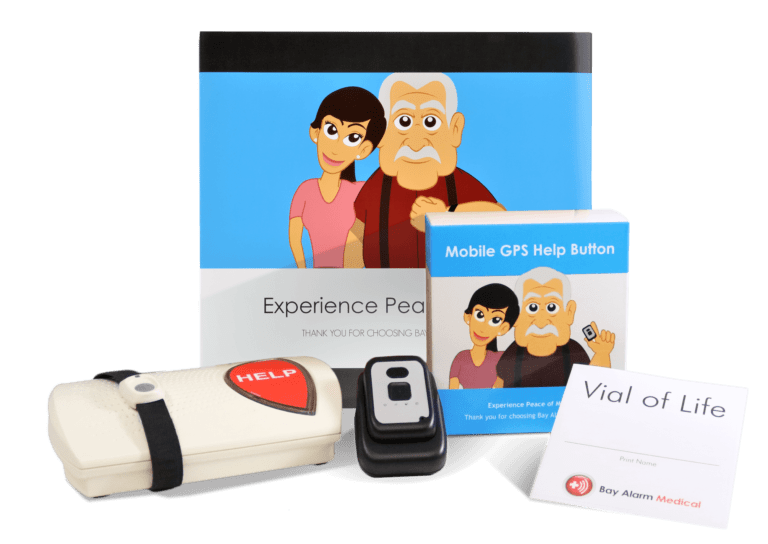 Bay Alarm is an affordably-priced cellular medical alert system that offers 24/7 protection for use around the home. It is also available with automatic fall detection and GPS.
Bay Alarm uses AT&T Cellular for its devices. The cost is an additional $10 per month for cellular, which is a lot more affordable than getting a landline. Bay Alarm's system is easy to install. There are just three steps in total for installation, which takes just about 15 minutes.
The medical alert button itself can be worn as either a necklace or a watch. It is lightweight, comfortable and waterproof. The buttons last five years without any recharging. There is a lifetime warranty on them, as well. Bay Alarm Medical offers free spousal monitoring. Just add a second medical alert button and monitoring is free on the second device.
Pros
Loud 2-way speaker
Portable base station
Hands-free audio
32-hour battery backup
Up to 1,000-foot range
Lifetime warranty
Optional automatic fall detection
GPS is available
30-Day risk-free trial
Caregiver tracking is available
Cons
Complaints about poor customer service
False alarms common
The Bay Alarm Medical system is a good cellular medical alert device for customers without landline service. It is affordable and offers a range of options like GPS and fall detection. It is also a good option for people who want spousal coverage as free monitoring is included with the purchase of a second medical alert device (an additional $2 per month).
There have been customer complaints about poor customer service. Also, false alarms do occur more frequently than with some other systems due to the design of the device. Overall, the Bay Alarm cellular system is a great system, which is why it is one of our top picks.
2. MobileHelp – Best Cellular Signal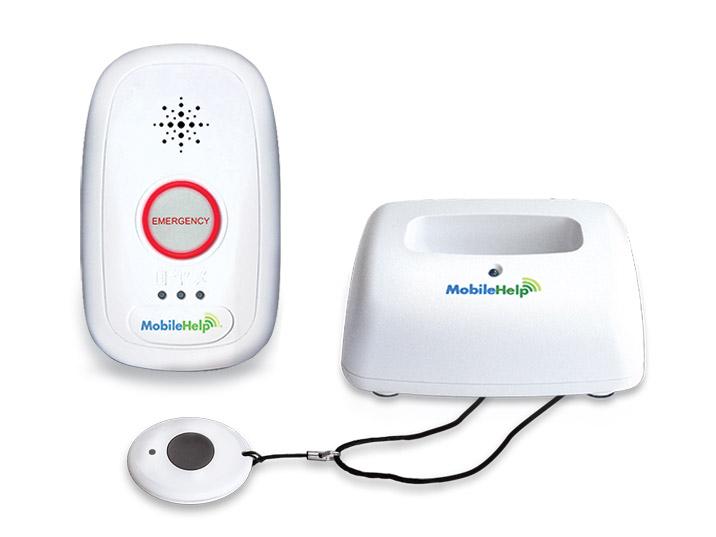 All of MobileHelp's devices feature cellular monitoring. They offer medical alert systems for in-home and on-the-go use. Optional features include automatic fall detection, fitness tracking (on the MobileHelp Smart), GPS tracking and more.
The at-Home system features a cellular base station. It has a lighted display with ambient temperature, time and date. This system comes with the choice of a waterproof wrist bracelet or pendant.
MobileHelp's Solo System also features cellular monitoring on the go. This system comes equipped with GPS location services. So, it can be worn anywhere.
The MobileHelp Smart is also a cellular medical alert device in the form of a smartwatch. It is ideal for active seniors who want fitness and lifestyle tracking. This smartwatch from Samsung uses cellular and GPS technology.
MobileHelp's cellular medical alert devices include MobileHelp Connect, which is a suite of online tools to help customers and their families or caregivers, actively monitor and participate in the user's health and well-being. This service allows caregivers to schedule medication reminders that the user receives right through the cellular base station.
Pros
No landline required
24/7 professional monitoring
Free activation
Free shipping
Flexible monitoring plans
Mobile help button with fall detection available
Cons
The mobile device is larger than other devices on the market
Monthly monitoring fees are slightly higher than average
There is an equipment fee to get started
MobileHelp Offers several cellular medical alert systems. All operate via AT&T cellular. The range of options makes MobileHelp a great choice for customers who want options. MobileHelp is great for more active seniors as they have partnered with Samsung to offer a cellular medical alert smartwatch called the MobileHelp Smart. This watch offers a stylish way to get on-the-go medical alert monitoring. Plus, there are many built-in fitness tools like heart rate monitoring and activity history apps.
MobileHelp's systems are a bit higher than some on the market. However, they offer a great range of features, especially for active seniors and their family members or caregivers who may find the higher cost of service worth it.
3. Medical Guardian – Best Nationwide Coverage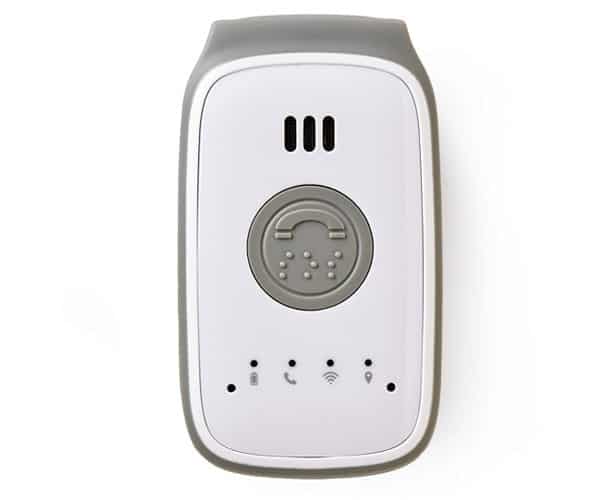 Medical Guardian offers four cellular devices for on-the-go and in-home use. The Home Guardian system is for in-home use. This system is equipped with cellular monitoring. It offers a 600-foot range and 30-hour battery backup. Fall detection is available as an add-on.
The Mobile Guardian is the on-the-go cellular option. This device comes with built-in GPS technology and 24/7 cellular monitoring. The device comes with a wearable button that offers a 350 feet range from the mobile device.
The third cellular device from Medical Guardian is the Active Guardian. This device features GPS, cellular monitoring and fall detection. It is for on-the-go use and features location tracking via GPS technology. There is also a built-in 2-way speaker that offers pretty clear sound.
There is also Freedom Guardian, which is a cellular-based smartwatch. This watch is for active seniors who want to monitor fitness and activity. It also features reminders and alerts for medication and appointment management.
Pros
Accredited 24/7 monitoring center
Advanced location tracking with GPS available
Reliable AT&T cellular
Waterproof devices
Optional fall alert detection
Cons
Unreliable fall detection
Pricey monthly monitoring
Equipment cost additional
Medical Guardian's are great for customers who want a range of options. They offer five different cellular devices that range from in-home to on-the-go use. One of the disadvantages of Medical Guardian's devices is the cost. The equipment and monitoring fees vary depending on the device chosen. However, they are higher than average. However, Medical Guardian offers some features that the competitors do not, such as activity and fitness tracking.
4. GreatCall – Best Cellular Equipment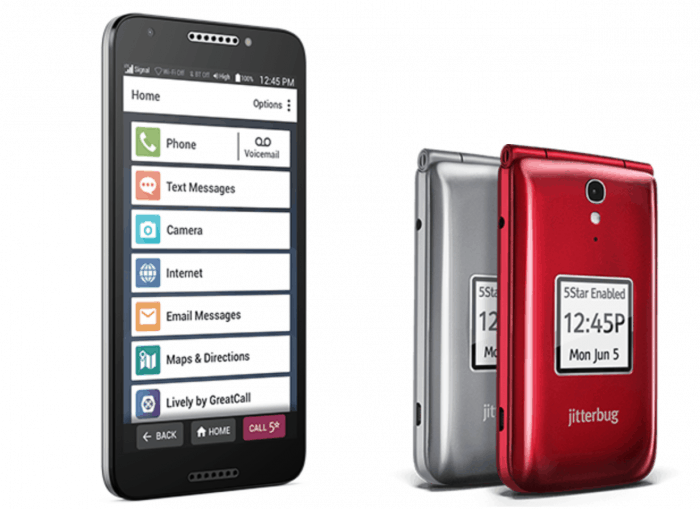 The Lively Mobile medical alert by GreatCall is a great cellular medical alert device that comes with a range of standard features, such as GPS location services and fall detection. Considering all of the features offered, the Lively Mobile Medical Alert is one of the more affordable cellular systems on the market.
The Lively Mobile medical alert system also comes with GreatCall's 5Star Service and GreatCall Link App for free. The 5Star Service features linkage to 24/7 nurses, urgent care, specially trained operators and more.
GreatCall also offers a variety of other cellular medical alert devices including cell phones and a smartwatch. These devices can be used as cellular medical alert devices, as well. They feature a variety of other features too, such as weather apps, fitness tracking and more.
Pros
24/7 Professional monitoring
Highly-trained and certified agents
Patented GPS
Waterproof
Fast agent response time
Fall detection included
Cons
Poor battery life
False alarms common
The Lively Mobile system by GreatCall is a good option for customers who want advanced features like GPS location services and fall detection. The monthly monitoring is affordable considering all the features at just $37.49 per month.
GreatCall also offers a variety of other cellular medical alert devices, including cellular phones and a smartwatch. These devices are great for customers who do not want a traditional medical alert button.
5. LifeStation – Easiest to Use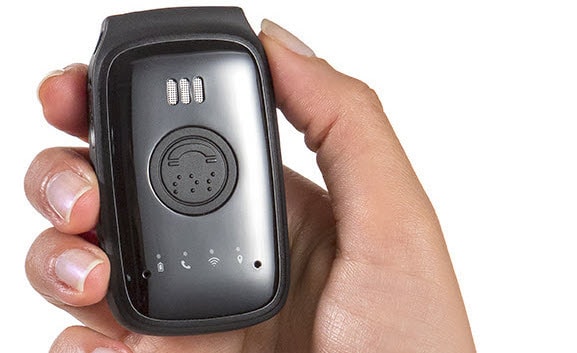 LifeStation offers two cellular medical alert devices, the In-Home Plus and the Mobile with GPS system. Both of these devices are cellular based. The In-Home Plus system is affordable and easy to set up.  The Mobile with GPS system is perfect for seniors who are on-the-go. Optional fall detection is available with either system.
Pros
Highly-trained response agents
24/7 professional monitoring
5-minute set-up
UL-listed console
Less than $1 a day
System repair and replacement included
24/7 customer service and tech support
Automatic weekly tests
Cons
Slower response times than competitors
No medication reminders available
Fitness tracking not available
The LifeStation is a good option for customers who want an affordable cellular medical device without all the bells and whistles of some other systems. LifeStation offers reliable service at a fair price.
Features of Cellular Medical Alert Devices
Before choosing a cellular medical alert device, make sure it has the features that you need and want. Here are some of the most common features of medical alert systems.
24/7 Emergency Response
All of the cellular medical alert devices on this list offer 24/7 emergency response service. Look for a UL-Listed monitoring center, so you can be sure of the reliability of the service. Also, ensure that the center uses specially-trained operators to handle emergency calls.
Wireless Connectivity
Wireless monitoring is important because it ensures that the medical alert device will work even when there is no landline. Cellular medical alert devices all offer wireless connectivity. They use the same cellular connections that cell companies use for service.
Fall Detection
Fall detection is important for medical alert devices as this technology can automatically detect a fall. So the user does not even need to press the emergency button. Fall detection is optional on most cellular medical alert devices.
Easy Set-Up
Look for DIY installation and easy set-up when choosing a cellular medical alert device. Some systems can be set-up in just five minutes or less.
Mobile Monitoring
Mobile monitoring helps users maintain an active lifestyle by offering GPS-based monitoring on the go. This can be very helpful for seniors who like to garden, jog or go run daily errands.
Extended Battery Life
Choose a cellular medical alert device that offers extended battery life. Battery life varies greatly depending on the device.
Nationwide Coverage
Most cellular medical alert systems provide nationwide coverage. However, it is still important to check to make sure that coverage is available in the area where you are located when choosing a system.
Long Range
Extended range coverage is important for if your home is larger than average or if you will be using the device outside in the yard.
GPS Location Services
GPS location services is an option on most cellular medical alert devices. GPS location services provide on-the-go monitoring.