Services and Features
We briefly mentioned the services and features we look for in a plan. And sure, PrivacyGuard does check all of the boxes. But the question remains: does it offer anything that the competitors don't? So we peeled back the layers during testing to see what PrivacyGuard did better (or at least differently) than the other guys. Here's what we found.
PrivacyGuard Monitoring
We're always on the lookout for social security number monitoring and credit monitoring — two features that are almost non-negotiable for us. It's no secret that if our social security number falls into the hands of a crook, bad things can happen. And if identity theft does occur, it'll probably make a dent in our credit. That's why social security number monitoring and credit monitoring are two key features we look for. Thankfully, we found both with PrivacyGuard.
Did You Know: If your sensitive information is stolen, a criminal can take out a loan in your name, which can trigger a credit check. And if the loan were approved, it would lower your credit score.
With PrivacyGuard, we had 24/7 credit monitoring for all three major credit bureaus (Equifax, Experian, and TransUnion). We liked this, and we think you will, too. There's always a chance that something important goes to one bureau or another, instead of all three — so we always prefer to have all three bureaus covered. That way, a fraudster is less likely to sneak through the cracks.
We also had PrivacyGuard on the lookout for our social security number. They checked for our SSN (and other key pieces of information) on the internet, including the Dark Web, which is the notorious underworld of the internet as we know it.
FYI: The Dark Web is a part of the Deep Web, which means it's not indexed by search engines like Google. Many Deep Web sites are harmless, but some are bad news. A lot of these bad sites are found on the Dark Web, which crooks use a special browser to access. Browsing the Deep and Dark Web is super-private compared to the "Surface" Web and safe Deep Web that we're familiar with. This appeals to privacy buffs — but also to criminals.1
PrivacyGuard gave us more than just the basics. We had monitoring for credit and debit cards, bank accounts, public records, mailing addresses, phone numbers, email addresses, ID cards, sex offender registries, and important documents. We liked that we could go in and manually add bank accounts and other details to be monitored.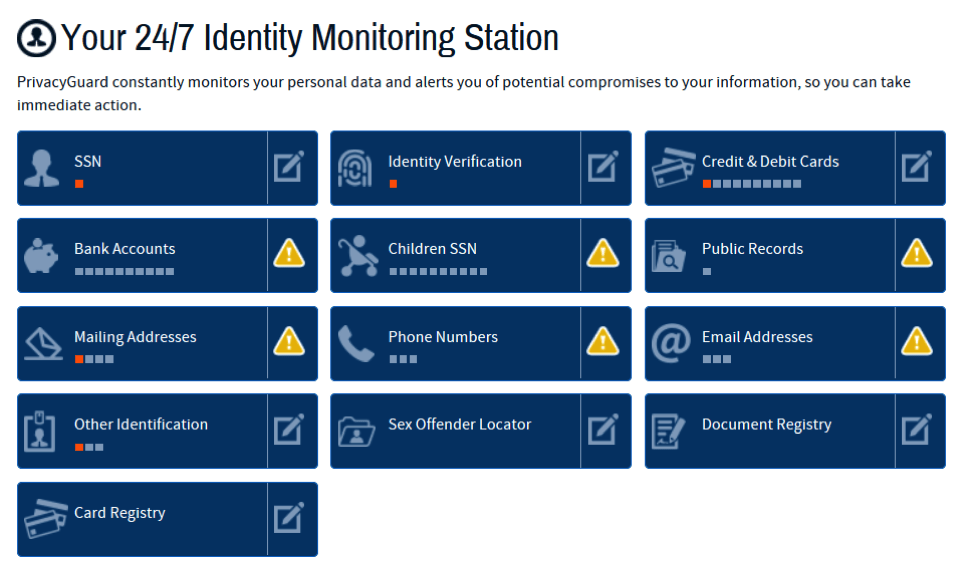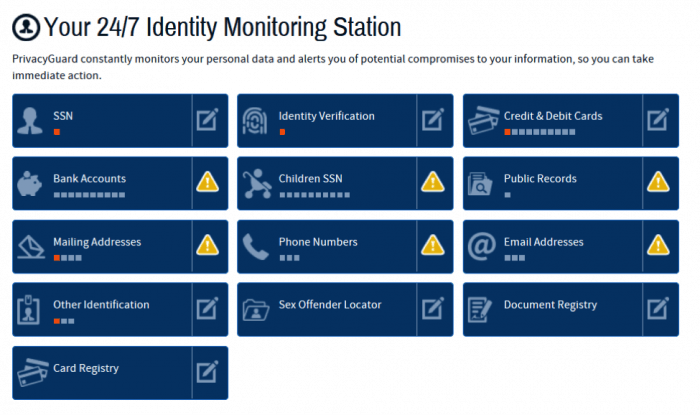 We've seen some reviewers complain that PrivacyGuard doesn't offer a family plan. It's true that you can't cover two adults with one plan (you'll need two separate plans), but we found that some so-called experts were wrong on child monitoring. PrivacyGuard does provide protection for up to ten children (that's a lot of kids!). Child identity theft is pretty rare, but you should know that it does happen.2 And if left unchecked, crooks can really make a mess of your child's credit and future. So we think it's better to take precautions just in case.
We found PrivacyGuard's monitoring coverage to be pretty solid. However, we did see some mixed customer reviews. One review that caught our attention claimed that PrivacyGuard missed risks and fraud. We can't verify individual customer reviews, but we can tell you about our experience with alerts and reports.
PrivacyGuard Alerts
If PrivacyGuard spotted anything suspicious going on with our data, they'd notify us with an instant alert. We really liked being able to customize these alerts, too. We were able to get alerts by phone or email (we prefer email), and then there's the option of customizing the settings for all sorts of individual alerts. If you're anything like us, you'll appreciate how PrivacyGuard lets you fine-tune alert settings.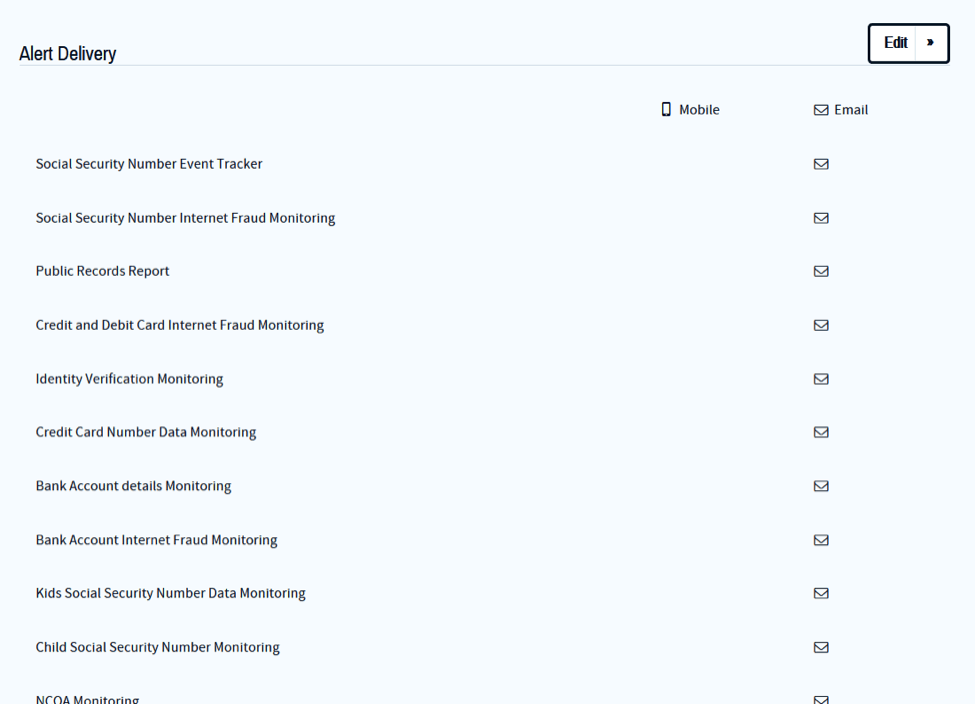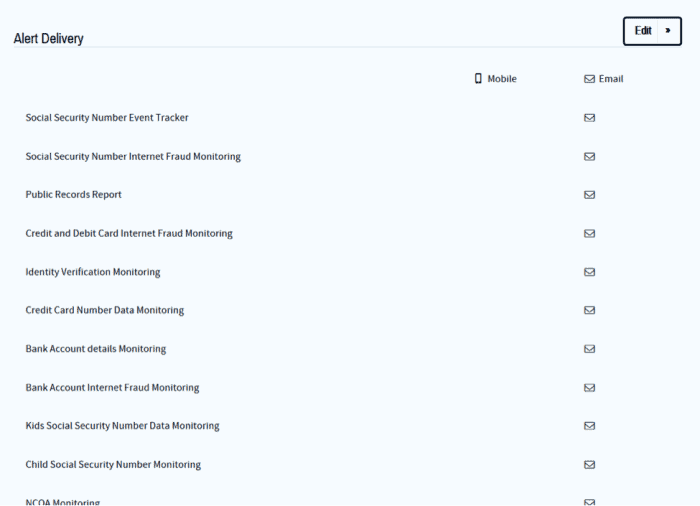 Thankfully, we didn't get that many alerts from PrivacyGuard, but we did receive some outdated alerts for non-threatening issues. For instance, they sent us an email alert about a social security number issue, but the issue was that our social security number was connected to our home in our credit history back in 2017, which was several years ago. No reason to worry, right? Right.
FYI: We really don't like when services pester us with random alerts. But on the other hand, we like to stay up-to-date. It's a tricky balance, and we think PrivacyGuard is still a little wobbly here.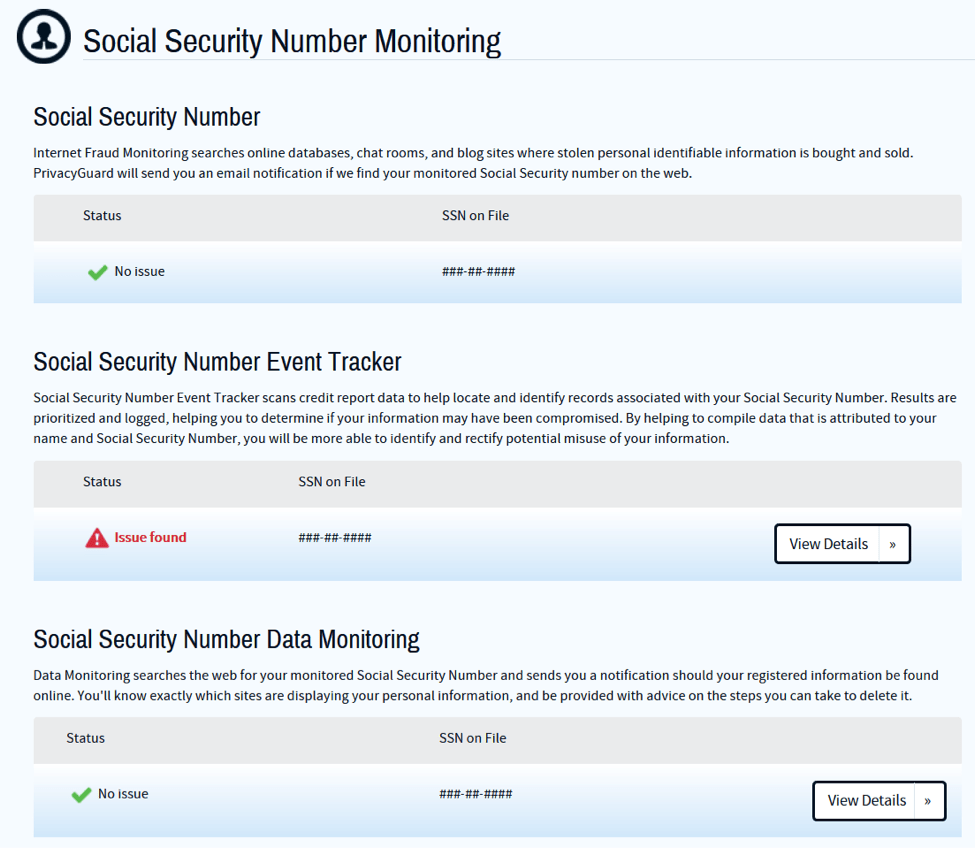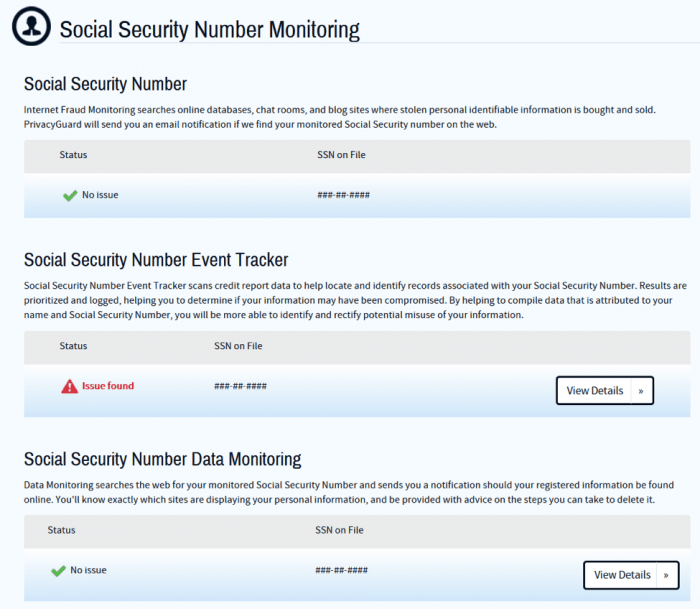 PrivacyGuard also didn't alert us to breaches that affected our email address or other data around 2015 and 2016. We know that these issues should've been flagged, as other services have flagged them for us. Maybe PrivacyGuard found them and decided they weren't recent enough to warrant an alert. But we'd rather have seen those things than a non-issue from 2017.
It's always tough to say just how well services monitor our good name, as we don't know the full scope of the threats that lurk out there. But compared to the many services we've tried, we felt reassured with PrivacyGuard, and we think you will, too. That said, we also think you'll enjoy the more aggressive reporting that other brands offer.
Recovery and Insurance
We consider monitoring to be extremely important. But monitoring doesn't actually prevent identity theft. Really, nothing can — you can do a lot to limit your identity theft risk, but you can never totally eliminate it. That's why we also look for recovery solutions and insurance policies from the services we try. We were happy to see that PrivacyGuard offers plenty of both.
If someone stole our identity while we were PrivacyGuard customers, we'd be able to call them and get immediate help protecting our assets and putting our lives back together. With PrivacyGuard, we were promised a "dedicated fraud resolution agent" to handle our case. That's peace of mind in our book.
We hope you never experience identity theft; but if you do, you'll want an expert on your side to help tackle the countless steps to recovery. You'll have to report the incident to the police and to financial institutions. You'll have to freeze your credit. And you'll have to cancel and replace all kinds of credit and bank cards. And that's not even the full list!3 We were satisfied with what PrivacyGuard offered in terms of recovery services.
Now, if you were to fall victim to identity theft, you'd also need some cash to cover your losses and expenses. So we were happy to see that PrivacyGuard met the industry standard for insurance coverage. We've found that pretty much every service like this offers $1 million in insurance coverage. And PrivacyGuard fits right in with a $1 million policy of its own.
We think you'll really like having a safety net just in case identity theft strikes. But note that there are caps on the money by category. With PrivacyGuard (and its competitors), you can get up to $1 million covered in total, but that doesn't mean that you can use the money however you please. You can only get so much money covered for accountants, so much for attorneys, and so on. Again, we've found this to be typical. PrivacyGuard nails the industry standard here as well.
Other Features
Sometimes, ID theft monitoring services only offer one credit report a year. So we were pretty impressed that PrivacyGuard offered us credit reports and scores from all three major bureaus every single month. To us, this is a big deal.
Sure, the credit monitoring is really all we need for protection; but we also enjoy checking out our scores for ourselves. Keeping tabs on your credit score can be a great thing for your personal finances — especially if you're looking to make a big move like taking out a home mortgage loan. PrivacyGuard will display your monthly scores on a graph, which is actually pretty neat. But keep in mind that only scores you get through PrivacyGuard are included, so it might take a while to build a useful graph. Still, we liked this credit score-tracking feature, and we think you will, too.
Pro Tip: Your credit score matters! Keep yours healthy by paying your bills on time and keeping your debt at responsible levels. To improve your score, try to keep your credit use down — don't max out your credit cards, and you should try to use less than a third or so of your available credit.4
We also appreciated that PrivacyGuard gave us a risk rating and a rundown of our vulnerabilities. In the web app, we could see at-a-glance if we were in particular danger of having our identity stolen. No matter your risk levels, you should think proactively about what you can do to lower your identity theft risk.


The PrivacyGuard web app also has a "Support Center" that offers quite a few helpful links. We do think the basic information on credit scores, credit history, identity theft, and other issues can be a big help to you. Of course, you can learn about these things without signing up for PrivacyGuard — you can even read about identity theft right here — but we still believe that PrivacyGuard's Support Center is a nice little perk for subscribers. It was for us, anyhow.