Services and Features
Like most services of its kind, ID Watchdog offers identity monitoring services, sends users alerts when it spots anything troubling, and offers assistance with recovery following an identity theft incident. Let's take a closer look at each of these services and their features, along with some extras the ID Watchdog throws in to sweeten the deal. Keep in mind that the availability of the services and features listed here may vary depending on the ID Watchdog package that you choose. For more details on what is included in each package, check out the Plans and pricing section below.
Monitoring
ID Watchdog monitors the key stuff that you'd expect from a company in this space. Among other things, the company will use your social security number to monitor your credit and watch for any loans taken out in your name. If someone tries to change your address with the post office, ID Watchdog will see that, too. ID Watchdog also says it will keep an eye on the Dark Web for signs that your information has been shared or sold by the shady characters that hang out there.
Though it is hardly alone in this regard, ID Watchdog is pretty vague about how often it checks in on your credit. ID Watchdog does specify, however, that it checks with all three major credit bureaus — not just its own parent company, Equifax.
ID Watchdog also offers monitoring for National Provider Identifiers (NPI). This particular service is only useful to the folks who have an NPI, of course: namely, healthcare providers. For individuals with an NPI, this is a nice perk that isn't included in many competitor services.
Alerts
If ID Watchdog spots anything alarming in the course of its monitoring, it will respond by notifying you.
Identity theft issues are not the only things that can trigger an alert from ID Watchdog. You'll also get alerts when individuals on the sex offender registry move into your neighborhood.
You can customize your alerts, to an extent, but selecting or deselecting four different ways that ID Watchdog can reach you: email, text, push notifications, and phone calls.
Recovery
A lot of monitoring services emphasize the monitoring and alerts portions of their businesses, even sometimes implying — inaccurately — that lots of monitoring can somehow prevent identity theft, rather than just ensure that you find out about it fast. ID Watchdog, in contrast, seems more eager to promote its recovery services. Features like $1 million in insurance coverage for identity theft incidents are featured prominently in ID Watchdog's marketing.
Of course, just because ID Watchdog is proud of this stuff doesn't mean that it's out of the ordinary. ID Watchdog does offer $1 million in insurance coverage and "emergency support services" from a "Certified Identity Theft Recovery Team," but both of these features are very typical of services in this space.
It's also worth noting that this $1 million insurance coverage that ID Watchdog (and several other services) offer is not necessarily as comprehensive as the marketing materials may make it sound. These insurance policies are serviced by outside companies, and a quick look at the fine print on the contracts tends to reveal some eyebrow-raising exceptions. There are all sorts of ways for you to end up with expenses that are not covered by the policy, even if those expenses were indeed the result of an identity theft incident.
At least, that's how it usually is. As for what's covered under the plan that AIG provides to ID Watchdog customers, your guess is as good as mine. ID Watchdog does not link to the insurance terms and conditions on its own terms and conditions page, and I couldn't find anything in email email related to my policy.
To be clear, the limited insurance coverage issue is hardly unique to ID Watchdog. This is something that consumers should remember about each and every one of these identity monitoring and recovery services. And, in the particular case of ID Watchdog, it's hard to say with any confidence what is covered at all.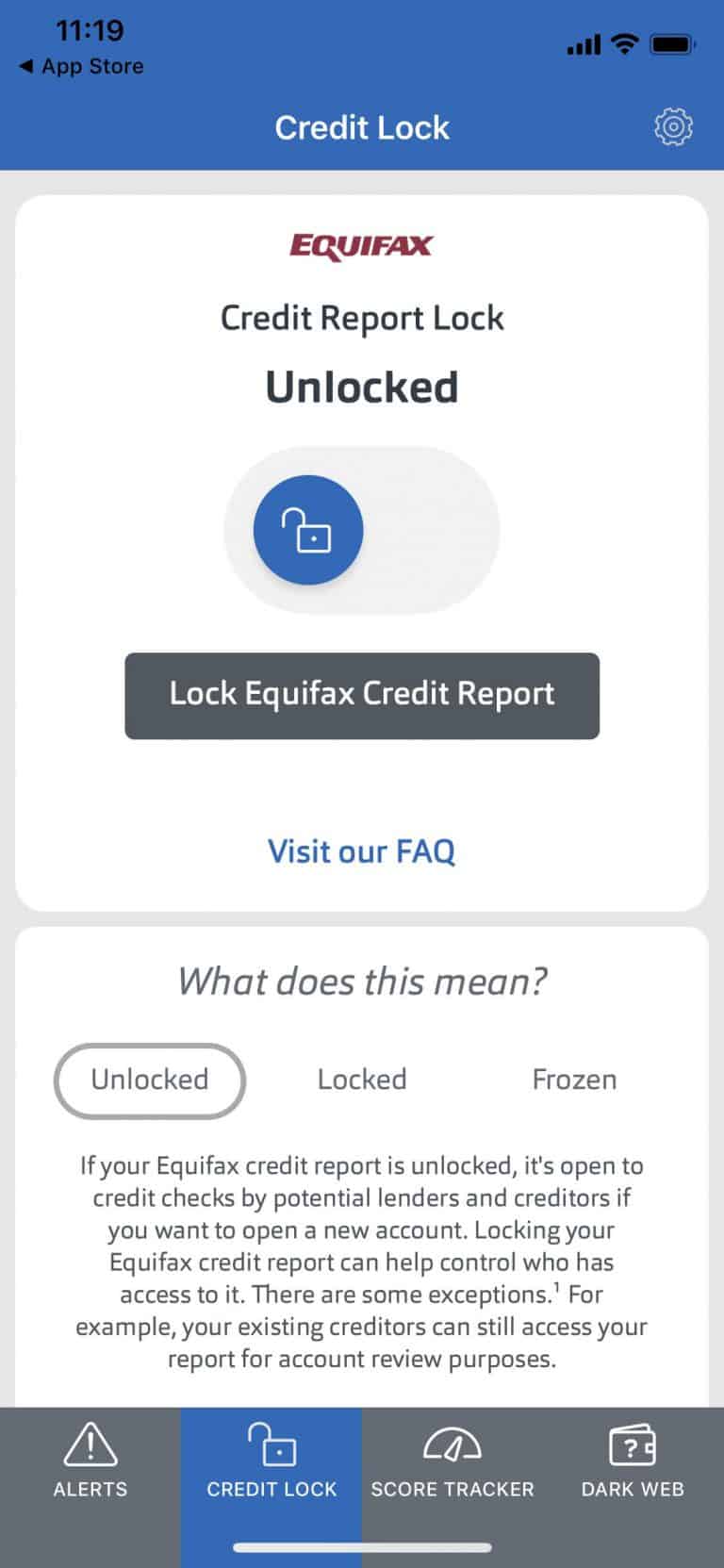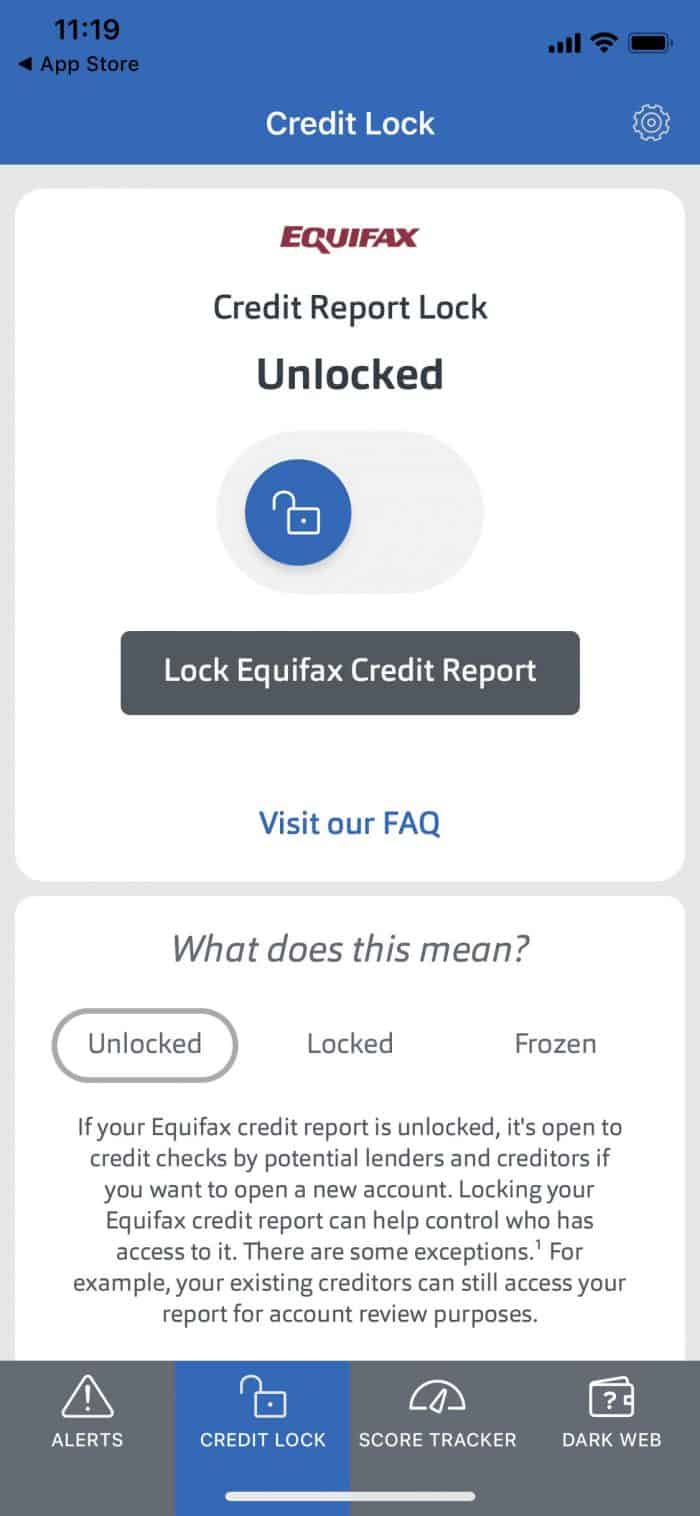 ID Watchdog gives subscribers a quick and easy way to lock or freeze their credit report. The bad news is that this feature only works with one of three major credit monitoring bureaus (you can probably guess which one: Equifax, which owns ID Watchdog).
Other Features
ID Watchdog has a "Lost Wallet Vault" built into its apps. The idea is that you can store important identifying and financial information in one spot for quick access if and when your wallet is lost and stolen. The financial accounts can also be monitored by ID Watchdog.
ID Watchdog also offers credit reports and scores from all three major credit bureaus.
Plans and Pricing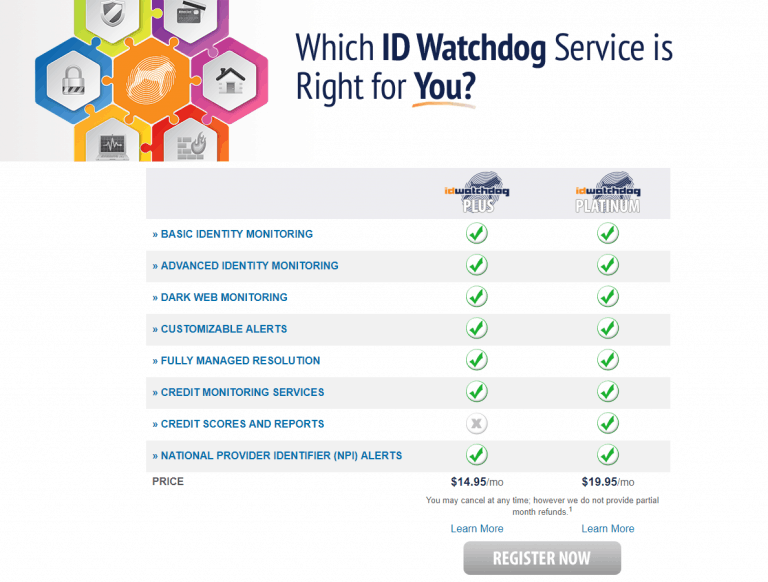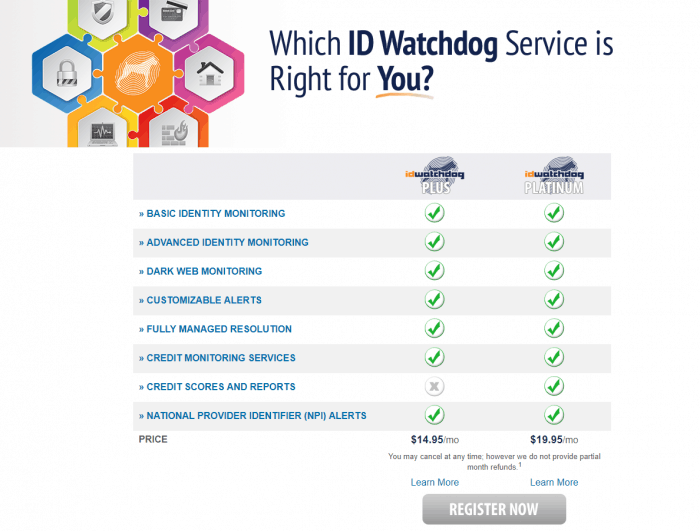 The features and services above are all available through ID Watchdog, but which ones you get will depend on which ID Watchdog subscription you choose. ID Watchdog keeps things pretty simple by offering just two core plans: ID Watchdog Plus and ID Watchdog Platinum. The Platinum plan costs $5 more a month (on the monthly payment plan) and includes one feature that is lacking in the entry-level version. Here's a breakdown of what each plan includes:
ID Watchdog Plus
Basic identity monitoring
Advanced identity monitoring
Dark web monitoring
Customizable alerts
Fully managed resolution for identity theft incidents
Credit monitoring
National provider identifier (NPI) alerts
ID Watchdog Platinum
Everything that's included in ID Watchdog Plus, and:
Credit scores and reports
It's worth reiterating that, as noted in the Services and Features section of this ID Watchdog review, ID Watchdog's credit scores and reports come from all three major credit bureaus but are made available only once per year.
Let's look at the prices next.
ID Watchdog Plus: $14.95 per month OR $149.95 per year
ID Watchdog Platinum: $19.95 per month OR $219.00 per year
ID Watchdog's prices look relatively affordable in the context of the competition. While not in the super-budget range of $10 or so a month, the ID Watchdog Plus plan is still pretty cheap. The Platinum plan's $20-per-month price point looks very good compared to the prices we see offered by industry leaders like IdentityForce and LifeLock, which charge up to around $25 and $35, respectively, for top plans.
Again, the difference between the Platinum plan and the Plus plan is just the availability of those credit reports and scores every year.