Common Types of Senior Identity Theft Scams
The elderly are a particularly vulnerable population cohort when it comes to identity theft. Here are the most common types of identity theft scams that target the elderly: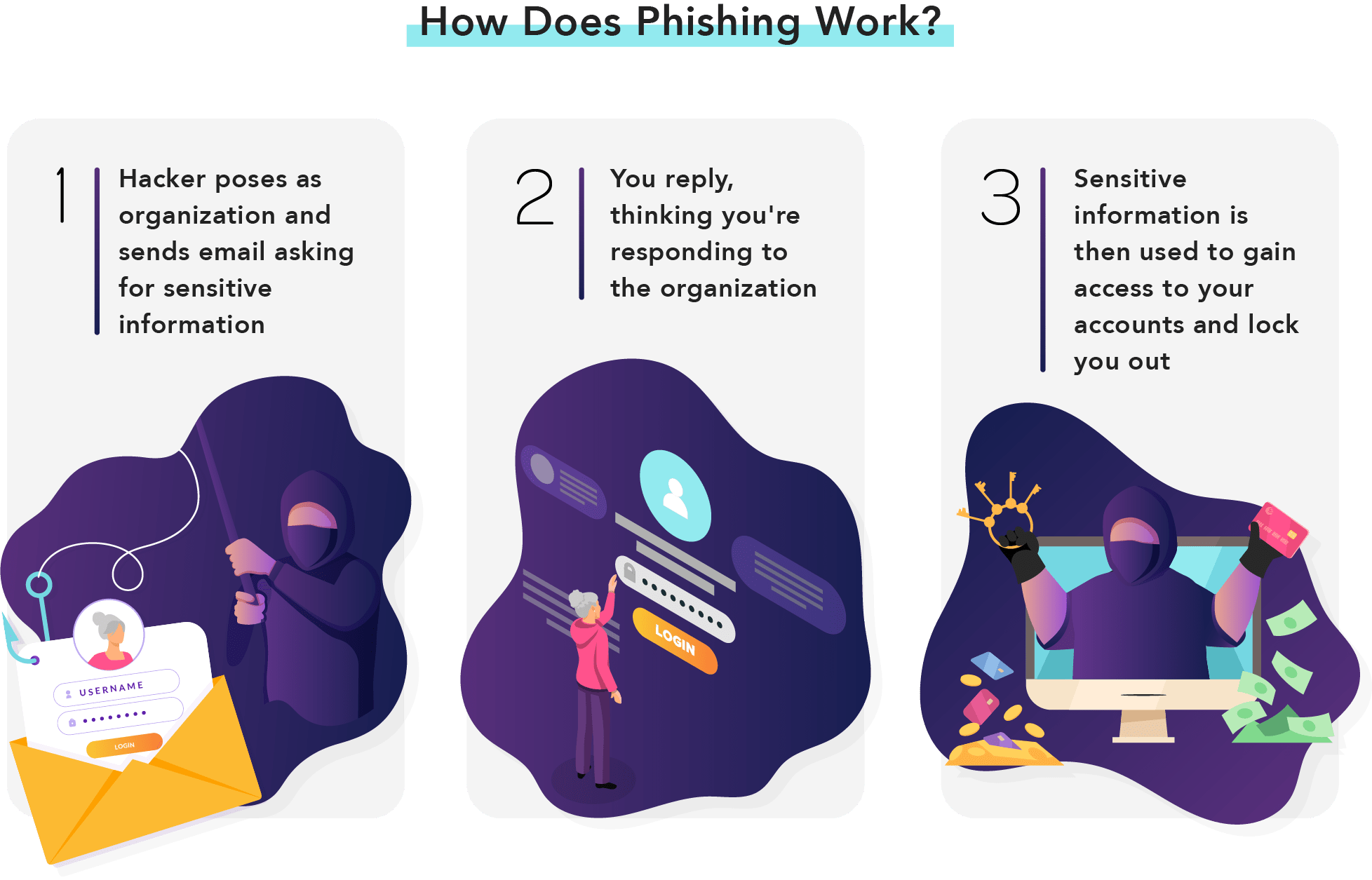 Most Common Senior Identity Theft Scams
Phishing – Online scam artists will send what looks like legitimate requests for personal information through an email. They could pose as a financial institution or organization with which your elderly family member holds an account.Regardless of the approach, though, they'll ask for sensitive information like social security numbers, usernames, and passwords. They might even ask for large sums of money. These attacks range in levels of sophistication, so it helps to have an identity theft protection solution with anti-phishing software included.
Caregiver scams – This is particularly nefarious and illustrative of why it pays to personally vet the individuals who have personal access to your elderly loved ones. Sometimes caregivers take advantage of their charges, especially if they have cognitive or memory issues. By sussing out their personal information, crooked caregivers might open up lines of credit in the elderly person's name, or worse.
Stealing mail – Maybe your loved one isn't as mobile as they once were and don't make it out to the mailbox every day to retrieve their letters. Bank and credit card statements can provide a surprising amount of personal information to scammers, and the longer they sit in the mailbox, the easier they can be lifted without detection. It helps to invest in a protection that offers junk mail remediation services to cut down on pieces of mail your loved one will have to deal with.
Telephone scams – Oftentimes, the elderly are lonely. Con artists adept at social engineering can take advantage of this fact and may call seniors on the phone and use fictitious stories to steal their identity. They might pretend to be from the bank or the utilities and ask the victim to verify social security numbers over the phone. They might also pretend to be a family member who is in trouble financially and looking for help.
Medical identity theft – Seniors often have good medical insurance, which makes them a primary target for thieves who steal insurance information. If their identity is stolen in this way, your loved one runs the risk of much higher insurance premiums or cancellation of coverage altogether.
How To Check if Someone Is Using My Identity?
One of the most difficult things about identity theft is that victims rarely know they've been victimized until the damage has been done. It's difficult to know if someone is using your identity, but there are some warning signs to look out for.
First, pay attention to your checking, savings, and credit accounts as well as any retirement or investment accounts that you might have. Obviously large, unexpected withdrawals are a dead giveaway that someone has unauthorized access to one or more of your accounts.
But more often than not identity thieves will make "test purchases" to see if the account information and credentials they have work. So also look for small, unexplained purchases. If you can't get to the bottom of them immediately, change your credentials and go into lockdown mode.
Did You Know? If funds are stolen from your accounts, you should place a credit freeze on your reports as well as a fraud alert. This will prevent further damage from being done.
Another important, related way to check if someone has been using your identity is by reviewing your credit report — at least annually, if not more frequently. Here you'll be able to see every account associated with your name, so if anything is fraudulent, you can work to have it removed and any debt resolved before a small issue turns into a major problem. Get your free annual credit reports from all three bureaus at annualcreditreport.com, the only source endorsed by the Federal Trade Commission. We also recommend reading our guide to the best credit monitoring services to stay one step ahead of fraudsters.
There are other, less obvious signs that someone has access to your identity, or is working to gain access. Were you expecting mail that never showed up — particularly a utility bill or bank statement? Are you getting correspondence from collections agencies for debts you're not associated with? Did the IRS contact you saying you have unclaimed funds or a tax return has been filed in your name? Have you been billed for a service you didn't use? Do not ignore these warning signs — they are the bellwethers of identity theft.
Did You Know? According to the FTC, victims who quickly discovered that their information was being misused were far less likely to incur material loss during an identity theft incident. Nearly 70 percent who discovered suspicious activity 6 months or less after the activity started had to deal with out of pocket expenses.
Generally speaking, a good rule of thumb to remember when dealing with identity theft is that if something seems suspicious, it usually is. If something pings as being out of place, trust your gut and follow up on it. If you shrug your shoulders and think "it's probably nothing," you might end up a victim. For more tips on how to respond to suspicious activity, read our full identity theft reporting guide.
How to Prevent Seniors from Becoming Victims of Identity Theft
We certainly recommend investing in one of the identity theft protection services above, but there are other ways you can keep your elderly family members safe in the face of mounting threats. One of the best ways is to encourage them to approach situations with a healthy amount of skepticism. If something sounds odd, it usually is.
Pro Tip: Tell your family members to always seek out secondary confirmation before giving out personal information, and to not be afraid to end communication if someone gets pushy.
Remind them that official correspondence is rarely conducted over the phone, and that legitimate organizations will never ask you to verify your passwords or provide identifying information through non-secure channels. Also, make yourself available to them — tell them if they have a question about something that seems suspicious to run it by you.
Finally, talk to them regularly. Ask if they've had any visitors recently or any exciting opportunities. If they say yes, this might be an early indication that an identity thief is looking for vulnerabilities.
Features of Identity Theft Services for Seniors