Best Senior Identity Theft Protection
Seniors are at a high risk of becoming the victims of identity theft. See which identity theft protection services we've found to be the best at protecting them.

Why Are Seniors Often the Targets of Identity Theft?
Seniors are often at a point in their financial lives where they've built up sizable savings, and most have started to access their retirement accounts. They're also likely to be spending more time with medical providers and accessing more governmental services — heightening their level of exposure.
Also, as a group, seniors tend to be more isolated and more trusting, meaning skilled social engineers (read: thieves) may have an easier time convincing them there is something wrong with their taxes or a family member is in trouble. It's critical that those caring for elderly loved ones take their identity protections seriously, and plan accordingly.
Here's a more in-depth look at our top picks for seniors.
1. NortonLifeLock
NortonLifeLock boasts some of the most comprehensive protections in the identity theft protection industry. Their full suite of coverage is impressive, but their additional cybersecurity protections are what make NortonLifeLock our top choice. Let's look at their pros and cons before we really dig in.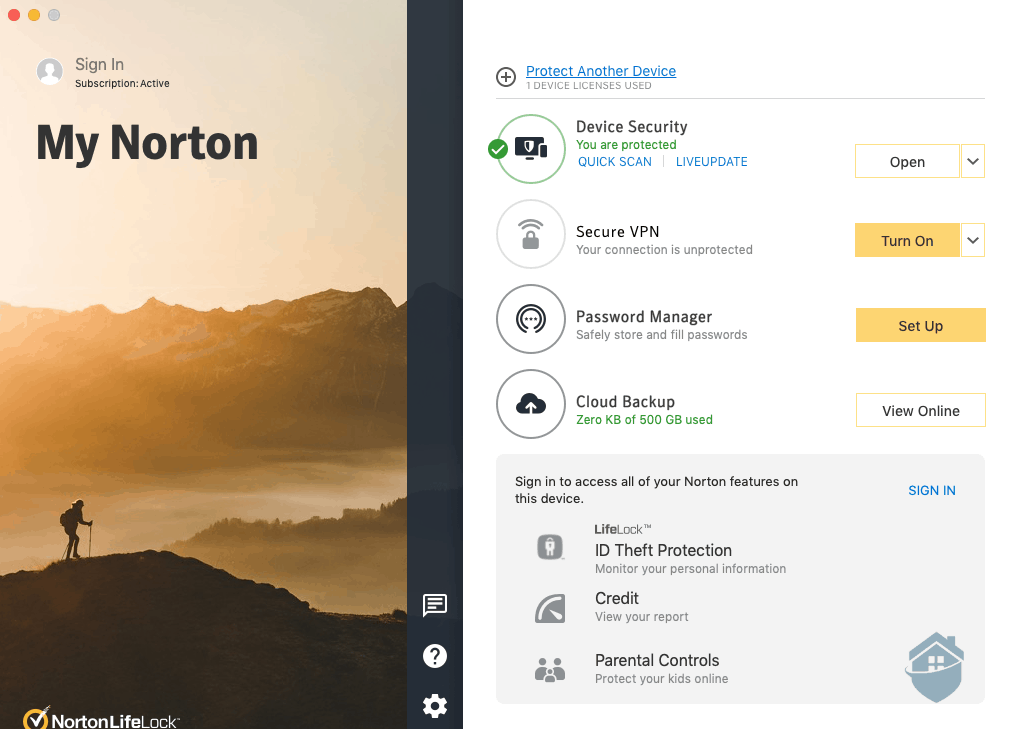 Pros
Extensive List of Privacy Protections
Prioritization of Cybersecurity
Credit Lock Functionality
Triple-Bureau Credit Monitoring
Investment and Retirement Account Protections
Home Title Monitoring
Fully Managed Restoration Services
Cons
Expensive Services
Disorganized Platform
Costs Increase After First Year
As we mentioned above, the first thing we noticed when we reviewed NortonLifeLock is their extensive list of features for seniors. They cover all the bases you'd want in a typical identity theft protection system — triple-bureau credit monitoring, dark web scanning, and financial account alerts.
But they also offer some rarely seen bonus features like home title monitoring and a credit lock functionality that effectively seals off your loved one's TransUnion credit file, all but ensuring that bad actors won't be able to take out lines of credit or apply for loans in your relative's name.
Where NortonLifeLock really breaks away from the pack is with their cybersecurity protections. The vast majority of identity theft today takes place digitally, so you'll want to make sure your elderly relative is secure in online spaces. NortonLifeLock offers services like virtual private networks, password managers, and antivirus software to keep seniors safe online — and there's no need to be tech-savvy. Most of this stuff runs in the background, so you can rest assured you're protected.
Did You Know: It's estimated that 65 percent of people reuse passwords across multiple platforms. While it might be easier to remember things that way, this greatly increases the threat of identity theft. The use of an encrypted password vault, however, can reduce this risk dramatically.
Another great feature of NortonLifeLock is their robust recovery functionality. Should your loved one's identity be stolen resulting in material losses, they'll not only be reimbursed up to $1 million for stolen funds, NortonLifeLock will also provide up to $1 million in personal expense compensation and an additional $1 million should you need the help of lawyers or other experts. This peace of mind, in our opinion, is invaluable.
One thing to keep in mind, though, we're referring to NortonLifeLock's top tier of coverage. They have multiple different packages, so check out our guide to NortonLifeLock's pricing and services to see what would work best for you.
2. Identity Guard
Identity Guard is another favorite service of ours. Their dynamic and proactive approach to identity theft protection ensures that they're always one step ahead of the fraudsters and bad actors. Why are they such a great option for protecting seniors? Let's take a look at their pros and cons to find out.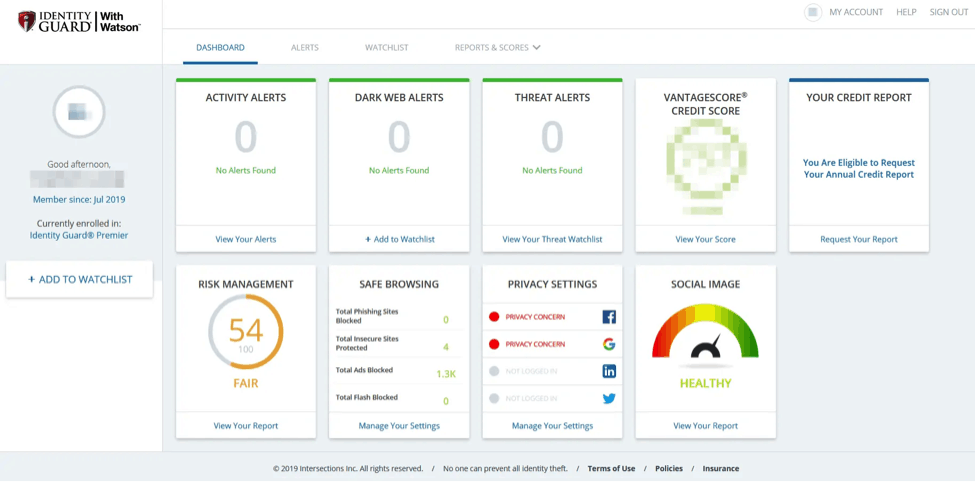 Pros
Triple-Bureau Credit Monitoring
AI-Driven Security
Data Breach Notifications
Risk Management Tools
Safe Browsing Plugins
Investment and Retirement Account Protections
High-Risk Transaction Monitoring
Cons
Outdated Mobile App
Lower Service Tiers Lacking
No Credit Lock
One of our favorite features we found when we reviewed Identity Guard is that under their family plan, everyone who lives in your household is covered. That means if you're the caretaker of a senior relative, they're automatically going to be protected from identity thieves.
And Identity Guard's protections are outstanding. They cover the traditional dark web monitoring, credit report alerts, and financial protections while also offering a few key services important for those looking to protect the seniors in their lives. One of these is data breach monitoring.
Data breaches occur when hackers gain access to a company or other organization's sensitive records and leak them in dark web marketplaces. Through no fault of their own, your elderly relative might become the victim of identity theft due to someone else's carelessness. It's important to keep a watchful eye on these data breaches and react accordingly should you or your loved one's data become affected.
Did You Know: Almost one in five breach victims will experience some sort of identity fraud. It pays to stay vigilant in this regard.
We also love that Identity Guard is constantly getting smarter. Because it's built using IBM's Watson artificial intelligence platform, it's constantly evolving to react to the ever-changing identity theft threat landscape. In layman's terms, this means their protections are always current, so you never have to worry about functions becoming outdated.
Finally, we'd like to point out some of the bonuses offered by Identity Guard. Their safe-browsing tool is perfect for seniors who want to connect with their friends and family members online without having to worry about the threats lurking below the surface, and their risk management tool will keep an eye on their behaviors and habits, alerting you if a potential threat could be mitigated.
They offer several different service packages, so take a look at our breakdown of Identity Guard's plans and pricing to get a better understanding of what they're offering.
3. IdentityForce
IdentityForce is one of the best all-around identity theft protection services on the market today. They offer a little bit of everything, and all of their services are perfectly aligned with protecting aging adults. Let's take a quick look at the good and not-so-good of IdentityForce, and then we'll share why we think it's a great option for seniors.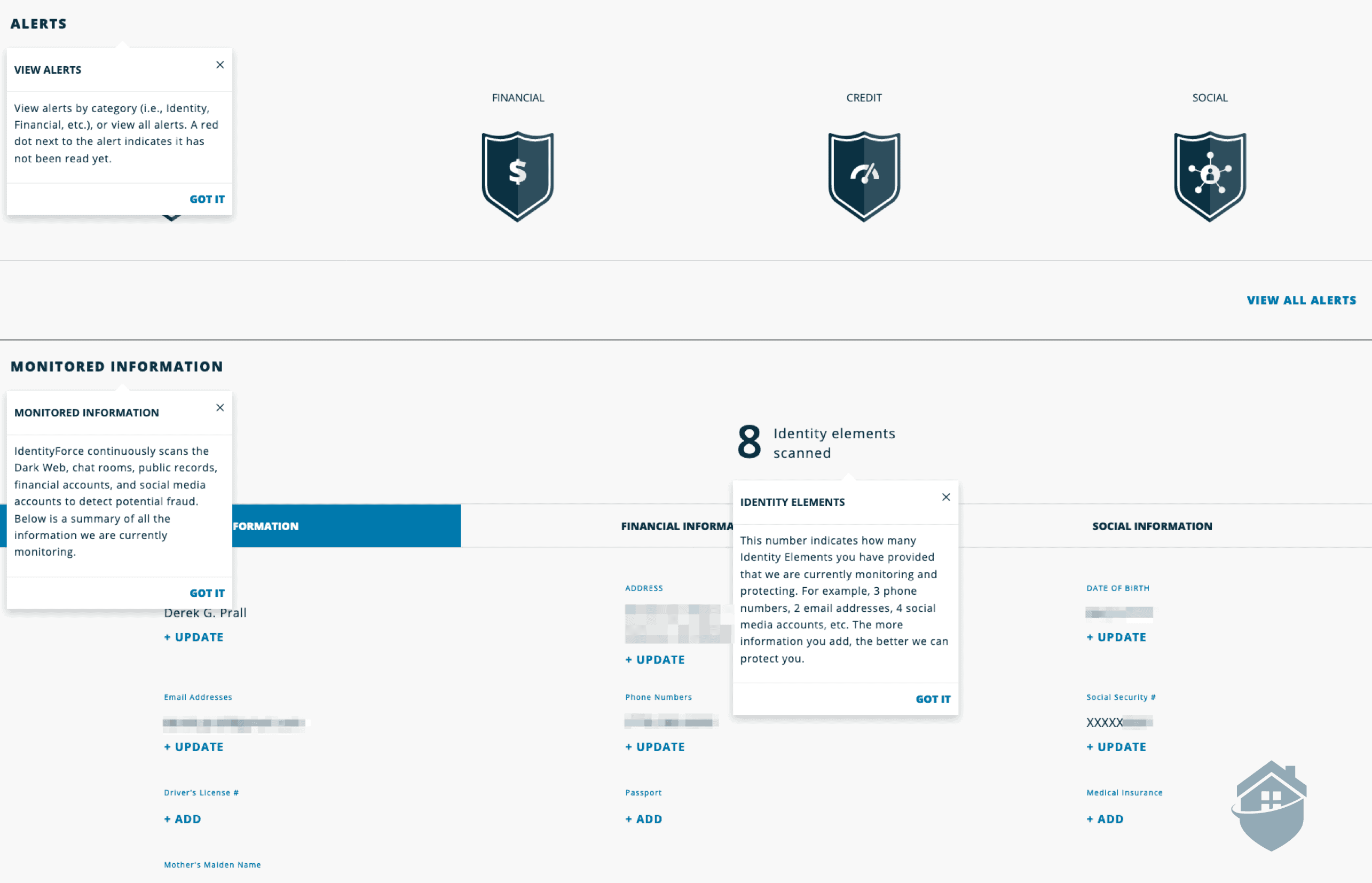 Pros
Investment and Retirement Account Protections
Triple-Bureau Credit Monitoring
Included Cybersecurity Protections
Medical ID Fraud Alerts
Junk Mail Reduction
Advanced Fraud Monitoring
Deceased Family Member Fraud Remediation
Cons
A Little Expensive
Slightly Confusing Setup
Underwhelming Mobile Experience
IdentityForce packs quite a wallop when it comes to thwarting would-be identity thieves. Their protections are complete and comprehensive, and when we tested and reviewed IdentityForce, we were hard-pressed to find flaws in their security posture.
That said, they also have some pretty interesting services to check out if you're interested in protecting elderly family members. Their cybersecurity protections like anti-phishing and anti-keylogging software will protect your family members online, and their junk mail reduction and fraud alert reminders will keep them secure in physical spaces as well.
Did You Know: Keyloggers are a specific form of malware that records every keystroke you make. Once you've been infected, a hacker will be able to sift through this log to determine your usernames, passwords, and other pieces of sensitive information.
Another feature IdentityForce offers is a little difficult to discuss, but it needs to be addressed nevertheless. If your elderly loved one should pass away while protected by a family plan, IdentityForce will continue to protect them by offering deceased family member fraud remediation. This means that should your loved one's identity be stolen after they pass, IdentityForce will work with you to help make things right. If this is something you're interested in looking into further, we've created a list of the best identity theft protections for the deceased.
So we've talked about protections for your elderly loved ones — but what threats, exactly, are we protecting them from?
Common Types of Senior Identity Theft Scams
The elderly are a particularly vulnerable population cohort when it comes to identity theft. Here are the most common types of identity theft scams that target the elderly: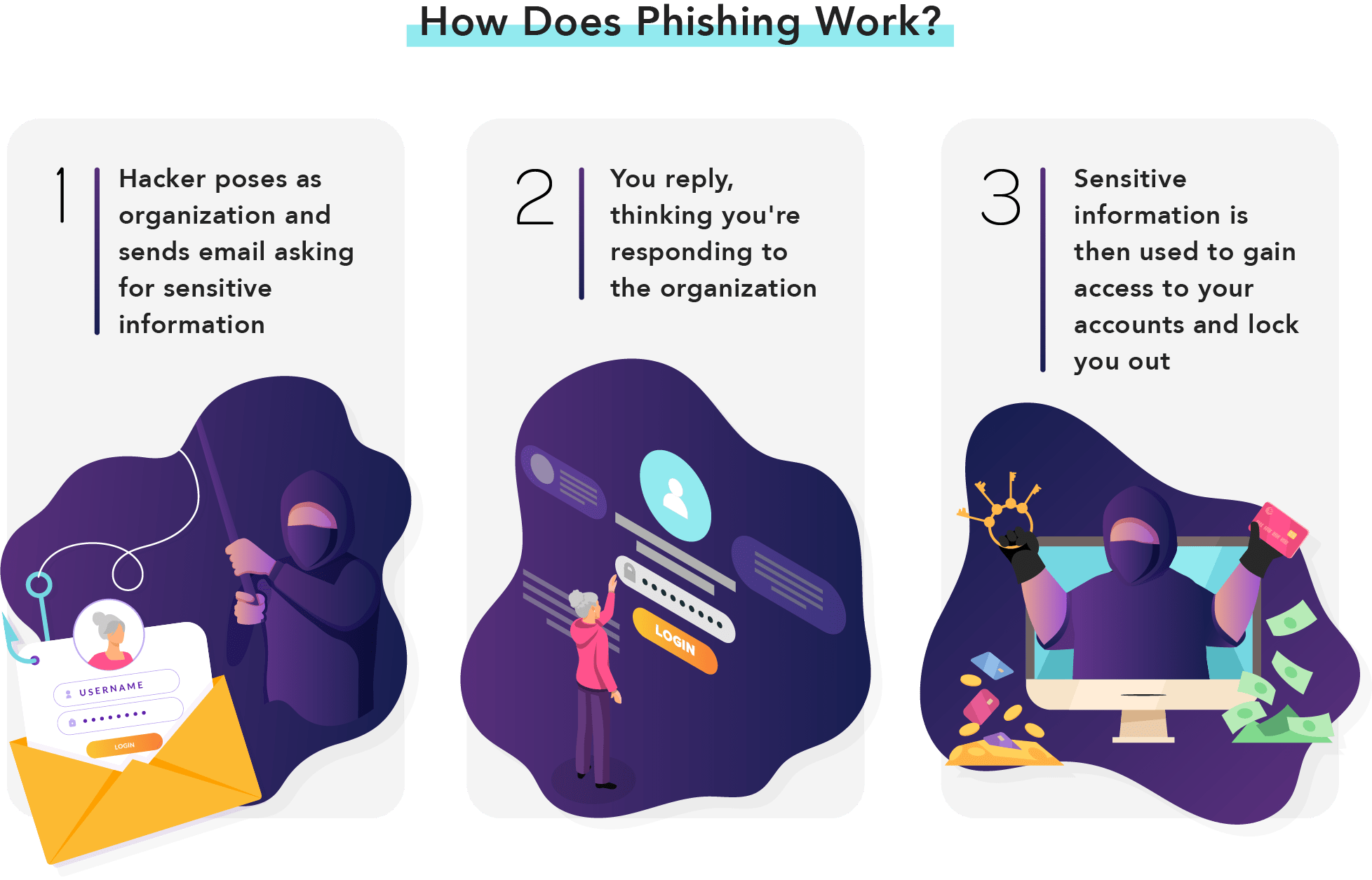 Most Common Senior Identity Theft Scams
Phishing – Online scam artists will send what looks like legitimate requests for personal information through an email. They could pose as a financial institution or organization with which your elderly family member holds an account.Regardless of the approach, though, they'll ask for sensitive information like social security numbers, usernames, and passwords. They might even ask for large sums of money. These attacks range in levels of sophistication, so it helps to have an identity theft protection solution with anti-phishing software included.
Caregiver scams – This is particularly nefarious and illustrative of why it pays to personally vet the individuals who have personal access to your elderly loved ones. Sometimes caregivers take advantage of their charges, especially if they have cognitive or memory issues. By sussing out their personal information, crooked caregivers might open up lines of credit in the elderly person's name, or worse.
Stealing mail – Maybe your loved one isn't as mobile as they once were and don't make it out to the mailbox every day to retrieve their letters. Bank and credit card statements can provide a surprising amount of personal information to scammers, and the longer they sit in the mailbox, the easier they can be lifted without detection. It helps to invest in a protection that offers junk mail remediation services to cut down on pieces of mail your loved one will have to deal with.
Telephone scams – Oftentimes, the elderly are lonely. Con artists adept at social engineering can take advantage of this fact and may call seniors on the phone and use fictitious stories to steal their identity. They might pretend to be from the bank or the utilities and ask the victim to verify social security numbers over the phone. They might also pretend to be a family member who is in trouble financially and looking for help.
Medical identity theft – Seniors often have good medical insurance, which makes them a primary target for thieves who steal insurance information. If their identity is stolen in this way, your loved one runs the risk of much higher insurance premiums or cancellation of coverage altogether.
How To Check if Someone Is Using My Identity?
One of the most difficult things about identity theft is that victims rarely know they've been victimized until the damage has been done. It's difficult to know if someone is using your identity, but there are some warning signs to look out for.
First, pay attention to your checking, savings, and credit accounts as well as any retirement or investment accounts that you might have. Obviously large, unexpected withdrawals are a dead giveaway that someone has unauthorized access to one or more of your accounts.
But more often than not identity thieves will make "test purchases" to see if the account information and credentials they have work. So also look for small, unexplained purchases. If you can't get to the bottom of them immediately, change your credentials and go into lockdown mode.
Did You Know: If funds are stolen from your accounts, you should place a credit freeze on your reports as well as a fraud alert. This will prevent further damage from being done.
Another important, related way to check if someone has been using your identity is by reviewing your credit report — at least annually, if not more frequently. Here you'll be able to see every account associated with your name, so if anything is fraudulent, you can work to have it removed and any debt resolved before a small issue turns into a major problem. Get your free annual credit reports from all three bureaus at annualcreditreport.com, the only source endorsed by the Federal Trade Commission.
There are other, less obvious signs that someone has access to your identity, or is working to gain access. Were you expecting mail that never showed up — particularly a utility bill or bank statement? Are you getting correspondence from collections agencies for debts you're not associated with? Did the IRS contact you saying you have unclaimed funds or a tax return has been filed in your name? Have you been billed for a service you didn't use? Do not ignore these warning signs — they are the bellwethers of identity theft.
Did You Know: According to the FTC, victims who quickly discovered that their information was being misused were far less likely to incur material loss during an identity theft incident. Nearly 70 percent who discovered suspicious activity 6 months or less after the activity started had to deal with out of pocket expenses.
Generally speaking, a good rule of thumb to remember when dealing with identity theft is that if something seems suspicious, it usually is. If something pings as being out of place, trust your gut and follow up on it. If you shrug your shoulders and think "it's probably nothing," you might end up a victim.
How to Prevent Seniors from Becoming Victims of Identity Theft
We certainly recommend investing in one of the identity theft protection services above, but there are other ways you can keep your elderly family members safe in the face of mounting threats. One of the best ways is to encourage them to approach situations with a healthy amount of skepticism. If something sounds odd, it usually is.
Pro Tip: Tell your family members to always seek out secondary confirmation before giving out personal information, and to not be afraid to end communication if someone gets pushy.
Remind them that official correspondence is rarely conducted over the phone, and that legitimate organizations will never ask you to verify your passwords or provide identifying information through non-secure channels. Also, make yourself available to them — tell them if they have a question about something that seems suspicious to run it by you.
Finally, talk to them regularly. Ask if they've had any visitors recently or any exciting opportunities. If they say yes, this might be an early indication that an identity thief is looking for vulnerabilities.
Features of Identity Theft Services for Seniors
SSN Monitoring
SSN Monitoring is a smart feature to get with any identity theft protection service for seniors. This technology works round-the-clock to monitor billions of online data points, with an eye out for your SSN. Because let's face it, if your SSN is stolen, the sky's the limit for the lucky criminal with their newfound identity. They can cause great damage to your good name and finances.
Bank Account Takeovers
Seniors have more to lose than most of the population when it comes to bank fraud. They've had a lifetime to save and invest. So it's only natural that mature adults are a prime target for bank account takeovers — a go-to scheme for cybercriminals. Protect your accounts with this feature. You've worked hard for your money, so hold on to it.
Credit Score Reporting
A senior's credit score typically doesn't fluctuate in dramatic fashion. If it does, it could mean their identity has been stolen. Unfortunately, most seniors don't monitor their credit score. That's why Credit Score Reporting for seniors is a great feature to get with identity theft protection plans. This service sends monthly reports to keep you in the credit score loop.
Credit Score Monitoring
Similar to the feature mentioned above, Credit Score Monitoring is a robust option offered by senior identity theft services. This feature dives deep into the main credit bureaus, and surfaces with a picture of your overall credit health. It monitors for unusual activity, and sends alerts when it flags significant changes — a signal-fire of identity theft.
Identity Theft Insurance Coverage
There's no better state of mind than peace of mind. With Identity Theft Insurance Coverage, seniors can rest easy with one less thing to think about. This powerful feature comes with many quality identity theft protection plans for seniors. Often the policies will cover up to $1 million in compensation if your identity is stolen on their watch.
401k and Investment Activity Alerts
This advanced feature comes standard with the top services for the elderly. It's made with your needs in mind. Your savings, investments, and general financial health is more vulnerable than ever. Criminals are constantly cooking up new ways to hack into accounts and drain them dry. With 401k and Investment Alerts, get notified the moment suspicious activity is detected. Don't go without it!
Bank and Credit Card Activity Alerts
Here's yet another value-packed identity theft protection feature for seniors. With Bank and Credit Card Activity Alerts, seniors are warned before total takeover occurs. The future of theft protection, these proactive alerts stop cybercrime in its tracks long before your bank accounts and credit cards are emptied. Rest assured, your identity and finances are in good hands.
Loan Application Monitoring
Loan Application Monitoring is a simple and effective feature that stops fraudsters early in the act. This advanced monitoring technology combs through countless loan data, searching for your personal information. You're alerted immediately if your name, SSN, or any sensitive information links you to the loan. Seniors can get the protection they deserve with the Loan Application Monitoring feature.
Pay Day Loan Monitoring
Seniors are at great risk of this dirty tactic. A criminal can walk into a payday loan business armed with your SSN and other personal information, and walk out with a handsome payday — a loan taken out in your name. Safeguard against this with Payday Loan Monitoring, a top feature offered with certain identity theft protection services for seniors.