How Are We Celebrating Christmas?
Written By: SafeHome.org Team | Updated: June 31, 2021
An estimated 9 in 10 American adults will celebrate Christmas in some form or another, according to surveys from the Pew Research Center. For most people that means gathering with family and friends, exchanging gifts and sharing meals, though it doesn't necessarily mean attending church.
Despite being one of the most important dates in the Christian calendar, just over half of Americans' Christmas plans include a decidedly religious element — a religious service. Only 51% of people said their plans include Christmas Eve or Christmas Day services, and for younger Americans, those figures are even lower (only about 42% of Millennials plan to attend Christmas Eve or Christmas Day church services).
The fact that 90% of Americans plan to celebrate Christmas is truly remarkable when you consider that 30% of Americans aren't even Christian — they're religiously unaffiliated, atheist, agnostic, Jewish, Buddhist, Muslim, Hindu, Wiccan or some other faith tradition. And even some Christians, like Jehovah's Witnesses and Seventh-Day Adventists, may not celebrate Christmas.
Christmas dominates American culture for at least a month, though the holiday season seems to come earlier and earlier every year: Rolling Stone reported in November that Mariah Carey's holiday classic "All I Want for Christmas Is You" was rising up the charts — weeks before Thanksgiving, let alone Christmas.
While the alleged war on Christmas is without a doubt overblown (most people say it doesn't matter what greetings are used during the Christmas season), it remains a fact that for millions of Americans Christmas either simply passes as any other day or is cultural event they'll spend gathering with family and friends rather than a religious festival.
We wanted to understand the patterns that exist in the American population from a geographic standpoint for those who either don't mark Christmas or don't think of it as religious; in other words, does where one lives in the U.S. help predict whether they'll be in church on Christmas?
To understand these patterns, we examined data from the Pew Research Center's expansive Religious Landscape Study in which the organization surveyed thousands of Americans from all 50 states and the District of Columbia about their religious beliefs and affiliations.
Christians Who Don't Celebrate Christmas — or Don't Do It in December
Identifying as a Christian doesn't mean you celebrate Christmas in the first place. Most Western Christians, including Roman Catholics and a majority of Protestants, do mark Christmas as a religious event, but for some major Christian denominations, this isn't the case.
Most notably among these are Jehovah's Witnesses, with an estimated 2.6 million adherents in the U.S., who don't celebrate any holidays, including Christmas, which many believe is based on or unduly influenced by Pagan traditions. Another Christian denomination, Seventh-Day Adventists, don't officially celebrate Christmas from a religious standpoint, though depending on which day of the week Dec. 25 falls on, members may attend a church service; just under 2 million Americans belong to the Seventh-Day Adventist faith.
In many Orthodox Christian churches, Christmas is a religious holiday, but celebrations are based on the Julian calendar instead of the Gregorian calendar, and the difference pushes Christmas into January. Orthodox Christians number about 1.5 million in the U.S., though their numbers are higher throughout the world, most notably Russian Orthodox, Ukrainian Orthodox and Greek Orthodox, though some Greek Orthodox communities have adopted Dec. 25 as the date of their religious celebration of Christmas.
Where in the U.S. are Christians least likely to mark Christmas on Dec. 25 — or at all? In most states, these Christians account for 3% or less of the population, but two states have considerably larger populations of these groups.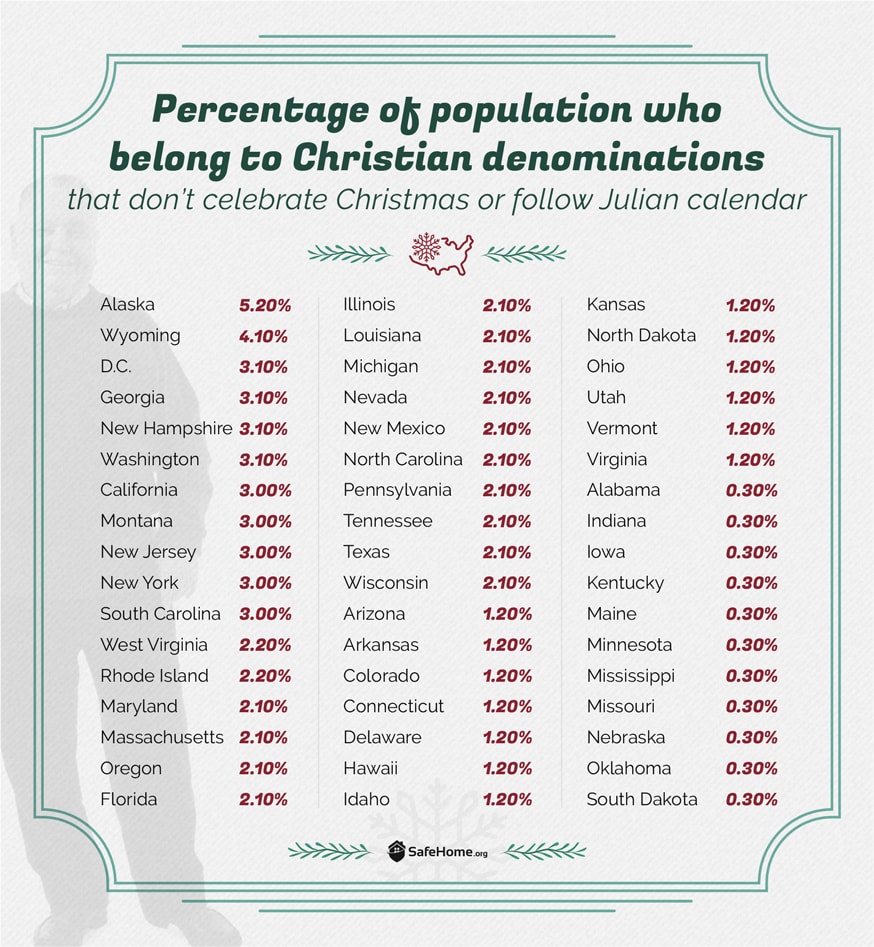 In Alaska, an estimated 4% of the population are Russian Orthodox, which helps push Alaska's share of Christians who don't celebrate Christmas on Dec. 25 (or at all) to the top of the list. Eleven states have percentages of this group that are below a percentage point. The largest group of these Christians is Jehovah's Witnesses, who account for about 3% of the population in Wyoming, which puts that state second on the overall Christian non-Christmas list.
Other Religions
While Christianity is the dominant religious tradition in the U.S., there are millions of Americans who adhere to another major religion, including Judaism (about 6.2 million), Islam (about 3 million), Buddhism and Hinduism (about 2.3 million each), and still others who follow a faith tradition like Unitarianism (about 1 million), Paganism (about 1 million) or Native American religions (650,000).
For these people, there is no religious component to Christmas, though statistics tell us that a large number of these Americans will mark Christmas as a cultural event. In no state does any single non-Christian major religion draw more than 10% of people, but when you combine the four major faiths, that picture changes a bit.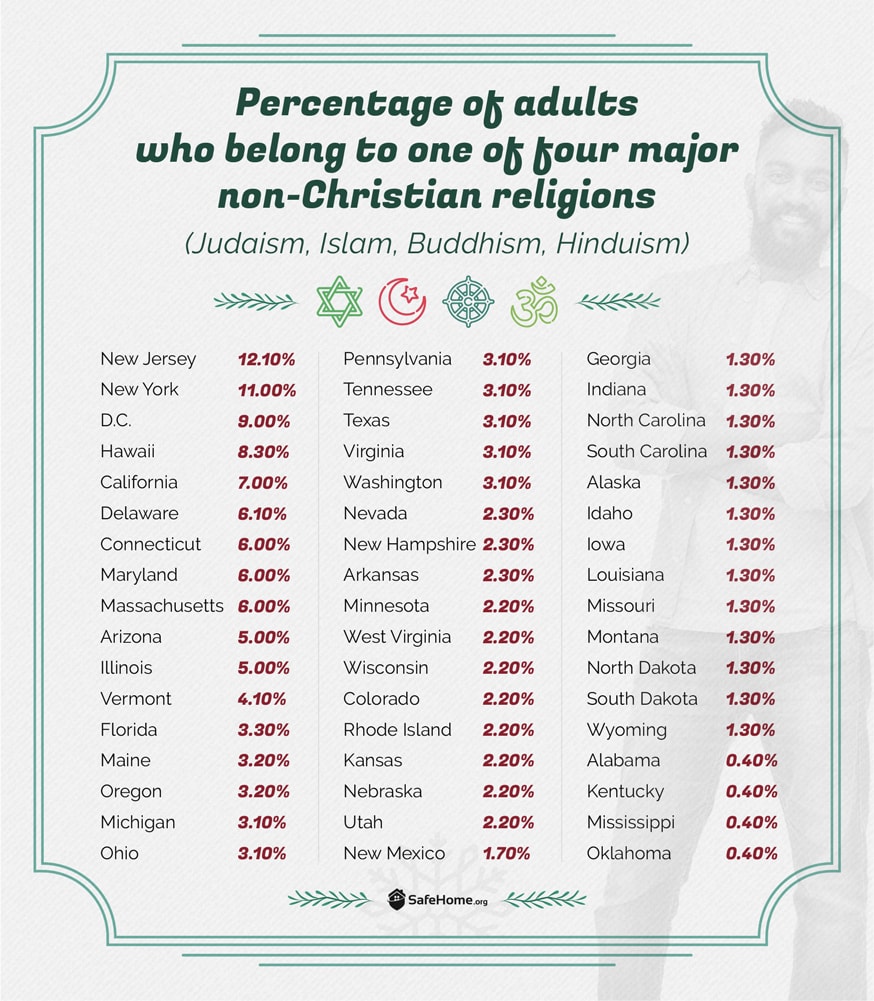 In both New Jersey and New York, more than 1 in 10 people are adherents to one of the four major non-Christian faiths, and the District of Columbia is not far behind at 9%. Jewish and Muslim populations are both largest in New York and New Jersey, while Hawaii has the highest ratio of Buddhists at 8%. New Jersey's population is 3% Hindu, while California and Delaware both have Hindu populations of 2%.
Other religions are much less common, with Unitarianism, Paganism and Wicca peaking at about 2% in a few states. In the majority of states, these liberal or New Age faiths account for a fraction of a percentage point.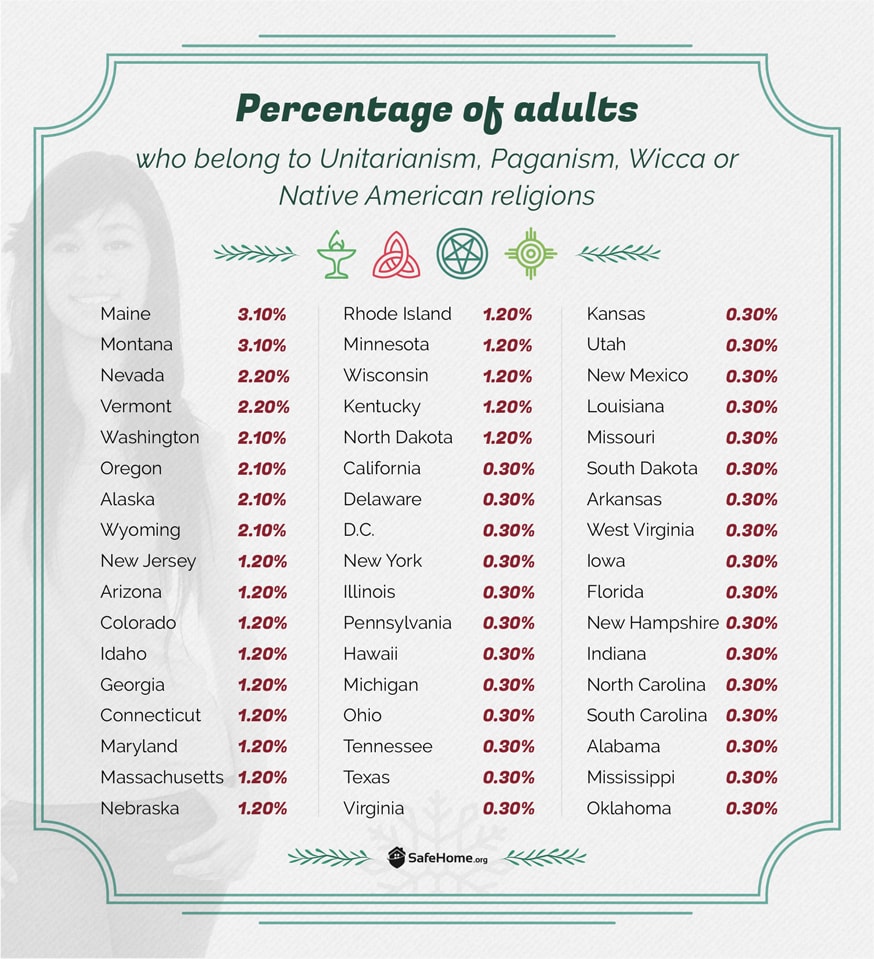 In both Maine and Montana, an estimated 3.1% of the population adheres to a New Age or liberal faith. In Montana, about 2% of the population belongs to a Native American religion, while 2% of Maine's population are Pagan or Wiccan. Unitarianism is most popular in Vermont, accounting for about 2% of the population.
Non-Religious People
In every state, the percentage of religiously unaffiliated people, which includes those who don't belong to any faith or identify as agnostic or atheist, is larger than the combined percentages of Christians who don't celebrate Christmas in December or at all, Jews, Muslims, Buddhists, Hindus, Unitarians, Pagans, Wiccans or Native American religion members.
Many of these people may well attend a church as part of their Christmas holiday celebrations, but it's unlikely to have the same impact as attending services does for those who adhere to a particular faith.
Nationally, this group accounts for about 23%, or more than 74 million Americans, though their numbers range widely from state to state.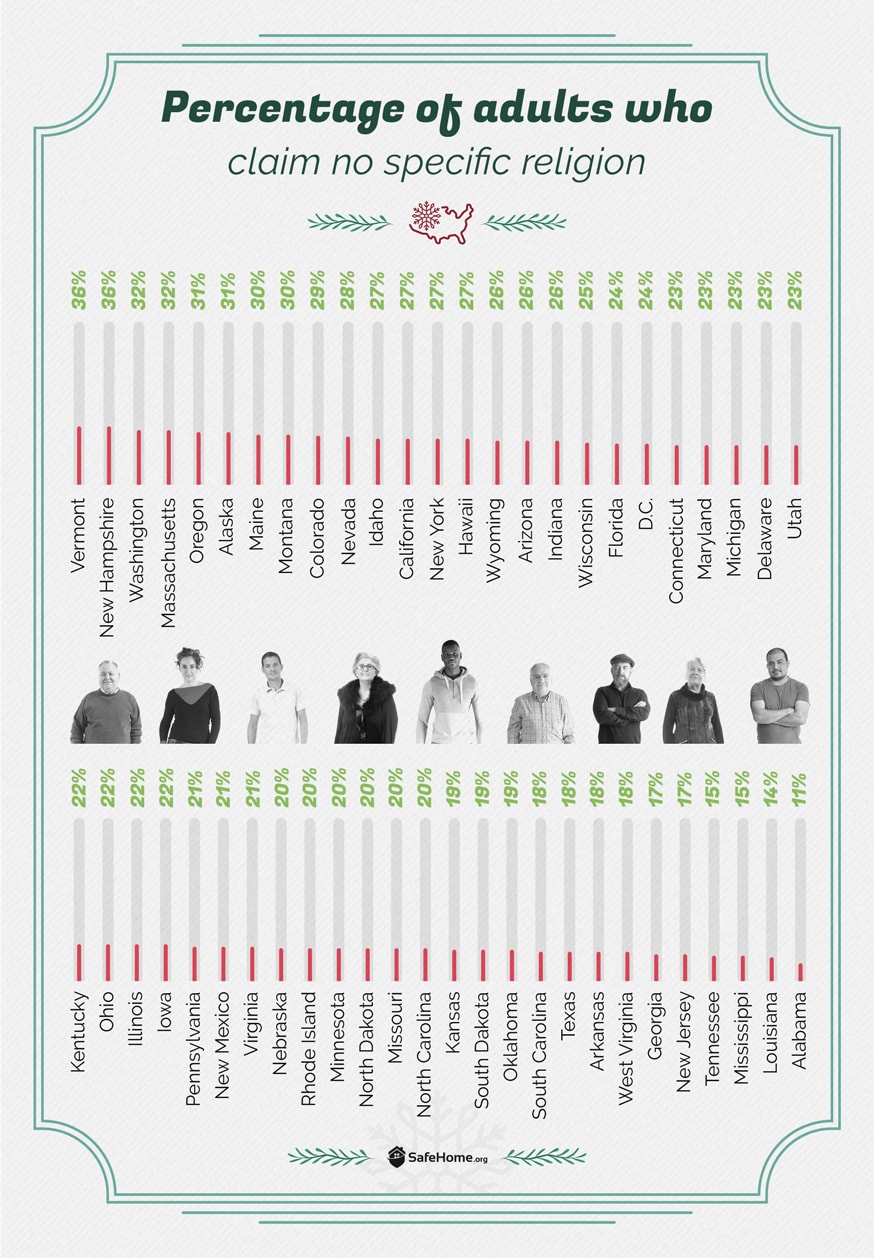 Sixteen of the 17 states with the highest percentages of religiously unaffiliated individuals are in either the West or the Northeast, with Indiana tying Arizona and Wyoming at 26%. In Vermont and New Hampshire, more than 1 in 3 people belong to no religion, and Washington and Massachusetts aren't far behind at 32% each.
Conversely, just over 1 in 10 people in Alabama don't belong to any particular religion or identify as atheist or agnostic.
What About Your State?
So where does your state stand when it comes to the total percentage of people who are more likely to celebrate Dec. 25 as a cultural event than a religious one?
Nearly 44% of people in Vermont are non-Christian or belong to Christian traditions that either don't tie the holiday to a church service or celebrate it in January. But only about 12% of people in Alabama can say the same.
Here's a look at how these groups combine in each state as well as their estimated representation by group in the state's population.

Conclusion
As the song goes, Christmas is the most wonderful time of the year. Regardless of whether it's a holiday that you'll spend sharing food and drinks with family and friends, exchanging gifts or practicing your faith, the vast majority of Americans will celebrate Christmas in one way or another. Whether it's cultural or religious, this may be one of only a few issues that draws so much agreement among Americans.
About This Story
As mentioned, all the data we've explored here came from the Pew Research Center's Religious Landscape Study, which was first published in 2015, and the organization has regularly published new findings about faith and attitudes toward religion. The complete Religious Landscape Study, which includes many topics beyond religious affiliation, can be accessed here.
Fair Use Statement
All the data and images on this page are free for noncommercial uses. Please include a link back to the URL of this page to give credit.