Best Small Security Cameras of 2020
Most of today's home security cameras are small and blend in nicely with the aesthetics of most homes. Here are our experts top five recommendations for the best small security cameras of 2020.

If you're looking for home security cameras that have all the features you need, are discreet, and won't distract from the aesthetic look of your home, then you will need to do a little research before making any buying decisions. Home security systems have not only become more and more advanced over the years, but they have also become more discreet and are better able to blend into a home's cosmetic look and its existing features. Take a look at what our researchers have determined as being the best small home security cameras in 2020.
1. Nest Cam – Best Small Security Cameras Overall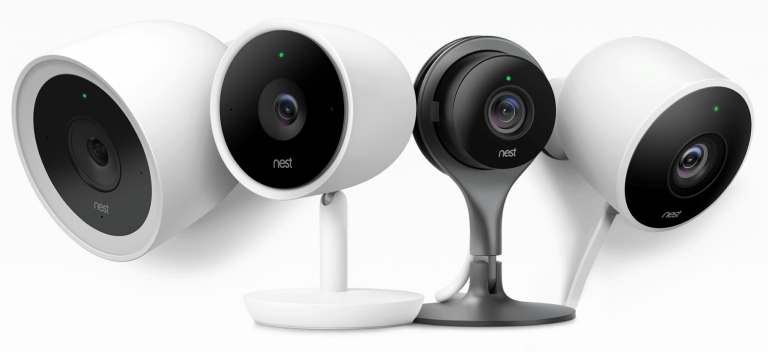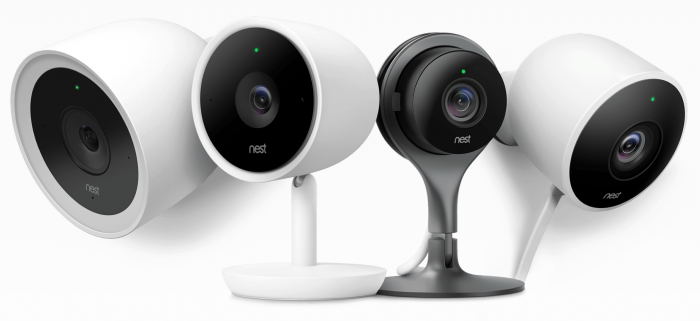 The Nest Cam system is quickly becoming a user favorite, in part due to all of its features and options that allow you to create a seamless ecosystem of home security and home automation products that can all be controlled on the mobile app from a single dashboard. Additionally, Nest works well with a variety of third-party equipment. And, you have the option of self-monitoring or paying a small fee to have your system professionally monitored. Here is a Nest Cam overview and some of the Nest Cam pros and cons.
Pros
No long-term contracts
Simple DIY installation with a professional installation option available
Feature-rich, affordable subscription plans
Exceptional night vision feature
Intuitive mobile app
Crystal clear two-way audio
Cons
Have to have Nest Aware to use many of the features
Upfront equipment costs
All of the Nest equipment is small and sleek, so you never have to worry about it fitting in with your home's aesthetics. Also, the Google Nest equipment works well with thousands of apps and smart home devices from hundreds of different brands. This makes it one of the most flexible home security and automation equipment brands on the market. And since it's part of the Google family, you know you are getting top-quality equipment with some of the most advanced features available.
Nest is a fantastic system, but it does have a few drawbacks such as the requirement to subscribe to Nest Aware if you want to use all the features. And while the fact that it is a Google product, which is a good thing, some also consider it a bad thing. This is because Google is known for collecting their users' data and selling it to their advertisers.
2. Ring – Best Small Alexa Security Cameras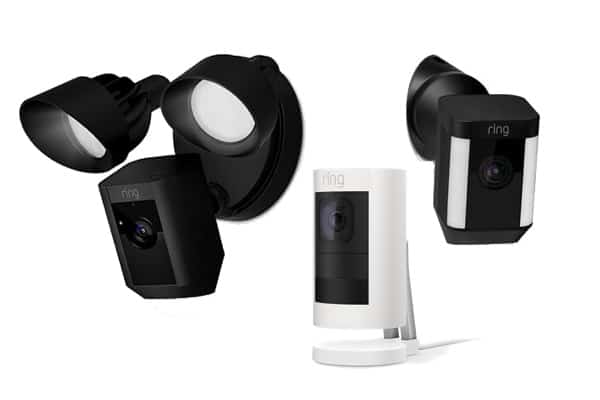 Ring now offers both home security and home automation equipment. These products are not big or bulky in any way and can be purchased as individual products or you can buy them as one of their three available kits. And, if you buy a kit, Ring offers 3-, 6-, or 12-month 0% financing options if you so choose.  Additionally, the Ring products can be self-monitored or you can opt to pay for their professional monitoring service for a mere $10 per month, which is less than almost any other brand out there. Here is a Ring overview and some of the Ring pros and cons.
Pros
Customizable systems
Cellular backup
No long-term contracts
Free DIY monitoring
Affordable professional monitoring
Additional discounts with initial Ring Protect Plus subscription
Customizable motion zones
Cons
Upfront equipment payment required
Lower tier plan requires you pay per camera which is pricey
One of the best things about the Ring home security system is you can build it to meet your exact needs. This means you never have to pay for something you don't want or need. However, if you prefer a pre-packaged equipment plan, Ring offers three of those as well. Ring has come a long way as far as equipment goes because their components are now small and streamlined, so they don't distract from the look of your home. The Ring system also comes with a mobile app that will send you real-time alerts, it has a 24-hour battery back up in place, as well as a cellular backup option so you are never left unprotected.
3. Arlo – Best Outdoor Small Security Cameras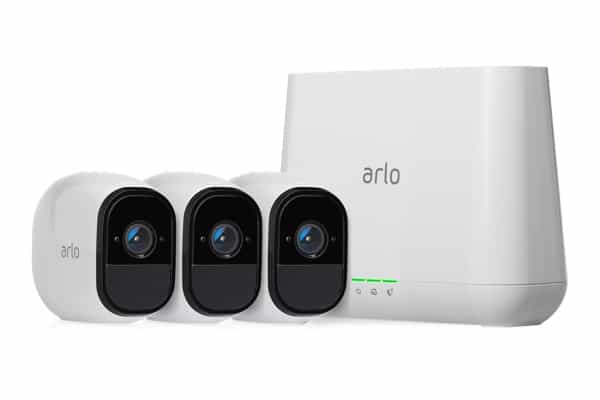 Arlo is a wireless, easy to set up small camera system which makes it flexible enough to install just about anywhere. Additionally, the Arlo cameras have a wide range of features from a basic home security system to technologically advanced cameras that come with 2160p resolution, a 180° field of view, two-way audio, as well as motion and audio alerts. Heck, some of their cameras even come with a solar panel as one of the power source options. Here is an Arlo camera overview and some of the Arlo camera pros and cons.
Pros
Free basic plan
Easy DIY wireless installation
No long-term contracts
Easy to integrate with third-party systems
Free storage option
Best-in-class hardware
Video baby monitor available
Fully customizable camera system
Cons
No professional monitoring options available
3-5 second recording lag time when the alarm is triggered
Short battery life
Very few home automation features
If you're looking for a basic, easy to install and use security camera system, the Arlo cameras are for you. These cameras are small and don't come with a lot of features. However, they are great for what you get. And while you don't get audio recordings with the Arlo cameras, they can all be managed from one simple mobile app dashboard. Additionally, the Arlo system can support up to 60 cameras at one time; although, after five cameras, Arlo does require you to pay for a subscription plan. That means if you have a large property, Arlo can accommodate you. The Arlo camera system doesn't have a lot of home automation features, but they are compatible with Alexa so you have the ability to use those voice controls when needed.
4. Blink – Best Small DIY Home Security Cameras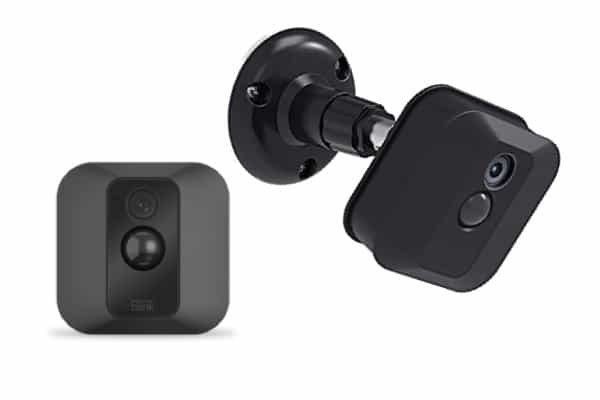 Blink's indoor and outdoor cameras are basic, as well as being easy to use. Additionally, Blink is working on adding complete home security packages to their lineup soon. And while Blink is still a fairly new brand that doesn't offer many advanced security features, it is compatible with Alexa, of course, as well as IFTTT and other third-party home automation systems. Here is a Blink camera overview and some of the Blink camera pros and cons.
Pros
Affordable home security cameras
Low-cost premium plan
Easy DIY installation
Free data storage
Sleek small camera design
Easy to use mobile app
Two-year battery life
No long-term contract required
Cons
No two-way audio feature
Short 60-second recording time
No tilt, pan, or zoom capabilities
No doorbell camera (but it's scheduled for release soon)
The Blink cameras not only have a small and sleek design, but they also come with live HD video, night vision, are weatherproof, and can easily detect motion and temperature. They will also send an alert to your smartphone when activity is detected. Additionally, the Blink outdoor cameras now come with a two-way audio feature and have a two-year battery life. Unfortunately, the Blink camera system doesn't come with many accessories except for some yard signs and window stickers, covers and mounts, and a Blink Classic Sync Module. So if you want add-ons, then the Blink camera system probably isn't for you.
5. Wyze – Most Affordable Small Cameras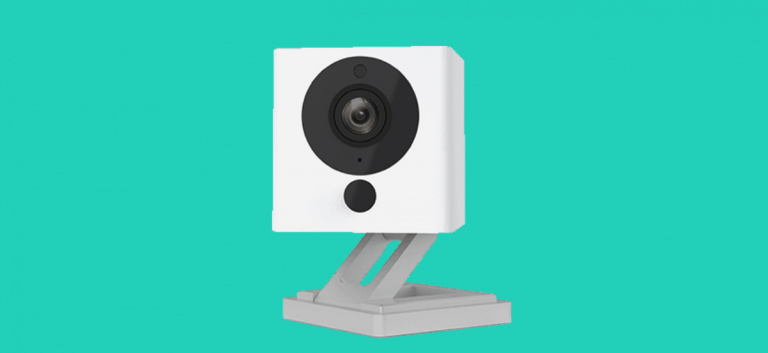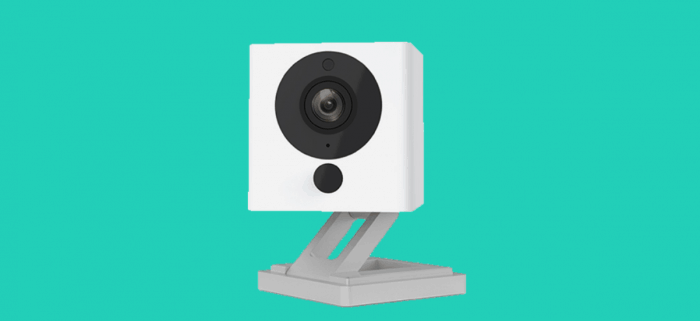 The Wyze cameras make it affordable to protect your home for less than a dollar a day. They have a basic lineup of products that are compatible with Alexa, but they don't come with any accessories. And, unfortunately, the Wyze cameras are only good for indoor use. If you need outdoor cameras, you will have to look elsewhere. But for the price, the Wyze cameras really can't be beaten! Here is a Wyze camera overview and some of the Wyze camera pros and cons.
Pros
Affordable small camera system
Smart sound recognition feature and motion tagging
Compatible with Alexa
Two-way audio
1080p HD cameras with night vision
14-day free cloud storage
Advanced end-to-end encryption
Artificial intelligence software feature just added
Cons
No outdoor cameras available
No professional monitoring offered
Limited customer service hours
Cameras have to be plugged into an electrical outlet
The Wyze security cameras are some of the smallest security cameras on the market, so small that it will fit in the palm of your hand. You will also find yourself wondering if something so small could really be powerful enough to be effective, and, yep, it certainly is! The Wyze cameras come packed with a variety of features such as 1080p HD video, 8x optical zoom, two-way audio, motion detection, infrared night vision, and more. Additionally, the Wyze cameras can swivel and tilt on their base, which can also be used as a wall mount. And if that weren't enough, Wyze just added an AI-powered people detection feature to its lineup. That means the existing Wyze camera can now identify people through the video feed versus just motion. However, at this point, the AI feature can't tell the difference between people and pets, but just having the AI feature to begin with is a start.
Features of Small Security Cameras
Wireless
The wireless feature means the security cameras don't require any hardwiring to work because they are battery-powered. A wireless security camera uses Wi-Fi and/or cellular connectivity to communicate.
2-Way Voice
The 2-way voice feature enables a small security camera to work as a microphone and speaker so you can talk through it remotely to communicate with a person on your property or in your home.
Mountable
A mountable option is a security camera that can be installed using a mounting bracket versus mounting your equipment using an adhesive strip. A mounting bracket is generally more stable than mounting your equipment using adhesive. Mountable can also mean that the equipment can be mounted on a surface versus having to be placed on a flat surface.
App Control
A security system with app control is a brand's app whose equipment can be accessed, monitored, and controlled remotely from a single dashboard using an app that's downloaded onto a mobile device. With the app control, you can access your security camera's live feed to see what's happening at your home and respond accordingly when needed.
High Resolution
On a security camera, the high-resolution feature refers to the number of pixels that camera has. The higher the pixels, the better the picture you are seeing will be. High resolution is important in a security camera because the high resolution of the camera will enable you to see what's on your camera more clearly. Low-resolution cameras are often blurry to the point you can't really see who or what is happening, which completely defeats the purpose of having a security camera in the first place.
Video Recording
All security cameras offer either an intermittent video recording feature that only records once motion is detected. There are also security cameras with a continuous recording feature that will record continuously 24/7. The video recordings are then either stored locally on the camera itself (or an SD card) or sent to a cloud storage service.
Cloud Storage
Cloud storage is when digital data is sent to a remote physical location and stored on a server (the cloud) that can then be accessed using the internet. So when your security cameras record, those recordings are then sent to the cloud and stored until you retrieve or delete them.
Live View
The live view on a security camera is when you access your security camera's video feed. The live view feature allows you to see what's happening at your home or property in real-time versus a recording of something that has already happened.
Smart Home Integration
Smart home integration is when you use internet-connected devices to enable and access the remote monitoring and control of your home's systems, such as your security system, lighting, thermostat, garage door, and more. To use smart home integration, you have to have a base or main hub and all the devices have to be compatible with that base/hub, as well as being compatible with the other brand equipment.