By: SafeHome.org Research Published: May 20 2021
For many renters, home security can feel like a roll of the dice: Will the property owner take all the steps they should to assure the safety of new tenants, or must the tenants take matters into their own hands and personally beef up security themselves?
While there are plenty of good guides to upgrading home security and we've researched home safety extensively, we still had questions: How many renters feel unsafe in their current home situations, and if renters had to choose between a newly installed security system or a renovated kitchen, which would they prefer? We wanted to further examine this aspect of renters' buying behavior and which home security features tend to be most attractive, including how much renters value those features over other amenities, such as hardwood floors.
Key Findings:
Over the past year, 2 out of 5 renters considered moving due to safety concerns. The proportion was even higher (56%) among those who rent the most expensive places.
Alarm systems were the home security feature most likely to make renters feel safe, followed by smart doorbells and security cameras.
On average, renters without access to a gated parking garage would pay $30 more in rent per month to live in a place that does.
Renters across generations tended to value certain home amenities higher than security features, particularly in-unit laundry and updated kitchens.
Examining Renters Who Feel Unsafe
In order to uncover how renters value security features versus other amenities when finding a new place to live, it is important to first understand the renters themselves and what conditions might make them feel unsafe.
Forty-five percent of those living in single-family homes said that they had considered moving within the past year due to feeling unsafe in their home or neighborhood, a slightly higher rate than reported by residents of condos, apartments, and townhouses. Even the type of property ownership plays a role on whether renters feel safe: People renting from a corporate property management company for example, were more likely to feel unsafe where they live (55%), compared to those renting from a private owner (33%).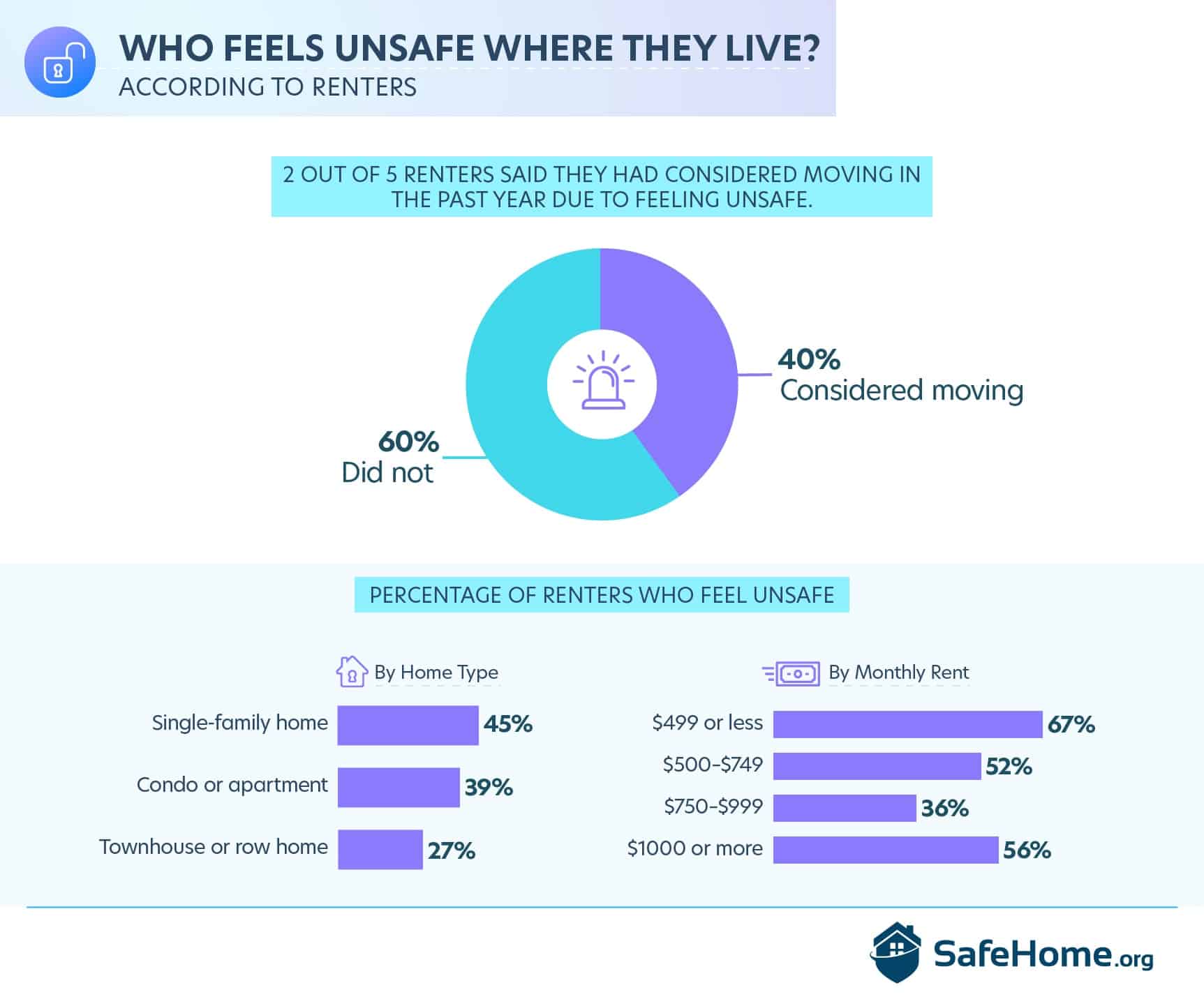 Similarly, not all renters agree on the level of importance safety plays while house hunting. As we may have expected, women were generally more concerned with safety (90% said it's very or extremely important) than men (82%). The data also showed, overall, Gen X was less concerned about safety when house hunting than Gen Z or millennials. This is an interesting contrast, considering that our results also showed Gen X were more likely than either of the younger generations to have considered moving in the past year due to feeling unsafe at home.
Renters' Security Feature Preferences
When compared to homeowners, renters may be limited as to the steps they can take for installing security features in their new home. However, renters can often work with their landlord or on their own to take preventative measures to make their home a safer place to live.
There are many ways to stop burglars from targeting your home that are renter-friendly and affordable, such as updating your home's exterior lighting and fortifying points of entry. These quick fixes make your living space safer, deterring burglars and making it more difficult to break in. Considering that peace of mind is an important piece of home security, we asked renters which security features in their homes contribute most to their feeling of safety.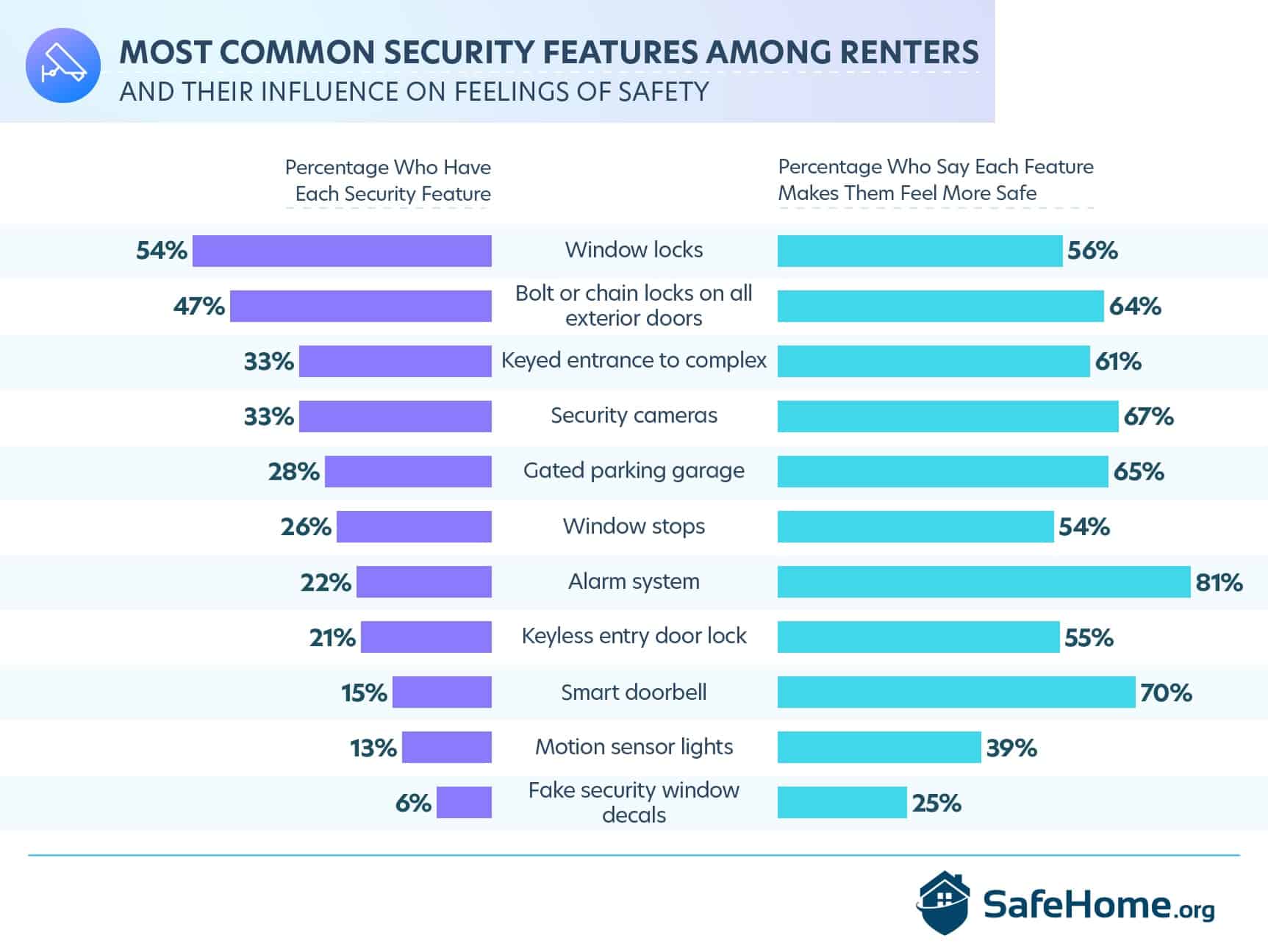 Window locks took the lead as the most common security feature that renters have at home. If you're a renter looking for quick ways to improve your home security, a good place to start is to ensure that you're making use of those window locks: Previous research found that 1 in 10 Americans leave their windows open when they're away from home, and one of the most common entry points for burglars to enter the home is through open or unlocked windows.
According to renters, alarm systems and smart doorbells contributed most to feelings of safety at home. These two items ranked pretty low on the list of most common security features renters have in their home, so if you're a renter working with your property owner to beef up your home's security, alarm systems and smart doorbells are good places to start.
Don't forget: Personal privacy is an important aspect of home security. If you're looking into adding advanced security systems to your home, be sure to do your research into potential vulnerabilities systems may have. Take the Google Nest for example: In recent years, news surfaced that this home security system had a built in microphone that had gone unmentioned, something that purchasers deserve to know especially when it relates to the privacy and protection of their home life. Would this change renters' perceptions of how safe security cameras are?
Based on the data, it seems that renters value certain security features pretty highly. When compared with home amenities such as new countertops or hardwood floors, how would these security items stack up? Would renters' buying behavior change when faced with other amenities to choose from?
The Cost of Added Security Features
After determining the security features that give the best peace of mind to those who have them, we looked at the other side of the question: How much are renters willing to pay to get access to safety features they don't already have?
We found that American renters, on average, would pay up to $30 per month for added security features, with gated parking garages being the most highly-valued asset. Security cameras were the second leading feature renters would pay more for, making into the top three most valued features among both those who have cameras currently and those who don't.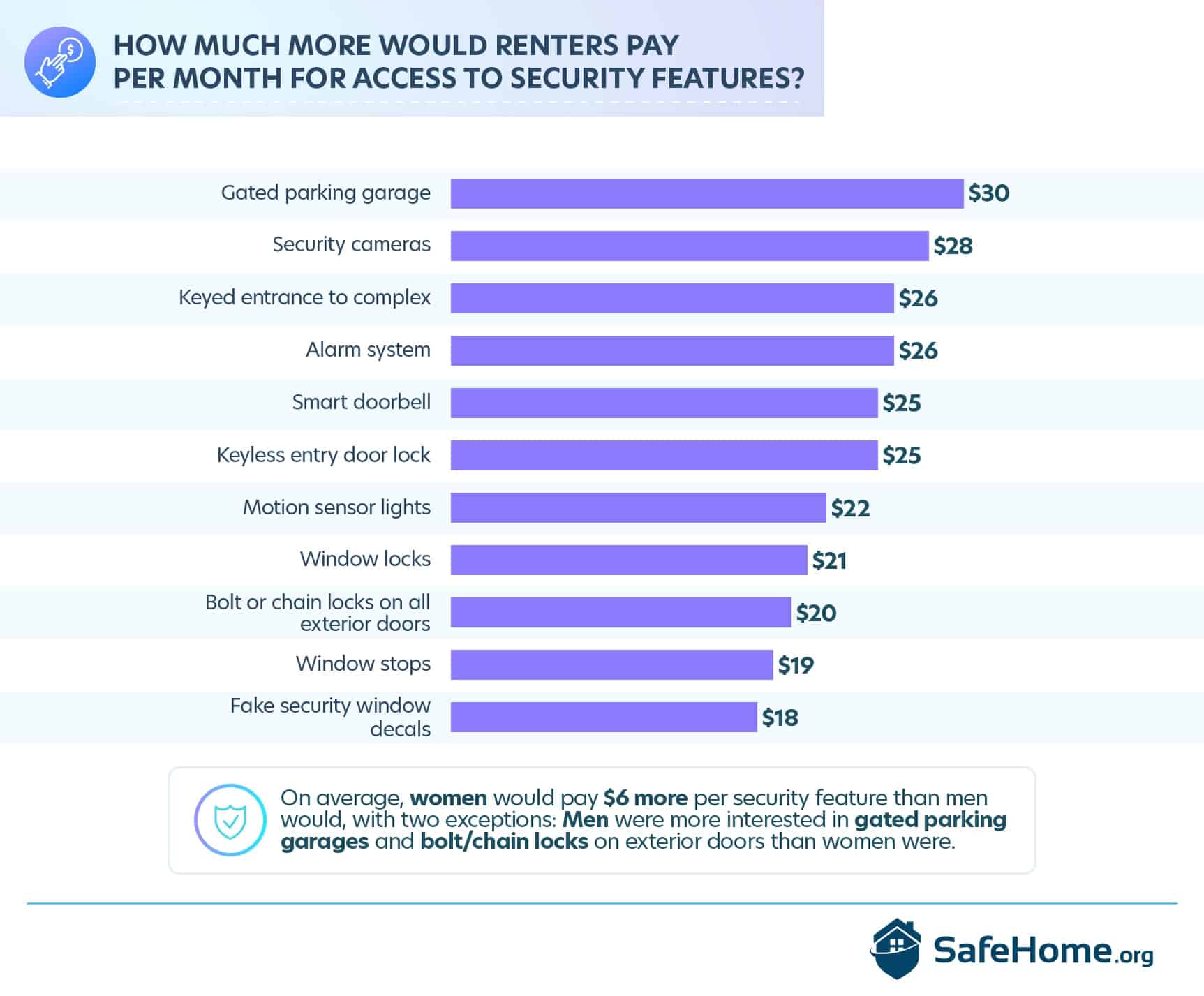 On average, those living in single family homes would be willing to pay more for security features than residents of apartment complexes and townhomes. Furthermore, women would pay roughly an additional $6 per security feature than men would, with the exceptions of two features that men would invest more for: gated parking garages and bolt/chain locks on exterior doors.
The most dramatic differences between gender preferences were window stops, window locks, and motion sensor lights, for which women were prepared to spend $9 more per month, on average, than men were.
How Renters Value Home Security Features Over Other Amenities
Having developed some insights into the most popular security features among renters, it's time to see how those preferences stack up against home amenities. When searching for a new place, how important are security features when compared to renters' top apartment amenities like hardwood floors and in-unit laundry?
Among all generations, renters value in-unit laundry and an updated kitchen more highly than home security features. The highest-rated security feature was window locks, aligning with previous data showing window locks as the security feature most renters currently use in their home.
We found Generation X was more likely to believe hardwood floors were very important (41%) than an alarm system (39%), security cameras (39%), or gated parking garage (35%). In general, Generation X valued amenities more highly than millennials did, and Generation Z thought they're even less important. The lone exception was an updated kitchen – this amenity's level of importance was even across generations.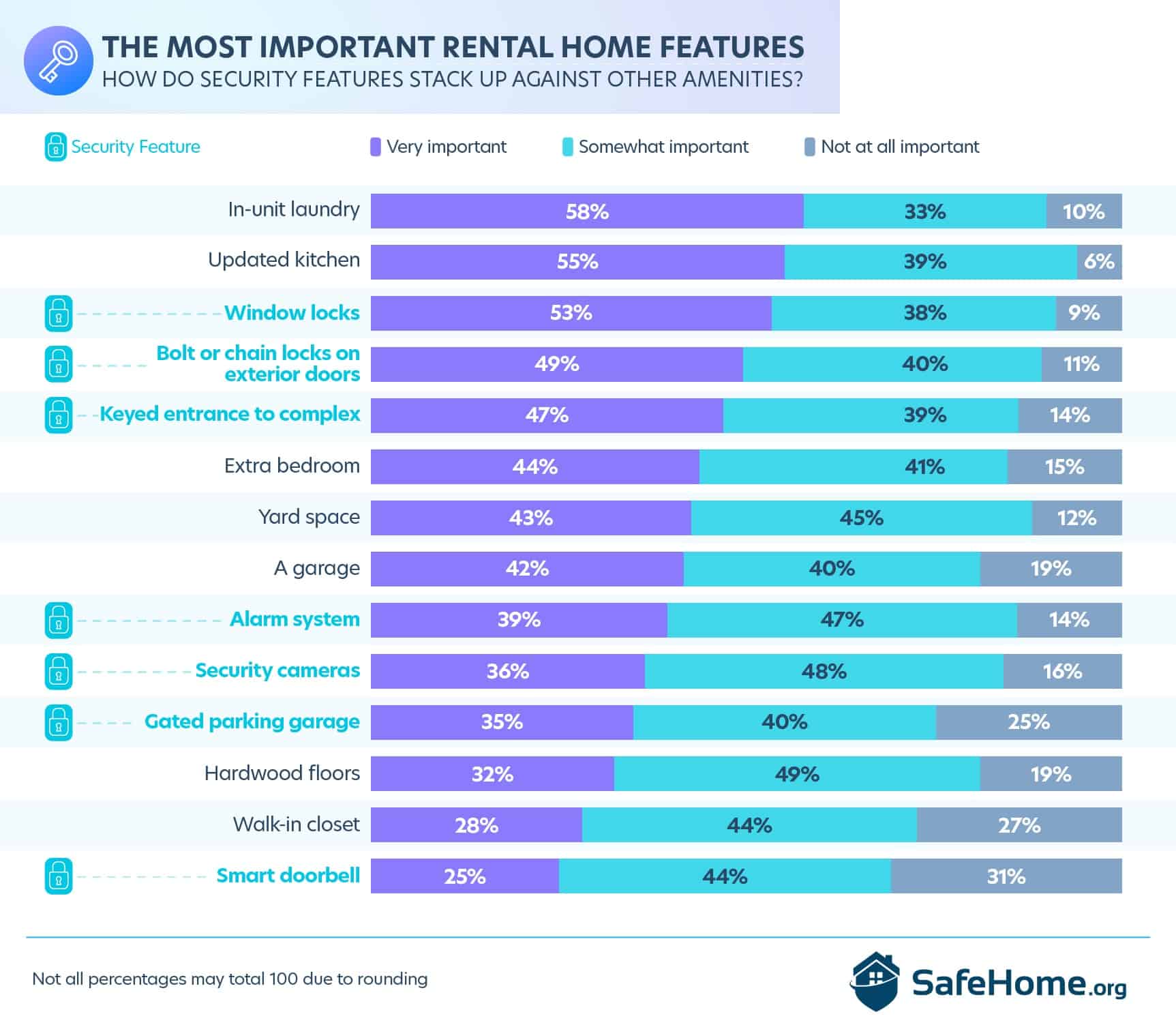 When comparing security features alone versus stacked up against other amenities, smart doorbells had the most dramatic change. This item went from ranking as the second highest security feature to make renters feel safe to being the lowest average security feature when stacked up against other amenities. This reveals a big change in renters' value of safety and buying behavior when their decisions include household amenities.
Generally, preference for security features was approximately equal across generations, with two exceptions: Older renters were much more likely to prefer window locks and bolt/chain locks on exterior doors than younger renters.
Conclusion
The security feature most common in renters' homes were window locks, but alarm systems were ranked as the feature that provides them with the highest sense of security. Another aspect of this research revealed that renters who do not currently have top-rated security features would pay, on average, up to $30 a month for a gated parking garage, closely followed by security cameras.
There is a wide variety of criteria that renters take into consideration when searching for a new place to live; when it comes to safety, this survey's data uncovered how renters' decisions may change when other amenities are on the table.
Our Data
We surveyed 1,007 renters to further show how they value safety when stacked up against other amenities. Participants ranged in age from 18 to 88 with a mean of 31.4 years and a standard deviation of 10.9. Fifty-seven percent of respondents were men, 41.9% were women, and 1.1% were nonbinary or nonconforming. Gender and age breakdown analyses were performed only on groups of 100 or more respondents.
The primary limitation of the survey is its reliance on self-report, which can lead to complications such as telescoping, recency bias, and survey bias. All participants passed an attention-check question, and measures such as answer order randomization were implemented to mitigate the effects of survey bias.