Your home is one of the most important purchases you'll ever make, so it makes sense that you want it protected comprehensively.
Maybe you installed a fence around your backyard, and you put up security cameras watching the interior and exterior. Maybe you even purchased 24/7 security monitoring and you shopped around for the best homeowners insurance because you know home insurance is home security.
That said, homeowners insurance as a concept can be a little difficult to wrap your head around. Not to worry though — the following is a curated list of important statistics that can help our readers better understand and contextualize their protections, their expenditures, and the industry as a whole.
Let's start by talking about homeowners insurance customers.
How Many People Hold Homeowners Insurance Policies?
You might think that if you own a home, it has to be insured. But this isn't true. In fact, in the U.S., only 85 percent of homes are insured.1 If you own your home outright – meaning you no longer pay a mortgage — you don't legally need to carry homeowners insurance.2
Pro Tip: If you're looking for the best insurance in the industry, read our Lemonade review. They're our top pick for the best insurance provider of 2023.
With that in mind, homeowners insurance is still pretty difficult to grasp for most people. Only 48 percent of homeowners say they fully understand their coverage. Understanding is a key to satisfaction, though. People who say they fully understand their policies are 92 percent more likely to report they're happy with it.3
What Kind of Policies Do People Own?
You might think of homeowners insurance as a monolith, but in truth, there are multiple different kinds of homeowners insurance policies. Eight, in fact, which are all labeled HO-1 through HO-8.4 Let's break them down.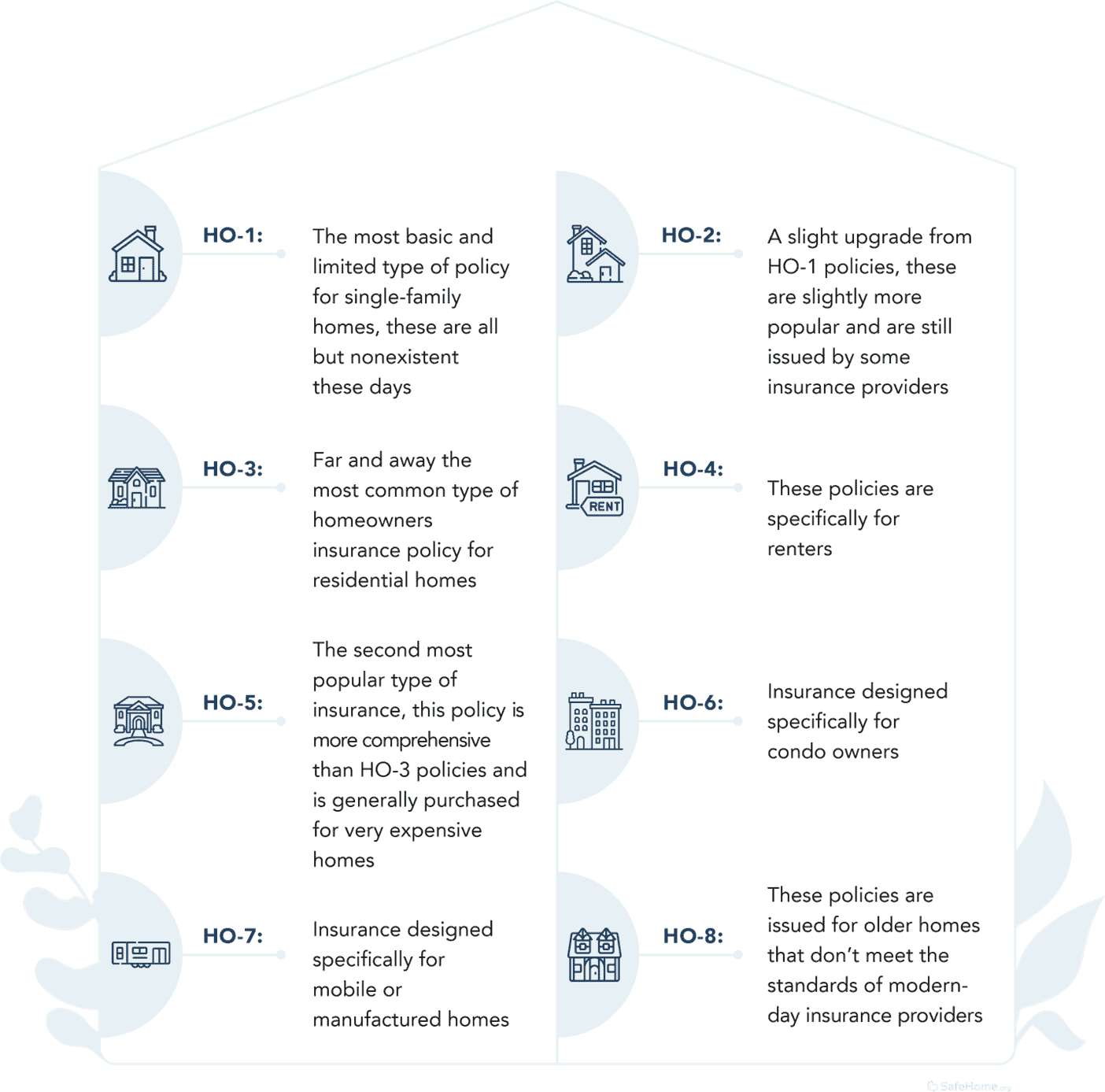 We'll exclude the policies that aren't for homes specifically, and show you the breakdown of the different types of policies in the graph below.5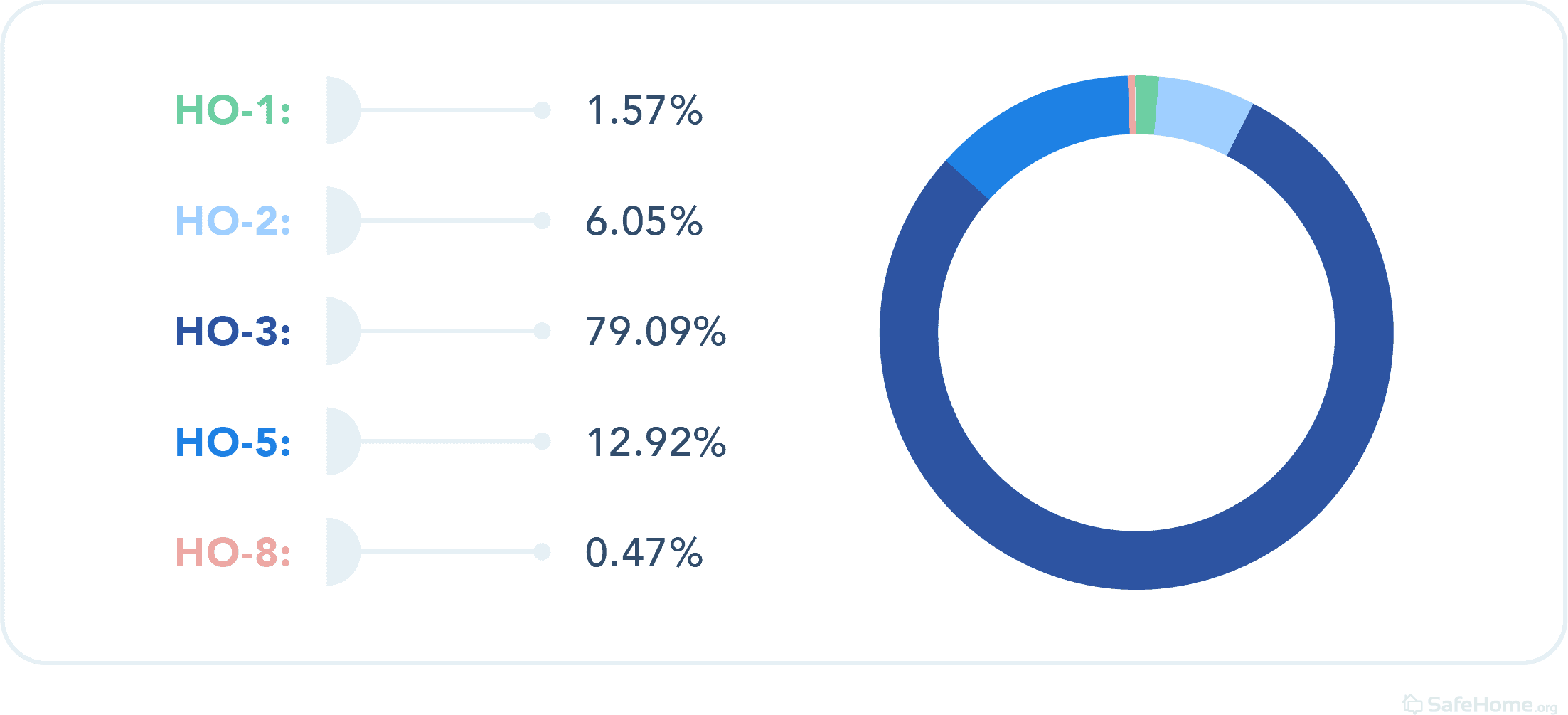 As you can see, HO-3 policies are by far the most common. So what do these policies cover? And perhaps more importantly, what do they exclude?
What Do HO-3 Policies Cover?
We have more on this in our comprehensive guide to homeowners insurance, but speaking generally, a standard HO-3 policy will cover:
Your dwelling
Other structures on your property
Personal property
Liability
For most homeowners, this covers all the bases. It is important, though, to take a look at what these popular policies exclude.
What Do HO-3 Policies Not Cover?
Maintenance issues
Pests and infestations
Mold and rot
Floods
Earth movements
That last one might come as a bit of a shock. If your home is swallowed up by a sinkhole or destroyed in an earthquake, your standard homeowners insurance policy will not cover your losses. Let's take a closer look at that.
Earthquake Insurance
While you might not think it could happen to you, 42 of the United States' 50 are at risk for earthquakes. When you take that into account, it's startling that only 11 percent of homeowners carry earthquake insurance. Even in the famously earthquake-prone Western U.S., only 17 percent carry earthquake insurance.6 High costs and limited coverage are the commonly cited reasons for forgoing it. Another reason is that many homeowners believe they will be covered in the event of an earthquake, which isn't true.
Pro Tip: Another protection many homeowners think they have but actually don't is coverage for damage caused by mold and rot. Check out our guide to mold insurance for more information.
So now that we know what your typical homeowners insurance policy covers and what it excludes, you might be asking how much this is going to cost.
Home Insurance Cost Statistics
Homeowners insurance premiums can fluctuate drastically and depend on a long list of factors including but not limited to:
The value of your home
The age of your home
The size of your home
How much coverage you need
Where your home is located
If you've made homeowners insurance claims in the past
With that in mind, the average homeowners insurance policy costs $1,585 per year in the United States. And the bad news is these rates are going up.7
From 2017 to 2021, homeowners insurance premiums increased 12.2 percent. For context, over that same period, the inflation rate was 8.6 percent. In many states, premiums have increased at more than double the rate of inflation. Over the past year, home insurance premiums are up as much as 18.5 percent in Arkansas, 18.1 percent in Washington, and 17.5 percent in Colorado.
Nationwide, a full 90 percent of homeowners saw their premiums rise, and the average increase was $134 per year, but Oklahoma saw the biggest jump — residents paid $257 per year more on average.8
Pro Tip: If you're looking for an affordable provider, check out our list of the best cheap homeowners insurance companies. Don't equate "cheap" with "low-quality," though. These providers offer great bang for your buck.
So as you can see, the state in which you reside plays a pretty big factor in how much you're going to pay. But where is homeowners insurance the most expensive? And where is it the most affordable?
The States With the Highest and Lowest Homeowners Insurance Premiums
If you live out west, expect to pay a lot more for your homeowners insurance. A lot of this has to do with the frequency and threat of natural disasters — tornadoes in the western states, and hurricanes in Florida and Texas.9 The states where homeowners insurance yearly premiums are the most expensive are Oklahoma, Kansas, Florida, Arkansas, and Texas.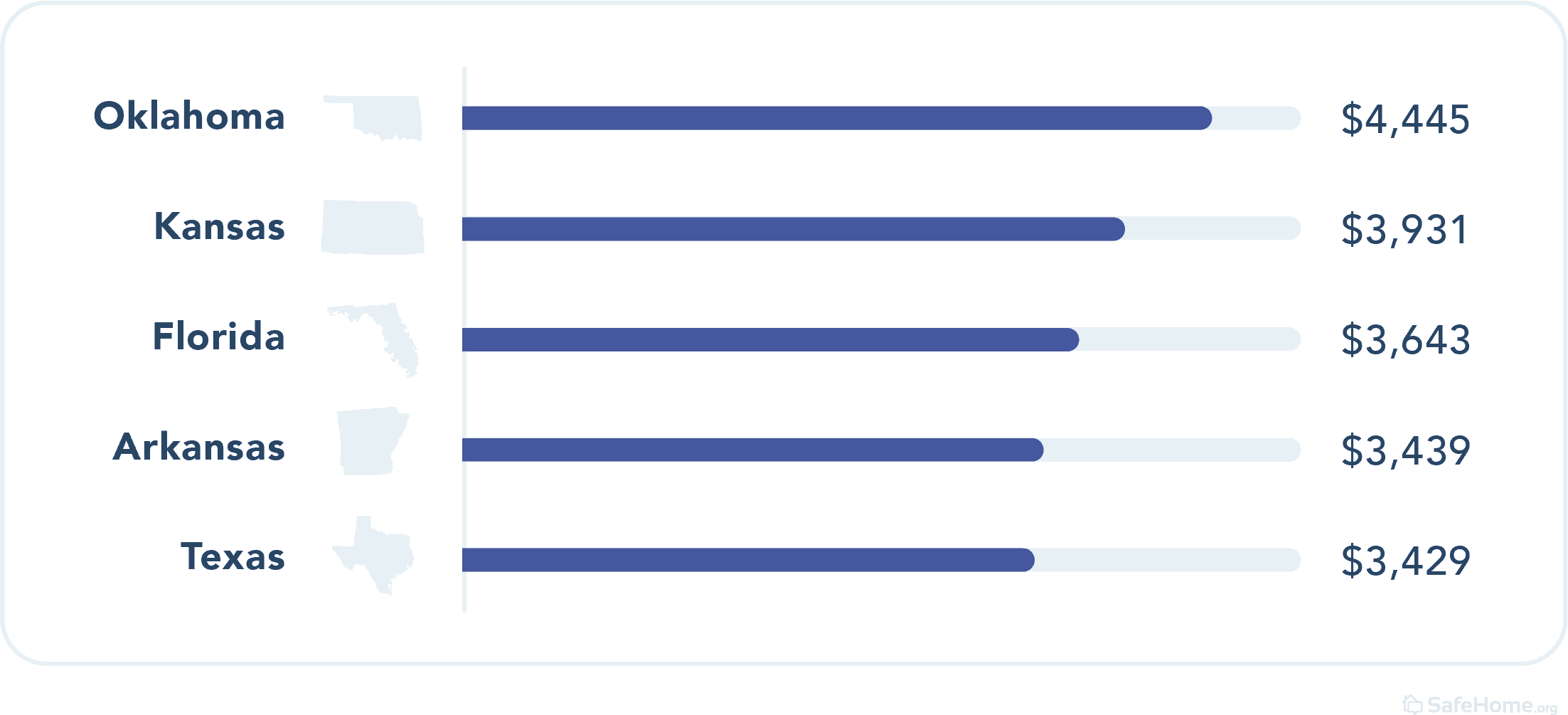 Now, on the flip side, the states with the lowest annual homeowners insurance rates include Hawaii (by far the lowest rates) followed by California, Vermont, Utah, and New Hampshire.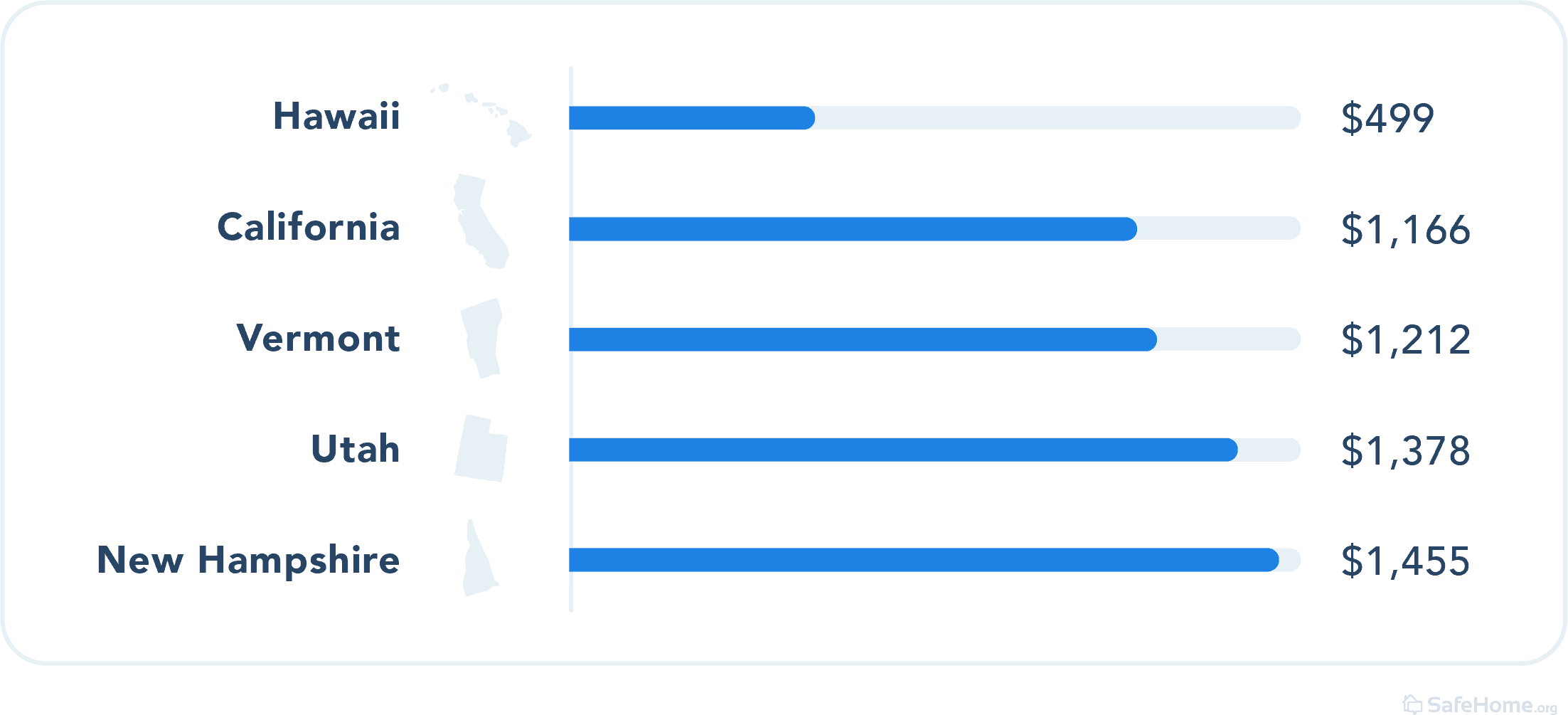 Also worth pointing out, the states where homeowners insurance claims are the most expensive — meaning where insurance providers pay out the most to homeowners, on average, are Colorado and Nebraska.10
Regardless of where you live, though, according to the data, there's a good chance you're not fully covered.
How Many People are Fully Covered by Their Homeowners Insurance Policies?
It pays to review your homeowners insurance coverages at least once a year — particularly in times of inflation. Building materials and the cost of labor are rapidly increasing, meaning your coverages, while adequate at the time of purchase, may no longer be enough should disaster strike.
It's estimated that about half of U.S. homeowners do not carry adequate insurance to replace their homes and possessions in the event of catastrophic loss.11 What's more, only 30 percent had purchased more insurance or increased their coverage for rising building costs, and only 40 percent have adjusted their policies to account for renovations or remodels.12
Like we said above, homeowners insurance is not a one-time purchase. It's something that needs regular attention and updates to ensure you're fully protected throughout the years.
So let's say you need to make a claim. What can you expect?
How much is the Average Homeowners Insurance Claim?
Most folks don't want to get their insurance involved for minor damage to their home, which means claims are usually reserved for significant events. That said, the average homeowners insurance claim is $8,787, with the vast majority — 98.1 percent of losses — due to property damage.13
Here's what causes that damage.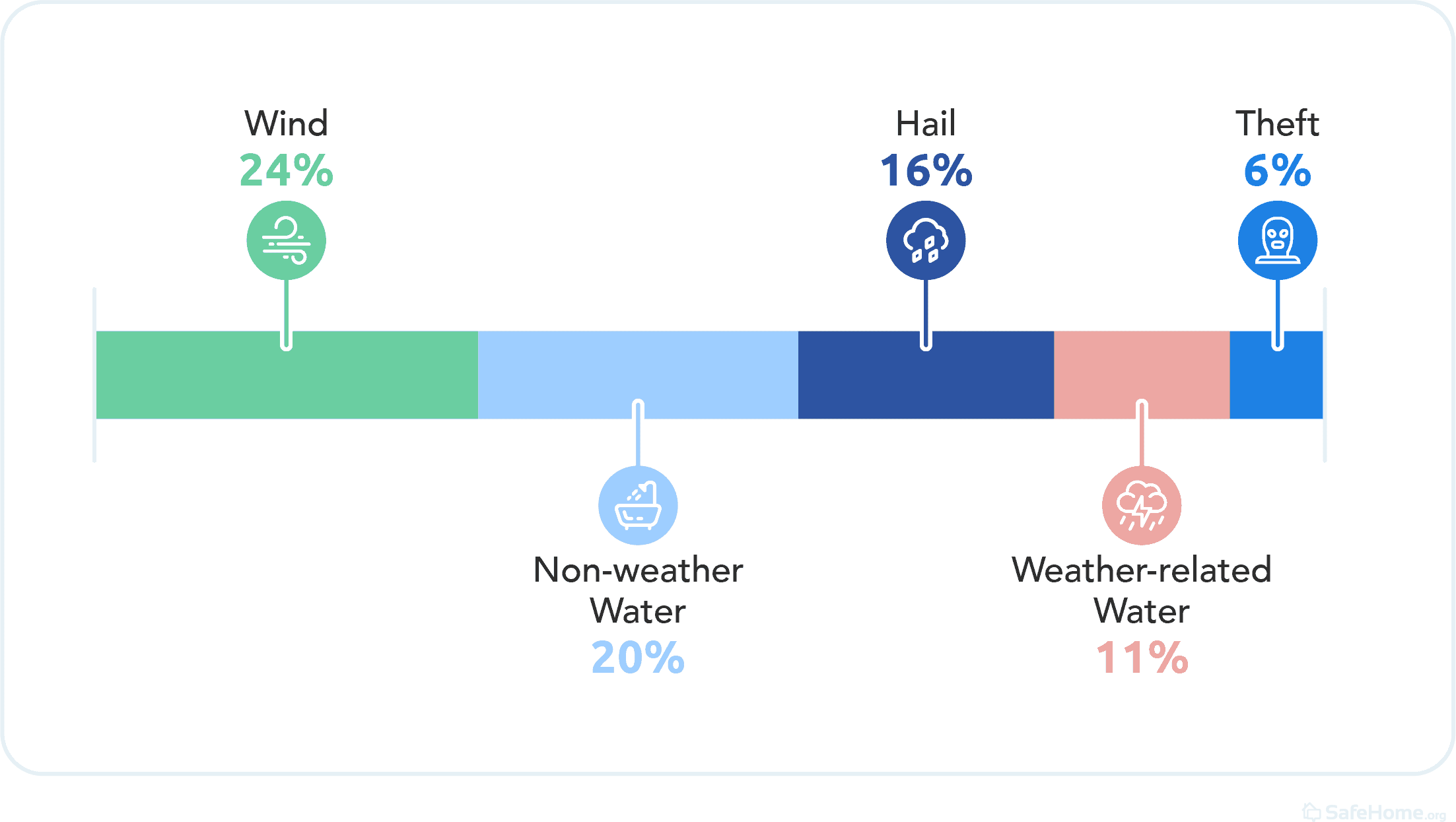 And what causes the most costly claims? By percentage of the total dollar amount paid out, the most costly damage is caused by fire, followed by hail and other perils.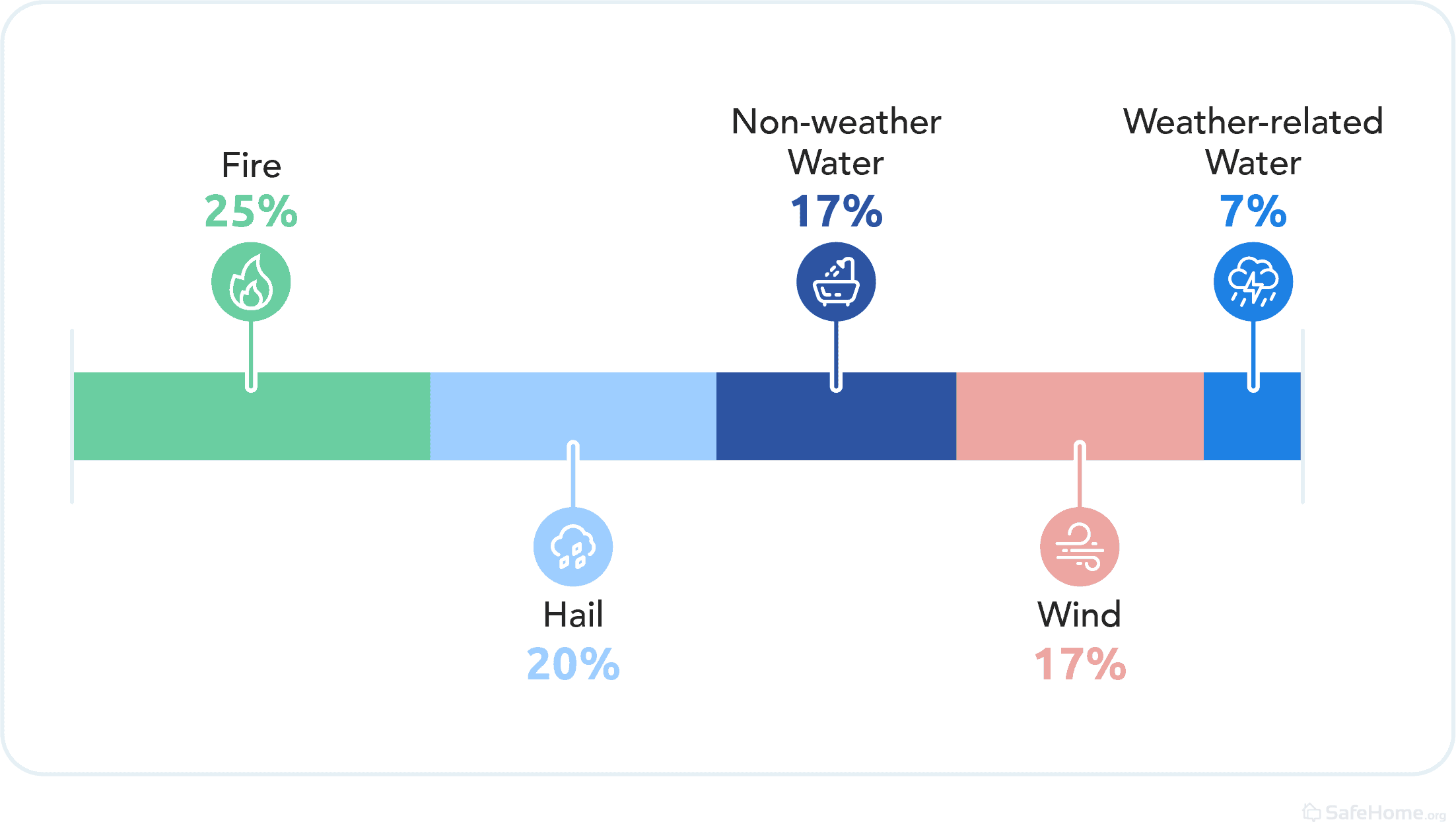 Another way to understand this is that damages from tornadoes, hurricanes, severe storms, wildfires, floods, and other natural disasters reached $92 billion, and the average insurance natural catastrophe losses have risen 700 percent since the 1980s.14 This begs the question — should people be worried about climate change as it relates to homeowners insurance?
How Will Climate Change Affect Homeowners Insurance?
According to recent research, 72 percent of young homeowners — those 18 to 34 — believe it is very or somewhat likely that their homes will be damaged by extreme weather events in the next 30 years compared to just 45 percent of older homeowners. Sixty-four percent of these young folks also feel like they'll have to move due to climate change-related weather events over the next 30 years compared to 27 percent of their older counterparts.15
In 2021 alone there were 20 climate disasters in the U.S. that caused over $1 billion in damage, and 31 percent of insured homeowners have sustained damage to their homes already from an extreme weather event, and 33 percent of homeowners aren't confident they'll be able to afford to rebuild their homes, even with insurance.16
And while natural disasters are certainly major threats homeowners need to contend with, we should also talk about the threat posed by other people.
Burglary and Theft Statistics
It might come as a surprise, but in the grand scheme of things — as far as homeowners insurance is considered — theft isn't a major problem. Like we said above, only 6 percent of homeowners' claims are due to theft.
However, take that with a grain of salt. Keep in mind that's only people who went through the trouble of reporting the theft as a loss against their policy. There are many, many more instances of theft that go unreported.
But let's take a look at what, exactly, is stolen from homes in reported incidents.17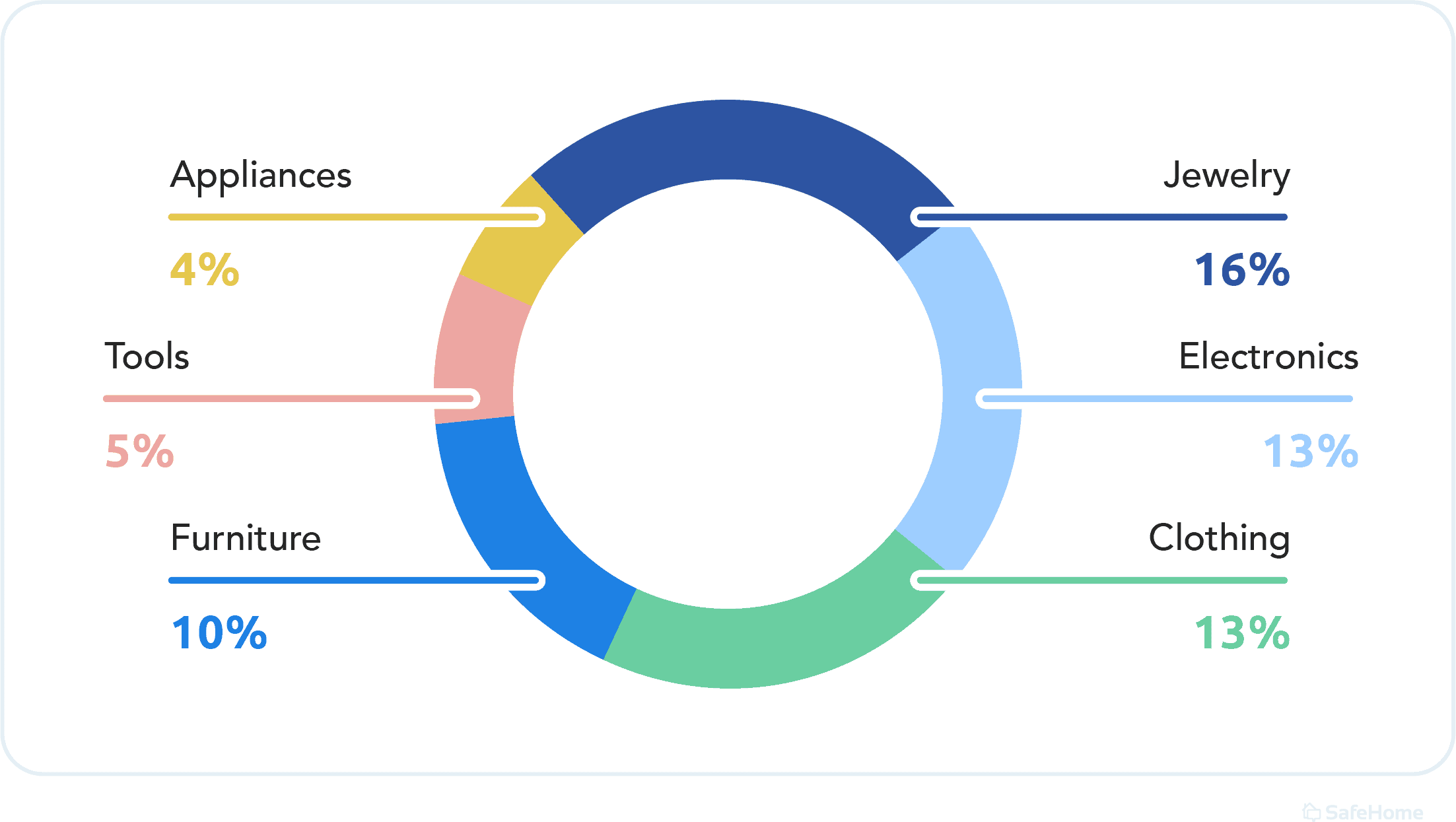 And while there are lots of ways to protect yourself from theft — investing in a home security system is a great start — there's one action many homeowners forgo that would help them should they become a victim of theft or should they experience a catastrophic loss.
Pro Tip: If you're worried about theft, you might want to review our guide to burglar-proofing your home. There are plenty of tips and tricks there to help keep you and your family safe from harm.
Do You Know What You're Covering?
Let's say you came home from work tomorrow to find your home had burned to the ground. Luckily no one was hurt, but there's absolutely nothing left. Would you be able to give your insurance provider a comprehensive list of every item that was destroyed and its value? The majority of homeowners wouldn't even know where to start.
Only 49 percent of insured homeowners have a prepared inventory of their possessions to help them document their losses.18 If you're among the 51 percent that doesn't have such a list, we recommend you start making one today.
And while your possessions are certainly an important part of your homeowners insurance protections, we do want to take a look at the more human element of the equation as well before we conclude.
How Many Injuries Occur at Home?
Part of your homeowners insurance is protecting the people that enter your property, and protecting you from liability should they be injured. While you might think it's improbable, the fact of the matter is that in-home injuries and deaths happen.
In 2020, 31.8 million Americans suffered an unintentional injury at home that required medical attention. Unfortunately, there were 113,500 deaths from unintentional home injuries in 2020, and the number of unintentional home injury deaths has increased by 272 percent since 1999.19
Here's a graph that depicts how most unintentional deaths occur around the home.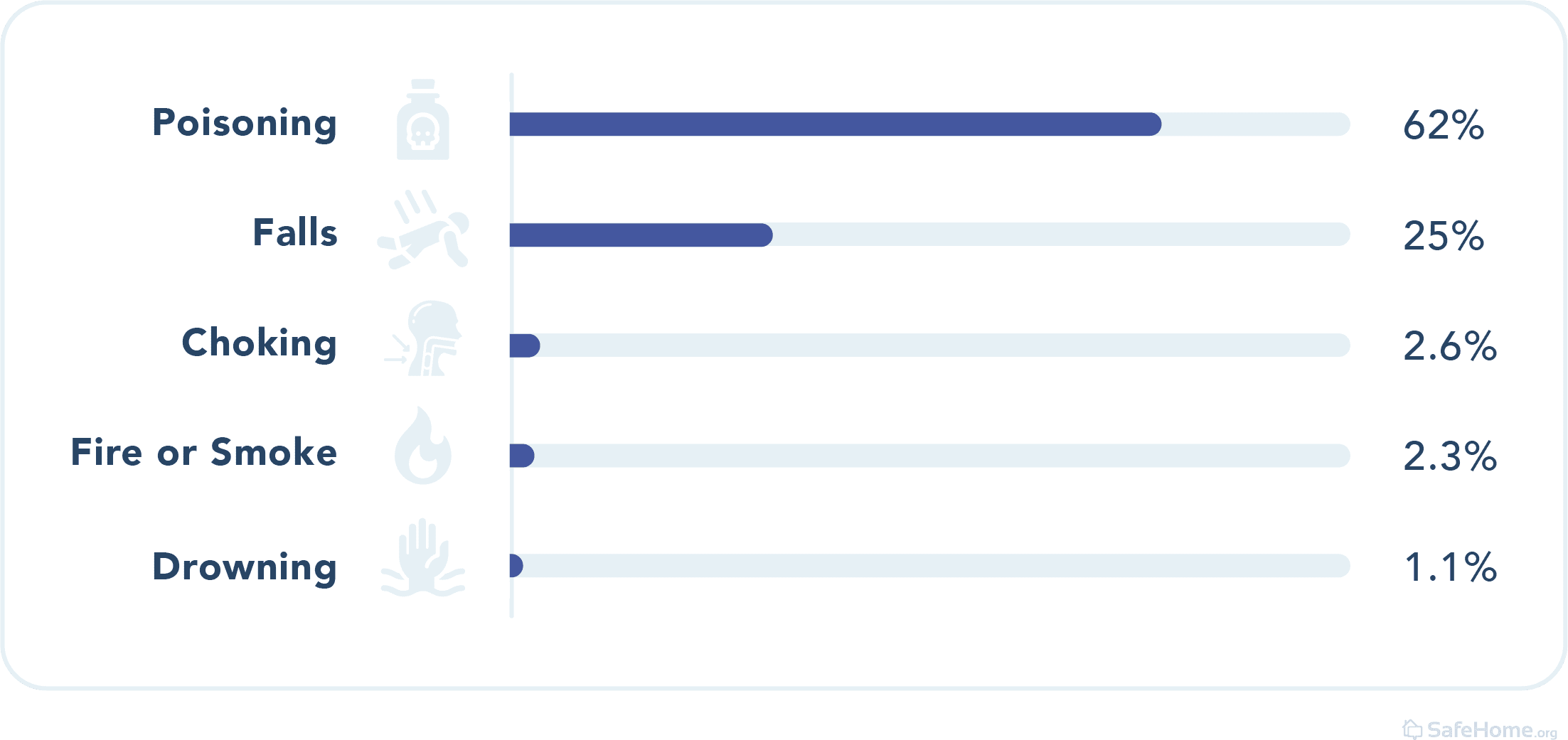 Now that we've taken a look at what homeowners insurance covers, its increasing costs, and the various types of threats homeowners face, it's time to ask the all-important question…
Are You Covered?
As we said above, over half of U.S. homeowners for one reason or another do not carry the adequate amount of insurance to replace their home and its contents should they suffer a catastrophic loss.
We suggest reviewing your policy today to determine where you stand. If you find yourself lacking, you might want to head over to our list of the best homeowners insurance providers. There you're going to find a provider that will fit your needs and give you all the protection you're looking for.
Homeowners Insurance FAQs
Do I need to buy homeowners insurance?
In most cases, when you purchase a home your lender will require you to carry homeowners insurance in order to secure a mortgage. If you own your home outright, though, you are not legally obligated to carry homeowners insurance, although it's still recommended.
Is homeowners insurance expensive?
Your individual premium will depend on a long list of factors, but the average cost of homeowners insurance in the U.S. is $1,585 annually, or $132.08 per month.
What does homeowners insurance cover?
A typical homeowners insurance policy will cover your home's structure, any auxiliary structures on your property, your personal belongings, and liability should someone become injured on your property.
How can I save money on homeowners insurance?
You should shop around for a homeowners insurance policy at least once a year. This will ensure you're getting the best rate and your coverages are up to date.
Do I need homeowners insurance for an apartment?
If you don't own your home but still want to protect yourself, there are specific policies designed for renters. Sometimes landlords will require such a policy to rent their property.