There are different ways to protect a home. Security cameras can ward off would-be thieves, 24/7 monitoring will let you know if something's amiss, and your video doorbell can stop package thieves. In this security discussion, though, we don't always talk about home insurance. Why is that? When disaster strikes, it's your insurance that comes to the rescue. In fact, your insurance is just as important as an alarm system.
Trust us — home insurance is home security.
Here we're going to take a look at one of the most comprehensive providers of homeowners insurance today: Liberty Mutual. But before we start unpacking everything, let's take a quick look at some of their primary coverages.
Key Coverage
Dwelling
Possessions
Personal liability
Weather damage
Loss of use
Inflation protection
Water damage
Hurricane damage
Earthquake damage
Jewelry
Electronic devices coverage
Identity theft restoration
Liberty Mutual Homeowners Coverage Up Close
Like many top home insurance providers I've looked at, Liberty Mutual has one basic HO-3 policy you can build out with a bunch of extra add-ons or endorsements. The add-ons you choose will depend entirely on what you need and where you live.
For example, most homeowners insurance protects you against wind damage (a storm blows a tree onto your roof), but if a hurricane causes that damage, you're stuck. So if you live in an area where hurricanes are seasonal events, you'll want to think seriously about adding hurricane insurance to your plan.
There are plenty of other cases where you'd need special coverage. You'll want to go through those carefully before you sign off on any policy you're considering.
Liberty Mutual Home Insurance Coverage
| Standard | Add-on |
| --- | --- |
| Property | Home Protector Plus™ (inflation protection) |
| Possessions (actual cash value) | Possessions (replaced at cost) |
| Personal liability | Jewelry |
| Weather damage | Water damage |
| Loss of use | Hurricane damage |
| | Earthquake damage |
| | Flood insurance |
| | Identity theft restoration |
Homeowner's Tip: When it comes to water damage, insurers are thinking about things like freezing pipes, not overflowing sewers or flooding, so expect to pay extra if you want that type of coverage.
Basic Coverage
Property and other structures: Liberty Mutual home insurance policies cover damage to your house and anything attached to your house (fences, sheds, driveways, etc.). Coverage includes damage or loss from fire, water, certain types of weather, theft, and vandalism. FYI: Wind and hail are considered an extra deductible with Liberty Mutual.
Possessions: Standard possessions coverage with Liberty Mutual is actual cash value (ACV). Too much jargon? Let's say your 4K Ultra HD TV cost you $2,000 two years ago. Its value today, after 24 months in your living room entertainment center, is closer to $500. With ACV coverage, Liberty Mutual would give you $500 to buy a new TV. You'd have to pay the balance out of pocket to get your TV back.
Liability: They may not happen as frequently as theft or weather damage, but accidents in or around our homes aren't once-in-a-blue-moon events.

1

Liability insurance ensures you're covered if you or your family (including pets!) damages your property or if any guests on your property get hurt. Coverage includes court costs in the event of a lawsuit.
Loss of use (living expenses): Say that your home is unlivable while you're repairing or rebuilding it — or because your neighborhood is inaccessible for any reason. Liberty Mutual will foot the difference between your normal cost of living (mortgage, gas, and groceries) and the bills for your temporary accommodation (hotel, apartment, restaurants, etc.).
Did You Know: The minimum recommended liability insurance is $100,000, but these days purchasing between $300,000 and $500,000 worth of liability coverage makes more sense. Check out our Complete Homeowners Insurance Buyer's Guide to find out why.
Extra Coverage
Home Protector Plus (inflation protection): This isn't macroeconomics. This is pure Bob Vila. If you cover your home for $200,000 and then, in three years' time, you have to rebuild after a fire, you might be in for a shock when rebuilding it costs $230,000 because prices have gone up. Inflation protection covers that difference. You can also score a discount on your premium if you tack this coverage onto your Liberty Mutual home insurance plan (more on this below).
Possessions coverage (replacement cost): If you raise your premium a bit and cover your stuff at replacement cost value (RCV), Liberty Mutual would cut you a check for whatever your things cost new today, not what they cost to buy used.
Earthquake and hurricane insurance: Your Liberty Mutual policy will cover wind and hail damage, but you may need a separate deductible if you live in a high-risk state. Hurricane and earthquake coverage is extra, however, and so is flood insurance, which you can purchase through FEMA. This is standard across the industry.
Water damage: Usually, insurance providers call this "water back-up" coverage to avoid confusion with rain or storm damage. Liberty Mutual's water damage add-on protects your wallet from the potentially thousands of dollars in bills you may need to pay if a municipal sewer or drain gets clogged and wreaks havoc on your property.
Jewelry: If you add blanket jewelry insurance to your Liberty Mutual HO-3, you won't need to pay a deductible, or even get an appraisal, in the event of theft or loss. Liberty Mutual pays out the full amount. This is a nice safety cushion for households with serious valuables.
Home computer and smartphone: The average U.S. family now owns 25 connected devices.

2

If your family is among this group, paying an extra buck or two on top of your Liberty Mutual premium for what's essentially accident insurance for your gadgets might make sense.
Identity theft restoration: Identity theft is a hot topic these days, mainly because it's such a profitable business for thieves. Will Liberty Mutual's $15,000 in legal fees coverage tempt you away from a top identity theft protection plan that covers you for up to $1 million? That's your call. My advice would be to explore your options.
FYI: States at high risk of natural disasters, like Oklahoma and Nebraska, will have higher premiums across the board. Other states, like North Carolina, will have higher premiums than average in specific areas — such as coastal areas in the path of hurricanes — where the risk of weather damage is high.
Liberty Mutual Homeowners Insurance Rates
Insurers consider a bunch of different factors when quoting you a premium for your home, including: where you live; the size, age, and condition of your house; your age; your claims history; and your salary. In fact, all of these affect your rate. While we can't predict what Liberty Mutual will quote you individually, here's what the industry data says.
| Average Liberty Mutual monthly premium | Average Liberty Mutual yearly premium | Average monthly premium in the U.S. | Average yearly premium in the U.S. |
| --- | --- | --- | --- |
| $87-$359 | $1,044-$4,308 | $104 | $1,249 |
My own Liberty Mutual quote ($237) happened to be higher than both local and national averages. You can read all about my quote-gathering adventures in my in-depth Liberty Mutual review.
When I removed Liberty Mutual's Home Protector Plus (extra inflation insurance), however, that saved me 16 percent. If I'd indicated a better home security set-up, my Smart Home discount might have been better, too.
And what about that 22-year-old asphalt shingle roof? Liberty Mutual's quote generator might not have liked it.
Would've, could've, should've. The point is, there are too many moving parts to know for sure why Liberty Mutual wanted to insure that particular house at a higher-than-average rate. What's clear is that I've seen much cheaper quotes. The rates State Farm quoted me, for instance, were a fraction of the cost. A budget Lemonade insurance plan cost a lot less, too.
Speaking of the competition, let's see how Liberty Mutual's premiums have stacked up against some of our other top home insurance picks this year.
Liberty Mutual Premiums vs. the Competition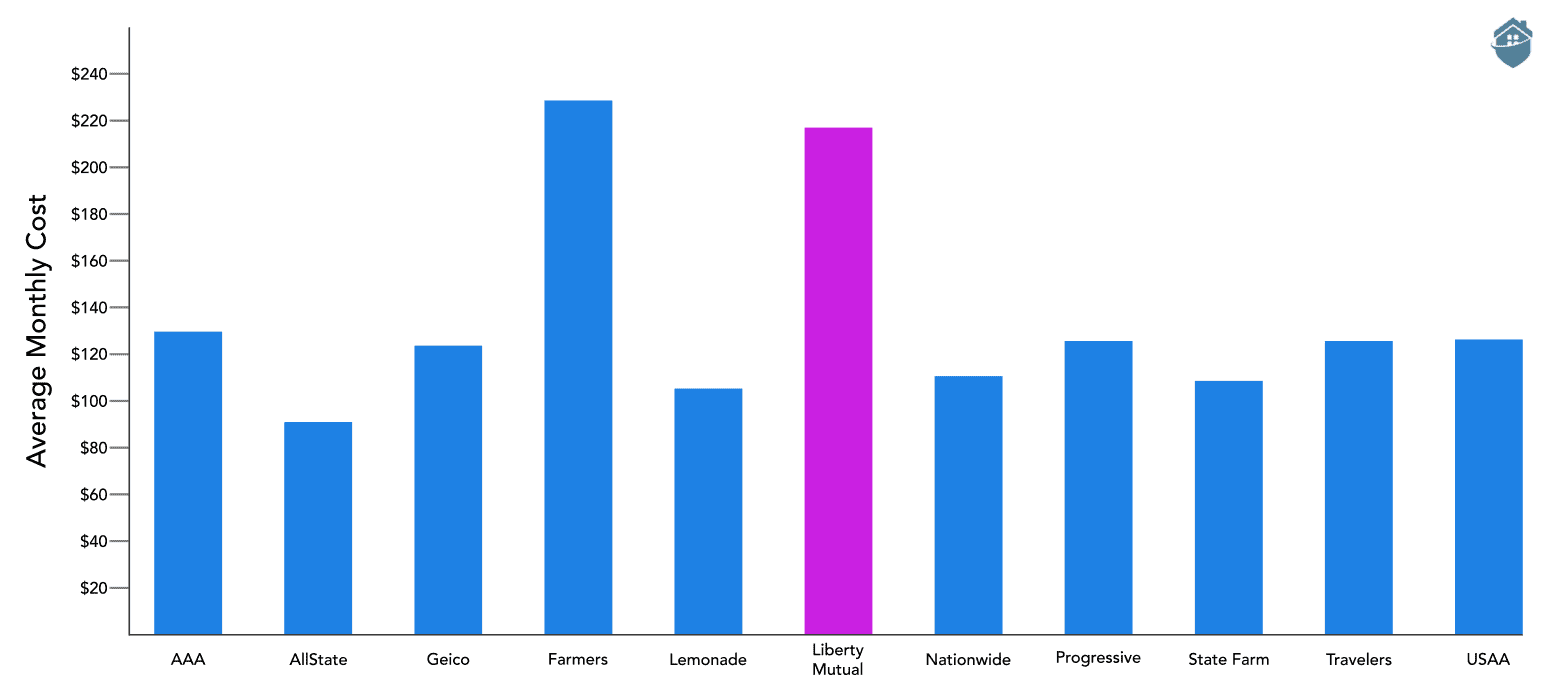 Other Types of Insurance
Auto
Liberty Mutual covers an unusually wide range of vehicles — from cars and motorcycles to boats, ATVs and RVs. If you bundle your auto and property insurance into one bill, you can score a special deal. See below for your bundling options. If you're in the market for money-saving auto and home insurance bundles, you might also like Travelers' insurance packages.
Rental and Condo
Thirty-one percent of U.S. households rented in 2021,3 yet only a fraction invested in renters insurance. This can be a mistake. Renters insurance doesn't just protect your belongings against theft or damage beyond your control. You're also covered if your apartment is uninhabitable for any reason. I'm thinking of pest infestations here, but problems with plumbing and heating aren't rare by a long shot either.
Identity Theft
Little-known fact: If a fraudster gets ahold of your Social Security number, he can do a lot of damage to your credit, which could drive up your insurance premiums and make it harder for you to take out loans in the future.
Unlike freak accidents that may happen to guests on your property, ID theft is dangerously common these days.4 So whether you prefer to add Liberty Mutual's ID theft protection onto your home insurance policy or decide to learn more about how to choose an identity monitoring service for your family, now is a very good time to look into it.
Illness, Accident, and Life
Illness and accident insurance covers all the good stuff: deductibles, copays, prescriptions, and physical therapy expenses. Liberty Mutual also sells term, whole, and fixed-income life insurance policies.
Pets
Chances are that you never considered it, but reasonably priced coverage for your four-legged friend could make a lot of financial sense. On average, pets cost between $2,000 to $4,000 per year just to maintain.5 And that's without unexpected medical emergencies.
Small Business
Liberty Mutual's business policies vary from straight property insurance with auto, equipment, and workers' comp add-ons to whole commercial packages. All their plans come with support from local agents, 24/7 phone claims reporting, and access to their online business owner's portal.
Liberty Mutual Bundles
Bundling your homeowners (or your renters or condo) insurance with your auto insurance isn't just cheaper. One bill is also less of a hassle, especially if you go paperless — and it's one more way to save with Liberty Mutual.
Bundling home and auto insurance is by far the most popular option, but it's not the only one. You can shave some extra dollars off your premium by bundling pet insurance or life insurance with your home insurance.
Deals and Discounts
Liberty Mutual is known for its competitive home insurance plans, but they offer plenty of additional incentives to keep monthly premiums low, too.
Claims-free: If you haven't filed a claim in five years, you may qualify for a discount on your Liberty Mutual premium.
Safe homeowner: Anyone who goes three years without filing a claim is eligible for some additional savings from Liberty Mutual.
Early shopper: This is just a matter of timing. If you're switching insurers — and make the switch before your current policy expires — Liberty Mutual will reward you.
Other Ways to Save on Your Liberty Mutual Premium
Newly purchased or recently renovated homes: New homes and newly renovated homes usually mean better construction, which generally means fewer immediate claims, so insurers have less risk. Many home insurers, like Liberty Mutual, will pass some of those savings on to you.
Inflation insurance: Liberty Mutual may knock some dollars off your premium if you opt for their Home Protector Plus plan. Just remember that the extra protection will give you a higher premium.
Online purchase, automatic payments, and going paperless: What's good for the goose is good for the gander. When you streamline the purchase and payment process, you make life easier for your insurance provider, too. Liberty Mutual will pay you back.
Overall Value
Liberty Mutual's home insurance policies aren't the cheapest I've found, but you can add on just about anything you need, and there are bundles and special discounts to make your dollar go further.
There's been some talk about Liberty Mutual's slow handling of claims settlements over the pandemic. Certainly, wrangling with insurance agents is the last thing we want to do when our homes and belongings are on the line. But from what I've seen, Liberty Mutual is making efforts to put that history behind them with a smarter mobile experience and video property damage reviews for quicker arbitration.
FAQ
Are Liberty Mutual's home insurance policies affordable?
They can be. In some states, Liberty Mutual's policies are cheaper than the national average. In my experience, however, Liberty Mutual's premiums were at the high end of the spectrum.
Does Liberty Mutual offer auto insurance?
Yes. They also offer accident, life, pet, identity theft, small business, and renters insurance.
Can I bundle my auto and homeowners insurance with Liberty Mutual?
Yes, you can. Like with most of our top home insurance providers, you can bundle and save with Liberty Mutual.
What kinds of discounts and deals does Liberty Mutual have?
They offer early shopper, claims-free, and safe homeowner discounts, as well as discounts for newly purchased or renovated homes.
Does Liberty Mutual have inflation protection?
Yes. It's called Home Protector Plus and you can add it to your standard HO-3 plan. In fact, we recommend it.