If you're here because hazard insurance came up in conversation and you got worried because you didn't have it, breathe easy — you have it. Anyone with a homeowners policy has hazard insurance. It's just another way of saying dwelling coverage.
Hazard insurance is the beating heart of your homeowners policy. Kind of like your home security hub is mission control of your home security system — the two working hand in hand to keep your home safe from elemental threats like extreme weather, fires, accidents, and theft. Which is why we like to say home insurance is home security.
Need a refresher on the kinds of perils your hazard insurance protects you from? You've come to the right place. In this hazard insurance guide, we'll be diving deep into the heart of your homeowners policy to answer questions like:
What exactly does hazard insurance, a.k.a. dwelling coverage, cover?
What isn't covered by hazard insurance?
How much hazard insurance should you have?
How much should you be paying for hazard insurance?
What other protections do you get with your homeowners insurance policy?
Homeowners Tip: Still shopping for home insurance? Don't use your home's market value to calculate your property coverage. Start with your home's square footage and multiply that by local building costs.
What Exactly Does Hazard Insurance Cover?
Your hazard insurance covers your home from what insurance companies call perils. If "perils" sounds a little ominous, that's because they are a little ominous. What else would you call fires, storms, volcanic eruptions, and falling aircraft?
I guess the best rule of thumb I can give you here is that perils are always accidents. They happen suddenly and they're out of your control, never through negligence or malfeasance, and never gradually over time.
Accidentally torch your kitchen in a grease fire? Covered. Decide you'd like a new garage and burn the old one down? Not covered.
Of course, there are always gray areas (that's what insurance adjusters are for), but that's the general idea. Here's a full breakdown for reference, more or less in the order of likelihood. We'll get into the exceptions in just a moment.
Fire and lightning
Accidental discharge of water or steam
Windstorms and hail
Freezing
Theft
Smoke
Weight of ice and snow
Sudden structural damage from tearing or cracking
Damage from short circuiting
Falling objects
Vandalism
Explosions
Vehicles
Civil unrest
Aircraft
Volcanoes
That's quite a list, but what does it mean practically for your home?
It means that if any of these accidents happens to you, your insurance company should cover repairs or replacement. And I stress "should." Home insurance policies vary by region, and even by city.
For example, if you're shopping for home insurance in Florida, where storms are violent and frequent, you may have to take out separate "windstorm" coverage. Texas homeowners may also have to watch out for exclusions in wind protection.
Did You Know: Windstorms (34.3 percent), water damage (29.5 percent), and fire and lightning (23.7 percent) account for the lion's share of insurance claims, according to the National Association of Insurance Commissioners' (NAIC) last major study, with theft (1 percent) lagging a lot farther behind than most homeowners imagine.1
What Isn't Covered by Hazard Insurance?
There are a few perils you'd think your hazard insurance would cover, but for one reason or the other, it doesn't. Besides personal property and liability coverage, which have their own limits, here are the big ones:
Flooding
Your policy doesn't protect your home against natural floods. (Technically speaking, FEMA defines a "flood" as water that inundates two or more properties and is two or more acres in size.) If you live in a region where flooding is common, you'll need to take out a separate flood policy, usually through FEMA.
Small, localized flooding, on the other hand, is covered. For example, if your washing machine overflows and destroys your floor, you can file a claim for the water damage to your floor.
Earthquakes
Earthquake coverage (not in your hazard insurance either) is actually a serious problem in the U.S. In the states with the highest number of recorded tremors (California, Washington, and Missouri), only 1 in 10 households has earthquake insurance.2
That isn't because earthquake insurance isn't available. In California, insurers are legally required to offer it.3 It's more like most homeowners with policies in California probably feel like they pay enough for insurance already, so why pay more? Understandable, yes. A wise decision? According to FEMA, not really.
Mold
Mold is nasty, for sure, but it's also very expensive to deal with. Even worse? It's your responsibility. Because there are so many places this icky black homewrecker can infest under your radar — foundations, crawl spaces, and laundry rooms, to name just three — you might consider taking out some extra mold insurance if you live in a region where mold abounds.
Wildfires
Just like with windstorms in Galveston, if you live in a region prone to wildfires (sorry, California, but that's you again), you may be looking at additional insurance for this peril. Again, not fair by a longshot, but a fact.
FYI: In 2021, there were 58,733 wildfires in the U.S. They burned through 7,139,713 acres of land. According to the National Centers for Environmental Information, that was a relatively slow year, ranking in the bottom fifth since 2000.4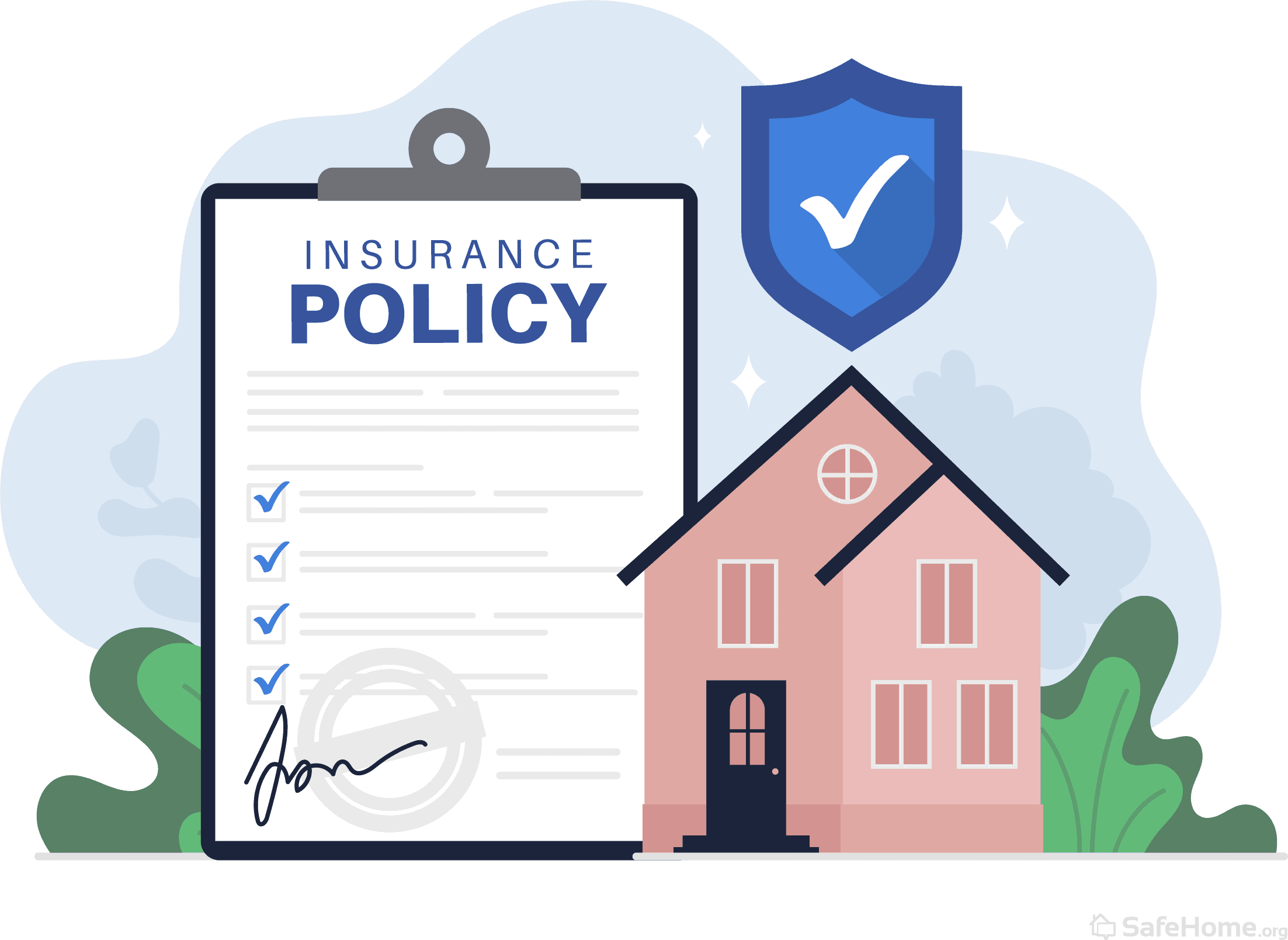 How Much Hazard Insurance Should You Have?
Calculating the amount of insurance you need is the first step if you're shopping for a homeowners insurance policy. This amount will obviously vary substantially from home to home, but here's where you should start.
Figure out your home's square footage. Then multiply that amount by local building costs. You'll probably want to ask for some help from a local agent. You can also jump on the phone with a contractor or two.
Needless to say, those rates go up every year, and they've really spiked lately. From 2019 to 2020, there was a 24 percent increase in building costs!
Which is why, when you're figuring out how much home insurance you need, you should consider paying a little more every month for inflation protection.
Homeowners Tip: Inflation protection — which comes with State Farm's basic homeowners insurance — keeps up with rising building costs so that if and when you ever have to rebuild, you'll be able to cover the whole bill.
How Much Should You Be Paying for Hazard Insurance?
There is no one-size-fits-all insurance premium. Every state has a set of factors that influence insurance rates. The same goes for every region, every city, every neighborhood, and every house. I've prepared an extensive breakdown of premium costs by state with explanations of the many factors that insurers consider when setting rates.
The short version is this: For a house with $300,000-$400,000 worth of hazard coverage, the average countrywide premium is $1,278 per year, according to the latest data from the NAIC.5 Again, this is only a guidepost. Among the top home insurance providers, we've seen rates that are significantly less as well as plenty more.
Did You Know: The cheapest home insurance policies we found were in Utah and Oregon, both weighing in at around $63 per month. The most expensive? Oklahoma ($204 per month) and Louisiana ($197 per month).
What Other Protections Do You Get With Your Homeowners Policy?
Home insurance policies are full of surprises, but the biggest might be that they cover a lot more than just your home. When you sign up for your homeowners policy, you'll also get coverage for the following:
Your personal possessions: Everything not bolted to your floor. Your high-ticket valuables might need extra insurance, though.
Personal liability: Liability covers any accidents to guests inside your home, or any damage you (or your loved ones) cause in someone else's home, legal expenses included.
Medical payments to others: Your homeowners policy will cover medical bills (usually up to $5,000) for anyone injured in your home. This could be a guest or a landscaper, nanny, or housecleaner.
Other structures: Your home insurance also covers anything built on your property; e.g., garages, gazebos, fences, etc.
Additional living expenses: You may have to vacate your home for a spell. If that happens, your HO-3 policy will reimburse you for any lodging or grocery/restaurant bills above and beyond your normal cost of living, as long as they're reasonable.
FYI: Be careful which kind of hazard coverage you choose. If you ever have to rebuild your home, actual cash value coverage will pay you out the current market value of your home. With replacement cost coverage, you'll get whatever it costs to rebuild your home today.
Final Thoughts
If you were worried your home insurance policy had left you hanging because it didn't cover hazards, don't worry. You're covered. Hazards are just perils, which are just a fancy way of saying "accidents." And protection from accidents is the backbone of your homeowners coverage.
Just remember that all home insurance policies aren't created equal. If you live in certain places — Florida, Texas, and California are the usual suspects — some basic hazards aren't covered. And no policy will protect against flooding, earthquakes, or mold. Those are extra everywhere.
Finally, because hazard insurance is just one part of your homeowners package, don't forget to look into the rest of your protections when you're comparing plans.
At least five other coverages are built in, but you still may have to make some hard decisions — like choosing between ACV and RCV coverage, or whether or not to spend another 10 percent for inflation protection.
Tough choices, for sure. But at least you can rest assured that if any of the 16 hazards on our list ever does strike, with a smart homeowners plan, you're covered.
Homeowner's Tip: Inflation protection isn't the only extra hazard coverage you should look into. If you've got an older house and you need to rebuild to code, adding building ordinance coverage to your home insurance policy will guarantee that you won't have to go digging in your pockets to pay the bill.
FAQs
Do I need to buy hazard insurance?
No, you don't. Hazard insurance, or dwelling coverage, is part of your standard homeowners insurance policy.
Does hazard insurance cover floods?
No, it doesn't. Homeowners policies never include flood insurance, but you can purchase it through FEMA.
How much hazard insurance do I need?
You need enough to fully rebuild your home in the event of a total loss. We recommend taking the square footage of your home and multiplying it by local building costs to get an idea of the cost.
How much does hazard insurance cost?
Rates vary by state, region, city, region, and even house. For a very general idea of dwelling coverage throughout the country, you can use the NAIC's figure of $1,272 per year.
What else does homeowners insurance cover?
You can build out your basic policy with a bunch of extra protections like inflation protection and RCV coverage, but you'll always have core coverage for personal possessions, personal liability, other structures on your property, medical expenses to others, and additional living expenses if your home is ever uninhabitable.