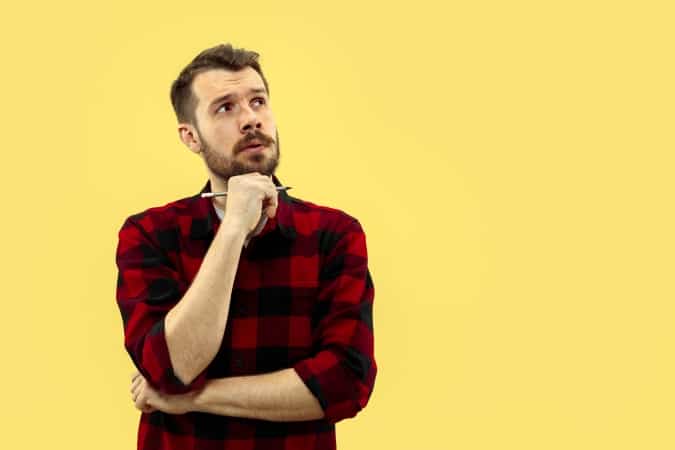 So, the feeling to switch insurance companies is strong in you — as my friend Yoda used to say. Maybe you've been comparing bills with friends. Maybe customer service is driving you nuts. Maybe you just like the colors of the competition's website (shout out to you, Lemonade Insurance).
Whatever your story, if it's time to try something new, you need a plan. You wouldn't ditch your home security provider before you found a replacement, would you? (Not unless you like giving burglars carte blanche to your back door, you wouldn't.) Home insurance is the same as home security. You really can't go a day without it. It protects your home (and loved ones) against almost every peril in the book, and gives you the cash to start again if needed.
In this how-to guide, I'm going to explain exactly how to change home insurance providers. It's simple — only five steps — but it covers all the bases, including how to:
Check your current home insurance policy for the important stuff
Plan your new (improved) homeowners policy
Time your switch so you're fully covered
Shop for your next home insurance plan
Say goodbye to your old provider
FYI: Timing is key when switching insurance providers. Switching too early could mean stiff penalties. Switching too late could mean rushing through the paperwork. Read on for some tips on planning your home insurance move the smart way.
Review Your Current Policy
It may be years since you actually looked at the contents of your homeowners policy, which is perfectly normal. That's what happens with subscriptions — you take them for granted, making payments on autopilot.
Before you click "cancel" on your home insurance and look for something better, you should familiarize yourself with the plan you already have.
Take your monthly rate. If you're miffed that your home insurance policy is more expensive than Phil's from down the street, then your policy may not be the problem. It may be because Phil hasn't taken out enough dwelling coverage for his home — a big risk a fair chunk of U.S. homeowners expose themselves to.1
How do you know if you have yours right? Check out our comprehensive guide to dwelling insurance to avoid the pitfalls many households fall into when calculating the amount of coverage they need to fully protect their homes.
If you want to see what your home would look like on a policy like Phil's, there's an easy enough way to check. The best home insurance providers give free online quotes in minutes. All you have to do is find Phil's provider on the web and answer a few questions about your property. If you can get the coverage you currently have for less, then you may have found your next home insurer.
Did You Know:Getting online quotes is pretty easy. Just remember: A home insurance policy is a legal contract, and you know how thorny contracts can get. If you're struggling to decipher the contents of your homeowners quote, talking to an agent is a great idea.
Plan Your New Policy
If you're thinking about switching insurers, then it's a good time not only to take stock of your current policy, but also to hit the ground running with an even better one.
Here are four protections to look for in a new policy:
Dwelling coverage. This isn't the value of your home, as many homeowners think. It's the amount you need to rebuild your home (or part of your home) after a disaster.
If your current dwelling coverage can't absorb unexpected hikes in building costs (which will very likely rear their ugly head during construction), then you may need to consider an extra boost of coverage. Not sure if you have the budget? Our 2023 guide to home insurance costs should help you out.
That "extra boost" is called replacement cost coverage. You'll have to pay a little more every month, but you'll never have to take out a loan to rebuild your barbecue deck after a storm.
Possessions coverage. Your possessions coverage is the amount your insurer pays out so you can replace your stuff after loss, theft, or damage. You have two options: actual cash value (ACV pays you what your stuff would cost used) and replacement cost value (RCV pays you what your stuff would cost new).
Just like with replacement cost coverage for your home, with RCV possessions coverage you pay a little more for extra peace of mind.
Homeowner's Tip: Don't forget to compare exclusions when you're considering a new home insurance provider. These are the hazards your insurance doesn't cover. Some insurers, for example, won't cover certain dog breeds. Others exclude mold, which around 8 percent of adults are allergic to,2 from their basic policies. Find out more about how to protect your home from mold invasions in our homeowners guide to mold coverage.
Personal liability coverage. This is the amount your insurer will pay if someone gets hurt on your property or someone in your family damages someone else's property. A $300,000 cap is par for the course.
Some insurers may start you out at a lower amount, lightening your monthly  bill, but watch out. If you underinsure yourself to save a few bucks on your premium, you may get stuck with a much larger bill after an accident you didn't see coming.
Additional living expenses. ALE are the accommodation, food, and gas expenses your insurer foots if your home is ever uninhabitable after an accident. The amount you get is based on your normal cost of living, not on your dream vacation.
For a deeper dive into basic home insurance protections, take a look at our A-Z home insurance buyer's guide.
Check Your Dates
To play it safe, I recommend checking your current plan's expiration date (aka "effective date") before you change home insurance companies. You'll find the date on the "declarations," or summary, page of your policy.
Don't have a hard copy of your policy lying on your desk or in your filing cabinet? Go online and log in to your home insurance app or website. If you can't find it online, you'll have to request a copy from your agent.
To be perfectly clear, the effective date won't keep you from canceling your existing policy. You can do that any time you want, but canceling your home insurance during the term could mean penalties for you. These vary from provider to provider. If you've bundled your auto insurance with your homeowners policy, you may lose that discount too.
In light of those risks, timing your switch for the end of your term is probably your safest bet. You'll have more than enough time to handle all the paperwork, such as canceling auto-renew on your current policy (don't forget that), reaching out to your agent, and submitting your cancellation request.
Smooth carrier switches also save you money in the opposite direction. Your new provider may give you a "continuous coverage" discount for signing up while you're still covered — just one of many home insurance discounts you may be entitled to with your new plan.
The only thing to avoid at all costs is canceling your current insurance policy before you have a new one lined up. We've all heard of Murphy's Law. Well, you don't want to leave your house uninsured, even for a day. A lapse could mean higher insurance rates moving forward, for one. In the worst-case scenario, your bank or mortgage lender could sign you up for a policy of their own.
Did You Know: When you're switching insurers, there's always a slight chance your paperwork will get lost in the move. Don't worry. As long as you have a copy of your cancellation request and your new policy's declarations page, the law says your previous provider has to backdate your cancellation to the day your new policy began.
Shop Around
Dates? Check. Coverage requirements? Check. Now you're ready to shop for your new homeowners policy. To make your home insurance hunt easier, read our homeowners guide to shopping for insurance policies first.
Shopping for home insurance may be a hassle, but getting quotes from home insurance providers has never been easier. I know because I've tested most of them.
My two cents?
In terms of speed and ease of use, Lemonade Insurance's quote generator is probably the king of the hill. Maya, Lemonade's AI assistant, will shoot you a comprehensive Lemonade home insurance offer in about five minutes — provided you live in a state Lemonade covers. Availability is Lemonade's only Achilles' heel at the moment.
Other top picks for getting online home insurance quotes?
If you're looking to play around with different coverage options and scenarios, then Nationwide homeowners quotes are particularly easy to customize online.
If you know exactly what kind of coverage you need and want a wide pool of potential insurers to choose from, then check out Progressive. Progressive lets you "comparison shop," which means you get to pick not only from Progressive's home insurance policies, but also from the policies of 13 other top underwriters Progressive partners with.
Bottom line? As long as you have your dwelling coverage requirements handy and the information insurers need to whip up an accurate quote (your roof type and age and the dates of any major renovations you've carried out), you should be able to put together a short list of potential insurers in an afternoon.
Homeowner's Tip: Getting a sweet rate matters a lot to homeowners, and rightly so. No one wants to pay more for the same service, especially when you're paying for it over a lifetime. But being treated fairly and respectfully — and getting help when you need it — is hugely important too. That's why customer service is a top criteria in our home insurance SecureScore™.
Cancel Your Current Insurance Policy
You have your new home insurance policy, so now it's time to say goodbye to your old one.
First, ring up your agent to let them know you have a new plan. (You may need to put it in writing.) Have your declarations page handy, and don't forget to ask for written confirmation of the cancellation. You'll need that for the bank.
After you've notified your insurance company, let your mortgage lender know you've switched. They'll probably want a copy of your new declarations page. If your lender is paying your monthly homeowners premium via an escrow account, then notify them ASAP so they can pay your new provider on time.
FYI: If you're paying your home insurance premium by direct deposit, then you may need to request a refund for the last month after you cancel.
Final Thoughts
Switching anything can be a pain. Just think about the last time you said goodbye to a favorite pair of jeans and bought new ones. (It hurts just to remember, doesn't it?)
You may not be attached to your home insurance in the same way you are to your boot-cut Levi's, but extricating yourself from a plan you're not happy with still takes some work.
Home insurance policies are complicated legal documents tied to your bank accounts and mortgages. If you're not really careful, then you could end up with coverage that puts your home, household, and finances at risk. So there's a lot to think about.
If your home insurance just isn't working out, then you may have to consider a move to another provider. Just don't do it with a hot head. Give yourself enough time to plan. Study your current policy for weak spots. Find the right date. And get some new quotes.
Paving the way for a smooth home insurance transition won't just make you feel better psychologically, but you'll also save money by avoiding cancellation penalties and taking advantage of continuous coverage discounts.
Homeowner's Tip: The Better Business Bureau racks up a lot of consumer complaints. For a clearer idea of how customers feel about their insurers, check out J.D. Power's yearly home insurance customer satisfaction surveys.3
FAQs
Can I switch home insurance providers by myself?
Yes, you can. Just follow the steps in this article so you don't put your property at risk.
Are there penalties for switching home insurance providers?
No, but some providers will penalize you for canceling your insurance before your term expires. You may also lose perks and discounts.
When should my new home insurance policy start?
You should time your switch so your new policy starts the day your old one ends — but not a moment before your old one ends.
Where can I find my home insurance declarations page?
The declarations page is usually the first page of your policy. If you don't have a hard copy, then you should be able to download it from your insurance provider's website or app.
Can I cancel my home insurance over the phone?
With some insurers, you can cancel your plan by telephone or online. Some may ask for written confirmation either by email or snail mail.