A big part of having a home is gathering to celebrate holidays, friendship, family and life. The annual American festival where we all agree it's OK to eat as much food as possible, better known as Thanksgiving Day, falls during an especially risky time in 2020 thanks to a nationwide surge in COVID-19 cases.
In fact, about one week ahead of the holiday, every state has been rated as having either unchecked or elevated community spread of the virus, and some experts warn that Thanksgiving could be a superspreader event.
We wanted to understand how the virus has made people reassess their Thanksgiving traditions and which factors might make people more (or less) likely to rethink their plans. We asked a set of detailed questions to more than 600 Americans who celebrate Thanksgiving.
About 75 percent of people said they planned to modify their traditional Thanksgiving celebration, while about one in five said the virus wasn't going to change their plans.
Older adults (60 and older) and younger adults (18-29) were the groups most likely to say COVID-19 hasn't made them alter their Thanksgiving plans.
The most common ways people planned to limit the risk of the virus at their holiday gatherings were frequent handwashing (16 percent), having people stay away if they have symptoms (12 percent) and spacing out seating arrangements (12 percent).
Even those who don't personally see the virus as a threat say their Thanksgiving traditions will get an update this year. Just over half who rate COVID-19 as "no threat at all" said Thanksgiving would look different this year.
Appetite for Change
Most of our respondents said they planned to make changes from what they typically do for Thanksgiving. Notably, almost all respondents have already decided whether or not to modify their Thanksgiving plans.

Responses by age varied somewhat, with respondents between the ages of 30 to 60 more likely to say their plans had changed.

A majority of respondents in every region of the country say Thanksgiving won't look the same this year compared to previous years, but there are some major differences. In two regions, nearly a third of people say they won't be changing their plans.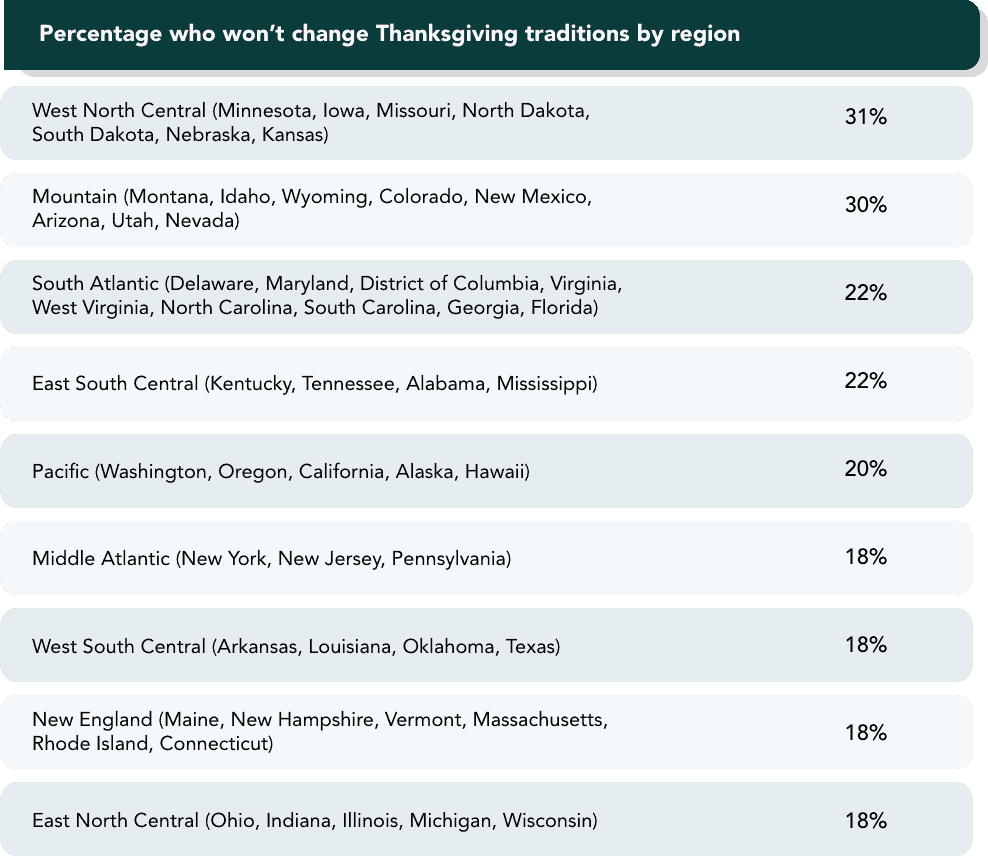 An individual's estimation of the threat posed by COVID-19 was the biggest predictive factor in whether they'd made the decision to alter their Thanksgiving plans this year, though, notably even a slight majority of those who don't believe the virus is a problem still indicated their holiday would change this year. Nearly 10 percent of the group who indicated that COVID-19 isn't a threat hadn't made up their minds yet.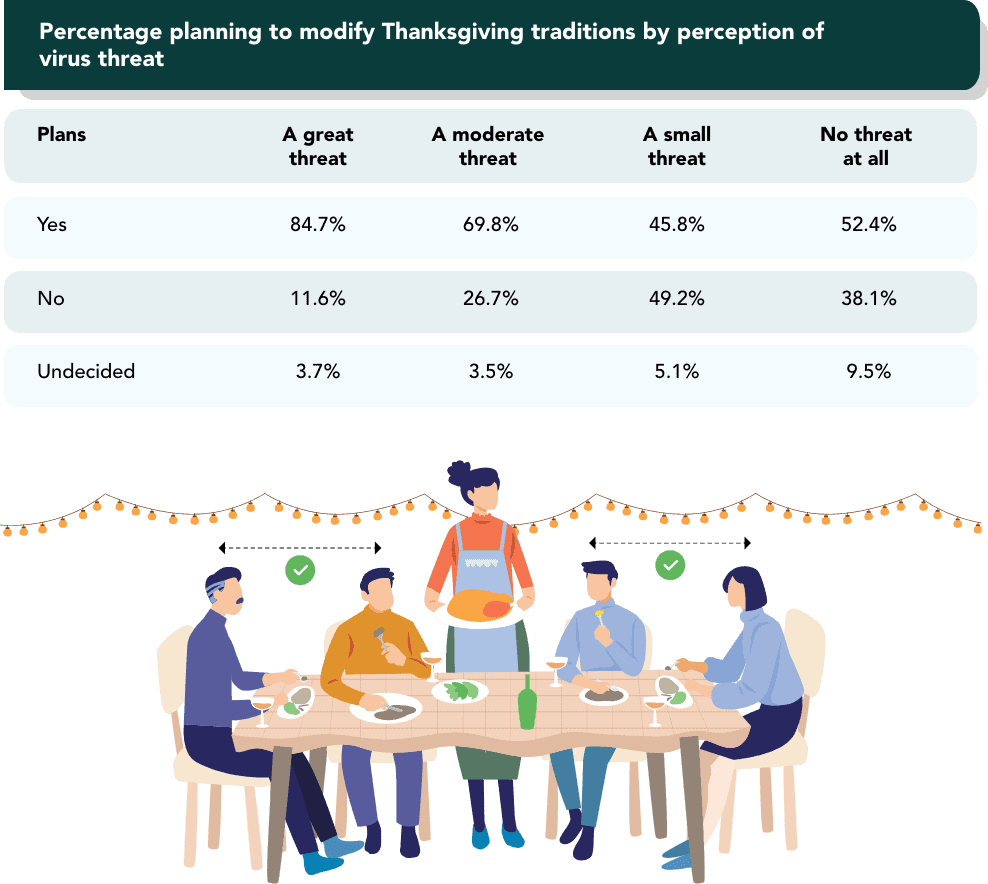 Health Protocols
About 70 percent of respondents said their gatherings would be smaller this year, while nearly half said the meal would involve only members of their household. Smaller percentages said they planned to institute virus-prevention precautions, but some were much more common than others, and aggressive measures don't seem popular.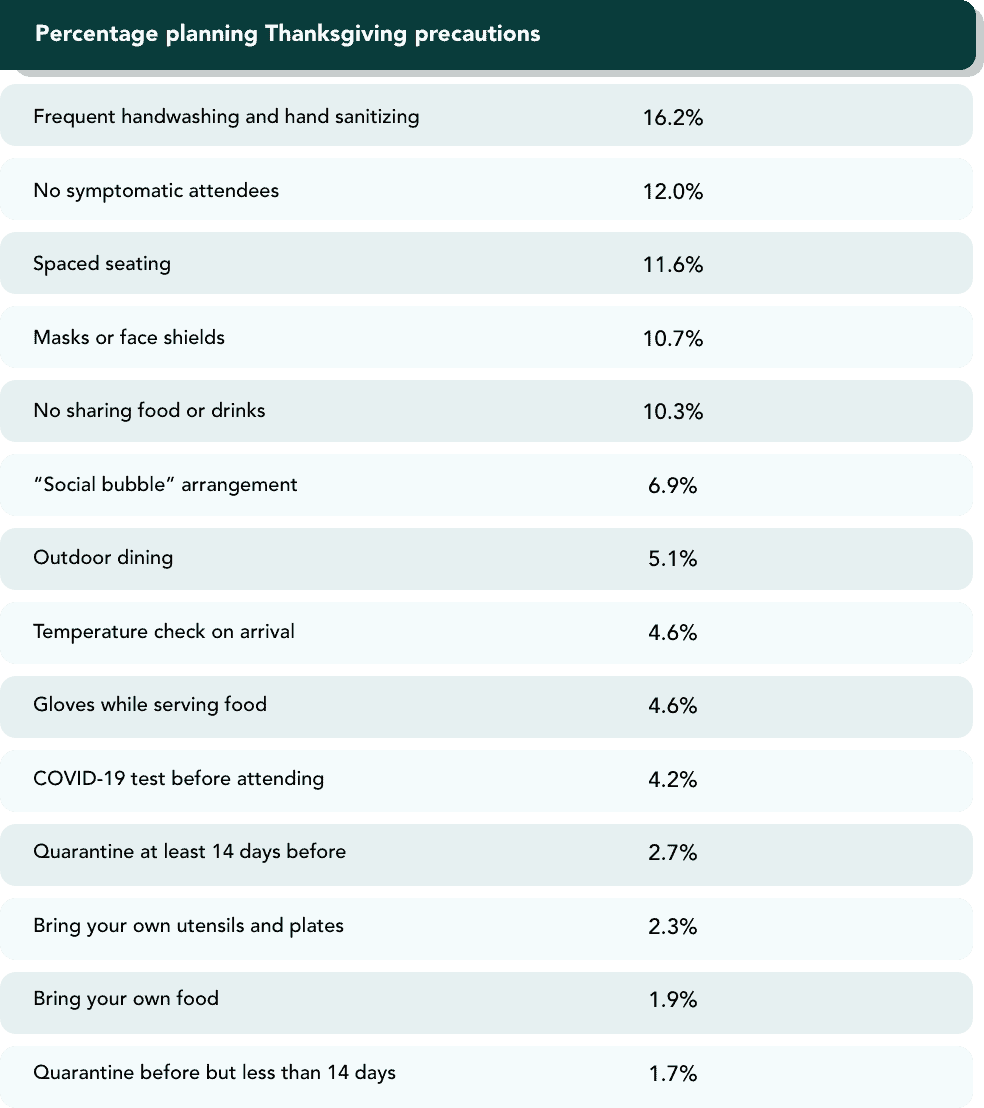 About 21 percent of respondents said their plans included attending a meal at the home of a family member or friend, but those gatherings do look to be on the small side. Less than six percent of all respondents said they expected more than 10 people from outside their household to be present at Thanksgiving, while about 10 percent said that number would be in the range of three or four outsiders. This is important, as federal health officials have repeatedly said that the higher the number of people gathering, the higher the chances that at least one is COVID-19 positive, though this varies depending on where you are in the country.
For those who are having Thanksgiving in their homes, the CDC recommends a few methods to limit the chances of spreading the virus, including:
A small, outdoor meal
Limiting guests
Cleaning and disinfecting surfaces frequently
Keeping windows open to ensure airflow at indoor gatherings
Encouraging guests to bring their own beverages and food
Using single-use utensils and plates
We also have a detailed guide to disinfecting your home for the flu and coronavirus here.
Travel
In a typical year, 10s of millions of Americans would be hitting the road (or taking to the air) as part of their Thanksgiving holiday plans. But this year is expected to be much different, and our survey indicates that the majority of people will be staying right where they are. Of those who are traveling, few will do so by air.

About one in seven respondents said they'd be making their holiday treks between a day and a week before the holiday, so at least some people may be taking advantage of the holiday to have some much-needed face-to-face time with loved ones.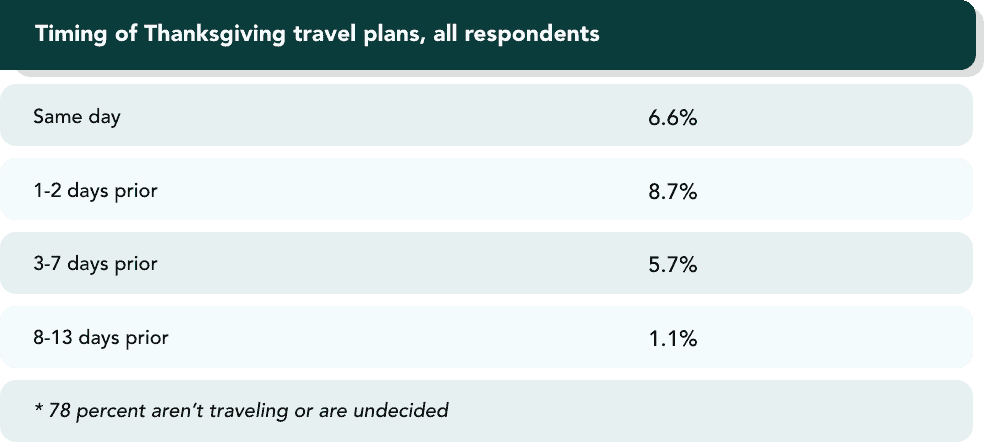 Even if they're not in the same room, a large percentage of respondents will use technology to get that desired facetime: More than half of all respondents said they'd be video chatting on the holiday.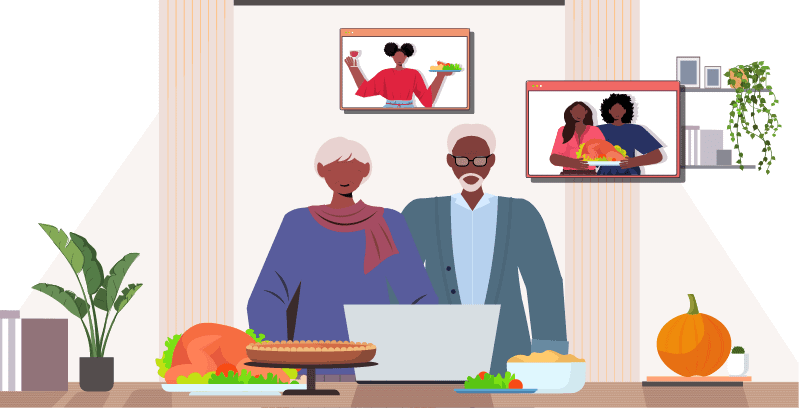 Politics
At this point, we might all be fatigued with discussion of politics. That said, our survey also shows a clear correlation between a person's political affiliation and presidential vote and their Thanksgiving plans.
While it's true that a majority of all respondents, regardless of how they voted this year, plan to modify their Thanksgiving traditions at least a bit, those who voted for President Donald Trump are nearly three times as likely as those who voted for former Vice President Joe Biden to say their holidays will look the same as every other year.

These numbers were nearly identical to the split by party affiliation, though those who identify with a party other than one of the two major parties were slightly more likely than those who voted for neither Trump nor Biden to say they were changing their Thanksgiving plans. Though, again, the differences were small.

Not a single respondent who is self-affiliated with the Democratic Party rated the virus as "no threat at all," though majorities of most groups rated it as either a "great" or "moderate" threat. However, Democrats were nearly three times as likely as Republicans to say the virus poses a "great threat," and similar differences exist depending on whether someone voted for Trump or Biden.

Conclusion
As virus infections, hospitalizations and deaths continue, and in many cases, surge all across the country, it seems clear that a conversation with an awkward relative is really the least of concerns this Thanksgiving. But there may be ways to celebrate and still reduce risk, and our analysis shows that most Americans will make adjustments to help ensure they're spreading holiday cheer instead of something else.
About This Study
We surveyed a total of 634 Americans who celebrate Thanksgiving about their plans for the holiday and whether COVID-19 was causing them to rethink those plans, in addition to other COVID-19 related matters. A total of 14 respondents said they don't celebrate Thanksgiving, so they are excluded from that number and the analysis.
Our survey was conducted on November 17th, 2020.