By: SafeHome.org Research | Published: Oct 6, 2021
---
Injuries at school most likely to occur in October; sports connected to nearly half of ER visits due to school injuries
Millions of children are injured accidentally every year, whether in a traffic collision, as the result of a fall, or because they ingested something poisonous. Logic dictates that most injuries children suffer will occur outside the schoolhouse, considering that young people spend only about a third of their day at school.
But although schools are typically designed for children, tens of thousands of young students have sustained injuries in American schools over the past 10 years. Now that children across the country are back to class in-person, we wanted to understand the leading causes of school injuries in children and determine which items are most likely to cause serious injuries. We analyzed 10 years' worth of data from the Consumer Product Safety Commission on youth emergency room (ER) admissions after injuries in school, and outlined a few simple tips for reducing student injuries.
Key findings:
While school closures during the pandemic may have helped avoid as many as 15,000 injuries in schools, 2020 was on course to be the worst year of the decade for in-school injuries.
September and October are typically the most dangerous months for injuries sustained in schools.
Almost half of product-related injuries in schools are caused by sports and sporting equipment. Basketball games or gear are the leading causes of injuries reported in ERs.
Boys are more likely than girls to be injured at school, and boys aged 12 and 13 have the highest chances of being sent to the ER from school injuries.
How Common Are School Injuries?
Over the past decade, more than 175,000 school injuries have resulted in a visit to a hospital emergency department. Injuries sustained at school had been on the decline between 2017 and 2019, but they all but came to a halt because of the COVID-19 pandemic, which sent millions of schoolchildren home for virtual learning.
But 2020 was on course to be the worst year of the decade for in-school injuries to children. January and February 2020 saw 25 percent more hospital admissions due to school injuries than the same period in 2019.
If that pace had been maintained throughout 2020, the number of school injuries could have been as high as 22,000, making it the highest total of the decade. Although the pandemic has been anything but easy for school-aged children, our analysis shows that school closures may have spared 15,000 children from school-related injuries.
The NEISS data also revealed that school injuries occurred more frequently at certain times of the year. The first two full months of school for most parts of the country are September and October, and on average more injuries occurred in these months than in the rest of the year.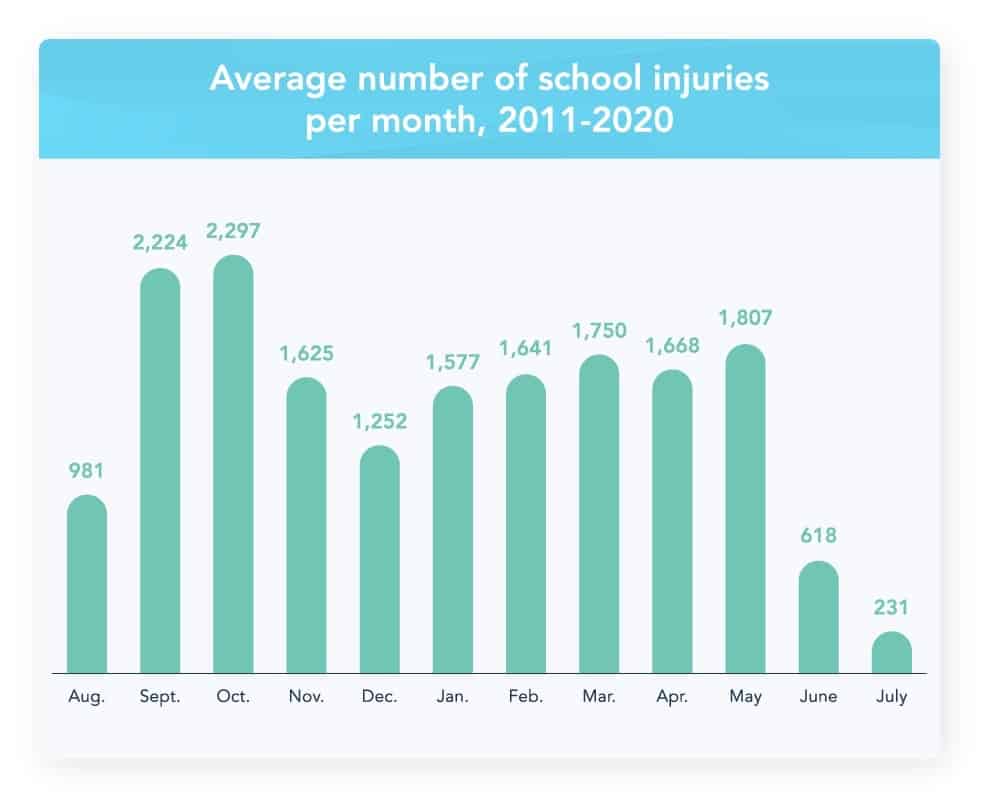 The earlier months of the school year, when everyone is adapting to new routines, bus routes, and even sports teams, may foster the conditions for unexpected accidents and injuries. Parents, teachers, and students should be especially vigilant during these transition periods to help avoid injuries (and ER visits).
Who Is Injured Most?
Boys overall were more likely to suffer school injuries that result in ER visits than girls. In 2019 and 2020, 59 percent of injured children were boys and 41 percent were girls. That's consistent with the ratio over the past decade, with boys generally accounting for about 60 percent of serious school injuries.
For boys, the most dangerous ages are 12 and 13; boys in that age range made up almost 18 percent of all boys' school injuries over the past two years. The most dangerous ages for girls are 13 and 14; about 17 percent of injuries to girls were among girls in that age range.
However, elementary school-aged children, regardless of sex or gender, are the most likely to be injured at school. Students in that age range accounted for about 37 percent of all the youth injured in schools in 2019 and 2020, though this is also the biggest group, with elementary school typically covering kindergarten through fifth grade.
School injury by grade level
| Estimated grade level* | All students | Boys | Girls |
| --- | --- | --- | --- |
| Preschool | 10% | 11% | 9% |
| Elementary school | 37% | 36% | 38% |
| Middle school | 25% | 26% | 24% |
| High school | 28% | 28% | 29% |
* Presumed grade level based on age; source data does not detail injured students' grade levels for privacy reasons
What Causes School Injuries?
More than 300 items are listed as causes of school injuries, but about 47 percent of emergency room visits related to a school or daycare injury are caused by sporting activities or equipment. Basketball causes the most injuries, more than 2,100 over the past two years, while unclassified sports and recreation injuries are the second most common. Basketball alone accounts for just under nine percent of all school injuries, making it the number one cause.
Buildings themselves were the second-biggest category of injury over the past two years, causing about 20 percent of injuries. This category includes floors, stairs, ceilings, walls, and other fixed building items. Playground equipment like monkey bars and slides accounts for about one in 10 school injuries, about 2,700 total injuries over the past two years.
While sports and sports equipment cause the majority of school injuries, their numbers have decreased over the past decade. Softball- and wrestling-related injuries have declined the most, both dropping by 63 percent, while basketball, the single leading cause of school injuries today, has fallen by 36 percent.
A decade ago, football was the single biggest cause of ER visits due to school injuries, accounting for about 15 percent of all injuries between 2011 and 2012. While that sport remains a common cause of injuries, in 2019 and 2020, it accounted for just under eight percent of all injuries to school students. In fact, football injuries at school decreased by more than 50 percent between 2011 and 2019.
This could be due in part to a growing awareness of traumatic brain injuries in football, as well as increased penalties for improper equipment usage.1 Another factor could be a slight decline in football participation: in 2019, there were 101,000 fewer students playing football than in 2011.2 Most other sports injuries resulting in emergency room visits decreased over the same time period.
Out of all of the parts of the body, head and neck injuries caused the most emergency room visits after accidents in schools. This has typically been the leading injury since 2011, though head/neck injuries have risen slightly, which could be due to an increased awareness of concussions. However, the category is one of the most broad, including injuries to the head, face, eyes, nose, and ears.
Overall, around 96 percent of students were released from the emergency room after examination, and fewer than three percent had to be admitted or transferred to another hospital.
How Can We Prevent the Most Common School Injuries?
Although even the most common injuries can be frightening, there are many ways to reduce the risk in schools:
Fractures: Teachers can help prevent fractures by keeping classrooms free of clutter that can cause trips and falls. Rubber mats should be used under any rugs to prevent slips. On the playground, students should use playground equipment as intended and only under adult supervision.
Strains or sprains: Many of these injuries can occur during sporting events, so coaches and parents should ensure every player is using correctly-fitted safety equipment. Student athletes should also have adequate rest times between games and practices and should work to build up their muscular strength to reduce risk of strains.
Lacerations: Administrators should ensure that all parts of the school buildings, including walls and floors, are in good working condition. Students should also take care and follow teacher instructions when using scissors, art or scientific equipment, or while closing doors or lockers.
Abrasions and contusions: Many abrasions and contusions are caused by accidentally colliding into walls or lockers in the school building, or punching them in anger. Students should pay attention to their surroundings at all times to prevent accidents. Teachers should also refer students to guidance counselors or other mental health professionals if they are having difficulty processing anger.
Additionally, certain times of the year are more dangerous in schools. September and October are the first two full months of school for most American children, and more injuries occur in these months compared to the rest of the year. What can parents, students, educators, and administrators do to keep students safe?
Parents: Make sure your kids are well-rested when they're sent off to school. Fatigue lowers response times and general awareness, and if your children don't get enough sleep, they may be prone to an accidental injury. Ensure they have appropriate clothes, particularly shoes. Floors are a leading cause of injuries, and having footwear that lacks adequate traction increases the chance of a fall. If your children participate in sports, make sure they are well-educated on concussion prevention. (The CDC provides a great resource for parents of youth athletes on spotting the signs of concussion.)
Students: Avoid risky behaviors like running or climbing in areas that aren't a gym, track, field, or other location that's meant for physical activity. Never climb on anything without at least one adult present, and never handle anything dangerous, like wood shop equipment or science laboratory equipment, if you haven't been trained. Make sure you always wear protective gear when playing sports.
Teachers and administrators: As the CDC says, schools should foster a culture of safety. That means conducting regular hazard assessments and removing any structures or equipment that could be dangerous, as well as ensuring all student activities are monitored. Schools should develop, instruct, and enforce strict safety rules appropriate for the ages of their students, and they should conduct regular assessments to ensure these rules are being followed.
Conclusion
Whether they're at school, home, on the road, or playing sports, children of all ages are susceptible to injury. With thousands of injuries caused by consumer products in schools every year, and the pre-pandemic figures trending upward, parents and educators would be wise to scour schools and homes for potential dangers and educate their children on safety measures, especially during sports. Especially when it comes to accidental injuries, prevention is always the best medicine.
Methodology
Data came from the Consumer Product Safety Commission's National Electronic Injury Surveillance System. It includes consumer product-related injuries occurring in the United States, based on a nationally representative probability sample of hospitals in the U.S that participate in the system. Analysis focused on injuries occurring in schools and daycare centers involving children age 18 or younger. A small number of adult injuries taking place in schools and daycares were excluded from analysis.
Students' grade levels were not listed in the dataset to preserve medical privacy, so to compare school injuries across grade levels, we grouped injured children by age based on a standard grade-level structure: preschool (age 2-4), elementary school (age 5-10), middle school (age 11-13), and high school (age 14-18).
Data Appendix
Here's a look at additional and expanded data that informed this report based on our analysis of data from the Consumer Product Safety Commission's National Electronic Injury Surveillance System.
Body part injured by grade level*
| Grade level | Head and neck | Arms | Feet | Hands | Legs | Other |
| --- | --- | --- | --- | --- | --- | --- |
| Preschool | 74% | 11% | 2% | 6% | 2% | 5% |
| Elementary school | 45% | 26% | 8% | 8% | 6% | 8% |
| Middle school | 27% | 23% | 16% | 12% | 12% | 10% |
| High school | 28% | 18% | 18% | 9% | 14% | 13% |
* Presumed grade level based on age; source data does not detail injured students' grade levels for privacy reasons
School injuries by type, 2019-2020
| Diagnosis | Number of children injured | Percent of all school injuries |
| --- | --- | --- |
| Fracture | 4,210 | 17% |
| Strain or sprain | 4,036 | 17% |
| Laceration | 3,401 | 14% |
| Abrasions and contusions | 3,101 | 13% |
| Internal injury | 2,923 | 12% |
| Concussion | 1,292 | 5% |
| Foreign body | 401 | 2% |
| Dislocation | 393 | 2% |
| Hematoma | 199 | 1% |
| Dental injury | 183 | 1% |
| Ingestion | 136 | 1% |
| Other | 3,939 | 16% |
Top 30 School injury causes, 2019-2020
Basketball
2,133
Unclassified sports and recreational activity
1,986
Football
1,840
Monkey bars or other playground climbing apparatus
1,365
Floors or flooring materials
1,298
Stairs or steps
1,041
Ceilings and walls
834
Soccer
746
Doors
725
Chairs
667
Exercise
661
Unspecified playground equipment
577
Other ball sports
553
Desks, chests, bureaus or buffets
510
Slides or sliding boards
477
Tables (excl. baby changing tables, billiard or pool tables)
476
Volleyball
443
Track and field
353
Poles
331
Other playground equipment
328
Wrestling
319
Swings or swing sets
290
Cabinets, racks, room dividers and shelves
271
Cheerleading
257
Pens and pencils
239
Balls
232
Bleachers
227
Weightlifting
202
Lockers
195
Benches
176

Note: Injuries could be caused by sport activities, equipment, or apparel
Percentage change in number of school sport injuries, 2011-2019
| Sport | 2011 | 2019 | Change |
| --- | --- | --- | --- |
| Softball | 164 | 60 | -63% |
| Wrestling | 522 | 195 | -63% |
| Baseball | 219 | 91 | -58% |
| Lacrosse | 123 | 54 | -56% |
| Football | 3,244 | 1,472 | -55% |
| Cheerleading | 405 | 213 | -47% |
| Rugby | 30 | 17 | -43% |
| Basketball | 2,479 | 1,588 | -36% |
| Weight lifting | 212 | 141 | -33% |
| Track and field | 353 | 255 | -28% |
| Swimming | 21 | 16 | -24% |
| Volleyball | 420 | 323 | -23% |
| Hockey or field hockey (not ice) | 67 | 54 | -19% |
| Tennis | 44 | 37 | -16% |
| Soccer | 613 | 570 | -7% |
| Gymnastics | 105 | 98 | -7% |
Note: Injuries could be caused by sport activities, equipment, or apparel
Injury outcomes, 2019-2020
| | Number | Percent of injuries |
| --- | --- | --- |
| Treated/examined and released | 23,265 | 96.1% |
| Treated and admitted/hospitalized | 605 | 2.5% |
| Left without being seen | 175 | 0.7% |
| Treated and transferred | 112 | 0.5% |
| Held for observation | 57 | 0.2% |
References
https://blogs.usafootball.com/blog/5519/high-school-football-rules-changes-players-will-sit-for-improper-equipment