By: SafeHome.org Research Published: April 15, 2021
The COVID-19 pandemic has altered lives in so many ways over the past year. Most Americans were focused to form new habits as temporary social distancing and safety measures extended for months on end. At this point, there are still many unanswered questions about post-pandemic life and people are wondering if we'll ever go back to our old normal.
Our past studies on the effects of the pandemic examined holiday gatherings and workplace safety. We felt it was time to return to this topic now that vaccine distribution has begun, and restrictions are lifting in some places. Our new study looks at the pandemic's effects on our interpersonal relationships to explore what our social lives may look like in the near future.
Key Findings
3 in 10 Americans reported losing at least one friendship over the past year.
Even after vaccination, only one-third of Americans expect to have friends over to their home, showing reluctance to return to close socialization.
40% of Americans are still uncomfortable with physical contact among their close family members, and that number rises sharply for extended family and casual friends.
Pandemic Social Life
As government leaders and businesses enforced safety restrictions, much of the American public adapted their life to fit within new boundaries. Here's a look at the top activities people resorted to as they tried to stay in touch with friends.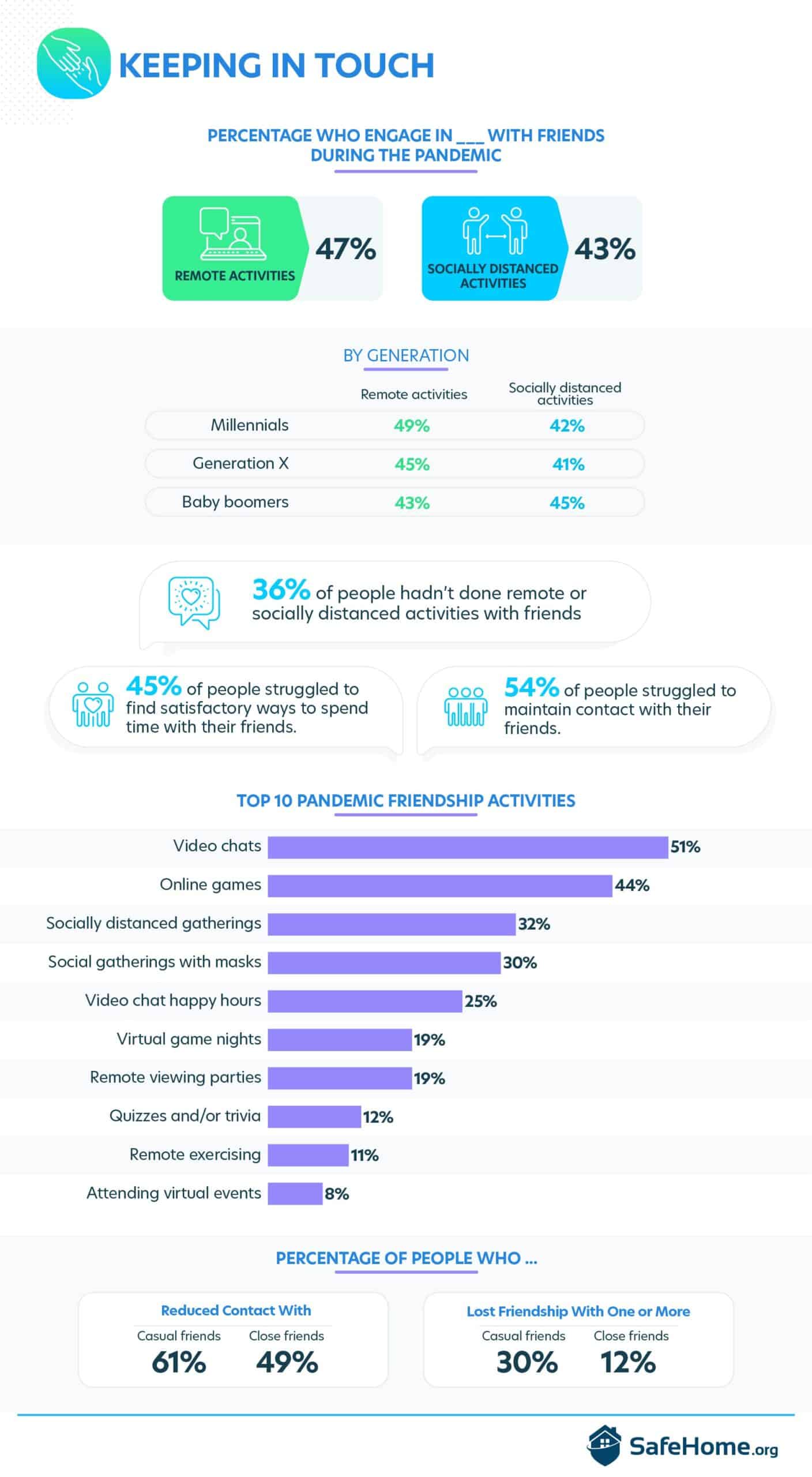 Almost half of all Americans participated in remote or socially distanced activities; however, about the same amount struggled to stay in touch with friends. Pandemic burnout from stress and isolation has made it hard for some people to nurture friendships.
It's no surprise that video chatting was the most popular way for people to spend time with friends. The videoconferencing app Zoom turned out record profits this past year as more people embraced remote socialization, work, and learning. Video chatting is an easy and comfortable way for people to interact face to face from the safety of their home.
Effects of Vaccine Distribution
Our study also examined how vaccination could affect friendships. As protection from the virus increases, do Americans feel more comfortable getting together with friends? Do feelings of anxiety or fear still linger despite the vaccine?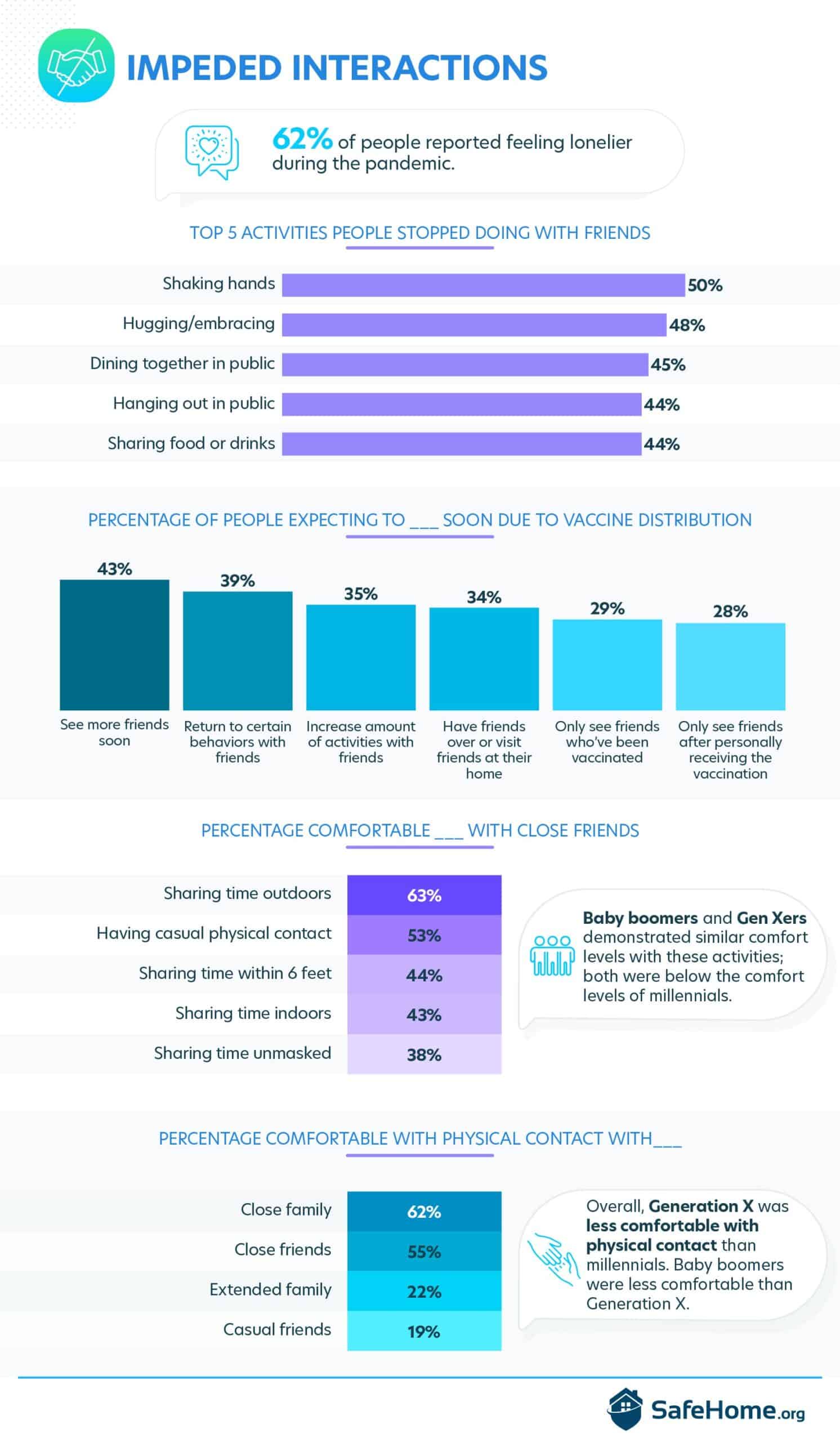 The fear of catching COVID-19 is still high among Americans. What worries them the most is infecting or losing a loved one to the disease. Since limiting exposure to people outside your home is a main way to prevent illness, it's no surprise that only 43% of Americans are expecting to see their friends soon after vaccination.
The rewiring of our brains is one reason why the idea of socializing makes people feel nervous or scared. Neuroscientists and psychologists agree that the pandemic is reshaping our sense of fear and disgust as we collectively experience chronic stress. The pandemic has also induced social anxiety in many who didn't suffer from it before. Some experts believe that we'll have to retrain our brains to socialize as we ease back into in-person interactions.
Scientists are unsure how long these changes to our psychology will last, however, we can take steps to make our homes safer places to socialize in the meantime.
On the Road to Recovery
Many people are now starting to reassess their social life amid decreasing case numbers and lessened restrictions. To conclude our study, we explored how people feel their interpersonal relationships weathered the pressure of the pandemic.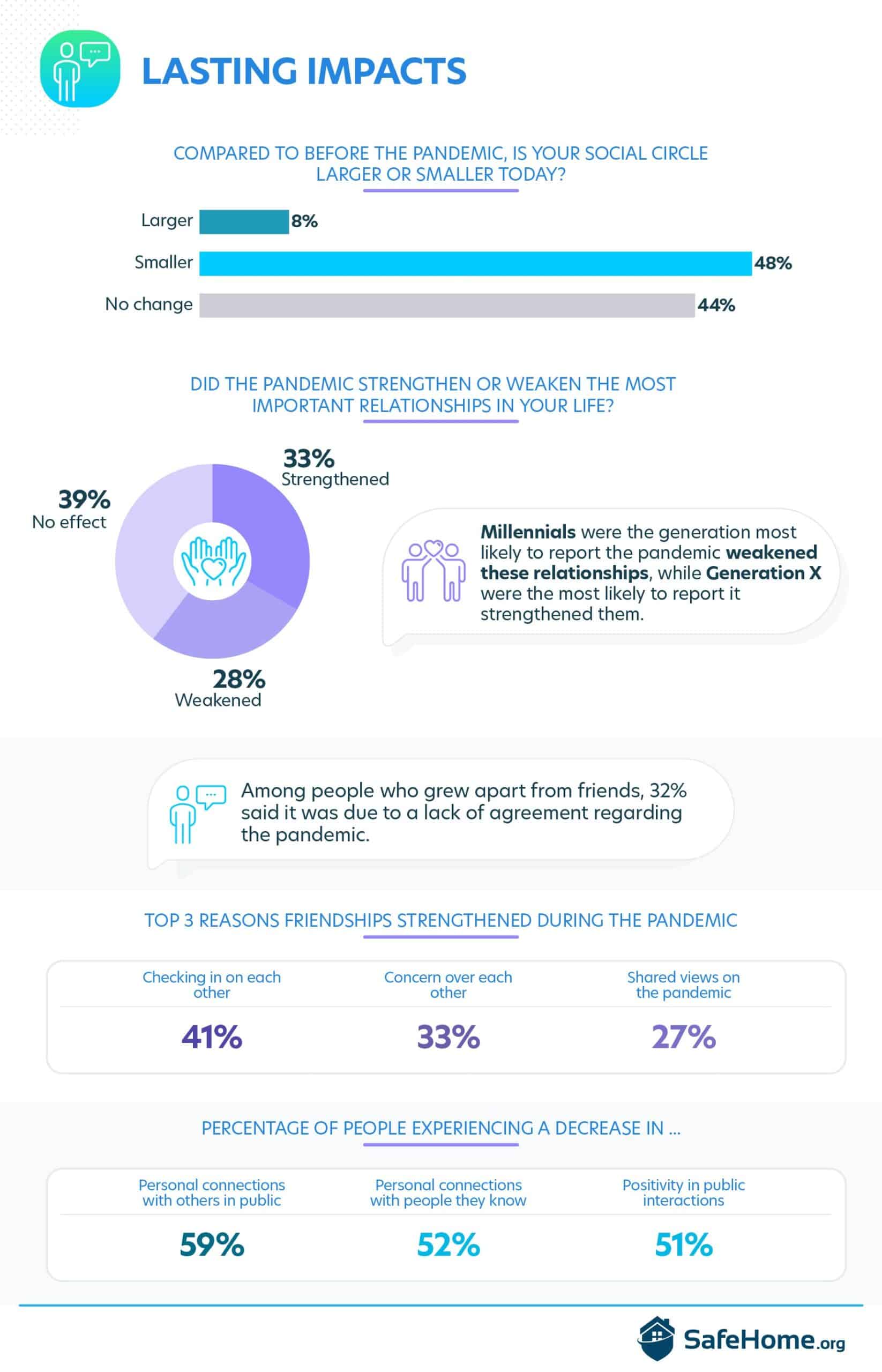 Our research shows that even though some friendships were strengthened because of the pandemic, more people felt less connected to friends and family than before. This disconnect led to heightened feelings of depression and anxiety for many. As pandemic restrictions ease and vaccination spreads, people can start assessing the risk level of an activity to resume socialization that's safe and comfortable for all involved.
Conclusion
The pandemic has affected many aspects of our life, including our interpersonal relationships. Predicting how things will be after we recover from being safe is difficult as there are so many unknowns. However, we attempted to get a glance at what friendship might look like post-pandemic. While many people are still hesitant to return to the old ways of interacting with others, friends are an important part of life and undoubtedly one vital to getting the world's citizens back on the road to social recovery.
Our Data
For this study, we surveyed 1,006 respondents from the United States. Among those respondents, 528 were female, 475 were male, and three identified as nonbinary. Our respondents ranged in age from 18 to 79 with an average age of 38. Eighty-five respondents were from Generation Z, 575 respondents were millennials, 241 were Generation X, and 105 were baby boomers.
In some cases, questions and answers have been rephrased for brevity and clarity. An attention-check question was employed in order to ensure accurate responses. These data rely on self-reporting, and potential issues with self-reported data include, but are not limited to, telescoping, selective memory, and attribution errors.