43 percent of parents are more worried about their children's safety this year than last year, and social media safety is their top concern.
As children across the U.S. head back to school and many of their parents return to the office, daily routines seem to be returning to normal for millions of families. While COVID-19 and the current surge of the delta variant continue to play a major role in daily life, the virus is far from the only safety concern parents have for their children. In fact, our research indicates that almost half of American parents are more concerned about their kids' safety today than they were last year. To understand what issues have parents most worried, we conducted a study of parents whose children are 18 or younger and who are attending in-person school this year.
Here's a look at some of our key findings:
Forty-three percent of parents said they're more concerned for their kids' safety this school year than they were in 2020.
Compared to parents working in the home, parents working outside of the home were more likely to say they were more worried about their children's safety this year than last.
Parents were more likely to be worried about internet safety than germ safety. One in three parents said the internet and social media were among the top safety concerns for their children.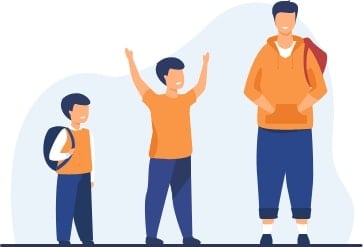 Table of Contents
What Has Parents Most Worried?
Internet, social media top list of concerns for parents
Just under one in three parents said ensuring their kids are safe online or while using social media was their biggest safety concern, and it's little wonder why. Today's youth are the most internet-connected generation in American history: about 95 percent of children 3-18 years old have internet access at home.
1
 About 45 percent of teens say they're almost constantly online,
2
 while 40 percent of children in grades 4-8 said they'd connected or chatted online with a stranger.
3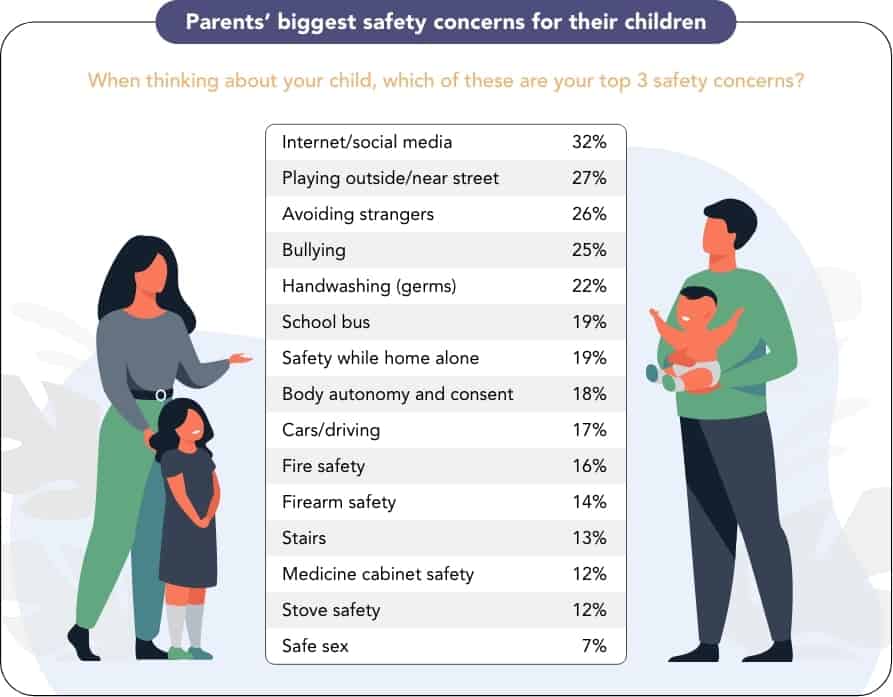 Note: Parents could select up to three concerns for each of their children.
Three more traditional concerns were also clustered near the top with similar percentages — safety outside or near the street, avoiding strangers, and bullying. Notably, though, about one in five parents listed handwashing or germs as one of their three biggest worries, likely due to the COVID-19 pandemic. Safe sex was the least potent worry for parents, though the majority of people included in our study have young children, and this concern was much higher for parents of teenagers.
Working from home may alleviate some of parents' worries but worsen others
Just under half of parents said they were more concerned about their children's safety this school year than last school year, though a similar share of parents said their concern level hasn't changed since 2020.
| Compared to last school year, how concerned are you about your child(ren)'s safety? | Parents working from home | Parents working outside home | All parents |
| --- | --- | --- | --- |
| Less concerned than last year | 14% | 7% | 11% |
| About the same as last year | 42% | 43% | 43% |
| More concerned than last year | 44% | 50% | 46% |
Parents who work from home were more likely to say they were less worried about their kids' safety this year than those who work outside the home. In many cases, parents who telecommute had considerably lower rates of many of the fears other parents had. Like parents overall, those working from home listed social media and the internet as their primary safety fear when it comes to their children. But 50 percent of those working outside the home listed this as one of their three biggest fears, compared to just 34 percent of those who telecommute.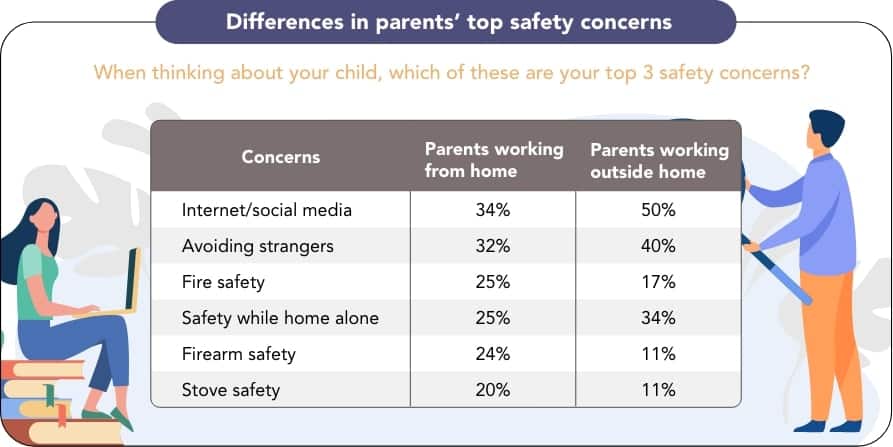 Other fears were less likely for work-from-home parents — avoiding strangers (32 percent vs. 40 percent) and safety while home alone (25 percent vs. 34 percent), but other fears were flipped. This may speak to remote-working parents anticipating that their kids will need to return to home-schooling this year. For example, 20 percent of parents who work from home listed stove safety as a big concern compared to just 11 percent of those who work outside the home, possibly as a result of these parents being more likely to cook additional meals for their remote-schooling children.
Safety at Every Age
Parents top concerns tend to change as kids grow up
Social media and the internet rank as a top-three fear across all age groups, with parents of kids between the ages of 10 and 18 listing it as their biggest concern. Overall, about one in three parents ranked online safety as one of their biggest concerns when it comes to their kids. But many other fears rise and fall depending on the age of the child, which is why safety practices and conversations should evolve as your children grow up.
Safety for young children: ages 5-9
Parents' biggest safety concern for young children is being injured outside or in the street, and 32 percent of people with kids in this age range listed that as one of their three biggest worries. But internet and
social media safety
, the biggest parental concern among all age groups, is tied with bullying (30 percent). School bus-related concerns and handwashing are also prominent for parents with young children.
Parents' top safety concerns, children ages 5-9
Playing outside/near street
32%
Internet/social media
30%
Bullying
30%
School bus
27%
Handwashing (germs)
27%
Tips for keeping your young children safe at home, school, and online
Be sure they're supervised while outside: If your young children are playing in your yard, particularly if it's close to a busy street, be sure an adult or responsible older teen is able to keep an eye on them. If they're riding bikes or scooters, make sure they always wear a helmet and that they are supervised.
Get on the school bus safely: Two out of three school bus fatalities happen outside the bus.4 Always supervise children as they board the bus, and keep a distance of at least 10 feet when crossing in front of the bus so the driver can see you. Never walk behind a school bus.
Make home playgrounds safer: If you have a swingset or other play structure in your yard, make sure the area has a soft material underneath like mulch, sand, or wood chips. Children are also more likely to get a concussion or other serious brain injury when using monkey bars, climbing equipment, or swings.5
Limit their internet access: Enable parental controls that prevent in-app purchases on all devices your child uses, and establish a daily or weekly time limit. Review all devices for any new apps, games, or visits to social media sites.
Encourage communication: You can't be with your child at school, so ensuring open lines of communication is critical. Ask them about school, including what friends they're making, if they feel safe there, if they've ever witnessed or even participated in bullying. Meet regularly with their teacher to discuss their behavior and academic progress.
Safety for preteens: ages 10-12
For parents with preteen kids between 10 and 12, social media and the internet are the biggest concern. Around 43 percent of parents said this was one of their three biggest worries when thinking about their preteen child. Safety outside and near the street remained a major concern, as is potential contact with strangers. Compared to younger children, preteens may enjoy more unsupervised time outside the home and in their neighborhoods.
Parents' top safety concerns, children ages 10-12
Internet/social media
43%
Playing outside/near street
36%
Strangers
29%
Bullying
28%
Safety while home alone
27%
Tips for keeping your preteen safe at home, school, and online
Monitor their play: While children in this age group can usually handle outdoor activities largely unsupervised, an adult or responsible older teen should still look in on them from time to time.
Reinforce bike and car safety: Kids this age typically spend more time outside of your home. That could include riding their bike to a friend's house or traveling in a car to sporting events. Make sure they know never to ride their bike or a scooter without a helmet and to wear a seatbelt regardless of where in a car they are sitting.
Keep them safe while playing sports: Many children begin to get serious about participating in sports at this age, and it's important that they wear the appropriate safety gear, such as helmets, faceguards, gloves, mouth guards, shin pads, wrist guards, and more.
Set strict boundaries regarding devices: By age 11, more than half of American kids have a smartphone, and youth use of devices has climbed rapidly just in the past few years.6 If your child needs to have a smartphone, it's critical to set guidelines and boundaries. There are several apps parents can download to view their child's smartphone activity, remotely adjust settings, or even shut the phone down completely. Encourage your child to only answer calls from people they know, keep their devices charged, and refrain from sharing private information like their address or full name with strangers on the internet.
Safety for younger teens: ages 13-15
Almost half of parents with kids between 13 and 15 said the internet and social media represented one of their three biggest concerns for their children. Bullying and contact with strangers were a distant second and third, illustrating how much of life for this age group is dominated by the internet and social media.
Parents' top safety concerns, children ages 13-15
Internet/social media
49%
Bullying
31%
Strangers
25%
Playing outside/near street
24%
Safety while home alone
24%
Tips for keeping your younger teen safe at home, school, and online
Encourage independent activities: It's natural and normal for young teens to begin exercising more independence, but each child is different, and 13- to 15-year-olds may not be mature enough to handle certain experiences. So it's important to set limitations on freedom and independence that are appropriate for your kid. If they've shown they can't handle having unfettered internet access, continue strictly limiting their computer or device time. On the other hand, if your 14-year-old practices good safety around kitchen appliances like stoves and microwaves, they may be able to make their own meals.
Peer pressure: At this age, many teens may attend parties or hang out with friends who are experimenting with drugs and alcohol. Be sure that you always know where your young teen is going, and consider monitoring their location with your phone. Get to know your child's friends and their friends' parents, and help foster relationships with people who will be positive rather than negative influences.
Help them be good sports: During middle school and high school, teen athletes pick up sportsmanship habits that could last a lifetime. Let your child's coaches do their jobs, but be sure to reinforce good sports habits and practices, like warming up and cooling down before practice or games, not playing through injuries, and practicing good sportsmanship. And that means you, too. Cheer for your children, but remember it's just a game.
Have the consent talk: Rest assured that by this age, your child knows what sex is, and they may be very interested in exploring sexual activities. While rates of teens having sex have declined in the U.S. over the past few decades, more than half of American teens have sex before age 18.7 In addition to making sure your child understands basic safe sex principles, reducing rates of sexual assault and rape means teaching your young teens about consent. Both boys and girls need to be taught healthy boundaries in romantic and sexual relationships. That includes how to ask for consent and respond appropriately when someone says no (here are some tools that may help you begin this conversation with your teen).
Safety for older teens: age 16-18
While social media and the internet remain the primary parental concern for older teens, safe driving and safe sex ranked second and third. Nearly 40 percent of parents with kids in this age group said car safety was one of their top concerns, while 31 percent rated safe sex as a big fear when it comes to their older teens.
Parents' top safety concerns, children ages 16-18
Internet/social media
45%
Cars/driving
37%
Safe sex
31%
Handwashing (germs)
27%
Body autonomy and consent
27%
Tips for keeping your older teen safe at home, school, and online
Teach safe driving: Getting a driver's license is a rite of passage for many teenagers, and it can be liberating for parents, too, as they no longer have to serve as unpaid chauffeurs. But teenage drivers have much higher rates of traffic deaths than people in other age groups, so instilling safe driving practices is critical before you hand your teen the keys. Depending on the laws in your state, make sure your teen gets at least 50 hours of practice with an experienced driver in many types of road conditions before they take the driving test, limit the number of passengers your teen can have in the car at one time, and make sure they keep their phones in their pocket or purse at all times when behind the wheel. And model safe driving for your children of all ages by not texting while driving, wearing your seatbelt, and practicing other common-sense safe driving.
Encourage communication about dating and their social life: Make it a point to get to know your teen's friends, especially anybody they may be dating. And remember that LGBTQ teens may feel uncertain about coming out or indicating that they have a girlfriend or boyfriend: an estimated 16 percent of high school students identify as bisexual, gay, or lesbian or are unsure of their sexual identity.8 By getting to know the other young people in your teen's life, you may be able to help them cope with relationship and friendship conflict, whether your teen is gay, straight, or uncertain about their identity.
Stay involved in their online activity: Older teens may feel more empowered to connect with strangers and others online than younger children, which could put them at added risk. Be sure they understand that everything they put online could stay around forever and that whatever they send to friends or peers may be shared with others. Continue to set clear boundaries about device use, particularly when it comes to social media.
Keep having the talk: Just one lapse in safe sex practices can result in a sexually transmitted infection or unintended pregnancy. And as teenagers' brains continue to develop, their growing curiosity can lead them to make risky decisions,9 evenwith regard to sex and consent. The lessons you've taught them must continue to be reinforced.
Conclusion
Keeping their children safe is the driving force of any parent, regardless of their child's age. But as babies grow into teenagers who eventually strike out on their own, the potential dangers that could affect them evolve. But having involved parents who are committed to helping them build good safety habits whether at home, in school, online, or in the real world can put your children on solid footing for the future.
Methodology
Safehome.org conducted an online survey of 666 parents whose children were attending in-person school in the fall of 2021. Sixty-one percent of parents had one child, and 39 percent had two or more. We asked parents to select up to three of their main concerns for each of their children.
References