Millions of Americans spend many hours and hard-earned dollars on holiday decor for their homes each year. Between Christmas trees, elaborate lighting displays, menorahs, and stockings, many people go all out with traditional decorations that fill their homes with holiday cheer.
However, the items that bring us joy during the holidays can also cause serious injuries. To find out how often this happens each year, we analyzed five years of data from the National Electronic Injury Surveillance System. This database tracks how many emergency room visits are caused by consumer goods, including Christmas trees, holiday lights, and other merry decorations.
Last year alone, nearly 12,000 people reported to emergency rooms due to injuries from holiday decorations.
Between 2017 and 2021, the number of people injured by Christmas tree lights increased by 115 percent. Tree stand injuries increased by 26 percent during that time period.
Unfortunately, children are among the most likely to be injured by holiday decorations.  One in five people who visit the ER due to injuries from decor are 10 or younger. Nearly a quarter are age 70 or older.
Lacerations and fractures were the most common holiday decor-related injuries in the last five years. Over the last five years, the days with the most decor-related injuries from November to January are November 27, December 24, and January 4.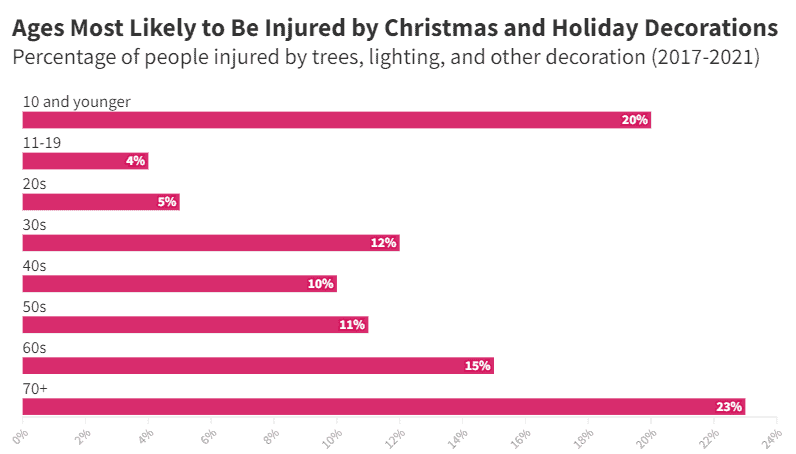 While children and older adults are most likely to sustain holiday decor injuries, people of all ages are vulnerable. So what do these holiday injuries look like? Here are some descriptions directly from the NEISS database:
"39-year-old male patient was trying to hang Christmas lights and had been drinking beer and whiskey. The patient states he fell 10-12 feet from a tree and hurt his left ankle at home."
"Nine-year-old female's family decorating for Christmas. The patient fell onto a wooden Christmas manger and sustained eyebrow laceration."
"Male patient reports an accidental stab wound to own leg when using a kitchen knife to open a Christmas present."
"Three-year-old male put a finger in an empty spot on a strand of menorah lights causing burns."
"21-year-old male was at home when a candle caught a fake Christmas tree on fire. He tried to put it out with his feet, burning his feet and lower legs. Diagnosis: smoke inhalation, 2nd-degree burns."
"Two-year-old male put a small Christmas ornament in his mouth and crushed it. Mom found pieces in the mouth and thinks he swallowed some."
"20-year-old male injured right foot with an ax while chopping down Christmas tree in the woods."