By:
SafeHome.org Research
| Published: Oct 14, 2021
---
Though reality has been pretty scary for the past couple of years, the average American is still excited to celebrate Halloween this fall. Americans are expected to spend more than $10 billion this Halloween, an increase of more than $2 billion from 2020.
1
With Covid-19 cases declining in some parts of the country and vaccination rates slowly climbing,
2
 we wanted to understand how many people are planning to celebrate the spooky season and whether their vaccination status had an impact on their anticipated celebrations. So we asked 1,000 Americans to share their Halloween plans for this unusual year. How many people are ready to return to their normal celebrations?
Key findings:
Seventy-six percent of people are planning to celebrate Halloween in some way, with passing out candy being the most popular activity. Eighteen percent are taking another year off from their Halloween celebrations.
One in three people are planning to attend a Halloween party or gathering, and most are planning to attend parties that have some form of Covid-19 safety precautions in place.
However, 43 percent of those attending indoor parties said there would be more than 20 guests in attendance.
Most Anticipated Halloween Activities
In 2020, traditional Halloween events were called off in more than 35 states.
3
 This year, many people are eager to participate once more in activities that are considered hallmarks of the Halloween season: trick-or-treating, parties, and haunted houses. In fact, only 24 percent of the people in our study weren't planning to do anything to mark the occasion on October 31.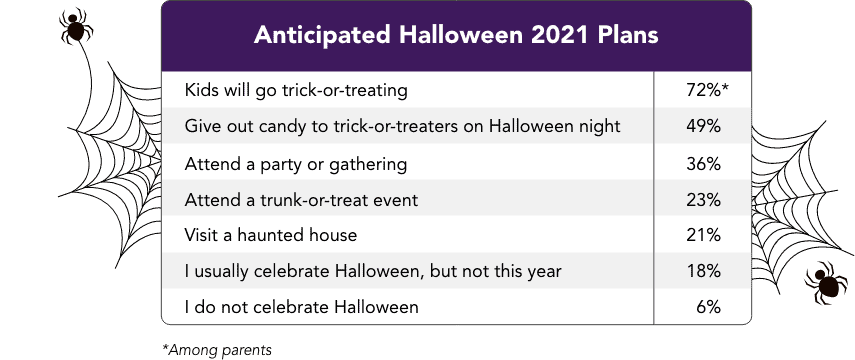 By far, the most anticipated event of the day is trick-or-treating, with 72 percent of parents reporting their children will participate this year. Another 49 percent will hand out candy at their home, and 23 percent will go to a trunk-or-treat event. This is an event in which people gather in a specified location, like a parking lot, and hand candy out of their vehicles.
Covid-19 Precautions for Halloween Parties
More than 1 in 3 adults plans to attend a Halloween party this year. As Covid-19 cases declined in many parts of the country at the start of October 2021, people may be feeling more comfortable with the idea of gathering with friends and family. Others may be ready for
some levity and connection
after months of isolation. "We normally don't do any events with other people for Halloween – we just watch movies inside and eat candy," one of our study participants shared with us. "But now we're feeling so isolated we would like to invite some other people to watch with us, if weather permits and we can do it safely outside." However, not all partygoers in our study had the same level of caution when it came to Covid-19. Forty-seven percent of Halloween celebrants said they'll only be attending outdoor gatherings this year. Another 20 percent said they would only be going to indoor events. These types of gathering tend to pose more risk for Covid-19 transmissions, according to the CDC.
4
 Still others were planning to attend multiple celebrations, with 33 percent reporting they hoped to go to both indoor and
outdoor events
.

While small outdoor gatherings can be safer than indoor parties, many of the people we studied were planning to take precautions against Covid-19 at their indoor get-togethers. About 39 percent said they'd be attending events where masks are required, and 45 percent said they planned to attend indoor events in which Covid-19 vaccines were required. Some of the people who'd received a vaccine said that while it made them feel more comfortable about parties and other gatherings, they remain cautious, preferring to attend Halloween events with other vaccinated individuals. As one participant said, "I am more hesitant regarding who I will be around. I generally try to stick with those that I know have been vaccinated."
On the other hand, 13 percent said they weren't planning to take any Covid-19 precautions at all and five percent said they were actually attending events where masking is banned. The size of the party was another factor in people's Halloween plans. Some of the people we studied indicated that while they will be celebrating the holiday, they still prefer small gatherings to large ones. "Last year, my Halloween plans were canceled altogether. This year, I will attend a small gathering of close friends," one study participant told us.

Location had a big impact on the estimated number of attendees. The median anticipated number of guests at outdoor gatherings was 30 people, compared to 20 anticipated guests at indoor parties. However, 43 percent of those attending indoor parties said there would be more than 20 guests in attendance.
Halloween Safety Tips
After Halloween was all but canceled in 2020, it's understandable that many people want to get out and celebrate a fun-filled Halloween in 2021, surrounded by family and friends. While the virus is far from over, there are many ways you and your family can take part in spooky festivities in a safe manner.

Take the party outside The federal Centers for Disease Control and Prevention recommends trick-or-treating outdoors and otherwise attending outdoor events this Halloween. Keep trick-or-treating groups small and make sure your groups are well-spaced out as they visit houses. Exercise caution when attending large outdoor events, and consider the vulnerability of the members of your household when deciding how to RSVP.

Trim the guestlist for indoor parties Large gatherings are still unsafe, particularly when many party-goers are unvaccinated or unmasked, so if you want to have an indoor party, keep the guest list to fewer than 20 people. If your community is experiencing high transmission and infection rates, everyone – including vaccinated guests – should wear masks.

Get creative with handing out candy Rather than having every kid stick their hands into a bucket or bag to grab candy, put your treats in individual bags that you can hand out to visitors. Or consider alternative ways of distributing candy without having physical contact, like candy chutes some creative parents made last year using inexpensive PVC pipe.
5

Don't forget other Halloween safety issues It's easy to only focus on the pandemic, but Halloween can be a dangerous time for children regardless of the year. A Washington Post analysis found that children were twice as likely to be hit and killed by cars on Halloween than the average day.
6
 To lower the risk of accidents, make sure your children are visible to motorists by wearing colorful, reflective clothing or carrying flashlights and making sure they cross the street only at crosswalks.
Conclusion
Halloween is a cherished fall tradition for millions of people in the United States and around the world, and though humanity remains gripped by a pandemic, commonsense safety measures can help us celebrate safely.
Methodology
We surveyed 986 U.S. adults regarding their plans for Halloween, including whether they were vaccinated (or planning to be) and whether that had an impact on their willingness to attend indoor gatherings for the holiday. Seventy-nine percent reported having received at least one dose of a Covid-19 vaccine and eight percent were planning to receive a vaccine in the near future. Eleven percent said they did not plan to get a vaccine, and three percent chose not to disclose their vaccination status. Sixty-three percent of respondents were parents. Our survey was conducted online in late September 2021.
References