As waves of protests spread across the U.S. over the summer in the wake of George Floyd's death at the hands of a police officer, law enforcement budgets have become a central issue in American society and politics.
While polling has signaled that Americans mostly don't support calls to slash police department budgets, other consumer research shows support for plans that would reallocate taxpayer money and shift police responsibilities away from mental health incidents or non-violent situations.
As part of this discussion, we wanted to understand the shape of taxpayer spending on law enforcement, including police protection and corrections, and how it varies across the country and has changed over time.
One thing to note is that spending on law enforcement varies significantly across the country, no matter how you slice the data. For example, as a percentage of all state and local spending, Nevada spends twice the amount on law enforcement as Iowa, Massachusetts or North Dakota does. Arkansas has more than double the number of law enforcement employees per 100,000 residents than Mississippi. Tennessee has more than double the number than Ohio.
Washington, D.C. has triple the law enforcement spending per capita as Iowa.
The data below calls for further analysis on spending, crime, and the role of and spending on law enforcement in society.
Law Enforcement vs. Other Spending
According to U.S. Census Bureau data, state and local governments spent a combined $200 billion in 2018 (the most recent year with available data) on police protection and corrections, which equates to about five percent of their total spending.

Compared with a decade ago, a smaller percentage of spending goes to police and corrections. In 2010, it was 5.7 percent compared to 5.2 percent today.
Law Enforcement Spending by State
Overall law enforcement spending varies dramatically by state, as does the percentage of spending that goes toward police and corrections. Per capita, the D.C. spent $1,254 on police and corrections in 2018, followed by Alaska at $1,178. They were the only two to spend more than $1,000 per person on law enforcement. But neither ranked in the top 10 by the percentage of spending on law enforcement.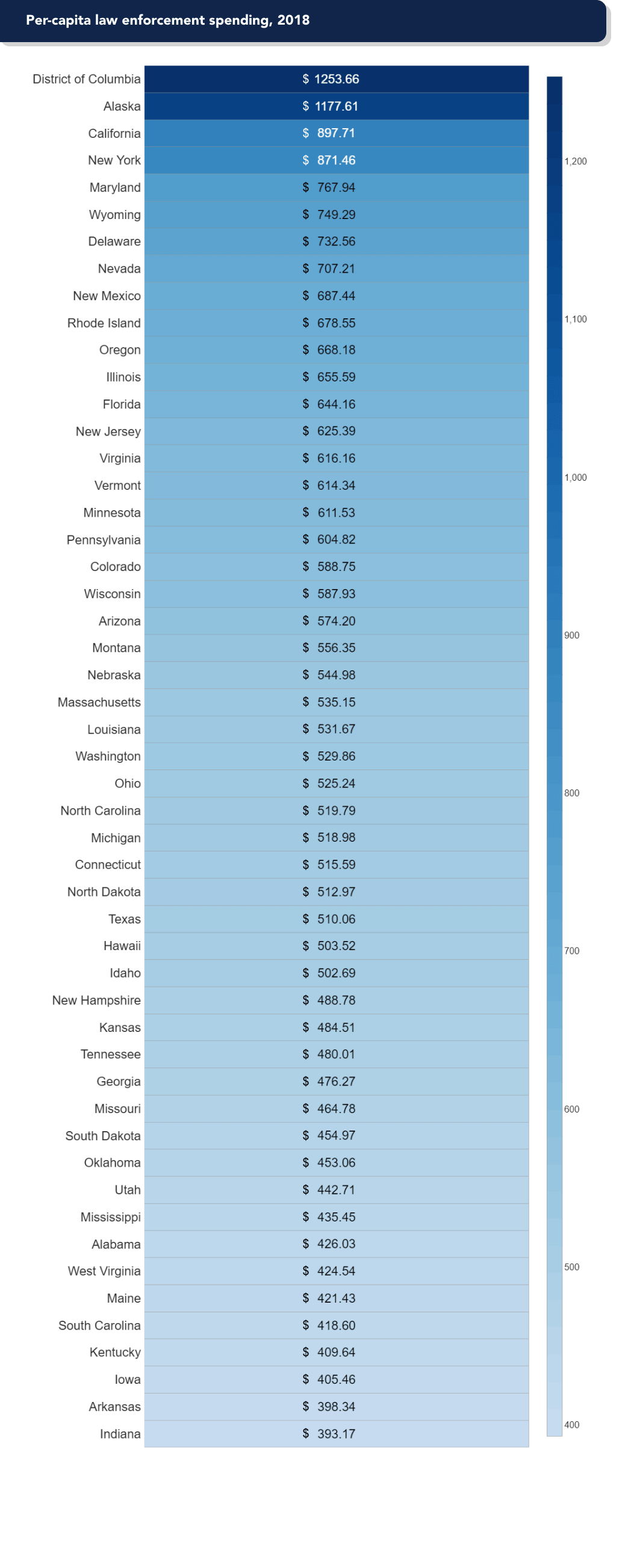 In most states, the percentage of state and local spending on police and corrections has fallen, but law enforcement's share of funding has risen in a dozen states. In some cases, the swings have been dramatic.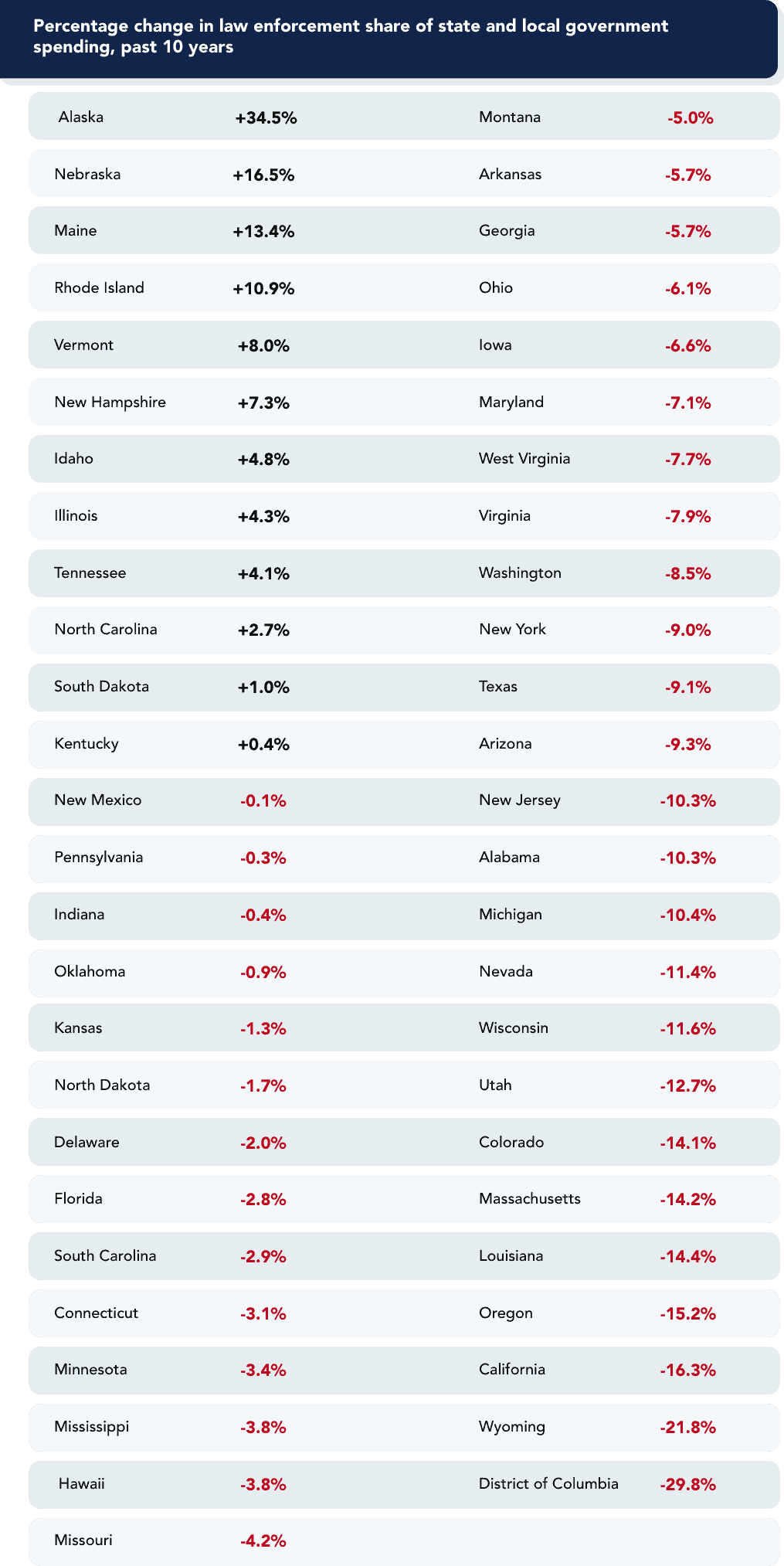 Law Enforcement Employment
New Jersey has the highest rate of state and local law enforcement employment after adjusting for population difference outside of D.C., which has a much higher rate but is better compared to a city by virtue of population density. Police employment is lowest in Mississippi, according to the FBI's 2018 data.
A majority of states have seen population-adjusted law enforcement employment rates decline over the past decade, which shouldn't come as a surprise. For years, police departments and other law enforcement agencies have been reporting difficulty in attracting new recruits.
In addition to difficult recruiting, many police departments are struggling to retain officers. The cumulative effect is that in many departments, hiring standards have been relaxed and the application process streamlined. These factors could conceivably contribute to police officers who aren't as qualified or as well-trained as people would prefer.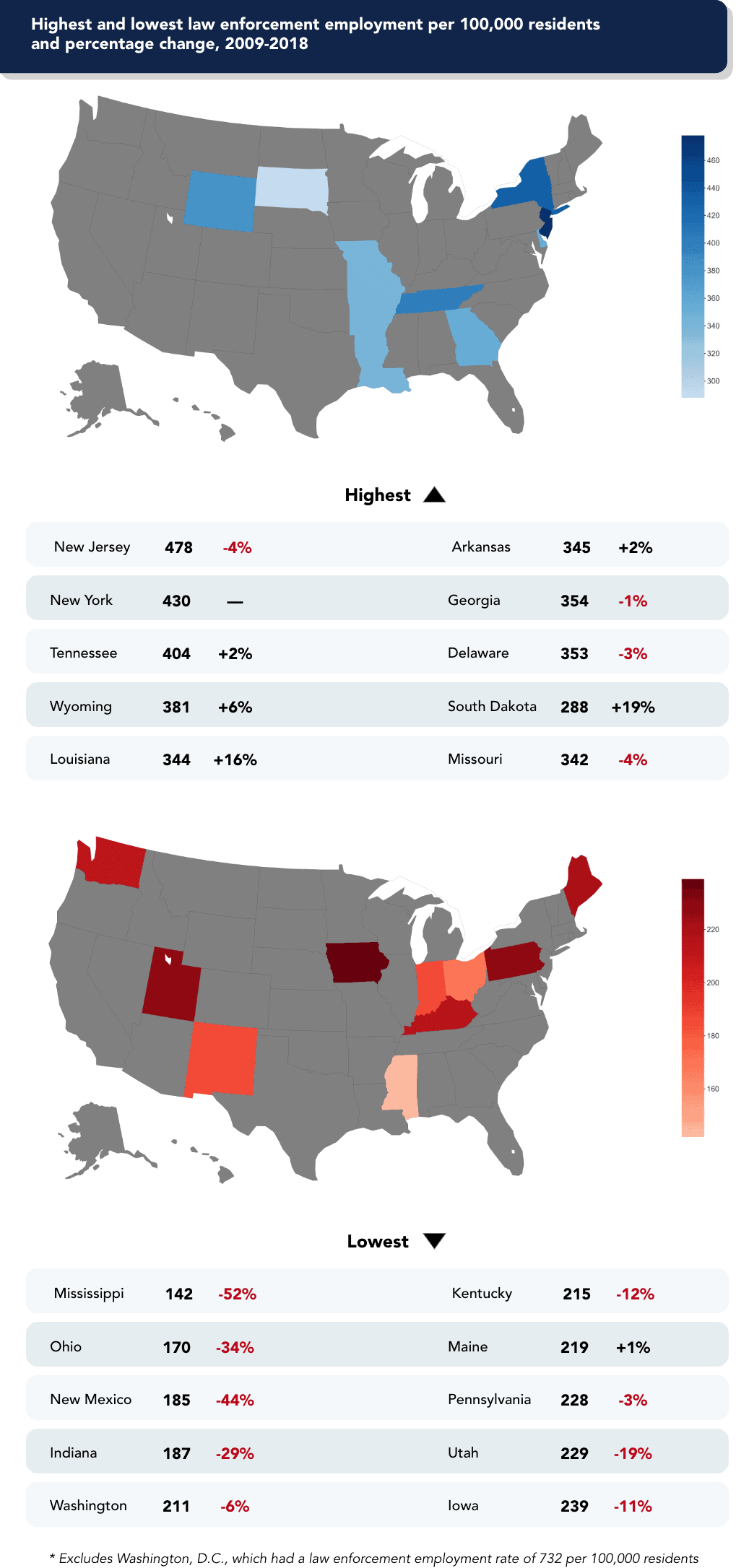 Law Enforcement Spending & Crime Rates
So what does all of this mean for public safety? Is state and local spending on law enforcement correlated with higher or lower crime rates or changes over the past 10 years? What about employment in law enforcement occupations?
Our analysis didn't find any significant correlations between crime rates and law enforcement spending, but increases in law enforcement employment did appear to be at least partially correlated with crime rate declines over the past 10 years.
As with any statistical analysis, it's important to note that correlation does not equal causation. And it's perhaps most important to note that, famously, crime has fallen in the U.S. over the past several decades, so trends toward lower crime rates may have more to do with factors other than police spending or employment.
That said, in 17 states, the population-adjusted number of law enforcement employees has risen in the past decade, and in all but two of those states, the combined crime rate also declined. Again, though, only five states saw their combined crime rates rise, so this is hardly a case-closed scenario.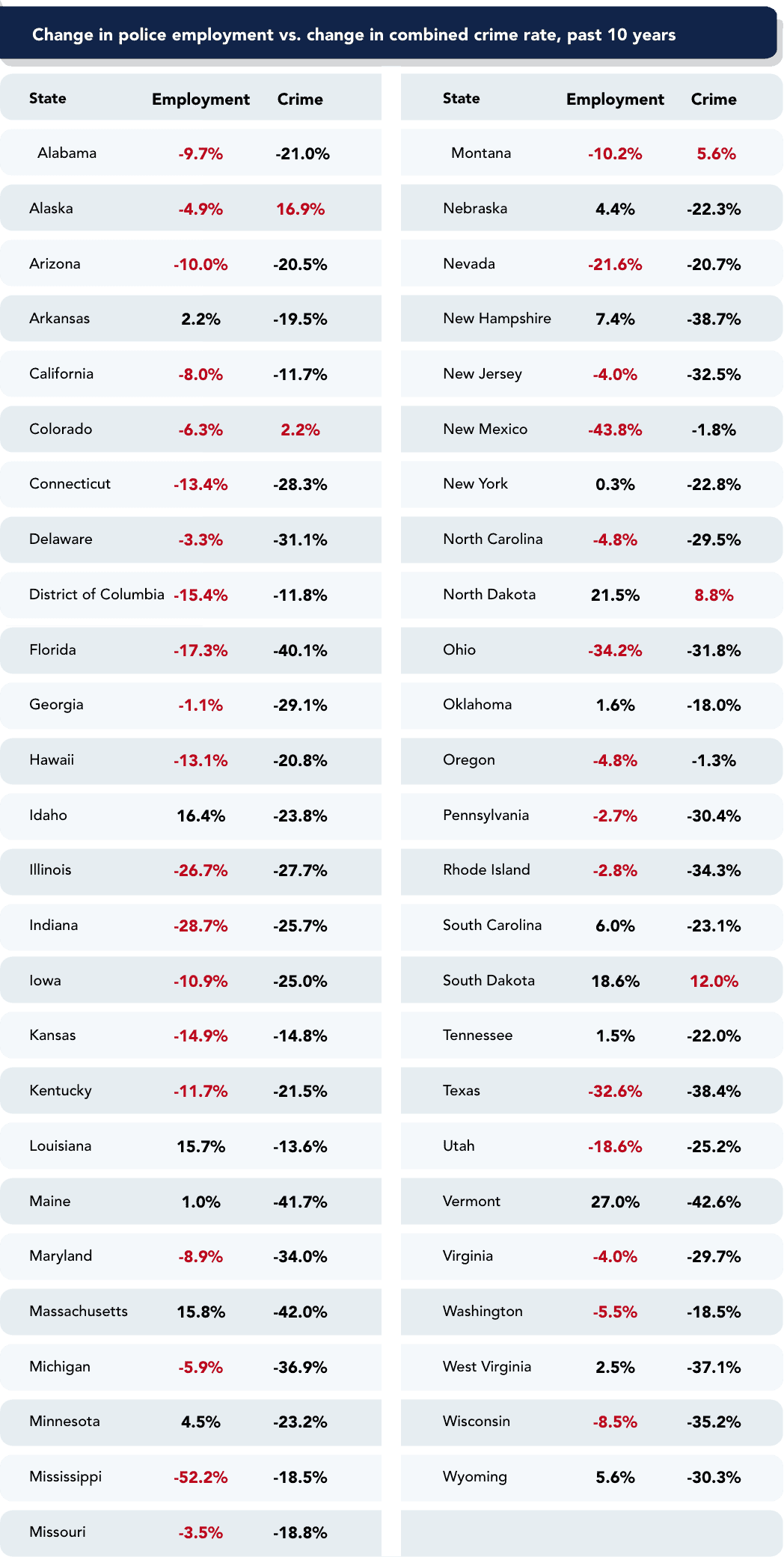 Conclusion
There's no doubt that police budgets are a hot-button issue in this country, and it's not difficult to see why. State and local spending on police has remained relatively steady over the past decade, but police employment has declined, as have crime rates in most places.
About This Story
We've included links to our sources, but a quick word on where data came from for this analysis:
U.S. Census Bureau: We used the Annual Survey of State and Local Government Finances for 2018 and 2009 to create an analysis of spending on police and other priorities over the 10 most recent years for which data was available. As its name suggests, this is an annual report by the U.S. Census Bureau based on surveys of the roughly 90,000 various local and state governments in the country.
FBI: Data on crime rates and law enforcement employment came from the annual Crime in the U.S. reports for 2018 and 2009. The 2019 data has been reported by the FBI, but we used 2018 and 2009 to maintain consistency with the Census data.
We are seeking additional sources of data to combine with this data set, please reach out to us if you'd like to collaborate.