Written By: SafeHome.org Team | Updated: June 31, 2021
Car decals can be one of the simplest ways to make a statement these days. Whether you've run a marathon, visited an exotic location, or love your pet, it can be fun to flaunt your personality using your vehicle.
But what happens when these stickers are more than just cute decoration? Can a marijuana-related decal increase your chances of being pulled over? Can a politically charged sticker earn you a middle finger while in traffic? To learn more, we surveyed 1,195 drivers about car decals and how they might shape people's experiences on the road. Continue reading to see what we discovered.
To Display or Not to Display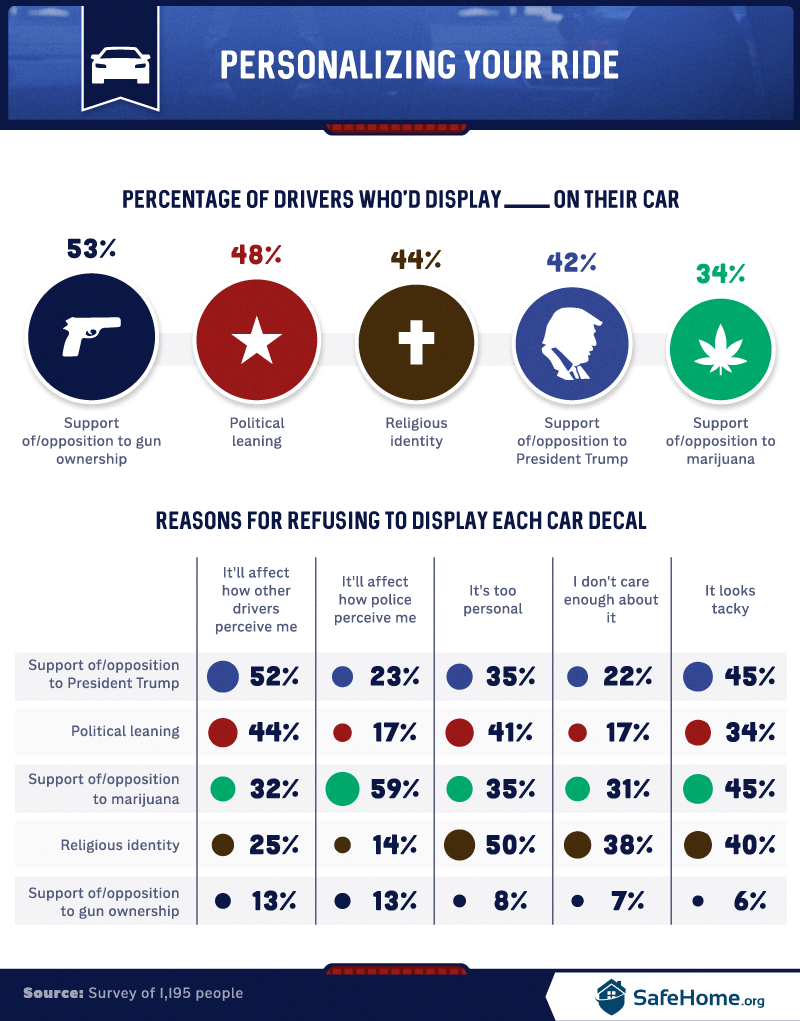 Gun ownership is a hot-button topic in the United States. As evidenced by this Pew Research Center study, Americans' opinions regarding gun laws can differ quite a bit among demographic groups, especially along political lines.
It makes sense, then, that more than half of drivers (53%) were willing to display a car decal representing their views on gun ownership –more than any other type of sticker.
However, among those who refused to showcase particular views on their vehicles, their reasons varied. For decals that expressed support for or opposition to President Trump, 52% said they were worried people would look at them differently, while 45% said it was tacky. Half of respondents said their religious identity was too personal for a decal, and 59% were worried that taking a stance on marijuana would change how the police perceived them.
Traffic Stop Stickers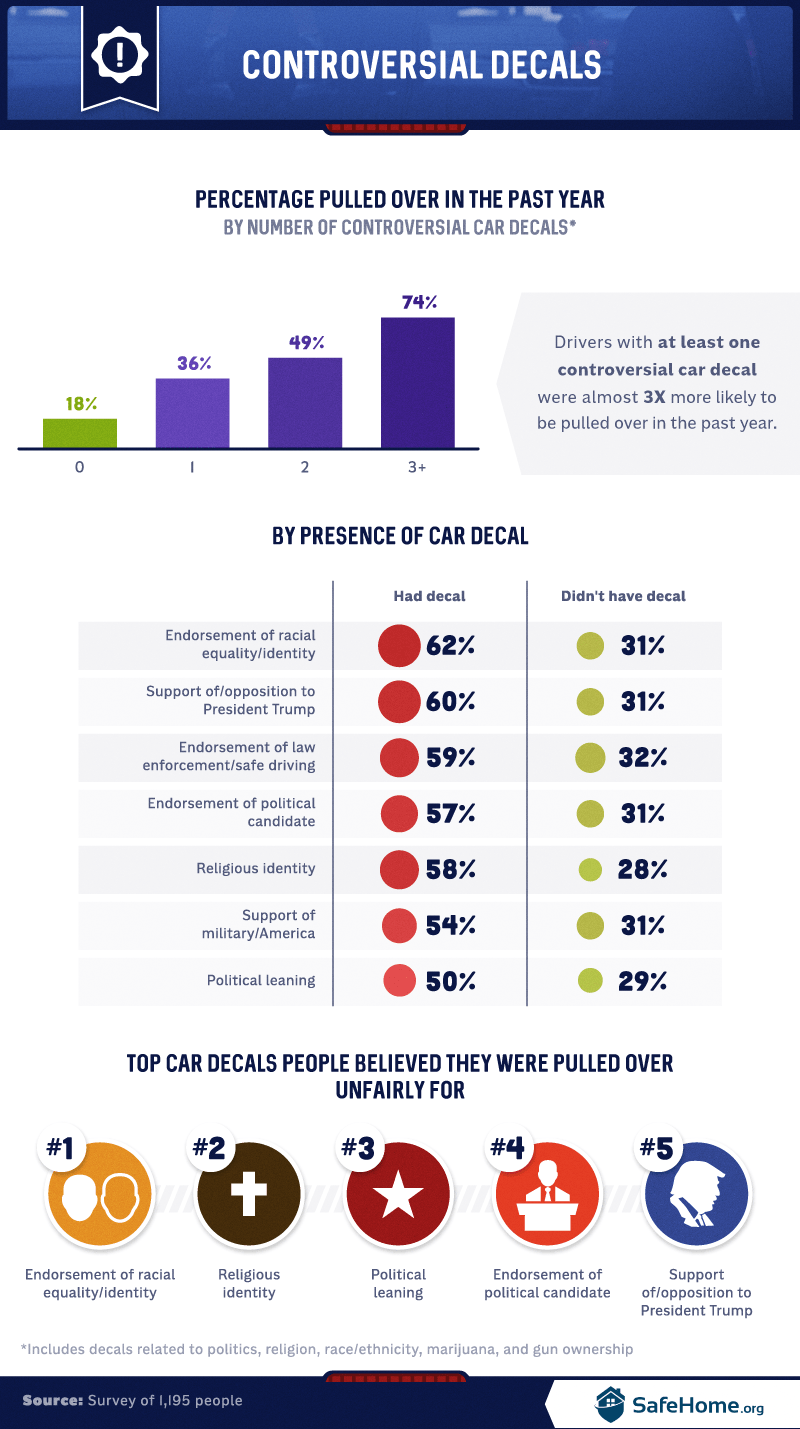 While police are supposed to be impartial when pulling people over – considering only the rules of the road – things don't always pan out that way. For example,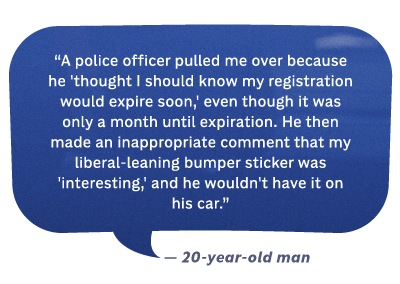 one study revealed that black drivers are 20% more likely to be pulled over than white drivers. Through our survey, we found that having at least one controversial car decal increased respondents' chances of being pulled over almost threefold.
While just 18% of decal-free drivers were pulled over in the past year, the same was true for 48% of people with at least one controversial sticker. While a similar percentage of drivers had each controversial decal when pulled over, stickers related to race, Trump, and the police comprised the top three.
We also discovered a relationship between the number of controversial car decals and the likelihood of getting flagged by the police: 36% of cars with just one decal were pulled over in the past year, compared to 49% of cars with two and 74% of cars with three or more contentious stickers.
Ticket to Ride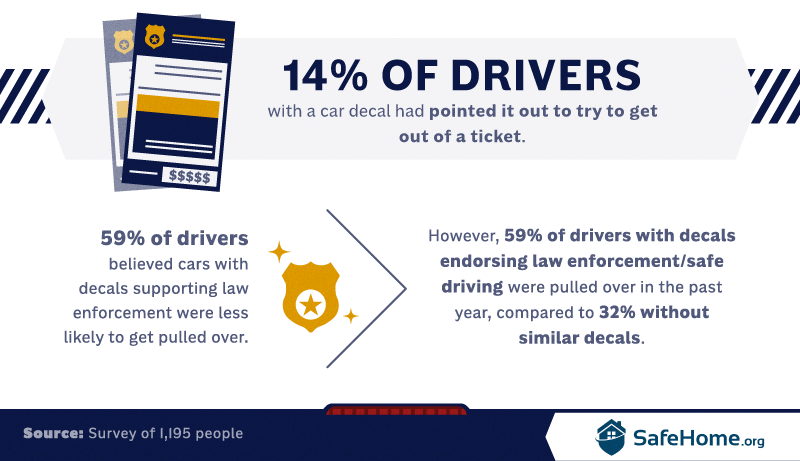 Have you ever talked your way out of a traffic ticket? Some people may suggest crying in front of the officer or using humor to diffuse the situation. In our respondents' cases, 14% had tried to use one of their car decals to fend off an incoming citation.
However, they may have the wrong impression. While 59% believed having car decals supporting law enforcement would make them less likely to be pulled over, another 59% of people with that type of decal were pulled over in the past year. The same was true for just 32% of drivers without a sticker related to the police or safe driving.
Overall, Republicans were twice as likely as Democrats to sport a police endorsement decal on their vehicle. In general, right-leaning people are much more confident in the police's competence, including their ability to protect people from crime, holding erring officers accountable, using a reasonable amount of force, and treating racial groups equally.
Riled Up on the Road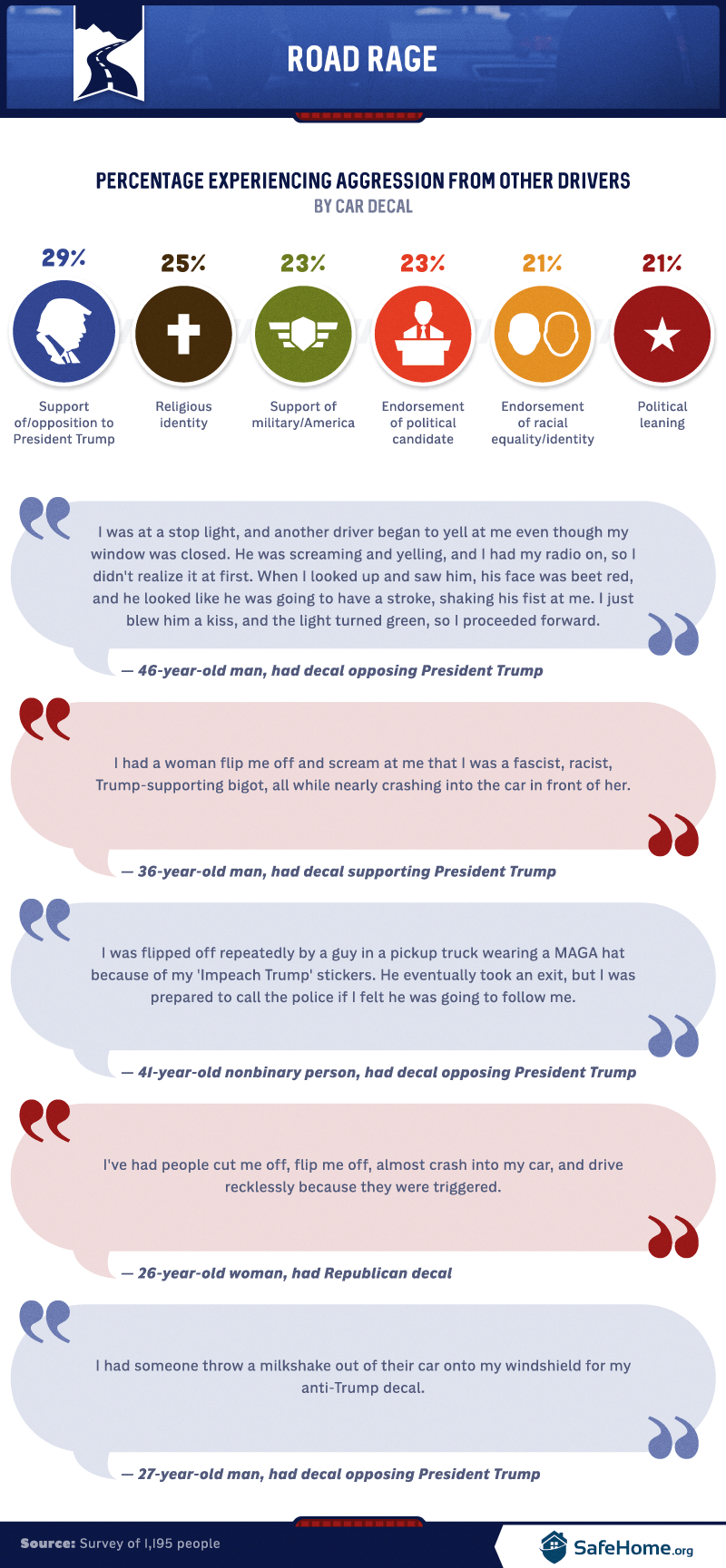 Whether it results in speeding, shouting obscenities, or something as serious as gun violence, road rage is a common danger for motorists. It can also be brought on by the smallest of offenses – say, a controversial car decal. So, we wanted to understand which stickers rile other drivers the most.
While 29% of respondents with Trump-related car stickers had experienced aggression on the road, there was relatively little difference among controversial decals and the likelihood of experiencing road rage.
A quarter of respondents with religious stickers were on the receiving end of aggressive driving behavior, compared to 23% of people with military-related or political candidate decals. Another 21% of respondents with race- or politics-related stickers had also experienced aggressive driving from others.
Sticker Side Effects
While many drivers abstained from car decals to avoid judgment and maintain their privacy, others were happy to display their views. However, for some, that decision came at the cost of getting pulled over – especially if they had one or more controversial stickers on their car.
One of the most important lessons revealed by our study was that law enforcement-related and safe driving stickers did not earn drivers favor in the eyes of the police. In fact, people with these types of decals got pulled over nearly twice as much as decal-free drivers. Finally, Trump-related stickers put the highest proportion of respondents on the receiving end of road rage, whether they were for or against him.
If you find a car decal you love, it's probably a good idea to think about how others might perceive it before sticking it on your vehicle.
Methodology and Limitations
We surveyed 1,195 drivers about their car decals and experiences on the road. For respondents to be included in our data, they were required to complete the entire survey and pass an attention-check question in the middle of each survey. Participants who failed to do either of these were excluded from the study.
Of all respondents, 51% were men, 48% were women, and 1% identified as nonbinary. Fifty-seven percent of respondents were millennials (born 1981 to 1997); 26% were from Generation X (born 1965 to 1980); 13% were baby boomers (born 1946 to 1964); 4% were from Generation Z (born 1998 to 2017); and 1% was from the silent generation. The average age of respondents was 38, with a standard deviation of 13 years.
The data we are presenting rely on self-reporting. There are many issues with self-reported data. These issues include, but are not limited to, selective memory, telescoping, attribution, and exaggeration. In finding averages of quantitative values, we removed outliers so that the data were not exaggerated.
Fair Use Statement
Don't leave your sources in the dust! We love when readers share findings from our studies for noncommercial purposes –all we ask is that you link back to the article so that everyone gets the full story, and credit is given where it's due.