By: SafeHome.org Research Published: March 2021
Fires are the most common emergency in New York City according to NYC Emergency Management. More than 38,000 fires burned across the five boroughs of the city in 2020. We recently studied over 2 million records of NYC fire incidents to understand more about fire safety. Our study identifies and draws attention to current fire trends to help New Yorkers and others learn how to better prevent and prepare for a fire emergency.
Key Findings
The Bronx borough had the highest number of fire incidents (601) per 100,000 residents.
Residents in NYC making less than $20,000 experienced nearly 3X the number of fire incidents than those making $45K and more.
Sunday was the most dangerous day for fire incidents, followed by Saturday.
A gas leak was the number one cause of home fires in NYC (42%), followed by cooking-related fires (38%).
The Penn Station area and Long Island City were the two areas most prone to fires.
The Five Boroughs
The largest city in the U.S. – New York City – has a population of over 8 million residents spread over five boroughs: Brooklyn, the Bronx, Manhattan, Queens, and Staten Island. A borough is like a small city within a larger metropolis. Our recent study determined which of NYC's boroughs experience more fire emergencies than the others.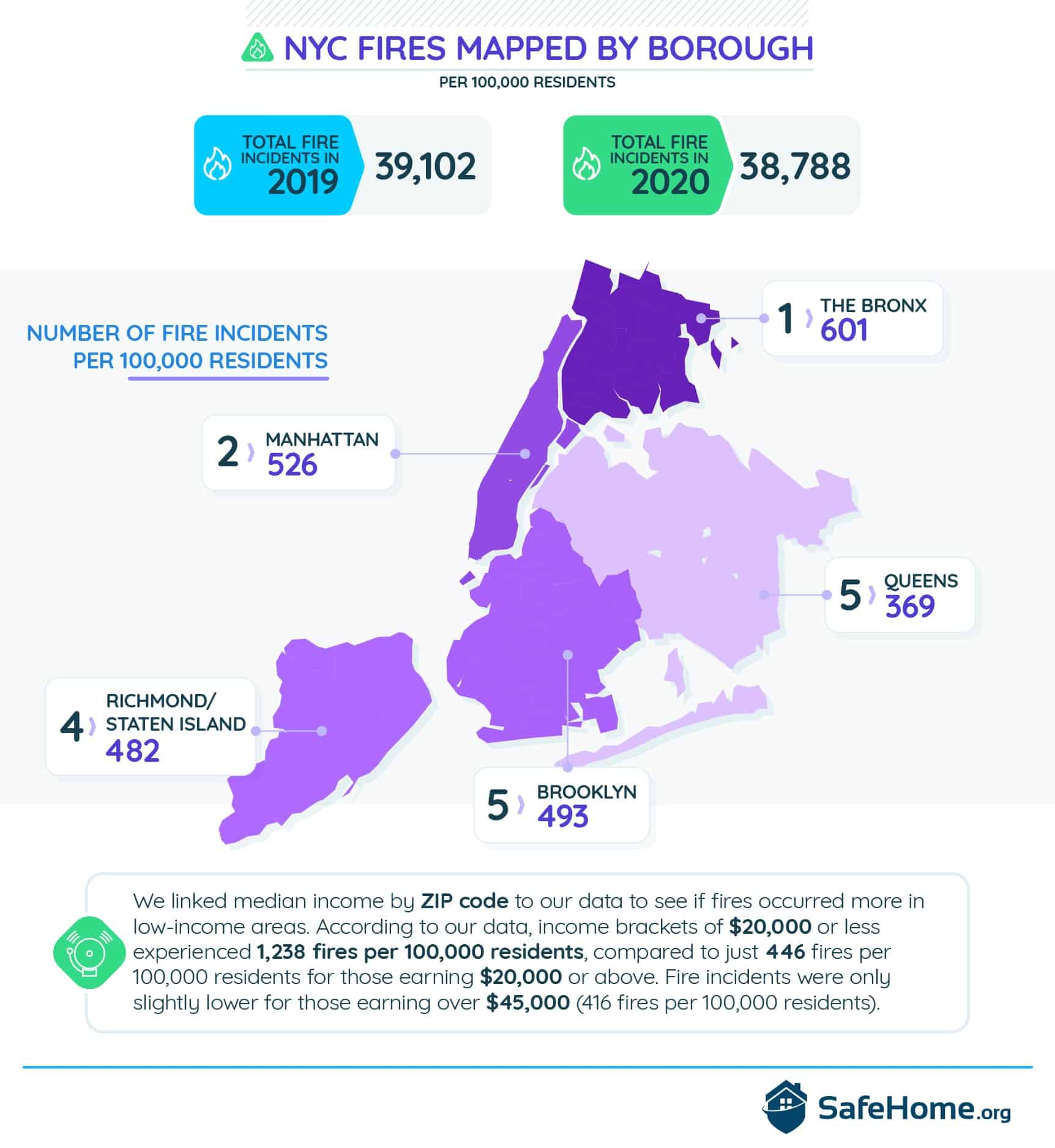 There's no evidence to suggest that staying home due to the COVID-19 pandemic has increased the occurrences of fire emergencies in NYC. The number of fires and fire-related civilian deaths slightly decreased this past year, according to our data and the city's fire commissioner. He also noted that fewer than 100 fatalities from fire incidents has been the norm for the last consecutive 15 years.
Past studies have shown that strong public education programs result in less fire fatalities. The FDNY Fire Safety Education Unit (FSEU) is dedicated to fire and life safety education outreach to help save lives. They coordinate or participate in more than 7,000 events per year to teach more than 500,000 New Yorkers about fire prevention. The FSEU also reaches out to neighborhoods that experience fatal fires to provide residents with smoke alarms and more fire safety education.
To work around the recent pandemic restrictions, the FDNY and its foundation made a concentrated effort in 2020 to provide residents with educational fire safety content online. Through the department's social media platforms, they were able to reach more than 149 million people – many more than those who live within the five boroughs.
NYC Neighborhoods
A closer look at each borough by ZIP code allowed us to narrow down which neighborhoods experienced the most fires in 2020.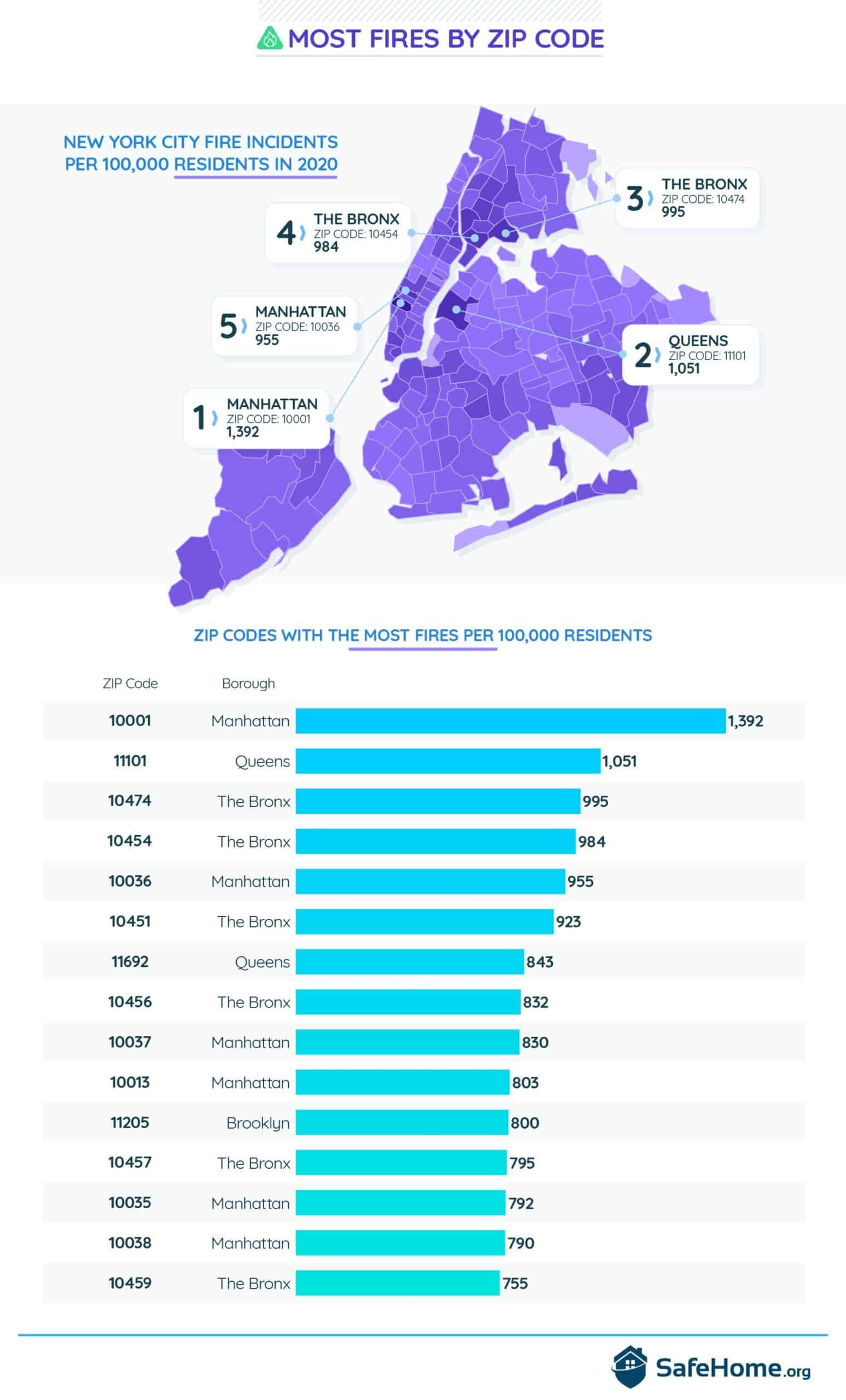 Manhattan and the Bronx are at the top of the list for the most fires per 100,000 by borough, so it's no surprise that 4 out of 5 ZIP codes with the most fires were found within these areas. Specifically, the ZIP code 10001, the area including and surrounding Penn Station and the Empire State Building, was the most prone to fires. The surprise ranking at second place was ZIP code 11101 in Queens. This neighborhood, known as Long Island City, had an unusual number of fires for being part of a borough that had the lowest occurrences of fire in the whole city.
When Fires Strike
If you know when home fires usually happen, you're better able to be on your guard to prevent them. Here's a look at the months, days, and times when fires were most likely to occur.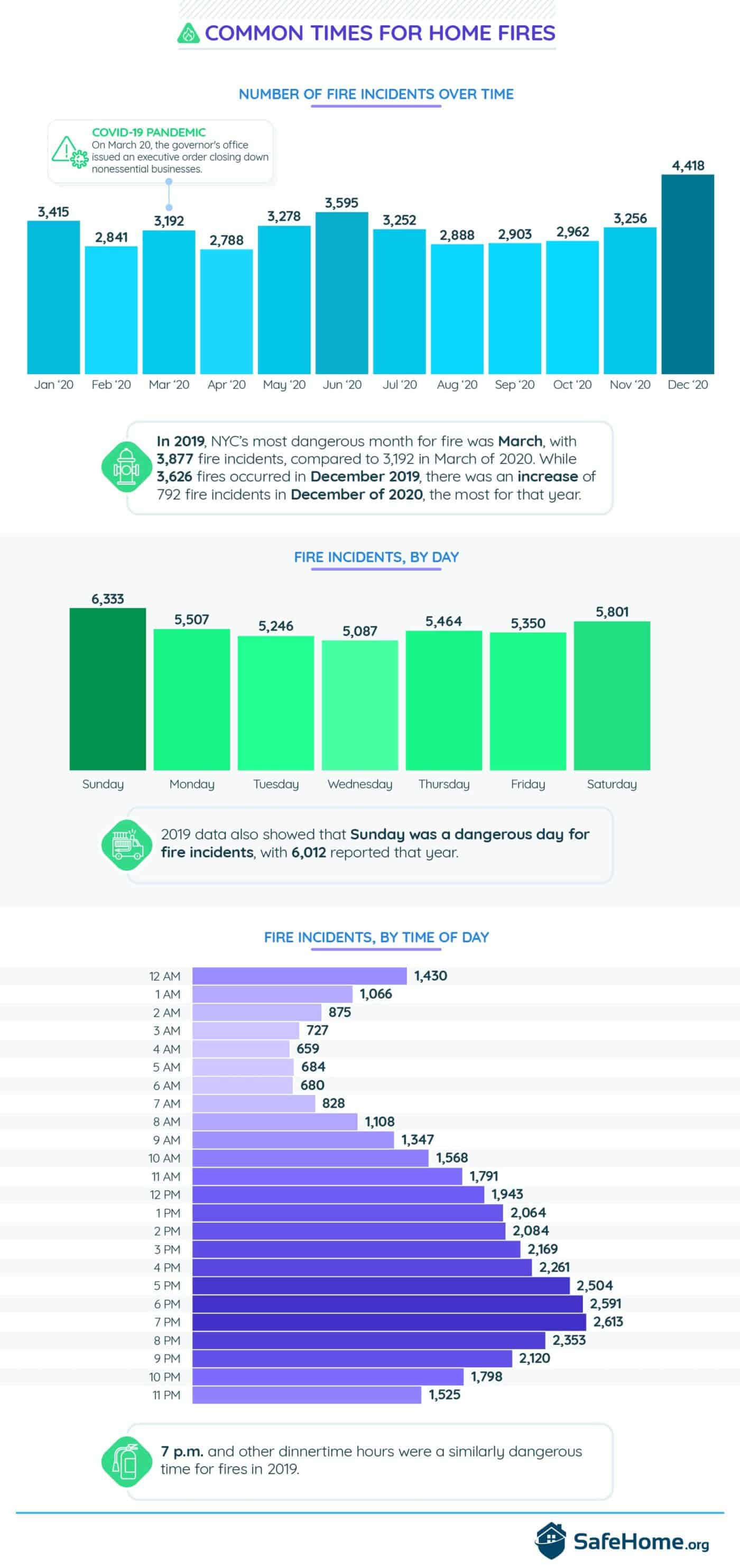 Research showed that dinnertime hours are when most fires occur in NYC, which confirms the national trend recently addressed by the National Fire Protection Association (NFPA). They determined that cooking is the leading cause of home fires in the U.S.
The NFPA also reports that the percentage of apartment fires started by cooking is nearly double that of cooking fires in one- or two-family homes. Kitchen safety should be a top priority for all, especially city dwellers who often live in apartment buildings. It's also important to teach children safety rules to help them prevent or handle an emergency situation.
Top Fire Causes and Locations
From cooking to unattended candles, many things can cause a fire to break out within a home. Below were the most common causes and locations of fires in NYC homes.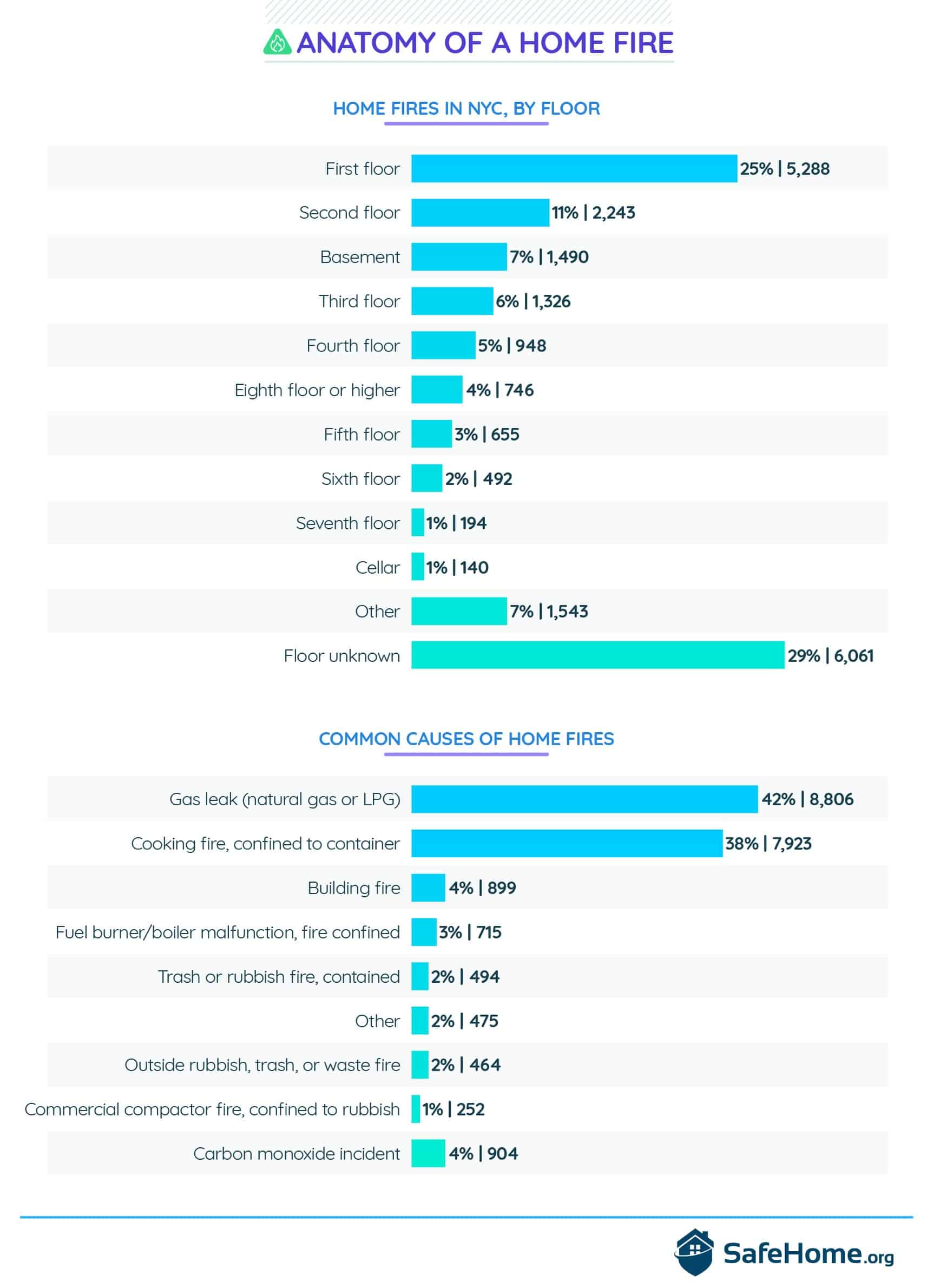 Though cooking is the top cause for fires in the U.S., it ranked second in the five boroughs. Gas leaks were the leading cause of fires in NYC, accounting for more than 40% of all recent fires. Natural gas is a fuel used for myriad things in many homes, such as cooking, heating, and drying laundry. Those that use natural gas should be aware that a rotten egg smell placed within the gas helps you to detect a leak. Should you catch a scent of this odor, the best course of action is to open doors and windows, leave, and call 911 from a safe distance.
Conclusion
Fire incidents and death in New York City have recently declined, largely due in part to increased measures for fire safety education by the city's fire department and other leading organizations. Encouraging cooking and natural gas safety remains a top priority for New Yorkers and many other Americans. Learning about fire trends and causes helps us to implement greater change and prevent these costly, and sometimes fatal, emergencies.
Our Data
We used NYC Open Data fire incident reports from 2018 to 2020 in order to examine how many fires occur across New York City as well as their causes. We used median income data per ZIP code and population data per ZIP code in order to analyze fires per 100,000 residents and explore fire density by income level.