Written By: SafeHome.org Team | Updated: June 31, 2021
Although the United States is the third most populous country, it has the world's largest prison population: more than 2.1 million people. Some believe this is because American society values retribution.
However, the prison abolition movement is shifting the conversation, and Democrats and Republicans agree there's a need for prison reform. Although politicians have yet to find a solution that everyone can agree on, how do Americans feel about their country's incarceration system?
To understand how Americans perceive the criminal justice system, we surveyed over 1,000 people. Then, we compared their views to data from the U.S. Sentencing Commission. Our findings reveal the sentence lengths people believe are appropriate for certain crimes, the suggested alternatives to prison reform, and what resources Americans deem fitting for prisoners during their time behind bars. Read on to uncover sentiment toward crime and punishment in America.
Current State of American Justice
One of prison's intended purposes was to hold a person while they awaited corporal punishment for a crime. But by the 19th century, ideas around prison changed, housing criminals for longer periods.
Fifty years ago, U.S. prisons held fewer than 300,000 people; that number has more than septupled. Over two-thirds of respondents in our study said too many people are in U.S. prisons. Conversely, more than 1 in 10 would put more people behind bars, and 20.6% believed just the right number of people are in prison.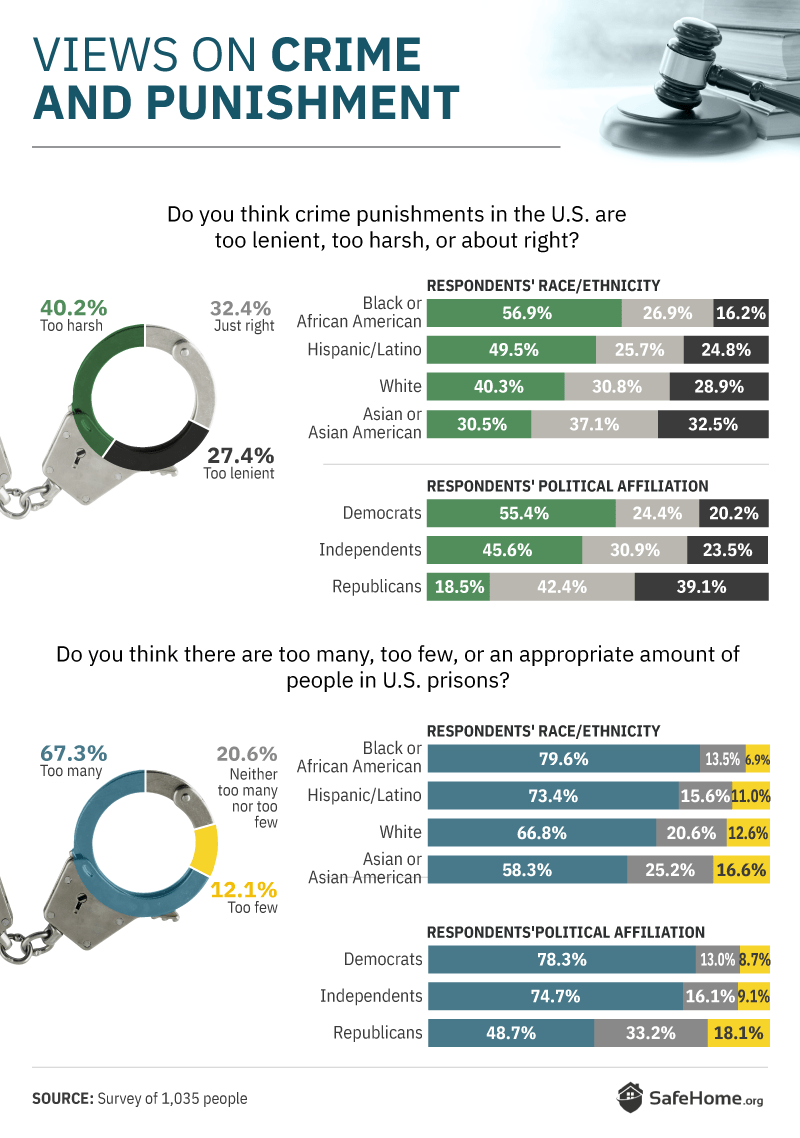 As previously stated, criminal justice is a politicized issue. Our findings show a disparity between Democrats and Republicans, and Independents fell in the middle. More than 78% of Democrats believed too many Americans are in prison, but less than half of Republicans said the same. Instead, around 1 in 3 Republicans thought the right amount of people are in prison.
When it was a question of leniency, the numbers shifted, but sentiments remained the same. Republicans (39.1%) found punishment for crimes too lenient, compared to 55.4% of Democrats who said consequences are too harsh. The Republican Party has a long history of being the "law and order" party. Perhaps that's why Republicans in our study favored the existing criminal justice system or desired longer, harsher sentences.
Who is currently in American federal prisons? Recent data from the U.S. Sentencing Commission (USSC) showed that 20.3% of federal offenders were white. Black Americans made up another 20.7% of federal offenders. However, Hispanics made up 55.4% of the federal offender population from 2018 to 2019. This could be because immigration crimes accounted for 37.4% of all federal crimes during this period. Although immigration sentencing has been historically high, the Trump administration's zero-tolerance policy along the U.S.-Mexico border may be responsible for the recent escalation.
Perceptions of Sentencing, by Crime
To determine how long Americans should serve in prison for committing a crime, the USSC offers a sentencing guideline that considers the type of offense and an individual's criminal history. For example, a person who commits murder will likely face more prison time than an individual processed for marijuana trafficking. Is the amount of time the average person believes a criminal offender should serve comparable to the federal average?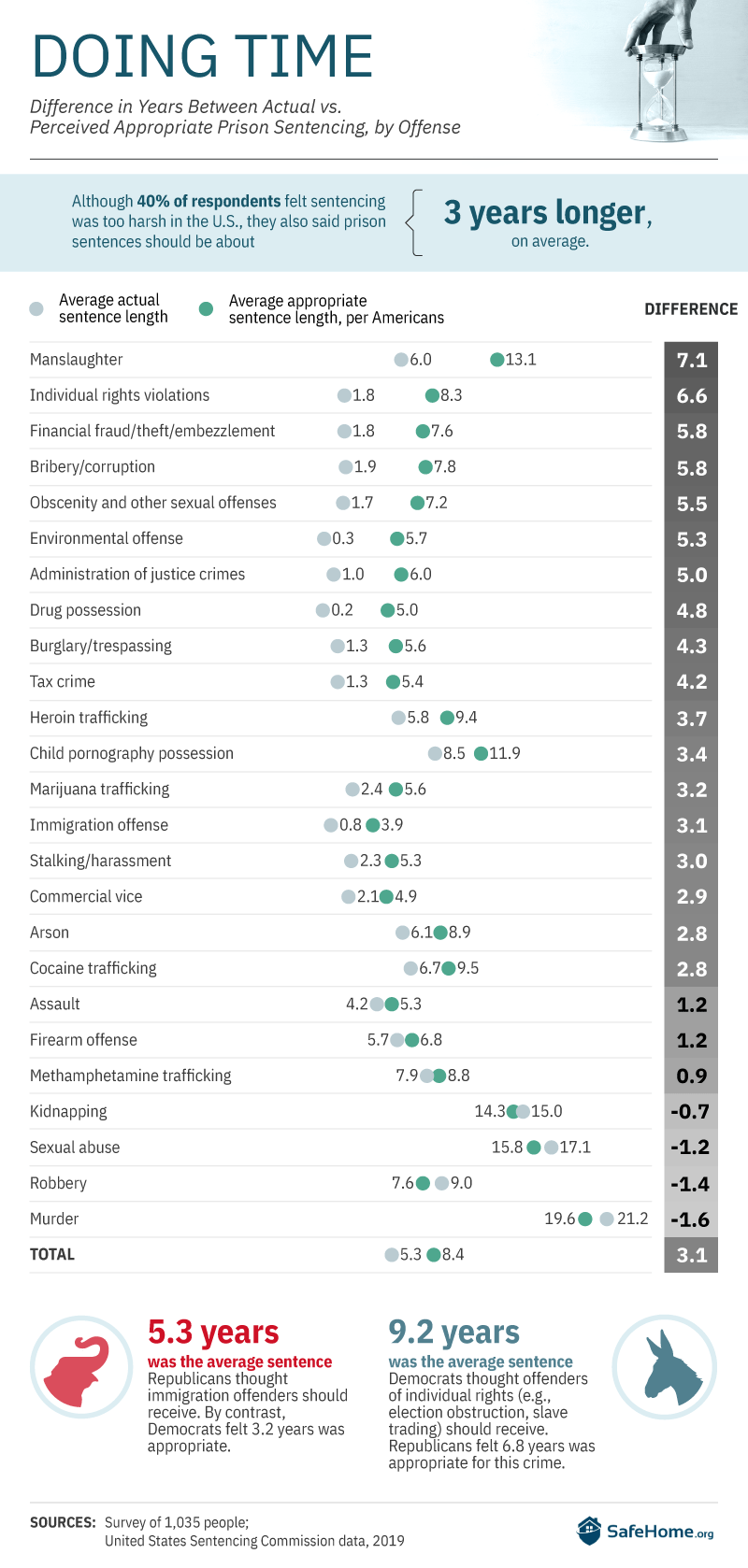 Our research indicates some alarming variances. To start, 2 in 5 respondents felt sentencing is too harsh in the U.S., but they would add three years to current prison sentences, on average. A further breakdown shows that the most significant gap exists for manslaughter: People currently serve an average of six years for manslaughter, but those surveyed would increase that sentence by 7.1 years, making it a 13.1-year prison stay.
The second-largest gap was for individual rights violations, which include denying someone their benefits or rights, obstructing an election or registration, and eavesdropping using a device. Currently, the average sentence is roughly two years, but people would sentence those who break that law to 8.3 years in prison. The protection of Americans' freedoms is ingrained in the U.S. Constitution. Perhaps that's why people would impose harsher sentences for individual rights violations – they go against American liberties.
Sentencing for methamphetamine trafficking and kidnapping showed the least significant gaps: less than a year. Kidnapping lands a convicted person 15 years in prison, on average, but those surveyed would sentence 14.3 years. The USSC deems meth trafficking a 7.9-year sentence, compared to the 8.8 years respondents would assign.
Penalties Without Bars
At the root of the prison abolition movement stands a belief that prison does not rehabilitate an offender. According to the USSC, previous criminal history is a strong predictor of recidivism. So, what's the alternative?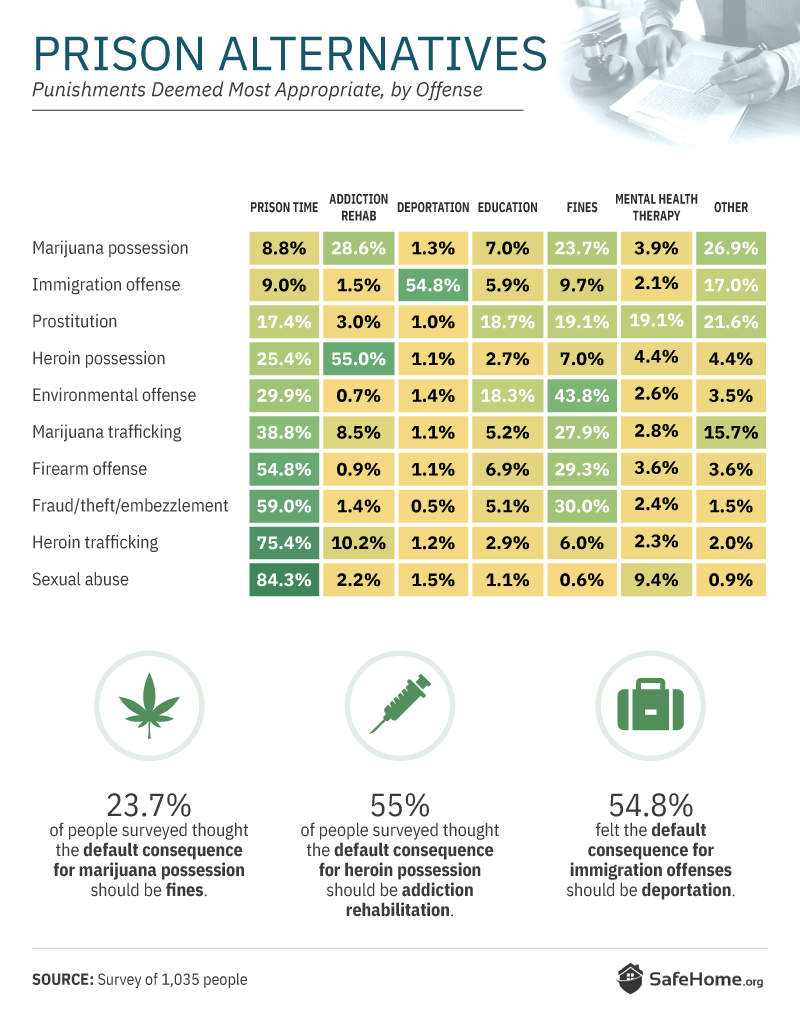 There are a few. Depending on the crime, alternatives can include rehab, deportation, education, fines, and mental health therapy. However, it is worth noting that more than 3 in 4 people felt heroin trafficking (75.4%) and sexual abuse (84.3%) should lead to a prison sentence.
Fewer than 1 in 10 people thought marijuana possession and illegal immigration should result in prison time. Instead, 54.8% felt the penalty for immigration-related crimes should be deportation. However, in 2019, the U.S. imprisoned 95.3% of people who committed immigration violations. Another 28.6% thought addiction rehab should be the alternative for marijuana possession.
Nineteen percent of survey participants recommended fines and mental health therapy as alternatives to prison for prostitution offenders. Although nearly 30% of people would imprison those who cause environmental harm, 43.8% would, instead, fine the perpetrators.
Support for Prisoners
According to the U.S. Department of Justice, there is a 43% reduction in recidivism among prisoners who participate in educational programs, and the higher the degree earned while in prison, the lower the rate of recurrence. Nearly 81% of participants in our study believed prisoners should be given educational opportunities, with about 85% of Democrats and Independents agreeing, compared to 67.6% of Republicans.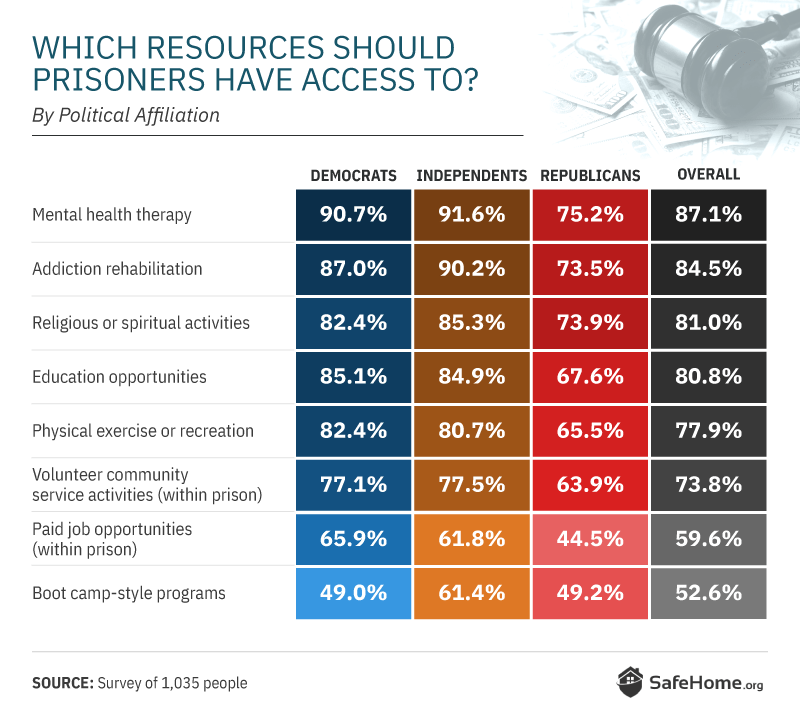 However, most respondents overall thought prisoners should receive mental health therapy (87.1%). A person with "a [mental health] diagnosis is likely to get a longer, harsher sentence than a neurotypical peer convicted of the same crime." However, access to mental health care and substance abuse treatment is likely to reduce recidivism.
Following drug and alcohol addiction rehabilitation (84.5%), 81% of people felt prisoners should be supported through religious or spiritual activities. Research shows that faith-based programs can be instrumental in helping to reduce recidivism.
Future of Prison Reform
When President Barack Obama became the first sitting president to visit a federal prison in 2015, there were about 1.53 million people imprisoned. By the time President Donald Trump commuted Alice Marie Johnson's sentence in 2018, that number was over 2.1 million.
As the number of people imprisoned continues to rise, our findings suggest that the majority of Americans believe the U.S. incarcerates too many people. However, people's sentiments toward the criminal justice system correlate with political affiliation. Democrats and Independents tend to favor leniency and shorter sentences, compared to Republicans who are tougher on crime.
While recent federal policy changes have worsened the conviction rate, prison reform is a bipartisan issue and has gained traction on both sides of the aisle. It's unclear if the prison abolition movement will succeed, but Americans agree that time behind bars is not always the right punishment for every crime.
Methodology
For this study, we analyzed data from the United States Sentencing Commission's (USSC) Quarterly Data Report. It covered sentencing data for federal crimes for the preliminary fiscal year 2019 through June 30, 2019. We also conducted an internet-based survey of 1,035 Americans to gauge their opinions on current criminal sentences in the U.S.
We used a quota to ensure we had a diverse survey pool. The races/ethnicities of participants are as follows:
White: 422 (5% margin of error)
Black or African American: 260 (6% margin of error)
Asian or Asian American: 151 (8% margin of error)
Hispanic:109 (9% margin of error)
Multiracial/ Biracial: 59
American Indian or Alaska Native: 29
Native Hawaiian or Pacific Islander: 5
The political affiliations of participants are as follows:
Republicans: 238 (6% margin of error)
Independents: 285 (6% margin of error)
Democrats: 484 (4% margin of error)
Other: 28
The proportions of participants are not representative of the U.S. population in terms of race/ethnicity or political affiliation.
Participants ranged in age from 18 to 82, with a mean of 36.8 and a standard deviation of 11.4.
In the survey, respondents were presented with a list of crimes and asked to enter the number of years people should be sentenced to prison for committing each crime. They were instructed to enter 0 for "no prison time," 100 for "life sentence," and 999 for "death sentence."
The crimes listed in the USSC report were sometimes grouped into categories and detailed in the report's appendix. To give survey participants more context for some of the crimes, we separated the categories into specific crimes then averaged the results to compare with USSC data. The following crime categories were broken down for the survey and then recombined for the presentation of findings:
Administration of Justice: Bribing/influencing witnesses, perjury
Drug possession: Cocaine, heroin, methamphetamine, and marijuana possession
Commercial vice: Prostitution, animal fighting, illegal gambling
Obscenity and other sexual offenses: Failing to register as a sex offender, distributing illegal sexually explicit materials
Limitations
The analysis only applies to federal crimes and their sentences, not crimes committed or penalized on a state level. The sentences and punishments for state crimes can vary greatly between states and from the federal standard.
Fair Use Statement
Considering the number of people in U.S. prisons, we encourage further discussion about the criminal justice system and how it can evolve. If you decide to share our research, we ask that it be for noncommercial reuse. Please link back here so that readers can see the entire study and review the methodology.