See How Norton Secure VPN Stacks Up Against NordVPN, One of Our Favorite Services for Digital Privacy
Picking a VPN provider with the right set of features is tricky.
Nowhere is this more evident than when working remotely. Maybe you didn't know that many companies won't give you access to their networks without a dedicated IP address. If you're working from home — as more and more of us are doing1 — and you don't choose a VPN provider that offers a dedicated IP, you may have thrown your money down the drain. And that's just the tip of the VPN iceberg.
We've cross-tested VPNs like NordVPN and Surfshark that are almost too close to call in terms of features. Norton Secure VPN is a little different. It's far more basic than most all-in-one VPN solutions, maybe even too basic. But everyone's needs are different. A stripped-down VPN service like this might be just the thing you're looking for, especially if you already use Norton AntiVirus for virus and malware protection. Let's see how it holds up against NordVPN, a VPN service with practically everything.
Pro Tip: A dedicated IP address is an IP that no one else but you has. How do you know if you need one? If you're working from home, your company network may whitelist one IP address for you. If your IP keeps changing, you won't be able to log in. Likewise, if you bank online, your bank might consider multiple IPs suspicious behavior, leading them to lock you out altogether. Ditto for streaming services. So before you commit to a VPN service, always check out the dedicated IP situation.
NordVPN and Norton Secure VPN: More Than Just VPN Services
Norton is almost synonymous with online privacy, either as a virus and malware shield, or more recently, as a spam and phishing blocker. So the idea that Norton would join the fray and launch a privacy-focused VPN service isn't earth-shattering news.
And, actually, this is where Norton Secure VPN and NordVPN share some common ground. Both bill themselves as more than just VPN providers. They've positioned themselves as comprehensive, one-stop digital privacy solutions.
NordVPN, for example, is one wing of NordSec, which also includes NordLocker (secure file storage) and NordPass (a password vault and password breach tester). Likewise, Norton Secure VPN is one piece of the sprawling Norton 360 Lifelock, which has subscription plans that cover everything from identity theft protection and parental controls to bank alerts and credit monitoring.
So, let's clear away some clutter up top. The first step in deciding if NordVPN or Norton Secure VPN is right for you is an easy one. Are you looking for more than just a VPN? And are you open to committing to a security and privacy ecosystem? If yes, then read on.
If you're shopping for a stand-alone VPN without the pricier bells and whistles, you might try a service like Surfshark. (Check out my top-to-bottom Surfshark review for a full discussion of pricing and everything else you need to know.)
FYI: If you're seeing identity theft protection and thinking "FBI: Most Wanted," don't be fooled. Identity theft doesn't only happen on TV. In 2020 alone, the U.S. Federal Trade Commission reported a huge pandemic spike (over 200,000 cases) in ID theft and email fraud.2 Need some names you can trust? Check out our Best Identity Theft Protection picks for 2023.
NordVPN and Norton Secure VPN: Side by Side
Just a word of warning as we make our way down this list of features and functionality. As I've already mentioned, both NordVPN and Norton Secure VPN offer VPNs as part of more comprehensive digital privacy packages. As we look at the two providers side by side, there are a couple of more things you should keep in mind.
NordVPN is a core VPN service built out into a security ecosystem, while Norton Secure VPN is a recent addition to a product that started off as a virus shield. In fact, at times, Norton Secure VPN almost feels like an extra feature you get with Norton 360 with LifeLock.
Second, NordVPN has plenty of features that we can't touch on in this review — if only because Norton Secure VPN doesn't offer any competing functionality. That said, if you're curious about NordVPN, we've got you covered. For the complete lowdown on NordVPN in all its glory, take a minute and read my pro NordVPN review.
The Server Situation
Usually server numbers are straightforward, which is a good thing because those numbers matter.
The VPN provider you want will give you enough coverage in enough places so that you can do pretty much whatever you want without getting stuck in any server load traffic jams.
NordVPN, with its more than ample 5,455 servers in 59 countries, fits the bill.
How many servers does Norton Secure VPN have? I'm honestly not sure because I couldn't find that information anywhere. On the desktop client (Windows and Mac), I found a countries list with about 30 countries.
But how about server loads? Or setting up a Favorites list? If you're looking for any of that, I'm just going to quote Obi Wan Kenobi here: This isn't the VPN service you're looking for.
Winner: NordVPN
Number of Simultaneously Connected Devices
One of the few things I'd actually like to see change is the number of devices you can protect simultaneously on NordVPN's yearly plan. As of this writing, you only get six. Compare that to IPVanish's 39-month plans, which gives you unlimited devices. (In case you're interested, I actually did compare the two services in my in-depth NordVPN vs. IPVanish comparison guide).
Norton Secure VPN, on the other hand, gives you five.
Is either enough? For big families, probably not. If it's just you and your cat, you'll probably be A-OK with NordVPN or Norton Secure VPN's simultaneous device connection limit.
Winner: Draw
Pro Tip: A Favorites list remembers your everyday connections so that you don't have to. That can save you a lot of time, especially when you're on the go. But it's a great security measure, too. Some VPN providers, like CyberGhost, even let you customize Favorites behaviors, i.e., "always allow my Starbucks connection, but never allow my library connection without asking." Curious about that? Get the full scoop on CyberGhost's feature customizations in our in-depth CyberGhost review.
Dashboard: Desktop and Mobile
I won't kill you with suspense here. NordVPN has a reputation for beautiful mobile and desktop dashboard design. The NordVPN dash is clean (if a little too crammed with geo pins in busy locations when you zoom in), intuitive, and it's got plenty of powerful features packed inside (except a kill switch for Android, which I'd really like to see soon).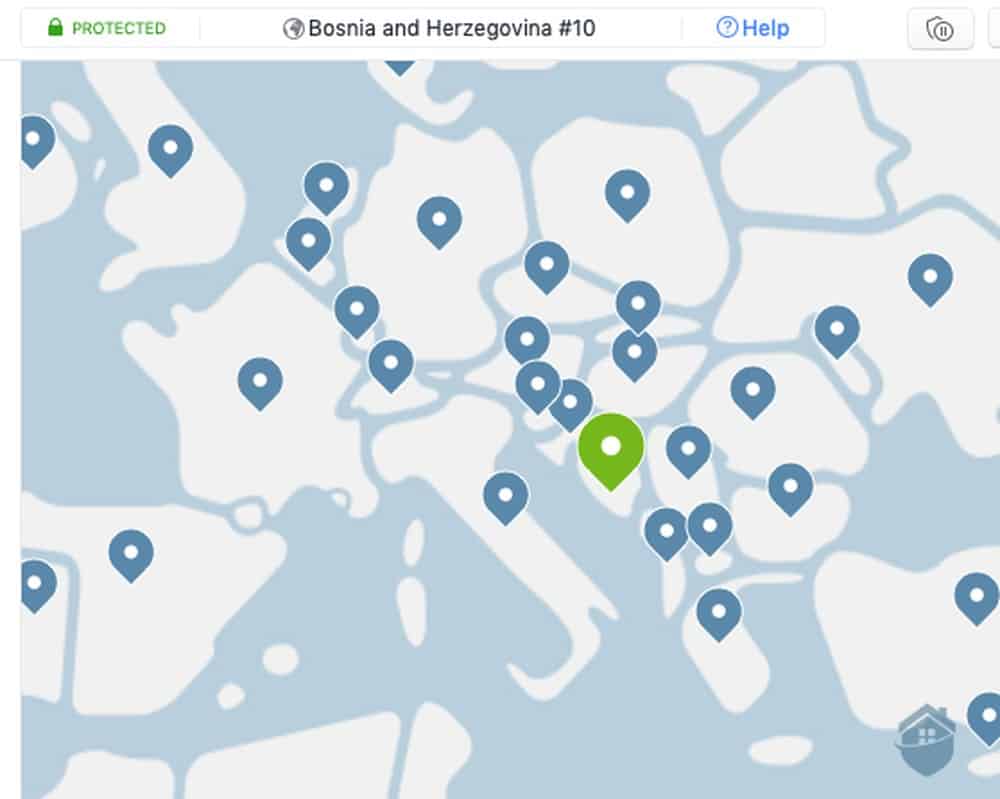 NordVPN Map – Bosnia and Herzegovina
I'd say Norton Secure VPN is clean, too. But clean, in purely design terms, means "not showing off." In other words, a clean interface looks simple because it's put all its features in the right drawers. Just like a room in your house looks clean when you've tidied everything up.
Norton Secure VPN is more like a room that hasn't got anything to put away, a room clean by virtue of being empty. I'm not saying a simple countries list with server loads wouldn't be enough. I'm just saying you're not even going to find server loads on any of the Norton Secure VPN apps. In fact, you're not really going to find anything, which makes it tough to compare dashboards.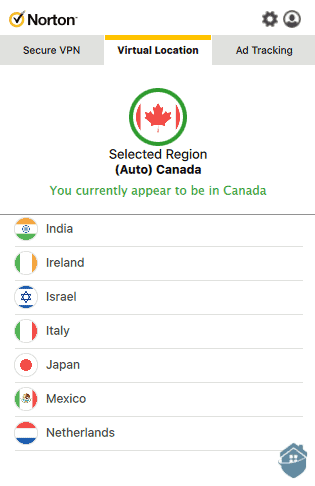 NortonVPN – Selecting a Location
Let's just say that all the really useful (and sometimes necessary) VPN functionality you get with NordVPN — split tunneling (for routing trusted connections that don't allow VPNs through your regular IP), obfuscated server (a native feature that hides the fact that you're using a VPN), Onion support (for browsing anonymously with Tor) — you won't find under Norton Secure VPN's hood, including a kill switch.
Even if you do find something good, like Norton Mobile Security Advisor, a service that tells you if your apps are all behaving (and not infesting your phone with malware and trackers), it doesn't come with Norton Secure VPN. You have to either fork over another $15 per year, or subscribe to Norton 360 (more on this a little later).
Another big hole in Norton Secure VPN's features list in my book is the fact that it has no dedicated IP service. Granted, you have to pay for this with NordVPN. But at least it's there if you need it. If you work from home, and need to access a company network, there's a good chance you will need it.
Winner: NordVPN, no contest
Pro Tip: Kill switches stop your devices from accessing the web when your VPN connection fails. Ideally, the kill switch should jump into action automatically. Anything less — a notification, say, or an error message — could put you at risk. So when you're shopping for a VPN provider, always check out the kill- switch situation before you press subscribe. Want to know a little more about that? I tackled this exact problem in plenty of detail in my in-depth NordVPN vs. Surfshark comparison guide.
Security and Privacy
NordVPN is so obsessive about security and privacy that some of the measures it takes won't really impact your day-to-day VPN use. I'm talking about its diskless RAM servers (so there's nothing physical for hackers to steal), or the fail-safe encryption on its already impregnable industry standard AES-256 encryption. To say nothing of its regular, independent, floor-to-ceiling network audits.
Simply put, NordVPN is as secure as a VPN provider gets — with the exception of maybe ExpressVPN. If security is really important to you, check out my comprehensive NordVPN vs. ExpressVPN comparison guide, which lays out just why ExpressVPN does such a great job here.
Privacy-wise, NordVPN also touts a zero-logs policy. If diskless servers mean nothing to you, this is something that will probably resonate.
When VPN providers are blind to logs, it means that your digital footprint — i.e., any data left behind from anything you do on their apps, including timestamps, session data, bandwidth usage, and IP addresses — stays hidden and isn't used by any third parties for marketing or monitoring purposes.
Contrast that to life on the open web, where you're totally exposed to entities like Facebook, basically a "log pirate" that makes billions of dollars a year selling access3 to every kilobyte of our digital lives to anyone willing to pay for it. At least that's what some people believe.
How firm is Norton Secure VPN's stance on security and privacy? As one of the top names in virus protection, you'd figure they'd be pretty strict on privacy, too. The reality is, it's difficult to tell.
On the Norton Secure VPN website, there's nothing substantial. The best I could find is a reference to "bank grade encryption," which, thanks, but no thanks, Norton. Just tell us what you use.
I had to go digging for Norton's logging policy, too. First stop was a blog article (linked off their homepage) that gave me some insight into their policy, which is basically this: Norton Secure VPN does collect "subscriber information for communication purposes, mobile device data, and aggregate bandwidth usage." The question is, what do they do with it?
Digging further (on a totally different website, by the way), I eventually found the answer in Norton LifeLock's privacy policy.4 None of the data Norton Secure VPN collects can be associated with your account. Even if they track your devices, without sessions data, which they don't keep, your activity is anonymous.
This is all good in the end, but when the issue is transparency, I'd like a policy that's a little more, ahem, transparent. Also keep in mind, those are still just words without an independent audit.
Winner: NordVPN, by a country mile
Did You Know: Antivirus software scans every inch of your devices for any binary code that's been linked to a known virus. It keeps those codes in a list called a virus definition database. When it finds a match, it extracts the corrupt file housing the malicious code and dumps it in a quarantine folder for disposal.
Performance
When gauging VPN performance, I usually base my expectations on four key factors: my normal connection speed (without my VPN), encryption quality, and server distances and bandwidths.
Router speeds are pretty straightforward, and should be relatively consistent, unless your ISP is throttling them, which happens. Practically speaking, the main thing to look out for is a VPN service that doesn't dampen your speeds (both download and upload) in any way that you notice.
Encryption is the extra layer of security VPNs wrap your data in to protect it from prying eyes. The better the encryption, the more potential drag in speed. The VPN service you want will secure your data without slowing data transfer.
Finally, how far you are from the server you're connecting to and how busy it is will obviously impact your speeds, too.
NordVPN is a known speed powerhouse, with or without its blazing fast proprietary NordLynx protocol, offering the highest grade encryption without compromising speeds or latency (data transfer lags).
Even running on the less speedy, but more stable OpenVPN protocol, NordVPN didn't affect my download speeds noticeably. I saw a 10 percent drop on a 160 Mbps line. My upload speeds actually skyrocketed, shooting up by 66 percent. That was great and unexpected.
Norton Secure VPN only connects with IKEv2 protocols, which are fast enough. Even so, Norton wasn't only slower (dragging down my download speeds by upwards of 70 percent), it was also inconsistent, sometimes giving a little more speed, sometimes sinking even lower.
Bottom line?
If your fear of speed lags has been stopping you from test-driving a VPN, you don't have a thing to worry about with NordVPN. If you take Norton Secure VPN out for a spin, and your experience is anything like mine, I'd keep a support number handy.
Winner: NordVPN
FYI: VPNs fit into two general categories: remote access and site-to-site. Remote access VPNs encrypt any data you transfer to or from your devices so no one can peek inside. If you're a private user, you're using a remote access VPN. Companies, on the other hand, frequently use site-to-site VPNs to give network access to users in different locations, both to employees (intranet) and partners outside the company (extranet).
Support
Speaking of support, there are no big surprises here. NordVPN has a super smart support center setup, with four main categories of info: FAQ, general info, billing, and connectivity, with a sidebar on all support pages featuring all four options so you're never more than a click away from anything.
In terms of the quality of NordVPN's content, if you've ever googled anything about VPNs, you've probably ended up on a NordVPN blog or knowledge base — and gotten a detailed, but straightforward picture of what you wanted to know. Their support library is just as good. So the fact that they steer you there first makes sense.
That doesn't mean NordVPN doesn't have a good chat setup, including both bot and human. Just click on the chat icon on the bottom right of the website to get there. Live chat with a human, by the way, is available 24/7. Emails, as you'd expect, take a bit longer.
Don't expect much in the way of Norton Secure VPN's support library. It's currently no more than a glorified FAQ. You'll also find chat and phone support. The live human chat support wasn't bad, in my experience, but don't expect to talk to a specialist unless your issue gets escalated.
NordVPN vs. Norton Secure VPN: Subscriptions and Pricing
Ready to do some clicking? If you're going to figure out your yearly bottom line for either NordVPN or Norton Secure VPN, you're going to need to.
Does it sort of bother me that I have to squint at the 10-pt. fine print just to figure out my VPN subscription rate? You bet. Here goes anyway.
Norton Secure VPN's basic, five-device plan will run you $79.99 per year (after their first-year $39.99 offer). Norton's pricing table has more options than a Dunkin' Donuts seasonal menu, by the way, so you're going to have to scroll way down past all the Norton 360 plans to find what you're looking for.
If $79.99 sounds steep for what essentially feels like an extra security feature and not a stand-alone VPN service, you actually might take a look at those other options. Norton 360 Premium Plus, for instance, gives you the VPN (for up to 10 simultaneous devices!), plus a bunch of other tempting privacy services (password manager, parental controls, virus protection, along with 250 gigs of secure storage) for $154.99 per year, after the first year.
But don't quote me on that. Norton's pricing table, with its endless, hardly distinguishable, product options, is so weird that the first support call you're probably going to make is to billing.

NordVPN is $119 per year after the first year without a password manager or secure storage
NordVPN's pricing plans are far more straightforward. After their first-year honeymoon offer of $44.51 per year, you pay $119 per year. Add 10 gigs of secure storage (NordLocker) and a password vault (NordPass) and you pay $178.76 per year. See below for a general rundown of their plan tiers, and visit our full NordVPN cost breakdown for an even closer look.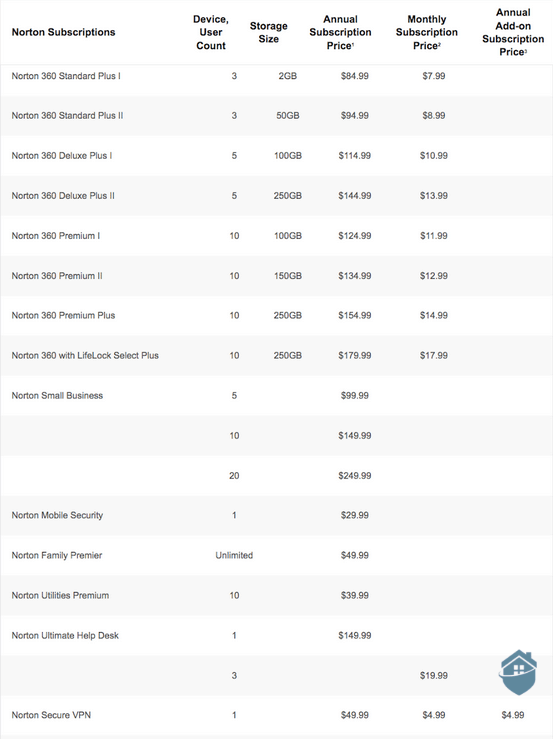 Page two of Norton's sprawling subscriptions menu—Norton Secure VPN is at the bottom
NordVPN vs. Norton Secure VPN — Which Has the Better All-Around Plan?
Spoiler: NordVPN.
And for so many reasons. As a VPN service, it's one of the fastest, most secure, and versatile on the market, with great server numbers and reach, and stand-out customer support. If NordVPN's yearly plans are more expensive than competing VPN services we've looked at — I'm thinking of Surfshark's two-year plans ($2.49 per month) and CyberGhost's 39-month plans ($2.25 per month) — you get what you pay for.
The only situation where you might consider Norton Secure VPN as a viable alternative to NordVPN is if you're already invested in the Norton privacy ecosystem, or are considering it. In that case, Norton Secure VPN might work as a basic VPN feature.
Even so, virtual privacy isn't getting any easier. Our needs are constantly morphing, and VPN providers like NordVPN are working hard to keep up. In other words, is it the right time to invest in a VPN feature rather than a comprehensive VPN service? Maybe not.
FAQs
Is Norton Secure VPN a VPN service or a feature?
It's actually a service, but a very limited one that can feel more like a feature.
Do NordVPN and Norton Secure VPN keep any records of my VPN activity?
No, both claim zero-log policies, which means they don't monitor your digital activity when you're connected to your VPN.
Which is cheaper, NordVPN or Norton Secure VPN?
For the basic plan, NordVPN ($119 annually) is more expensive than Norton Secure VPN ($78.99 annually). But paying the extra 30 bucks for NordVPN gives you a ton of features that Norton Secure VPN doesn't have, some of which you may need.
Performance-wise, which is better, NordVPN or Norton Secure VPN?
NordVPN is faster, even when connecting with an OpenVPN protocol (and not its blazing fast, WireGuard-based NordLynx protocol). Its download and upload speeds are more consistent, too.
Do both NordVPN and Norton Secure VPN unblock Netflix?
Yes, though Norton Secure VPN may give you trouble with other popular streaming services like Disney Plus.
Which platforms do NordVPN and Norton Secure VPN run on?
Both have Windows and Mac clients (NordVPN also runs on Linux), and they both run on Android and iOS. If you've got an Android TV, you can also run the NordVPN app from there. (Try it. It's great.)