With the growing number of cyberthreats and affronts to privacy out there, it's not a surprise that you're looking for a better way to protect yourself online. And the best way to do that? Run a virtual private network.
Virtual private networks, or VPNs for short, create a secure, encrypted tunnel your data travels through, making it virtually impossible for cybercriminals, nosey government agencies, snooping ISPs, or other prying eyes to see what you're doing online.
And if you're looking to join the ranks of the digitally secure, ExpressVPN and TunnelBear have what you need. But after hands-on testing both services, we have some critical differences to point out. So let's see how these two popular VPNs stack up.
FYI: Before we get going, do you need to get up to speed on what exactly VPNs are and what they do? Head over to our VPN resource page — there you'll find everything you need to know to make a smart buying decision.
ExpressVPN and TunnelBear: A Bird's-eye View
ExpressVPN has been around for over a decade, and during that tenure they've set themselves apart as industry leaders. In our ExpressVPN test, I found them to be reliable, secure, and their cutting-edge privacy protections really made them stand out.
They also pride themselves on being extremely user-friendly and approachable. You definitely don't need to have an intimate knowledge of computer science and networking to use this service. I'm not exaggerating when I say it's as easy as pressing a button.
But the same could be said for TunnelBear. They've spent a great deal of time considering user experience and making what could be a really dull task — increasing your digital security — totally enjoyable. When I reviewed TunnelBear, I thought they were fun without being too gimmicky, and I was impressed by how easy the service was to set up and use.
However, they aren't just all about bear-puns and video game-like graphics. TunnelBear VPN offers some pretty serious protections and meaningful privacy functionality that will benefit anyone looking to stay safe online.
Over the course of this comparison, we'll look at ExpressVPN and TunnelBear's similarities and differences, discuss how they perform, and finally we'll take a look at their pricing structures. When we're done, you'll have a clear idea of which provider is right for you.
How Are They Similar?
User-Friendliness
Both ExpressVPN and TunnelBear have placed user-friendliness at the top of their priority list. While the two services take slightly different approaches to that experience, the end result is the same: Both are simple to set up and a cinch to use on the day-to-day. You're not going to find any confusing tech jargon, and you'll never be at a loss if you find yourself troubleshooting for whatever reason because both have great customer service support.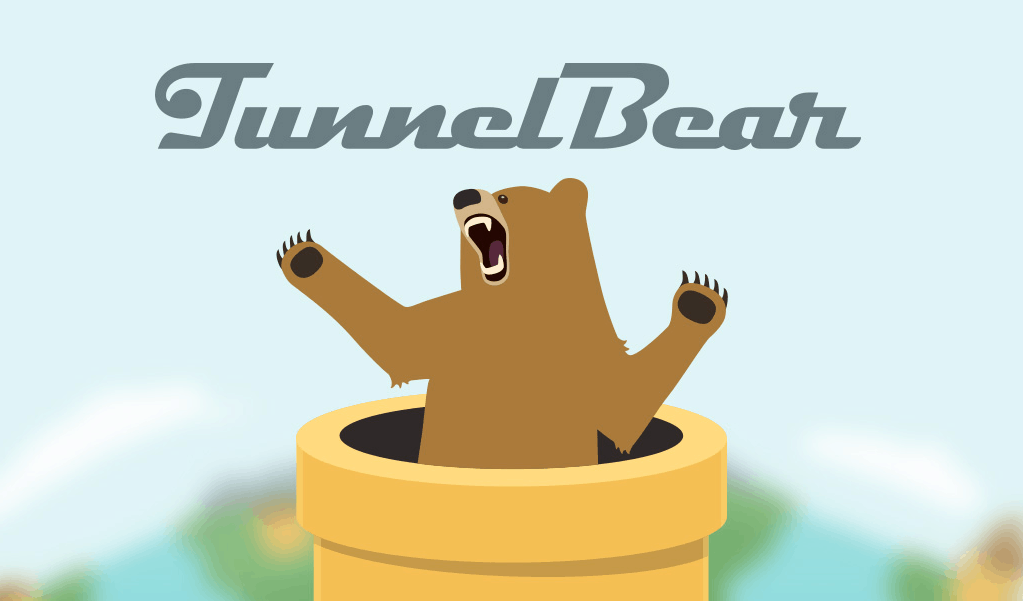 Streaming
Both ExpressVPN and TunnelBear are great options if you're looking to unblock geo-restricted content on your streaming platform of choice. Neither service offers specific servers optimized for streaming like I saw in my Cyberghost VPN review, but their reliable speeds and up-to-date server networks prevent streaming platforms from identifying and blocking VPN traffic.
Security
In my tests, both ExpressVPN and TunnelBear were airtight. Neither leaked DNS requests and other, more minor security vulnerabilities seemed to be fully addressed. I'd confidently say both services do exactly what they claim in terms of protecting your data from prying eyes.
So those are the major similarities between ExpressVPN and TunnelBear; now let's have a look at where these two services diverge.
How Are They Different?
User Interface
So, we previously mentioned that TunnelBear and ExpressVPN are both extremely user-friendly, but they take different tacks, right? One of the obvious examples of this would be the services' user interfaces. TunnelBear takes a map-based approach, while ExpressVPN uses a push-button functionality.
Honestly, I can't say which one I prefer. Obviously, TunnelBear is a little more interactive — a little more fun, even — but there's something to be said for the simplicity of ExpressVPN. It's a matter of preference, really, on which you like better.
Server Locations
Another major difference between the two is the number of locations in which their servers are housed. Both providers operate around 3,000 servers each, but TunnelBear's servers are located in just 26 countries, whereas ExpressVPN's servers are spread out across 160. This means if you're looking to access geo-specific content, or if you have another reason for wanting your traffic to appear to be originating from a specific location, you're more likely to accomplish this with ExpressVPN.
ExpressVPN is one of the few commercial providers whose network is made up entirely of RAM-only servers. What does that mean exactly? RAM requires power to hold on to data. That means whenever a server is reset, anything stored on it is gone forever and there's no way of retrieving it. What does that mean exactly? It means ExpressVPN has one of the most robust privacy postures available in the industry today. Even if they wanted to hand your data over to a third party, there's simply no way to do it.
FYI: The only other mainstream service running RAM-only servers is Surfshark VPN. To learn more, check out our Surfshark analysis. They've got some really solid offerings that go beyond high-tech privacy.
However, this isn't to suggest TunnelBear doesn't take your privacy seriously. They do have a strict no-log policy, and they make it a point to conduct annual security audits. Just because a service is running on more traditional hardware doesn't mean it should be discredited. It's just that Express is head and shoulders above the competition in this regard.
Jurisdiction
Express edges out TunnelBear in terms of privacy again simply by virtue of where they're headquartered. Express is located in the British Virgin Islands, which is well known for its data privacy-friendly posture. TunnelBear, on the other hand, is located in Canada, which is beholden to numerous international data-sharing agreements. In fact, for a time you couldn't access torrent sites using TunnelBear's service when Canada was cracking down on online piracy. That is no longer the case, but it goes to show you, when selecting a VPN, location matters.
Protocols
Simply put, ExpressVPN offers support for more protocols than TunnelBear, including WireGuard, PPPT, L2PT, SSTP, the proprietary Lightway protocol, OpenVPN, and IKEv2. For comparison, TunnelBear will only let you select between IKEv2 and OpenVPN on Windows machines, and if you're running the service on a Mac, it's OpenVPN for you. For the average, everyday user, this likely won't make a whole lot of difference, but if you're interested in tweaking your VPN's performance, you'll have more luck with Express' protocol options than you will with TunnelBear.
So that's a pretty comprehensive list of the major differences between ExpressVPN and TunnelBear VPN. Now let's take a look at how these services perform on a day-to-day basis.
ExpressVPN vs. TunnelBear: Speed and Performance
This is a critically important point. When using a VPN, you can expect to see your speeds take a bit of a hit, and whether that's a slight dip or a full-on nosedive depends on a variety of factors. Top-shelf VPNs account for this and mitigate the slowdowns as best they can. So how do these two stack up?
In my tests, ExpressVPN performed pretty well. I never noticed any significant slowdowns while using the service in my day-to-day browsing, and when I put them to the test, the only discernible degradation was pretty negligible. My baseline test — meaning with the VPN switched off — revealed that my download speeds were right at 180 Mbps, and my upload speeds were at 156. When I was running the VPN, I slowed down to 126 Mbps on download and 95 Mbps on upload. A bit of a decline, but not what I'd consider significant.
FYI: One thing to note: ExpressVPN has a "quick connect" option that is supposed to connect you to the fastest available server. However, when I used this feature, my speeds were almost cut in half. I can't say that will be your experience, but the feature did seem a little faulty to me.
With TunnelBear, it was a pretty similar story, although it fluctuated a little more depending on which server you're connecting to, and how you're connecting. TunnelBear offers server obfuscation options, which make VPN traffic appear like standard IP data, but that'll slow you down significantly. In my tests, I saw declines anywhere from 10 Mbps all the way to the
130-Mbps range.
Plans and Pricing
So here's where things get interesting. I'm sure that as you've been reading this article, you've been thinking to yourself, "Well, TunnelBear seems okay, but ExpressVPN is clearly the superior service." Honestly, we'd be inclined to agree with you if it weren't for one factor — the price.
ExpressVPN is a somewhat pricey service. More on that in my guide to ExpressVPN's costs, but the long and short of it is you get what you pay for. Express has some of the most sophisticated protections in the industry, and they're one of the most well-designed services we've encountered. If you want a Cadillac, you're going to have to pay for a Cadillac. Thankfully, this "Cadillac" is only $8.32 per month. Here's the breakdown:
ExpressVPN Pricing Plans
| Duration | 1 Month | 6 Months | 12 Months |
| --- | --- | --- | --- |
| Cost | $12.95 monthly | $9.99 monthly | $8.32 monthly |
TunnelBear, on the other hand, is a lot more affordable. For more information on the ins and outs of their plans and pricing structures, see our TunnelBear VPN price guide; in the meantime, here's the basic gist:
TunnelBear Pricing Plans
| Duration | 1 Month | 1 Year | 2 Years | 3 Years |
| --- | --- | --- | --- | --- |
| Cost | $9.99 monthly | $4.99 monthly | $4.17 monthly | $3.33 monthly |
As you can see, you'll save some money with TunnelBear. Now you do have to weigh these costs against the features you'll be missing out on, but these savings might tip the scales in TunnelBear's favor.
FYI: If you're really looking to save, there are plenty of opportunities for savvy consumers. Check out our guide to VPN sales and deals for the rundown.
So after all that, you should have a pretty good idea of what both services are bringing to the table and what they might be leaving behind. With all this in mind, what's the final word?
ExpressVPN vs. TunnelBear: Which One Is Better?
It can be difficult to say which VPN is the right choice, especially when you're dealing with high-caliber services. That said, for our money, ExpressVPN beats out TunnelBear by a nose.
If you're looking for best-in-class, and cost isn't a consideration, ExpressVPN is definitely the way to go. But if you want an acceptable service that'll save you some dough in the long run, TunnelBear could be the right move. It's all about understanding what you need and matching that to your budget. But honestly, for a few more bucks per month, we think you'll be happier with ExpressVPN (it's our top-rated VPN for a reason).
If you're not convinced that either of these services is right for you, though, head over to our top 10 list of the best VPNs of 2023. There you'll find something for almost every need, and at almost every price point.
ExpressVPN vs. TunnelBear FAQs
Is ExpressVPN or TunnelBear more affordable?
TunnelBear is the more affordable choice, but ExpressVPN offers more sophisticated protections and a larger list of server locations.
Is ExpressVPN faster than TunnelBear?
We found ExpressVPN to be a little faster and more reliable, performance-wise, than TunnelBear. However, both VPNs offer reasonable speeds.
Is ExpressVPN better for streaming than TunnelBear?
Both services will unlock geo-restricted content, but ExpressVPN's more reliable speeds and larger list of server locations make it the better option for streaming.
Is ExpressVPN better for torrenting than TunnelBear?
Due to its privacy-friendly jurisdiction, its large, unrestricted server network, and consistent speeds, ExpressVPN is our choice over TunnelBear for torrenting.
Which is better, ExpressVPN or TunnelBear?
ExpressVPN offers better privacy and features and is easier to use, but TunnelBear is slightly more affordable. It depends on what you value more to determine the best choice. But all things considered, Express gets our vote for the best VPN out there.