It's clear that Abode is one of the top-rated choices for home security systems. With easy DIY setup, you get to control and monitor your home and gain peace of mind.
With abode, you won't have to deal with a yearly contract. Plus, this system doesn't hold back with its features. It has robust home security features ranging from home automation to advanced customizations, and even a camera/hub combo. Not a fan of monthly fees? The good news is that you won't have to deal with contracts if you self-monitor with abode.
With that said, there are some disadvantages we found while testing abode. For starters, abode doesn't have its own video doorbell or outdoor cameras available for purchase. And although we like abode's CUE home automation platform, we like being able to connect third-party smart products to our system, which is something you can't do with abode.
So in this guide, we provide an honest review of alternative home security systems offered by companies such as SimpliSafe, Frontpoint, and Brinks.
What Do These Alternative Home Security Systems Have In Common?
SimpliSafe, Frontpoint, and Brinks are all DIY home security systems, similar to abode. All of these companies share a common goal: Providing a simple, hassle-free setup for consumers, allowing them to protect their homes and families without breaking the bank.
It turns out there are a lot of similarities between these three systems than we previously thought. Some of these similarities include reliable wireless abilities that can withstand a power outage, as well as features like motion sensors, sirens, and smoke alarms for doors and windows.
Did You Know? Brinks has been in the home security business for decades, though they recently underwent a complete rebranding.
What Is Different?
While Brinks does have a DIY setup, it's not exactly an easy process to navigate. In this case, you might want to take advantage of their professional installation, which costs an extra $199.
When you choose one of Brinks Home Security systems, you won't have to spend a fortune in start-up costs just to get your equipment. With abode, you do have to purchase your equipment upfront, which isn't always feasible for some families.
Even though the monthly fees are a bit steep compared to abode, Brinks can get you out-the-door for under $30 per month. Overall, the Brinks system is something to consider, especially since they offer indoor and outdoor camera options. That being said, SimpliSafe and Frontpoint offer indoor and outdoor camera options, too.
FYI: We recently got our hands on a Brinks home security system. And we have to say, we enjoyed the ride. Read our full review of Brinks here.
Moving on, SimpliSafe offers the easiest DIY install in the game. It took us just 15 minutes to set up our SimpliSafe system, and it protected our home with a dash of style (the hub is a sight to behold). It's also really cheap, with monitoring fees starting at only $17.99 per month. Check out our full SimpliSafe review to learn more.
Meanwhile, Frontpoint has add-ons such as video monitoring and lots of smart home features. In fact, if you like tinkering with advanced custom features and want more control over your home security system, we think Frontpoint is the way to go. These kits are more expensive than both abode and SimpliSafe, but you get what you pay for. What's more, Frontpoint has only one monitoring package. It costs $49.99 per month, which is more expensive than abode, SimpliSafe, and Brinks, but it unlocks every feature there is in Frontpoint's arsenal. You'll get the biggest bang for your buck if you take advantage of home automation and video monitoring features by purchasing cameras and smart home devices. To learn more, we recommend reading our full Frontpoint review.
Best Features of abode Alternatives
SimpliSafe
A nice feature of SimpliSafe is the wireless option. Since SimpliSafe operates on a wireless base, you have the convenience of using their app, keyfob, or wireless pin pad. You can simply put it in "away mode" or turn off the alarm when returning home. SimpliSafe offers attractive equipment, smartphone controls, and a generous 60-day money-back guarantee.
Note that the base station provides an option for turning their bright blue light on and off. If you're sensitive to light, this feature allows you to adjust the light settings according to your preferences. You can control the light settings through the keypad, which can also be used to lower the siren and volume.
Pro Tip: We discovered the lights can be pretty bright, so we had to move it into another room because it distracted us from our "movie night" experience. We'd recommend changing the brightness in the settings if you're sensitive to light.
Frontpoint Security
Frontpoint security systems use LTE cellular monitoring for fast and reliable response. They have loads of smart automation features, a great mobile app, and advanced features like geofencing and custom actions.
It's also worth noting that Frontpoint's keypad will remain both safe and reliable in the event of an emergency. For instance, if someone breaks into your home and manages to destroy your keypad or smart hub, the monitoring center will immediately receive a notification. Think of the monitoring center as your new best friend and virtual bodyguard.
Essentially, the smart hub is a busy bee that has 24/7 emergency features that can backup your information. It's able to encrypt both incoming and outgoing information, making it more difficult for hackers to gain access to important data.
Brinks Home Security
With Brinks, you can easily view live home video through a mobile app. You can also use the keychain feature to remotely disarm and arm the security system whenever you'd like.
Depending on the plan you choose, Brinks offers free Cloud storage. This means that you can keep all of the recordings in one central, safe place. Typically, alternative plans may make you pay a fee for this. If you go with the higher plan with Brinks, you can use the storage as you please.
Overall, Brinks' high-quality customer service deserves some recognition. Some of the standout features include the Live Assist, which lets you talk to the monitoring station in real-time if there's an emergency. You can get real-time advice and talk through the emergency with a representative who can help you gain peace of mind when you need it most. They can also dispatch Police, Fire, or EMS if necessary.
abode Alternatives: Equipment Cost & Monthly Fees
SimpliSafe Pricing and Fees
The basic setup for SimpliSafe starts at only $149, which is a common deal the company generally offers. This makes SimpliSafe one of the best options for budget-conscious shoppers. For something more advanced, it's no surprise that the cost will be a bit steeper. Here is the breakdown of how SimpliSafe equipment pricing works:
The Foundation – $195.97
The Essentials – $219.96
The Hearth – $311.93
The Knox – $371.90
The Haven – $403.89
As far as 24/7 professional monitoring goes, SimpliSafe's monthly payments start at $17.99 for the standard tier, and go up to $27.99 for the interactive tier. If you want smartphone controls, you'll have to spring for the latter premium plan.
Frontpoint Plans & Pricing
>If you're on a budget, Frontpoint can get expensive when it comes to monitoring fees. Professional monitoring is required, and the only plan available costs $49.99 per month. This price, however, includes professional monitoring, home automation, and video monitoring features. It also includes Crash and Smash protection, 100-percent cellular monitoring, and cloud storage for cameras, if you have any. Considering all of those features, $49.99 is a competitive price.
Their prices begin at $44.99 per month, but again, this gives you 24/7 monitoring with lots of custom features. However, if you want to have smart home automation and video monitoring features, an upgrade is needed. This will run you an extra $5 each month, but that's a small price to pay for the extras you'll enjoy.
Did You Know? You can start the setup process right away. Frontpoint does not require an upfront payment, so you don't have to pay anything to start off. They offer flexible finance payment options through their pay-over-time plans up to 36 months. Keep in mind that this does require a credit check.
As for the equipment, packages start off at $129 for a simple system consisting of entry sensors and motion sensors. Cameras and home automation devices are available in larger, more expensive plans starting at about $450.
Brinks Cost Breakdown
Depending on your home security needs and budget, Brinks has different plans to help you and your family feel safe. If you're looking for an inexpensive plan, we'd suggest going for the Smart Security Essential package priced at $199.
The second option is the Smart Security Complete, which is modestly priced at $349. It's a good option if you're looking for something substantial but reasonable.
The third option is a bit on the high-end, but it's worth it. It's the Smart Security Ultimate, which costs $1,099. With the Smart Security Ultimate, you'll get a doorbell camera, an outdoor security camera to monitor your home's exterior, and home protection equipment such as keypads and sensors.
Brinks offers many upgrades and extra add-ons for enhancing your home security system. One of the benefits is that you can conveniently customize a package that meets your security needs, without going over budget.
Here are some additional perks and features from Brinks:
Surveillance and Motion Detection – You'll be able to monitor every inch of your house with added motion detection priced at $59 each
HD Indoor Cameras – Do you need more security when you're away from your home? You can easily add extra cameras for $199 each.
IQ Smoke Detector – For $89, gain peace of mind and protection from harmful smoke and fire with the Brinks IQ Smoke Detector
Smart Home Automation – Simplify and merge all of your automated devices (Amazon Alexa and Google Home)
Door and Window Sensor – For $29 each, you can add more sensors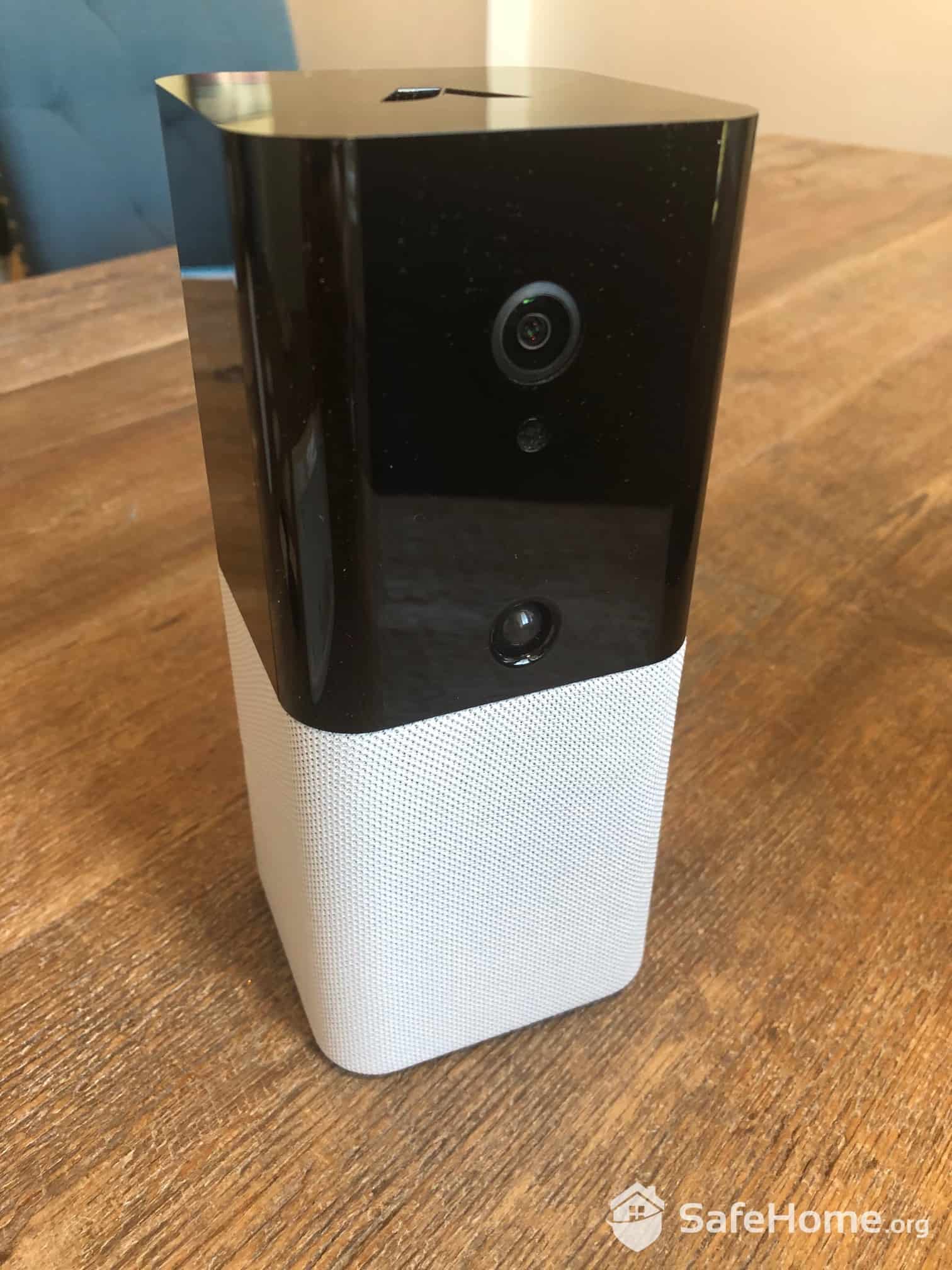 abode Gateway
abode Alternatives: Important Things to Keep in Mind
We want to warn you: SimpliSafe's sirens are loud, but for good reason. In the event of an emergency, you're going to be thankful those sirens are working their magic.
Luckily, you can easily adjust the volume and decrease or increase it by changing the settings. The 95 dB siren is one that will get the attention of an intruder quickly and loudly.
If you want added security and increased sound, you can always buy additional 105 dB sirens for a cost of $59.99.
Did You Know? It's easy to forget to check your home security system's battery life. The next time your batteries or sensors are low, SimpliSafe will immediately notify you. Note that there's a 1-year battery life for the keypad battery and five years for all the other sensor batteries.
SimpliSafe also offers glass break sensors that will sound the alarm if an intruder smashes a window to gain entry. But it's extremely sensitive, so the next time a glass cup breaks in the kitchen, it can actually set off the alarm.
Another important thing to consider is that Frontpoint is the clear leader when it comes to smart home automations. Frontpoint's smart home equipment includes:
The smart light bulb – $9.99
Wireless light control – $49.99
Frontpoint smart door lock by Yale – $149.99
And it's compatible with hundreds of third-party products
One of the perks is that there is no wiring hassle. All of it can be set up and easily accessed via the Frontpoint app. (Frontpoint is currently working on a smart thermostat alongside other smart home equipment).
Plus, if you're temporarily renting a house or apartment and don't want to commit to a long home security contract, you won't have to deal with signing one. If you find yourself moving from place to place, no worries. Frontpoint will gladly send you a box with installation accessories (such as free, fresh adhesive backing) and easy instructions on how to install your home security system in your new home.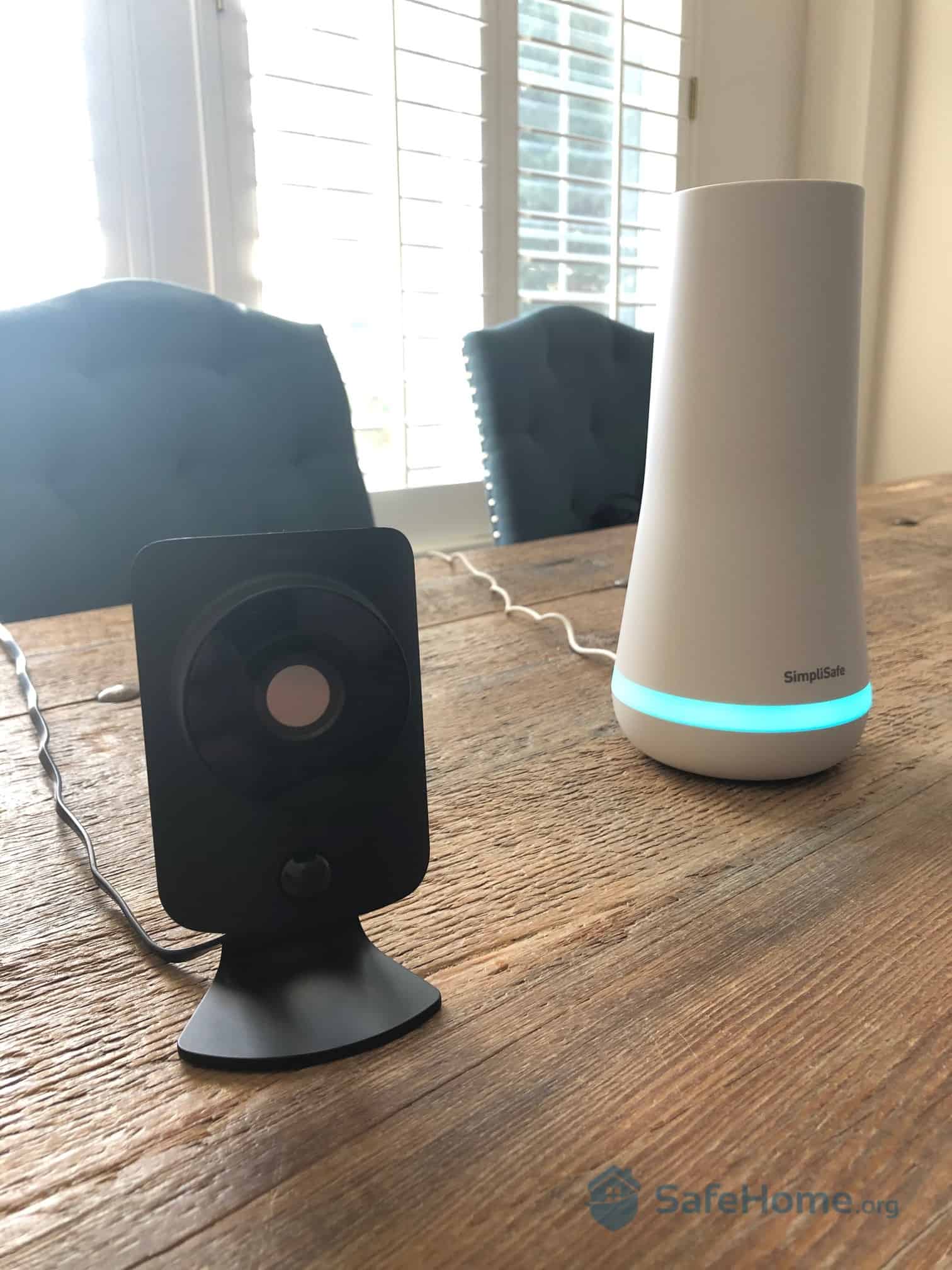 SimpliSafe Camera and Base Station
Final Thoughts on abode Alternatives
Overall, we know that abode still ranks high for home security systems. Although it's considered one of the best home security systems out there, there are still some areas where it falls short and doesn't deliver.
Alternative home security options like Simplisafe, Brinks, and Frontpoint help make up for the places where abode might have missed the mark.
If we're being honest, some of these other home security options have features abode simply does not. We know that no home security system is perfect. However, these alternative security solutions are all ranked high on our best home security systems roundup.
There are many impressive home security systems on the market today. But, it's also important to keep in mind that there are a lot of inefficient "substitutes" for quality home security systems out there as well.
The next time you shop for alternative home security systems, make sure you do your homework by comparing upfront costs, home monitoring, special features, and additional upgrades. If you don't think SimpliSafe, Brinks, or Frontpoint has what it takes to protect your home and family, don't worry, the right system for you is out there.